Shopping in Bangkok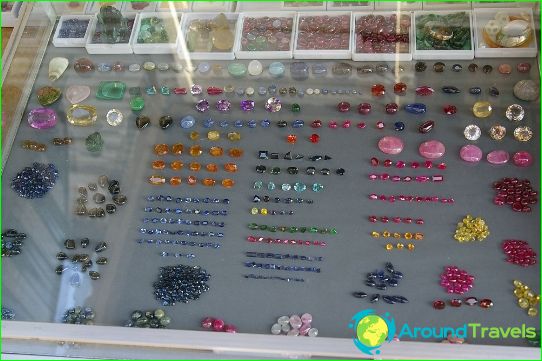 Souvenirs in Bangkok
What to bring from Bangkok, the capital city of the southeastern state of Thailand, where thousands of shops and shops, hundreds of large and small markets, dozens of luxurious shopping centers will welcome you day and night, is not easy to decide, because due to the abundance of goods around tourists the head is spinning. The choice of gifts for relatives and friends is simply huge. So, what is most often brought from Bangkok?
Expensive goods
Here you can find fine examples of precious stones - diamonds, emeralds, sapphires, rubies, if your wallet allows, and wonderful products made of semi-precious stones - topaz, opals, jade, if your requests are more modest. Do not buy only jewelry from your hands or in the markets - you will be deceived by selling magnificent fakes. Visit the shops on Khao San Road. Here you can buy real stones and magnificent items made of gold and silver. For example, a good silver bracelet will cost 1-2 thousand baht, and for 7-8 thousand baht you will be offered luxurious silver jewelry with stones in Thai style. Antiques, antiques in shops near hotels «Tavana Sheraton» and «Montaigne», in the mall «Charn Issara», where you will be shown a certificate of quality and given a check.
For quality leather goods, check out Rajprasong Square, which is famous for its shops selling sturdy crocodile, lizard and snake leather goods. For 1200-1500 baht you can buy an excellent leather suitcase, which will fit all your purchases.
Thai silk is famous all over the world. In the shop «Support» you will find high quality handmade silk items embroidered with gold. Here you can also buy an excellent warm cotton robe.
People go to Bangkok for home appliances and electronics, which, they say, are more reliable and better than Chinese ones, and cheaper than in other countries. In the mall «Pantip Plaza» the widest selection of the latest gadgets, smartphones, laptops, iPhones and iPads. Prices are lower than ours by 20% -30%.
Cheap products
What to buy in Bangkok if you don't have large sums? Explore the markets in Bangkok. Just do not rush to buy branded items - most often they are fakes. National handicrafts will be authentic. But at the Chatuchak market you can find towels from 80 to 280 baht, shirts from 90 baht, elegant shoes from 200 baht and a large assortment of jewelry from 20 baht. Here you can also find a lot of interesting ceramics, artificial flowers and fruits, handicrafts made of silver, non-ferrous metals, wood, ivory. The Bangalampu market is also famous for its bargain prices. At the Pratunami clothing market, you can buy jeans from 100 baht, an embroidered silk robe from 600 baht, a scarf from 50 baht, a shawl from 80 baht, pleated skirts from 100 baht, socks for 10 baht, a suit for 250 baht. On Sukhumvi Road you will find a wide selection of both Chinese and Thai technology at affordable prices, quality Thai cosmetics.
And keep in mind that images of Buddha cannot be taken out of the country (you can only in the form of wearable medallions). And for the export of precious stones, an appropriate certificate will be required..
Bangkok landmarks, markets and temples

Pictures of shopping in Bangkok