Prices in Antalya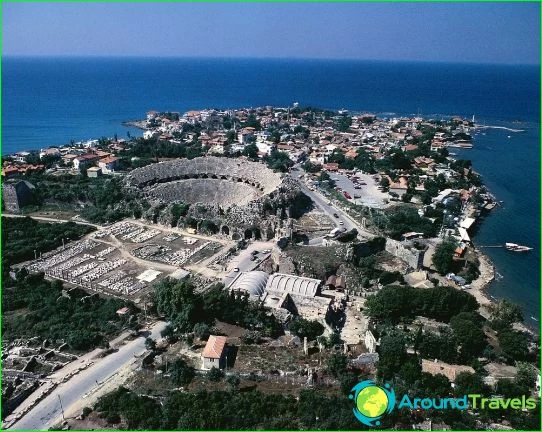 Antalya remains the favorite vacation spot for Russians. You can relax on its beaches in any season. Antalya is a large city with affordable prices and an abundance of attractions. It is much more profitable to have a rest here than in Istanbul. In the resort town of Turkey, you can find a hotel for every budget. Prices in Antalya are acceptable for people with an average income.
The hotels located in the central part of the resort offer affordable rooms and comfortable conditions. If you settle in the center, there will be restaurants, shops, historical sites nearby. During the high season (July, August) hotel prices increase. In autumn, there are few vacationers in Antalya, so it is very easy to rent an inexpensive and good room at this time..
Approximate prices for rooms in Antalya

hotel with 1 star - $ 400-520;
hotel with 2 stars - 350 - 870 $;
hotel with 3 stars - $ 730-1220;
hotel with 4 stars - 1220 - 3470 $;
hotel with 5 stars - 3200 - 9200 $.
There are a lot of archaeological sites in Antalya. The beaches are located near the center, which is convenient for vacationers. Therefore, many people successfully combine sightseeing and beach holidays. Diving is popular among tourists, which has a democratic price..
Estimated vacation costs
To determine how much money you will need to travel to Antalya, you first need to decide where and how you will go. If a voucher is purchased from a tour operator, and the hotel operates under the all-inclusive program, then only the money that will be spent on excursions and shopping can be added to the costs received. If you are not interested in additional activities, then an additional $ 100 is enough for you. They will go to buy soft drinks, ice cream and travel on public transport. Excursion costs depend on where you bought them. On the street, you can book inexpensive excursions from travel agencies. A private guided tour is much more expensive. If you go on budget excursions every other day, then $ 300 is enough for you.
Food in Antalya
Usually a budget breakfast is included in the room rate. In Turkey, a buffet is used to cater for tourists. Vacationers can choose any dish to their taste from those offered. If this service is not provided by the hotel, then you can order breakfast for $ 60-140. In the city you can buy any food, from national to European. Antalya is located in the subtropical zone, so there is always a lot of fruit here. Fresh vegetables and fruits can be bought at the Turkish bazaar. Malls and shops accept dollars, euros and Turkish lira.
Antalya

Photos