Tours to Kemer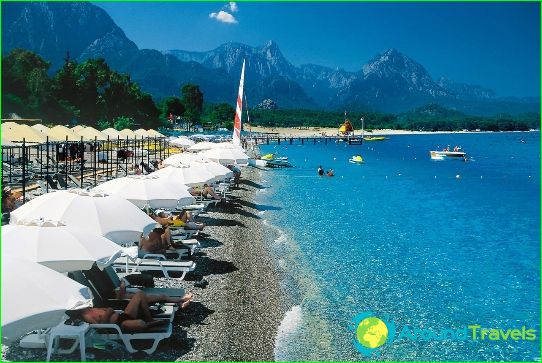 A worthy representative of the Turkish cohort of beach resorts, Kemer takes pride of place on the Mediterranean Riviera and becomes a holiday destination for tens of thousands of vacationers every year. For Russian travelers, the phrase "tours to Kemer" is a synonym for quality rest at prices that do not make significant gaps in the family budget. If we add to this a short flight, almost fluency in Russian among the staff and all-inclusiveness of the bulk of hotels, then a vacation at the resort can be considered ideal..
History with geography
The location of the resort is much more successful than others on the Turkish Riviera. The city is closed by the Taurus Mountains from strong winds, and therefore a special microclimate is formed here, which significantly prolongs the swimming season. Hot summers allow the sea to warm up to comfortable temperatures, and + 27 in the water for Kemer is not uncommon. You can swim already at the beginning of May, and the most seasoned ones do it even at the height of winter, because the sea does not cool below +17. In the summer months, the heat can reach +40, and therefore the most favorable time for a tour to Kemer is spring or autumn..
Once the village, on the site of which a modern resort had grown, was shaken by mudflows, and its inhabitants began to erect a stone wall to protect against them. It was finally built in 1917, and today a stone belt, stretching for more than 20 kilometers, encircles the mountains. It is the "belt" in translation from the local dialect that means the word "Kemer".
Briefly about the important
The international airport is located in Antalya, 40 kilometers from the resort, and therefore, when booking tours to Kemer, you will have to think about a transfer to the hotel. The easiest way is to first get to the bus station in Antalya, where to transfer to a flight to Kemer.
The beaches in the city are covered with pebbles, and therefore resting with small children here will not be too comfortable. The only exception is the "Moonlight Park" loose sandy beach, but the entrance to the water and on it is pebble.
Tours to Kemer are a great opportunity to have an active vacation, because the beaches have conditions for playing volleyball, jet skiing, fishing and yachting..
If the family has small children, it is best to book tours to Kemer in the Tekirova area, where the pebbles on the beach are not too large. All hotels in the city are located on the first line.
Various excursions are offered here to diversify beach vacations. The most popular is on the ruins of the ancient city of Olympos.
Holidays in Kemer

Photos