Holidays in Croatia with children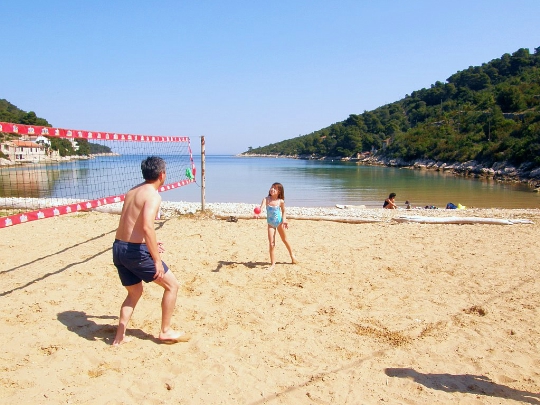 One of the most valuable Mediterranean gems, Croatia is popular with all categories of travelers for its combination of medieval antiquity of cities and a high degree of comfort and service of beach resorts. The proximity of Italy and Montenegro makes it possible to go on excursions to neighbors, and therefore a vacation in Croatia with children can turn into a rich adventure full of impressions and a variety of useful experiences.
For or Against?
Tours to Croatia are very popular, and therefore it is worth taking care of their advance booking. Such advance travel planning is the only disadvantage in organizing a trip, which can easily turn into a plus: early risers always get pleasant bonuses and discounts. In general, a vacation in Croatia with children can be an ideal vacation:
The flight will not take long, and the pleasant Mediterranean climate will not require long acclimatization.
The choice of beaches in the country's resorts is very diverse and you can stay at a hotel on a sandy shore or on a pebble. The purity of the entire Adriatic coast will be perfect, regardless of the name of the resort.
The food in Croatia is very filling and the portions are huge. When ordering any dish, it is enough to take it for two with a child, which will significantly save money on the trip.
Almost all hotels in the country have playgrounds and make significant discounts on the accommodation of babies. Many family hotels have on-call babysitters with whom you can leave your child for a romantic evening just for the parents..
 Preparing properly
Holidays in Croatia with children do not require any special preparations. One has only to have travel health insurance and sun protection. When choosing a hotel, it is important to pay attention to the availability of a children's menu so that little ones do not have digestive problems.
Passwords, appearances, addresses
The most suitable resorts for holidays in Croatia with children are located in the south of the country. For example, on the Istrian peninsula, the sea remains warm for much longer, and therefore you can come here even in the middle of autumn and swim quite comfortably. In Istria, there is the Plitvice Lakes National Nature Reserve, where you can go with your children on a full day excursion..
If your vacation falls in the midst of the summer season, you should prefer, on the contrary, northern Croatia. It's always a little cooler there, so even little ones will feel comfortable on the beach and in the afternoon..
Photos