Croatian Railways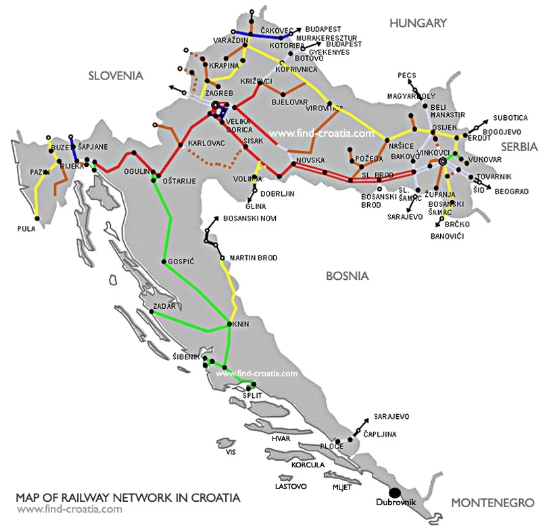 Croatian railways are merged with the rail systems of other European countries. The country is directly connected with Slovenia, Italy, Germany, Serbia, Bosnia and Herzegovina, Hungary, France. The railway system is operated by the national organization Hrvatske Zeljeznice (HZ). The capital of Croatia (Zagreb) is the center of the country's railway system. From here, trains leave for different parts of the country..
Railway sector of the country
Despite the good condition of the railway, the bulk of the traffic takes place on highways. Railway networks in Croatia are inferior to automobile ones in terms of development level. The country is actively transforming the railway sector. The tracks continue to modernize, update and expand. New trains are being put into operation, which are capable of moving at high speeds. Passengers are guaranteed quality services and comfortable travel conditions. Large cities (Zagreb, Varazdin, Rijeka, Osijek, etc.) are connected by railways. The railway network in the Croatian mainland is the best developed. Split and Rijeka can be reached by train from Zagreb. On the coast, the rail network does not cover all areas. Therefore, tourists change to a taxi, ferry or bus to get to the resorts. Currently, Croatian railways are inferior to the best European standards. They are undergoing modernization, which allows Croats to gradually improve the quality of service..
What trains are used
High-speed trains, intercity and international express trains, as well as Eurocity luxury trains run across Croatian territory. The total length of railway tracks is 2725 km. Railways are not as popular as cars and buses. It is more profitable and more convenient to travel between many cities by bus. The movement of trains is difficult in mountainous areas. In such places, passengers prefer to use buses. The internal railway connects all the settlements of Croatia with the exception of Dubrovnik. You can buy a train ticket at the station at the ticket office or on the website www.hzpp.hr.
Trains go to Croatia from anywhere in Europe. There are railway routes between Zagreb and Milan, Leipzig, Venice, Trieste, Vienna and other cities that are included in the European railway network. Croatian trains are distinguished by a high level of comfort and affordable prices. The country has such European passes as Eurail pass, Croatia pass. The ticket price is determined by the type of train, the class of the carriage and the route.
Photos