Krasnodar airport (Pashkovo)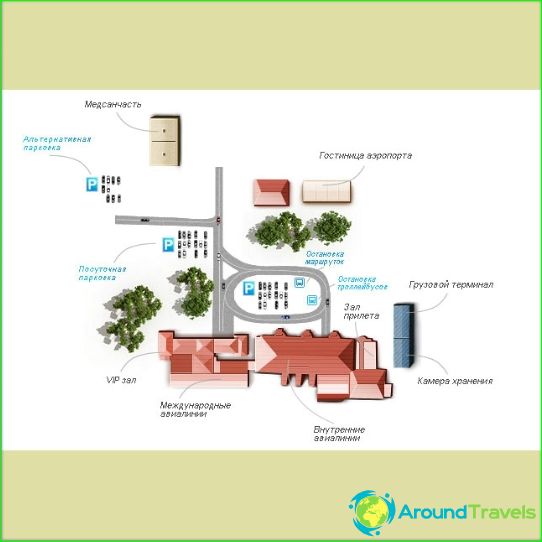 When they talk about the airport in Krasnodar, then we are talking about the Pashkovsky airport. It is located in the east of the city and is not too far from the city center..
The airport includes three terminals. One of them is responsible for international passenger transportation. Another terminal is busy with transportations carried out within the country. The third terminal is responsible for cargo transportation.
Near the airport there is a hotel, cafe, pharmacy, car rental offices. The WiFi network functions without fail - free of charge. The airport is open around the clock.
It should be noted that the exterior of the airport building looks very decent - it has been repeatedly restored in recent years. A special hall has been built here for VIPs. The lounge for arriving passengers was also seriously reconstructed. Today, on the territory of the airport, it is possible to contact the help center, if necessary, use the delegation hall, as well as buy tickets. There is a point responsible for border control, there are departments related to the organization of charters, the provision of cargo transportation.
The Pashkovo airport was created back in the thirties of the twentieth century. At first, only an aviation base was present and operated here, and since the thirties, passenger traffic began to be carried out (first within the Krasnodar Territory). In the sixties, after the construction of the concrete runway and after the construction of the main terminal building, passenger transportation began throughout the country..
The airport increases its passenger traffic figures every year. They currently reach two and a half million passengers. There are two runways in operation. One lane has reinforced concrete pavement, and the other lane is covered with asphalt concrete.
The dimensions of the strips allow Krasnodar Airport to receive all aircraft. The parking capacity is equal to forty aircraft. In one hour, the terminal is capable of serving up to two hundred passengers on an international airline and up to four hundred and fifty people on an internal line. The airport is constantly being modernized and improved.

Photos of Krasnodar airport