Airport in Barcelona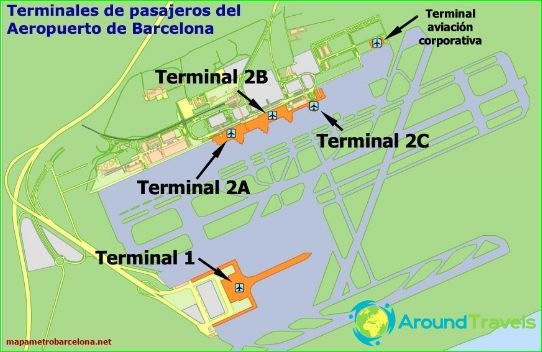 The airport in Barcelona deserves special attention among the Spanish terminals. It is called El Prat and is considered an international airport, the largest in Catalonia and the second in terms of passenger turnover in Spain..
The airport in Barcelona is located about ten kilometers from the central part of the city (this is the area of ​​El Prat de Llobregat). According to statistics, more than thirty-five million passengers use the services of this airport every year. The route from Madrid to Barajas is considered the largest in the world in terms of passenger traffic (these indicators, however, slightly decreased after the opening of the high-speed railway line).
More recently, a terminal with an area of ​​more than 545 thousand square meters was opened at this airport - it was built according to the project of the famous Spanish architect Bofil. Today the airport has three runways. Two lanes are asphalted, the third is covered with concrete.
The airport is served by many airlines. One of the largest is Vueling Airlines. Here you can also use the services of Iberia Airlines, Spanair and other companies. But the airport works not only with passenger flights. It is also capable of receiving and dispatching cargo flights..
At the moment, there are 2 terminals operating inside the airport. The second terminal consists of three sectors. The terminals are connected to each other by buses and a special railway shuttle.
The airport is connected to Barcelona by expressway, rail and bus services. For example, you can use the train - from the second terminal to one of two city bus stations located near metro stations.
Intervals of electric trains - every thirty minutes. Do not forget about the constantly running buses between the railway station and the first terminal (the approximate travel time is twenty minutes). The airport is constantly being modernized and developed. Accordingly, air passengers are satisfied with its service..

Barcelona airport photos