Transport in Barcelona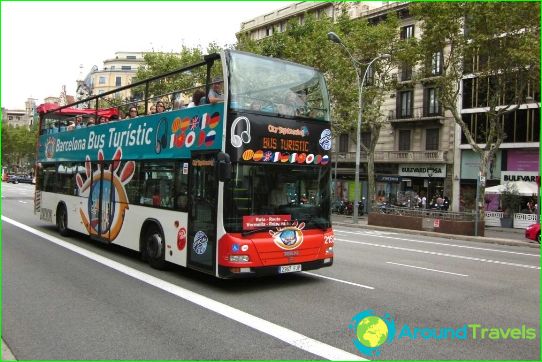 The Catalan capital is endlessly respected by tourists not only from Europe, but also from more distant parts of the world. Fans of space architecture by Antoni Gaudí do not leave the streets of the city day and night. Historians listen to the legends of the ancient port about the era of the reign of the Romans. Fans of contemporary art sing in chorus to the masterpieces at every turn.
Well, transport in Barcelona, ​​which works strictly by the clock, even during a siesta, will help tired tourists quickly get to a cozy hotel room or, conversely, will present the city from an unexpected side..
Meeting with Barcelona
Your first meeting with the city is best done by looking at it from the window of a tourist bus. The ticket can be valid for one or two days, starting from 9 am until late at night, during this time the tourist will travel all the main places that Barcelona is proud of.
At the same time, you can mark the sights in the diary, where you should definitely return. Or, without delay, immediately go out and spend a few minutes or hours at the monument, and then wait for the next bus and set off to new discoveries. An audio guide in Russian is required in the list of services of such a bus, a nice bonus - discounts in museums and restaurants.
City subway
This type of transport works punctually, and air conditioners, which create a pleasant cool atmosphere on hot summer days, become a real salvation for tourists..
To pay, the best solution would be to buy the Barselona Card, with this card you can travel an unlimited number of times on public transport and get discounts at museums and cafes (within a certain time, usually 1-2 days).
Another interesting type of travel card is T10, intended for zone 1, which includes the historic center of Barcelona with the main attractions, however, you can drive only 10 times, but also by almost all types of public transport.
Official taxi
This type of urban transport is not very often used by tourists, for whom walking around the historical center and sitting in an old restaurant are more important..
Black and yellow taxis can be used in the evening, when you want to quickly get to your hotel room after a busy day. A green light on the roof will indicate that the car is free. Tipping is optional, but no driver will refuse it.
Photos