Season in Barcelona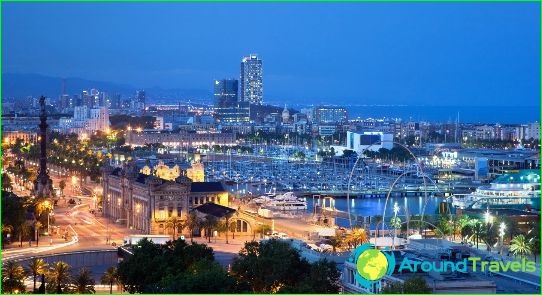 Spanish Barcelona is not only the name of the famous football club, but also a popular holiday destination for thousands of tourists from all over Europe and the world. Fans of rare architectural forms and artistic styles tend to the city of Gaudi and Picasso, and connoisseurs of a comfortable summer vacation to the beaches of Catalonia. The swimming and sunbathing season in Barcelona starts in early summer and lasts until mid-autumn.
About weather and nature
The climate of the Spanish coast in the Barcelona area can be called Mediterranean. These latitudes are characterized by mild short winters with little precipitation and long warm summers. Most rainfall occurs in Barcelona in May and from August to October.
The summer season in Barcelona is thousands of vacationers on its beaches, for whom the Mediterranean Sea seems to be the most suitable in order to get a hefty dose of positive and an even tan of a magnificent shade. In early June, the weather on the beaches of Catalonia is not yet comfortable enough for a good rest. The air temperature does not exceed +22 degrees, and the water temperature does not exceed +18. But after a couple of weeks, the summer finally comes into its own, and by July the thermometer readings are fixed at +27 and +25 degrees, respectively..
In August, it gets even hotter, but the likelihood of precipitation increases. The air humidity increases, making it difficult to stay on the beaches for a long time. The best time to sunbathe during the peak heat in Barcelona is in the morning and some time before sunset. Using sunscreen for the skin is a must!
In the footsteps of the magnificent Gaudi
Barcelona is also one of the centers of European culture. The city is home to many architectural and historical monuments, and the immortal creations of Gaudí are just a small part of them. For local sightseeing and excursions, the best season in Barcelona is spring and autumn, when trees blooming or glowing with crimson paints create an additional picturesque backdrop on the observation decks, and the photos are especially bright and exciting..
Autumn is also a great time to go on food tours or excursions to nearby wineries. It is at this time that you can taste the wines of the new harvest or taste the best fruits and vegetables grown on the small surrounding farms. New Year's season in Barcelona is the time for discounts and sales in shopping centers, which the beautiful half of the tourist flow is in a hurry to take advantage of.
Photos