Excursions in Madrid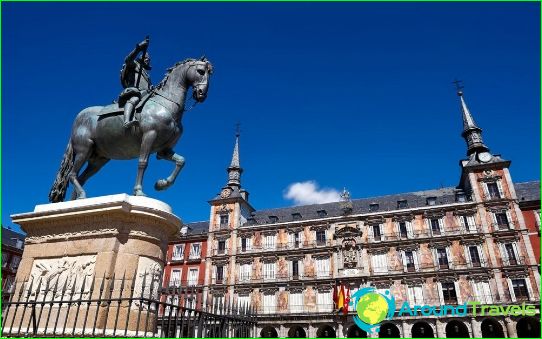 Madrid is the capital of Spain, attracting with exquisite architecture, amazing traditions of the local population. A carefully thought-out excursion program will allow you to understand which sights deserve increased attention.
So which excursions in Madrid should you visit? First of all, you should go on a sightseeing tour, during which you can walk in the Plaza Mayor, Alakal, Paseo de la Castellana and Gran Vía streets, see the fountains of Neptune and Cibeles, the monument to Miguel Cervantes. However, this program will only be the starting point in the knowledge of the amazing Madrid..
Exciting excursions in Madrid

The Escorial Palace-Monastery and the Valley of the Fallen. El Escorial is a palace complex and an old monastery. This landmark was built in the 16th century. Thus, every tourist today gets the opportunity to plunge into the past and imagine what life was like in those centuries. The architectural ensemble of El Escorial is ready to surprise you with its grandeur and contradictoriness ... You can be sure that this program will become one of the most interesting!
Excursions to museums. You can visit the most famous museum centers in Madrid, among which it is necessary to note the Reina Sofia Art Center, the Thyssen-Bornemisza Museum, the Royal Academy of Arts of San Fernando, and the Soroia House Museum. The museums showcase the works of the most famous artists that allow you to understand the peculiarities of painting from different eras. Most of the exhibits will make a lasting impression on you!
Prado Museum. The excursion program to the Prado Museum is offered in a separate order, because this center of fine arts occupies a special place. The Prado Museum is on a par with the Louvre and the Hermitage. However, its main difference is its amazing elegance. The exhibits are part of the royal collections, reflecting the tastes of the different monarchs who ruled Spain since the 15th century. In the collection you can see such masterpieces as "Meninas" (Velasquez), "Bearded Woman" (Riber), "Family Portrait of Carlos IY" (Francisco Goya) and many others.
Excursion "The Art of Bullfighting". Spain is famous for its bullfighting ... Would you like to know its art? Visit the bullfighting museum, bullfighters' taverns. The tour also includes a visit to the bullfighting arena!
Excursion to the Royal Palace. Madrid is famous for the Royal Palace, which features architectural features of the 18th century. The building included elements of different styles, namely neoclassicism, empire style, baroque and rococo. Take the opportunity to see one of the finest palaces in the entire world!
Photos of excursions in Madrid