Prices in Lloret de Mar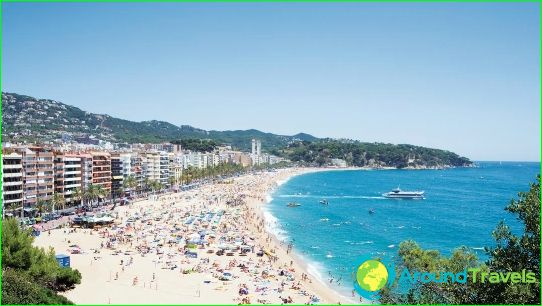 The most popular and largest resort on the Costa Brava is Lloret de Mar. This city is considered the best hangout place on the Mediterranean coast. It is 80 km away from Barcelona.
Where to stay for a tourist
Lloret de Mar is a small town. Most of the apartments, hotels and hotels are located near the sea. It is only 500 m from the bus station to the coastline. There are 4 and 5 star hotels on the first line. They are located on the promenade and the beach area is across the road. The first line hotels offer the most expensive rooms in the resort. To spend a day in a 5 * double room, you have to pay 200 euros. To reduce costs, you can rent a hotel room on the second line. A room in a 4 * hotel in the center of the resort, located 500 meters from the beach, will cost 50-60 euros per day during the high season. If you book a place in advance, then a vacation for 14 days will cost 1500-1800 euros. In this case, the room will be standard, without much luxury and without a sea view.
Entertainment at the resort
Lloret de Mar is a favorite vacation spot for young people. There are all the possibilities here for a quality rest. Guests are invited to numerous nightclubs, bars and restaurants. The entrance to the club is usually paid. Average cost is 10 euros.
There is no face control in the clubs, so you can visit them even in shorts and flip-flops. The busy nightlife is not the resort's most prominent feature. There are comfortable beaches with sand. There are even naturist beaches in the resort..
The historical area of ​​the resort allows for educational excursions. In the old part of the city, tourists can admire the ancient mansions and churches. The cost of excursions in the city is not very high. A guided one-day excursion to Barcelona costs 45 euros per person. Near the promenade of Lloret de Mar, there is a marina for yachts and pleasure boats. You can travel by sea to the neighboring town of Tossa de Mar for 15 euros. Entrance to the local water park - 30 euros. You can get to it by free bus.
How much do groceries cost in Lloret de Mar
You can have a snack in the cafe for 12-15 euros per person. A cup of coffee costs 2 euros, a pizza 1.5 euros per piece. The restaurants offer delicious Spanish food. Jamon and sangria are popular. Jamon can be purchased at the resort's supermarkets. Small packs of jamon cost 1-3 euros.
Photos