Prices in New York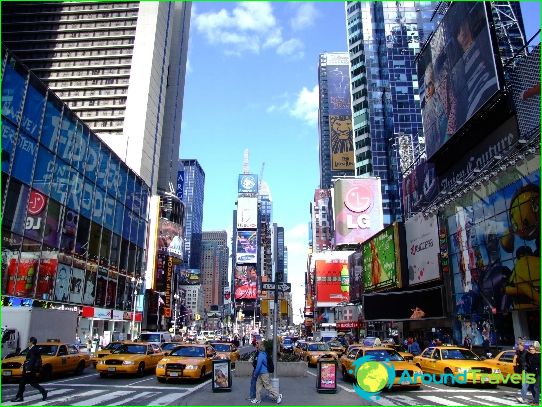 The largest city in the world is New York. This city makes an exciting impression on tourists. Prices in New York are high, but this is not surprising. After all, it has long been a world financial center, where incredibly big money is spinning. The official currency here is the US dollar..
Accommodation in New York
Housing in this metropolis is very expensive. Manhattan property owners are considered millionaires. You can rent an apartment for a month in New York for $ 1000. A room in a decent hotel costs an average of $ 1,000 per day. The most economical option is a hostel, where you can rent a place for $ 30 per day. Budget and good rooms in the city are difficult to find. It is best to rent an apartment where you can cook your own food. This will save you money on restaurants and cafes..
Tourist food
You can dine in a middle-class cafe for $ 15-35. You can dine at a fine Manhattan restaurant for $ 100. The cheapest places to eat are in Chinatown establishments. Popular dishes there are noodles and rice dishes. Lunch will cost no more than $ 10. In this area of ​​the city, you can buy not only groceries, but also cheap clothes, electronics, shoes and other goods. The Russian quarter in New York is designated Brighton Beach. There you can get inexpensive tincture or vodka. There are many fast food outlets in the city offering hot dogs for $ 1.5, cheeseburgers for $ 3 and coffee for $ 1.5-2..
Fare
You can get around the city by tram and bus. A ticket costs no more than $ 3. In addition, New York City has a subway, cable car and ferry. Public transport is popular here, unlike many other metropolitan areas. A more comfortable mode of transport is a car. For its rent, you have to pay $ 40 per day, at least. It is not very profitable to use a car on the streets of New York due to the cost of parking - about $ 20 per hour. In the metro, you have to pay $ 2.7 for one trip, the same is the cost of a bus trip. Boarding a taxi costs $ 2.5, then there is a calculation by miles, at $ 2 per one. Free ferry service between Staten Island and Manhattan.
New York City Tours
There are various programs of excursions around the city: cultural, historical, for schoolchildren, individual, sightseeing, etc. Individual tours are more expensive than others. A trip from New York to Washington can be made for $ 1300. An interesting walk around the city accompanied by a guide will cost from $ 500, the same amount should be spent on a shopping tour. For group excursions, prices are much lower.
Photos