Prices in the USA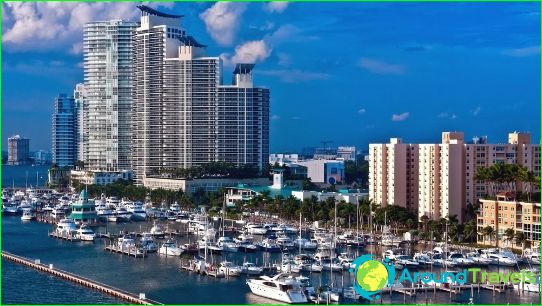 Prices in the US vary by region and city. So, for example, some of the most expensive cities are Los Angeles, New York, San Francisco (on average, prices in the country are 2-3 times higher than in Russia).
Shopping and souvenirs
When shopping in the USA, you can buy goods in Levis, American Eagle, Banana Republic stores at more attractive prices than in Russia. It is advisable to look for luxury clothes in the Outlet Moll village, as well as on shopping streets in all major cities..
Shopping in the USA is worth visiting during the summer (mid-July-early September) and winter (mid-December-late January) sales..
What to bring in memory of the United States?
Apple devices (tablet, phone, laptop), cowboy clothes, various figurines, for example, in the form of the Statue of Liberty, jewelry, handmade candles, shoes (UGG and Timberland), jeans (Levis, Lee, Wrangler), American cosmetics;
wine, bourbon, peanut butter, maple syrup.
In the USA, you can buy souvenirs from Coca Cola and M & Ms stores - from $ 5, things with the image of the American flag or the president (badges, T-shirts, lighters) - from $ 1, American Indian products - from $ 2, cowboy hat - from $ 10, Timex watch - from $ 50, wine - from $ 10.
Excursions and entertainment
On a sightseeing tour of Miami, you will stroll along Collins Avenue, drive through the best areas of Miami (Sunny Isles Beach, Bel Harber), visit the Art Deco district and see its architecture. While driving along the main tourist streets (Ocean Drive, Lincoln Road), a stop will be arranged at Villa Giani Versace. This excursion costs approximately $ 40.
In Orlando, you should definitely visit the Lion Safari National Reserve - here you will see all kinds of exotic animals, which you can admire not only from the cab, but also walking along special paths designed for walking in the park (you will see enclosures with snakes, turtles, a lake and an islet where monkeys live). The approximate cost of the excursion is $ 25.
For those with a sweet tooth, head to the Herskey Chocolate Factory in Harrisburg. Here you can not only taste sweets, but also visit the famous school created by Milton Hersh. A visit to a factory with a tasting will cost you $ 30.
Fathers and sons can travel to the Air and Space Museum in Washington DC to view the huge collection of planes and spaceships, and stop by the Planetarium. You will pay $ 20 for visiting the museum.
Transport
For 1 metro ride you will pay $ 2.5, for a taxi ride - $ 2.5-3.5 (starting price) + $ 0.4 for every 300 meters. You can get from Washington to New York by bus for $ 7-8, from New York to Boston for $ 9, and from New York to Toronto for $ 60.
If you belong to the category of budget tourists, then your daily expenses on vacation in the USA will be $ 100 per person, but a more comfortable vacation will cost you at least $ 200 per day per person.
Tour in the USA

Photos