Crimea cruises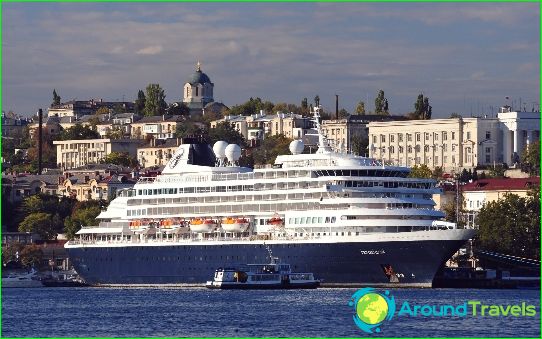 The most favorite beach vacation spot for Russians since Soviet times, Crimea still attracts the attention of tourists from many countries. The reason for this is the low prices, and the excellent climate, and the legendary hospitality of its inhabitants, and cruises around the Crimea, allowing you to see in a short time the most unique and picturesque corners of the peninsula..
Sea excursions
Tired of doing nothing on the beach, an active part of the tourist fraternity storm travel agencies in search of adventure. The most unforgettable impressions can be obtained during a sea cruise in Crimea, the routes and excursion component of which can be very diverse, and the travel time will be several hours: 
In the Balaklava area, tourists are given a unique opportunity to see the carnelian beach, sea grottoes at Cape Ai-ya and the Genoese fortress, preserved from the Middle Ages.
A walk off the coast of Sevastopol will tell about the past and present of the city, acquaint travelers with the most important sights - the harbor of the hero city, the Chersonese lighthouse and Diana's grotto.
Longer sea cruises in Crimea involve several days of exciting sailing along the most interesting routes:
The route, which runs from the west to the east coast, will present it to the participants of the cities of Evpatoria and Sevastopol, will reveal the best places of Yalta and Miskhor, and will show the mountains Medved and Koshka. Guests of the cruise will be able to sunbathe and swim on secluded beaches, taste the best Crimean wines in the Massandra cellars and find their carnelian at Cape Fiolent.
A walk from Sudak to Sevastopol will allow you to see the southern coast of Crimea in all its splendor. In Sudak, guests get acquainted with the ruins of a Genoese fortress, and in Novyi Svet - with a factory of the best sparkling wines.
Having passed by ship from Sevastopol to Yalta, travelers learn a lot about the history of Crimean cities, visit palaces and admire park ensembles, sunbathe and swim on the most famous Crimean beaches.
Fisherman fisherman...
Fishing during a cruise in Crimea is a great way to spend your vacation doing what you love. During a boat trip, there is an opportunity to fish both in the open sea and during the mooring of the vessel. The catch will be cooked in the best way right on board and served at the table. Lovers of underwater walks are equally delighted with sea cruises. Divers do not consider the Black Sea to be the most successful for the realization of their desires, but at its bottom there is enough interesting and exciting, especially for beginners.
Photos of Crimea cruises