Airport in Havana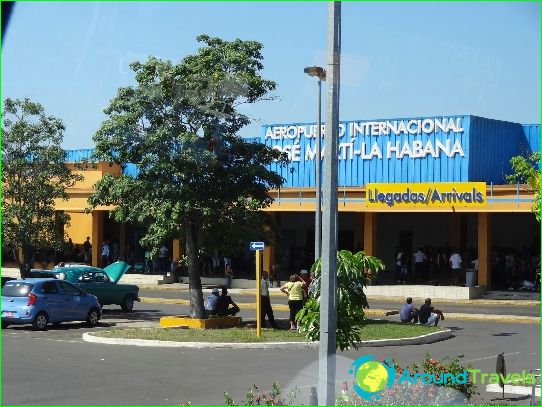 The main airport in Cuba is located near the city of Havana, about 20 km northwest. The airport is named after the famous Cuban poet Jose Marti. With its capacity of about 6 million people, the airport handles about 3.5 million passengers a year.
The airport has 5 terminals, 3 of which are dedicated exclusively to serving international flights. One terminal is used as a cargo terminal and one for servicing flights within the country.
Airport them. Jose Marti has a runway long enough to accommodate heavy ships.
Many airlines from all over the world cooperate with the airport, including the Russian one - Aeroflot.
History
The airport in Havana was opened at the beginning of 1930, already at the end of this year, the Cubana de Aviación airline operated the first mail flight from Havana to Sagnaga de Cuba. And in 1936 the flight to Madrid was successfully completed..
In 1943, a control center was built on the territory of the airport. A little later, the first commercial flight was made, on the Havana-Miami route.
In 1961, relations between Cuba and the United States were spoiled, in connection with which all flights between these countries were terminated. Air traffic was established only in 1988. In the same year, a separate terminal was built, serving flights between Cuba and the United States..
Since 1998, the remaining 3 terminals have been built.
Services
The international airport in Havana is ready to provide its guests with various services that can be found at any such airport..
Here you can find cafes and restaurants, ATMs and bank branches, a currency exchange office. Also available is mail, luggage storage, etc..
The area of ​​shops, including duty-free shops, is well established.
Transport
Transport links with the city are perhaps not the best. There are only 2 options to choose from - taxi or bus.
More often, tourists choose a taxi as a means of transportation, as it is the most comfortable and fast in time. The fare will be around $ 25, it will take about half an hour to get to the city center.
Unfortunately, Havana buses are not very comfortable. It is worth considering this option only as a backup. Buses leave from Terminal 1. There is no clear timetable.
Photos of Havana airport