Rest in Tbilisi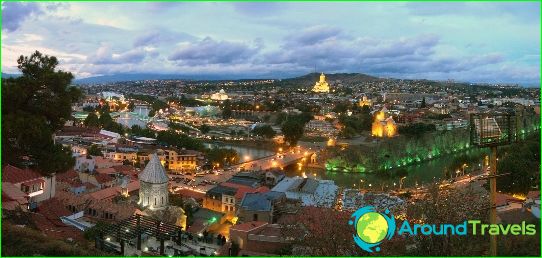 Rest in Tbilisi is a chance to see ancient artifacts, interesting historical and architectural monuments, admire the amazing nature, heal and improve your health thanks to hot sulfur springs, as well as get to know more about Georgian cuisine and wine.
The main types of recreation in Tbilisi

Excursion: on excursions you will walk along Freedom Square, Rustaveli Avenue and Peace Bridge, visit the Archaeological Museum, Botanical Garden and Mushtaidi Park, see the statue of George the Victorious, Anchiskhati Church, Tiflis Passage, Narikala Fortress (it is worth going up to the observation deck), Vorontsov Palace, Zion and Sameba Cathedral, Church of Saints Peter and Paul, Tbilisi TV Tower. Curious tourists should definitely visit Turtle Lake and the Ethnographic Open Air Museum (you will see household items and folk crafts, as well as houses typical for different regions of Georgia).
Active: those who wish can go for a walk in the foothill areas of Mtsatminda (at their service there are specially laid fascinating walking routes) and visit the Rike Park, where you can attend musical concerts held on an open stage and admire the singing fountains. In addition, the park has areas for outdoor activities: children can frolic on the playgrounds, and adults can go climbing (there is a wall equipped for this).
Wellness: you should definitely experience the healing effect of sulfur baths - there you will be offered to take a steam bath, swim in pools with mineral water, have a massage (you can find sulfur baths in the Abanotubani area).
Tour prices in Tbilisi
It is best to rest in the Georgian capital in May-September. An increase in prices for tours to Tbilisi by about 20-30% is observed in June-August. To save money, you can look for last-minute tours or go here in the off-season - in the middle of autumn or early spring (at this time, the cost of vouchers is slightly reduced).
On a note!
You can get from the airport to the city center by bus, taxi (a meter in cars is a rarity, so it is advisable to negotiate the fare in advance) or a shuttle train, and it is convenient to move around the city by bus, metro (to pay for travel, you must get a special plastic card - it can also be used to pay for travel on a bus) or a fixed-route taxi.
To enter the Georgian temple, the girls need to cover their heads. In addition, you should not wear shorts or miniskirts - in this form, tourists will be denied access to the temple..
As a souvenir of your vacation in Tbilisi, you can bring sauces and herbs, Georgian wine, cheese, tea, mineral water "Borjomi", carpets, ceramics, silver jewelry, national clothes, paintings, daggers.
Tbilisi city

Photos of rest in Tbilisi