Prices in Georgia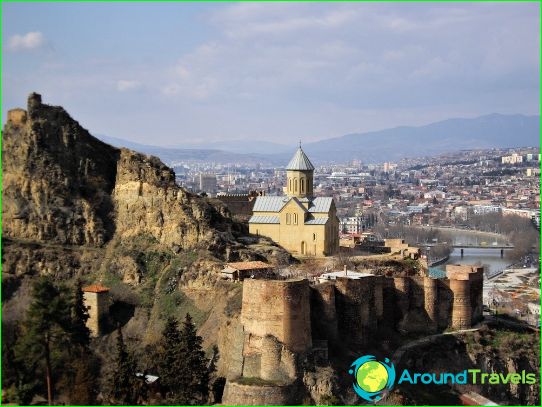 Prices in Georgia are quite low. It is recommended to pay in Georgia with local money (lari), but in some shops and markets, rubles, US dollars and euros are accepted for payment.
Shopping and souvenirs
In shopping in Georgia, you will not find much benefit for yourself - in local large shopping centers, clothes, electronics and other goods cost about the same as in Russia..
In memory of Georgia, you can bring:
silver jewelry, Georgian carpets, daggers, figurines in national costumes, small musical instruments, ceramics;
wine, cheese, tea, sweets.
In Georgia, you can buy Georgian wine from 210 rubles, chacha - from 450 rubles, cheese - from 125 rubles, silver jewelry - from 450 rubles, Georgian tobacco - from 65 rubles / 100 grams, tea - from 65 rubles / 100 grams, carpets - from 1000 rubles, Georgian daggers - from 3000 rubles, "Borjomi" - from 22 rubles / bottle.
Tours
A sightseeing 4-hour tour of Tbilisi will interest you with the opportunity to visit the Sioni Cathedral and the History Museum of Georgia, admire the Narikala fortress and the Metekhi church, as well as take sulfur baths. The approximate cost of the excursion is $ 30.
On a tour of Batumi, you will be able to walk along Primorsky Boulevard, see dancing fountains and a laser show. The approximate cost of a 3-hour excursion is $ 10.
On excursions "Two capitals of Georgia" in Tbilisi (the modern capital) you will walk along Freedom Square, see the clock tower of Rezo Gabriadze, visit the Church of the Nativity of the Virgin Mary, and in Mtskheta (the old capital), you will see the Samtavro monastery complex, visit the Svetitskhoveli Cathedral and the Jvari monastery temple. The approximate cost of the excursion is $ 20.
Entertainment
The whole family should go to the Batumi Dolphinarium. The cost of an hour show is about 250 rubles. And the whole day can be spent in the Botanical Garden (it is located 15 minutes' drive from Batumi). You can get here by minibus, the cost of which is about 21 rubles.
As for entertainment, while on vacation in Georgia, you can ride a jet ski, banana, or do water parachuting for $ 90..
If you decide to please your friends who have come with you on vacation, you can rent a yacht with a famous DJ and invite them to a party. This pleasure will cost you $ 1,500..
Transport
You can get around large Georgian cities by buses and fixed-route taxis, and in Tbilisi - also by metro, funicular and cable car. The approximate cost of travel by bus is about 12 rubles, by minibus - 15 rubles, cable car - 21 rubles, funicular - 21 rubles (one way), in the metro - 15 rubles. It should be noted that buses run strictly according to the schedule (from 06:00 to 20:00) and only stop at stops.
Taking into account food, accommodation, travel by public transport on vacation in Georgia, you will need about $ 70 per day for 1 person.
Tbilisi city

Photos