Maya Bay (actually Maya Bay) with a white beach and azure sea, fenced off from the outside world by a ring of mountains, is a visiting card of the Phi Phi Islands in the Krabi province. Immediately, I note that it is Krabi, and not Phuket at all, that is the administrative unit of Thailand, which includes a number of islands, including Phi Phi. You will discover Maya Bay on Phi Phi Le, an uninhabited conservation island, where you will be taken as part of a guided tour or private tour. You and a couple of hundred other tourists who also read travel blogs and know that the most heavenly part of the film was filmed on Maya Bay «Beach» with DiCaprio.
The content of the article
About the movie Beach with DiCaprio
If you were not born on planet Earth, or somehow missed the book by Alex Garland «Beach» (a bestseller, by the way) and an adventure drama based on his novel «Beach» with DiCaprio in the title role, then I can only envy you. Watch the movie immediately in good quality and decent voice acting, and enjoy an hour and a half of philosophy, adventure, drama and tropical landscapes. The film was shot in 2000, very close to the book, although much of what the author wrote remained in context, and I recommend reading it first.
The events in the book are set in Koh Samui, Phangan and Tao, and the film was filmed in two provinces of Thailand: Krabi and Nakhon Ratchasima. In Krabi (Phi Phi Islands), the director filmed scenes with a secret beach (Maya Bay), and a scene with a waterfall and «leap of faith» - in Khao Yai National Park.
Maya Bay on Phi Phi Island
When I hired a private boat for 3000 baht and set out for Maya Bay early in the morning, I thought that I would be the only one so smart, but such «quick-witted» I found at least a dozen on the beach, and their number increased every minute. But all the same - it was several times less than the crowd that begins here at 10 o'clock. But it was not this that upset me, but the fact that I missed the mark with two important details: I was unlucky with the weather (it was cloudy) and did not look in advance to see if there would be an ebb tide. By my arrival, the sea had left the bay for half a kilometer, and my first meeting with Maya Bay was not at all like a movie. At the bottom, sand and heaps of stones were bare, and thanks to the January haze in the pictures, everything turned out to be gray and nondescript. Such beautiful pictures as in March (the last three in the series of pictures below) did not work..
It didn't upset me that much, because the nature of these places in general is extremely beautiful. Incredibly colorful crab rocks around the entire bay and the imagination makes it easy to imagine how beautiful Maya Bay is in good weather. Initially, I had no goal in itself to take a selfie on the beach - like I'm DiCaprio in paradise. If you want to see THAT MOST BEACH, then you should take into account all my mistakes, and if this is not so important for you, and you can finish everything in your imagination, then you can ignore what I wrote about the tides. It is a pity, of course, that the weather on this day was promised clear, but in fact there was a haze, which is why all the pictures are low-contrast.
And another such moment. In the early morning, the sun does not enter the bay because of the high rocks, so there is almost everywhere a shadow. So, if the number of people does not scare you, then you should not go so early at all, because it is much easier to get here with an excursion from Phuket or from Phi Phi, which come already when the sun is high. In short, if the number of people in your photos does not soar you, and the meaning of the trip is precisely in visiting the sights as an item in the vacation plan, then you will have much wider scope for action..
Maya Bay in January, at low tide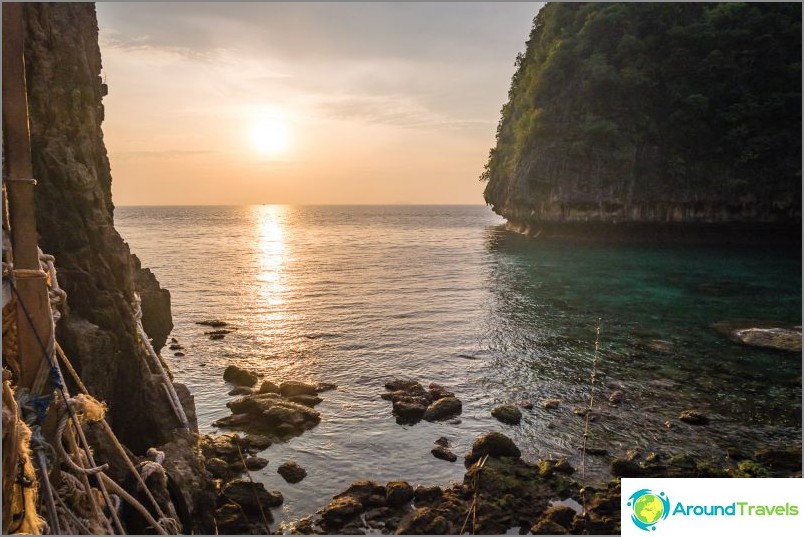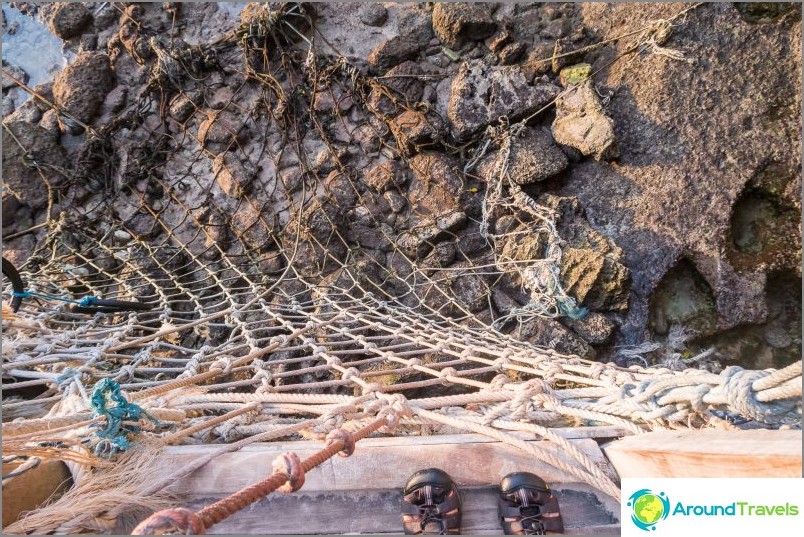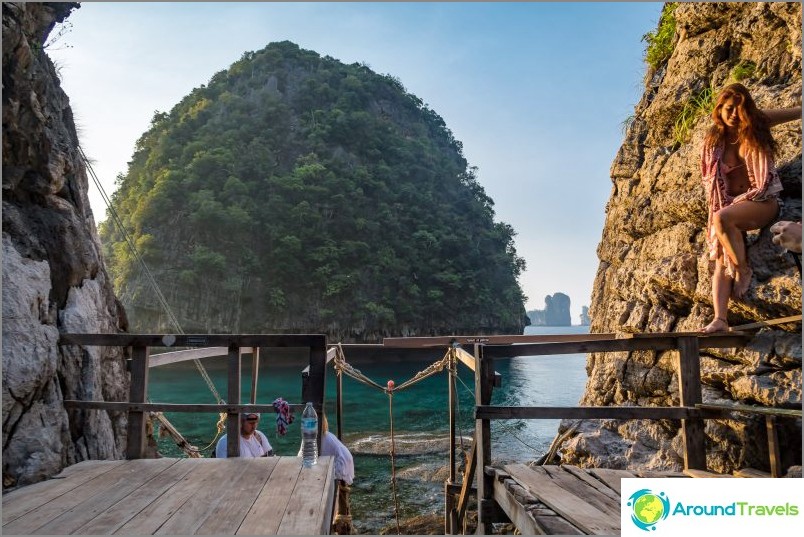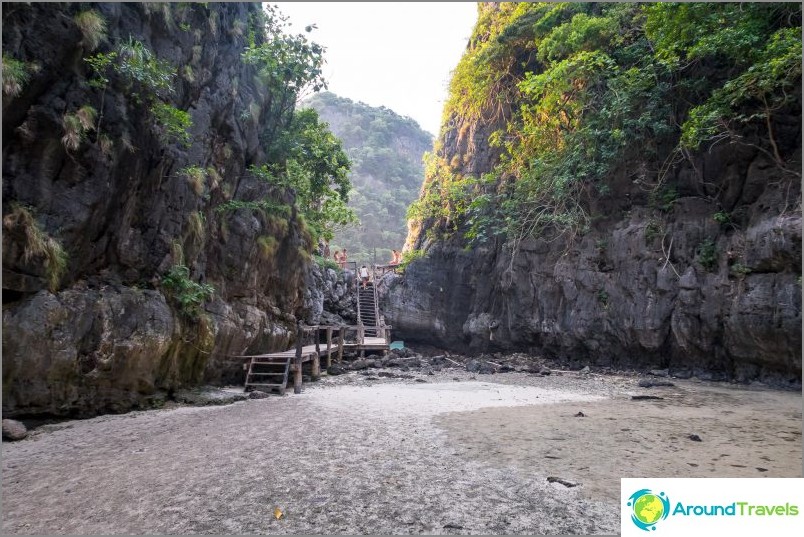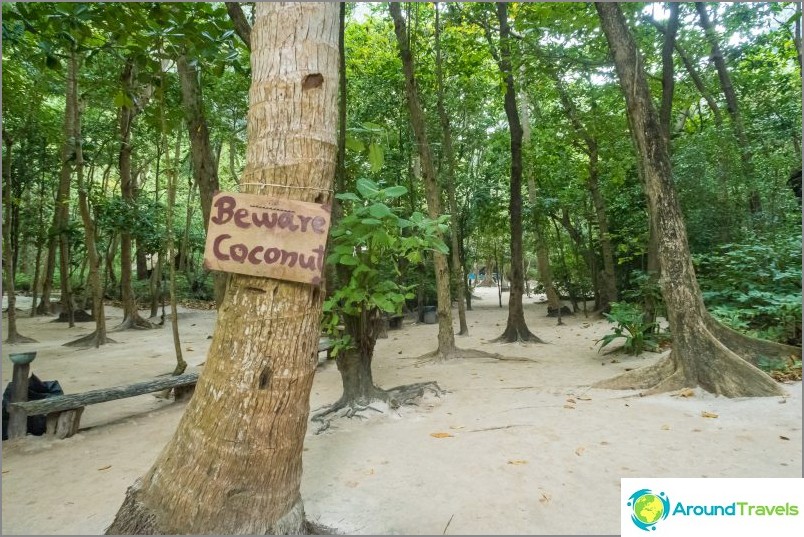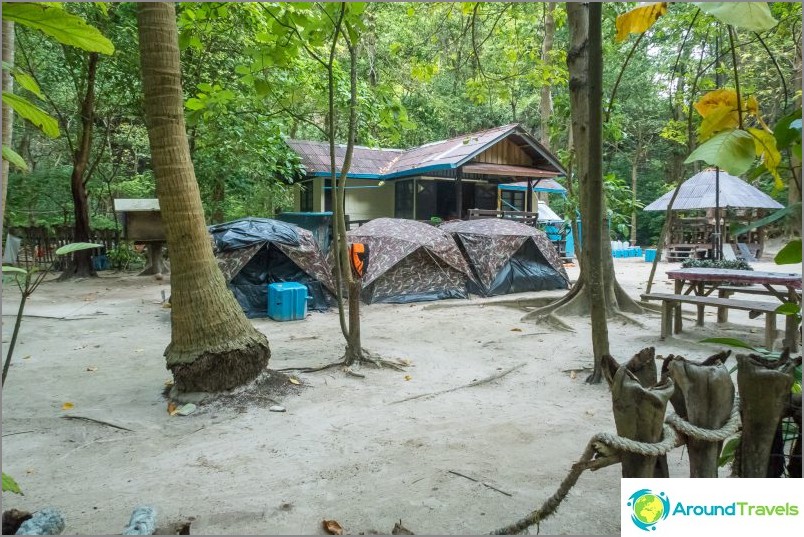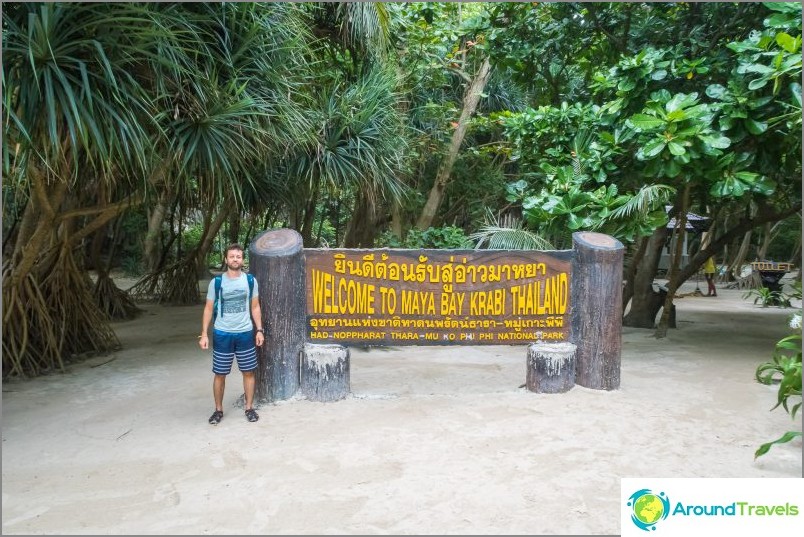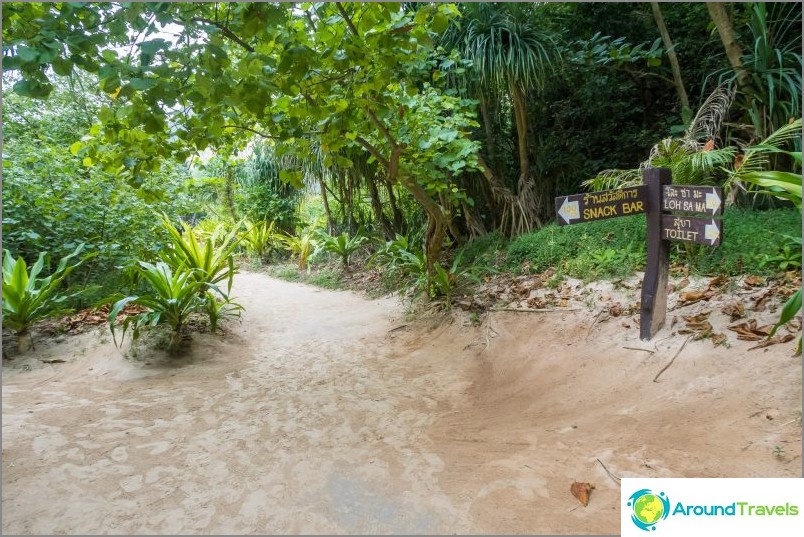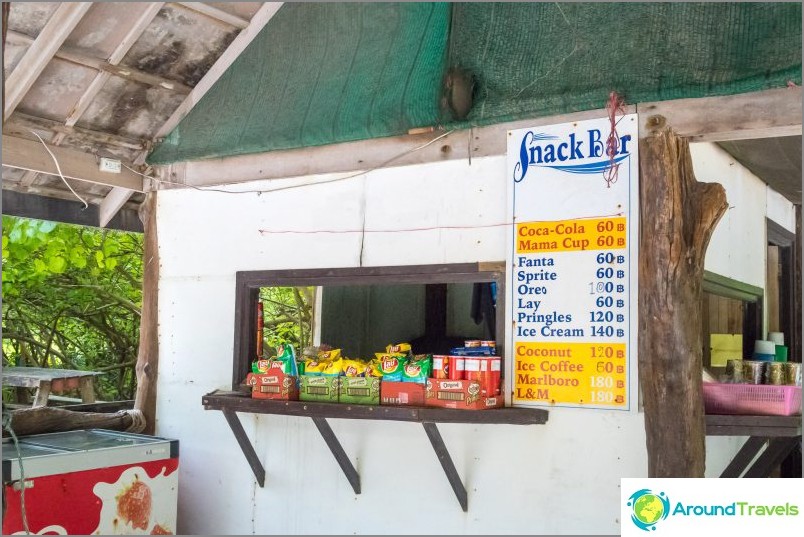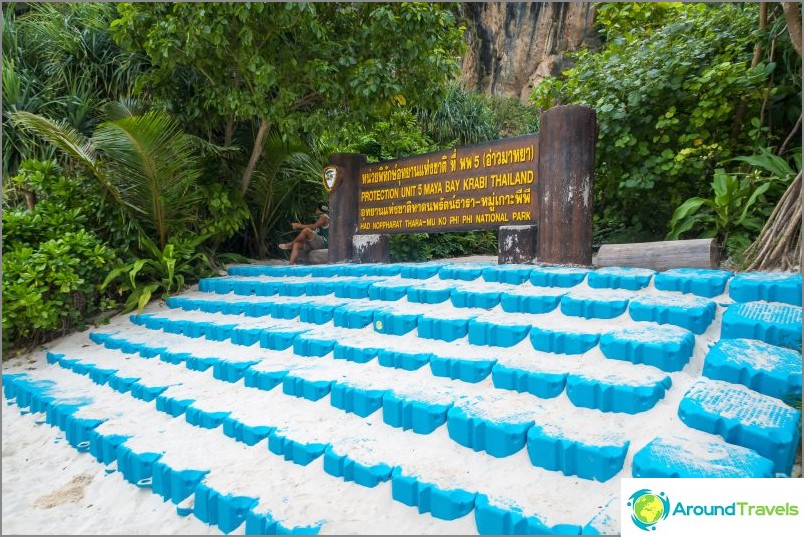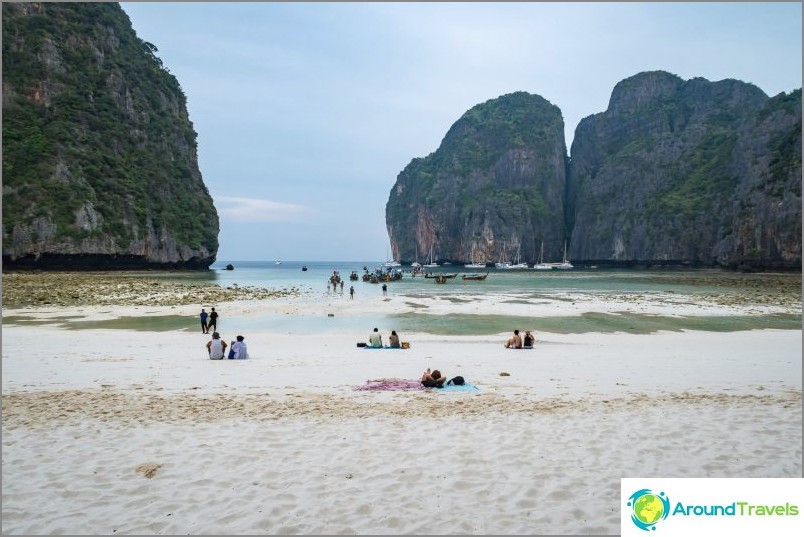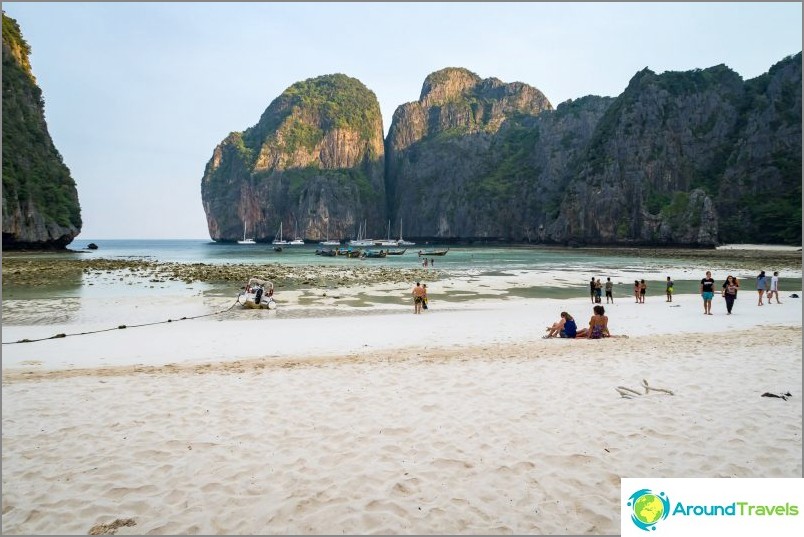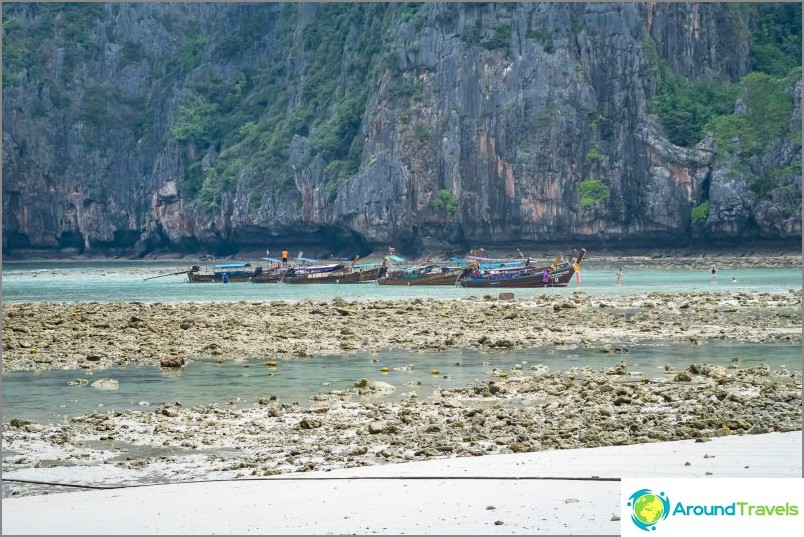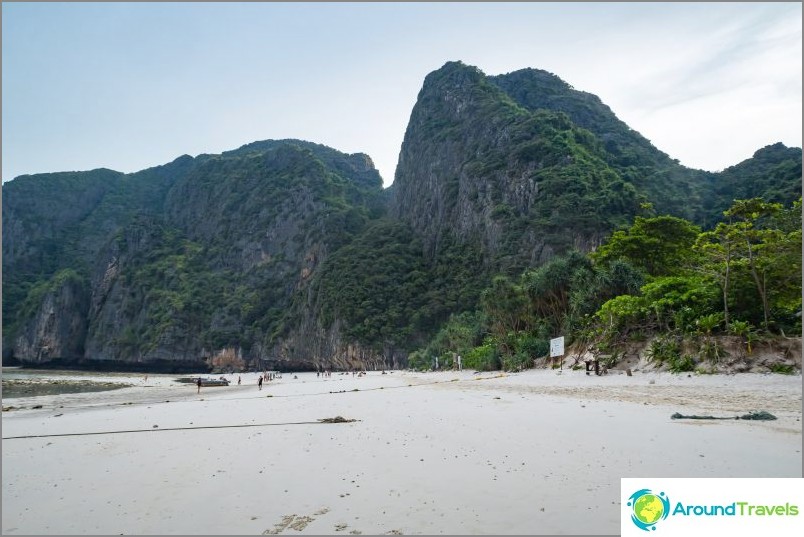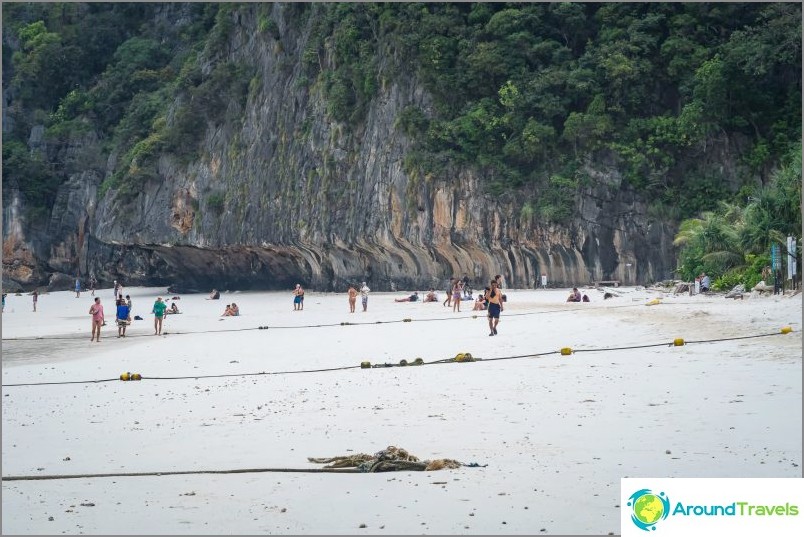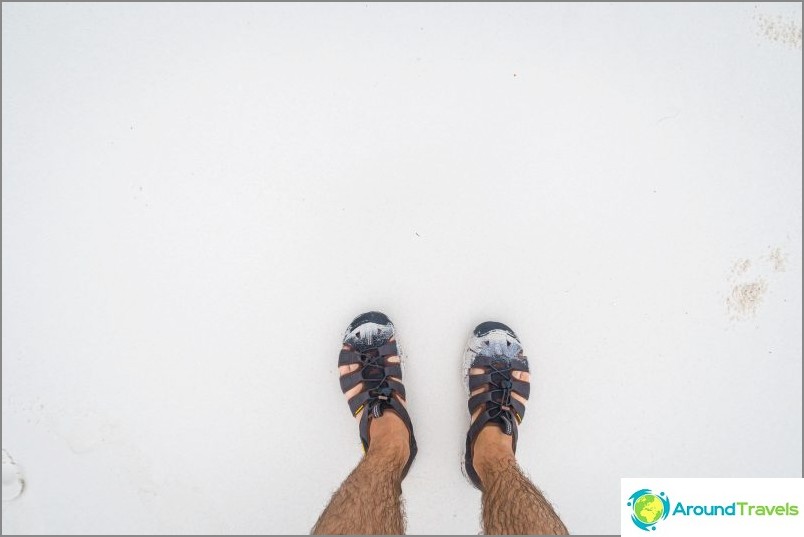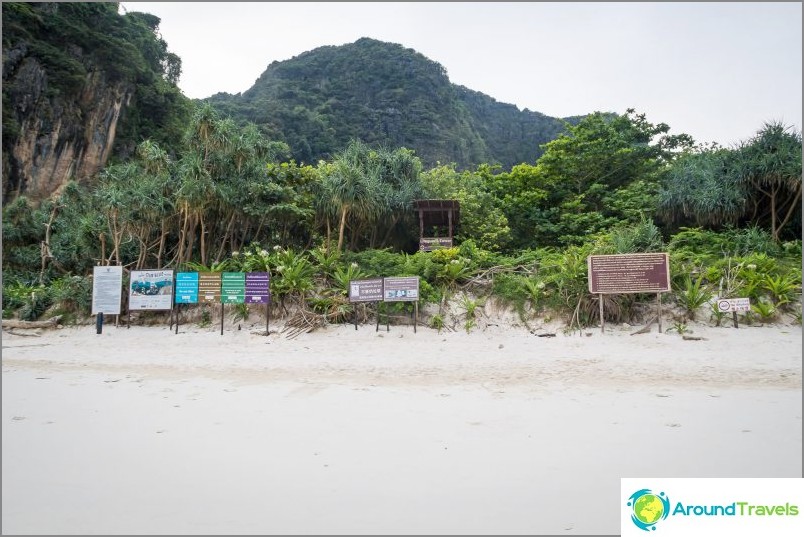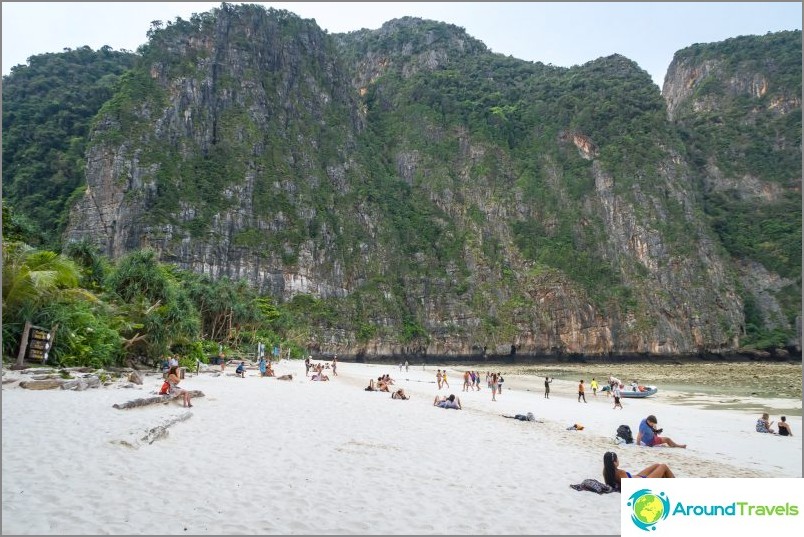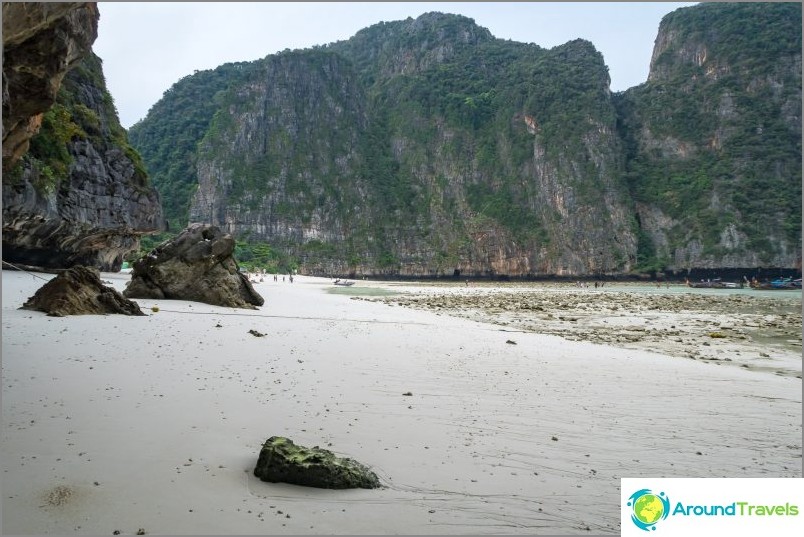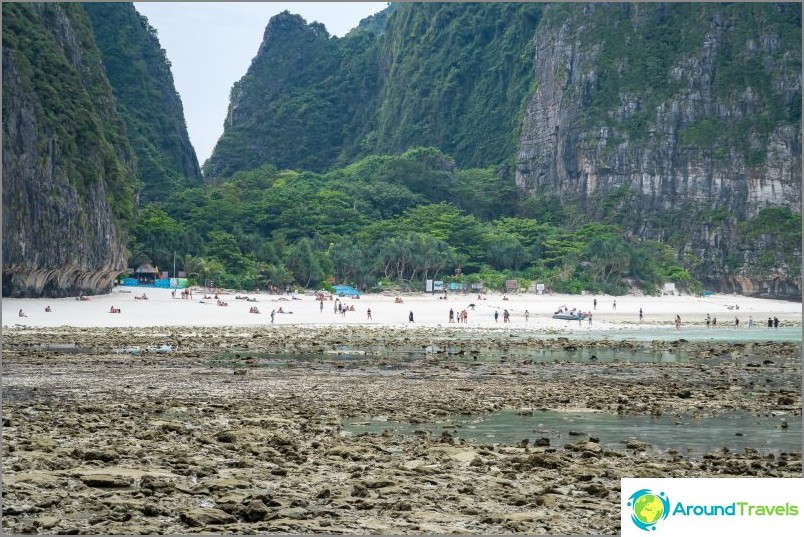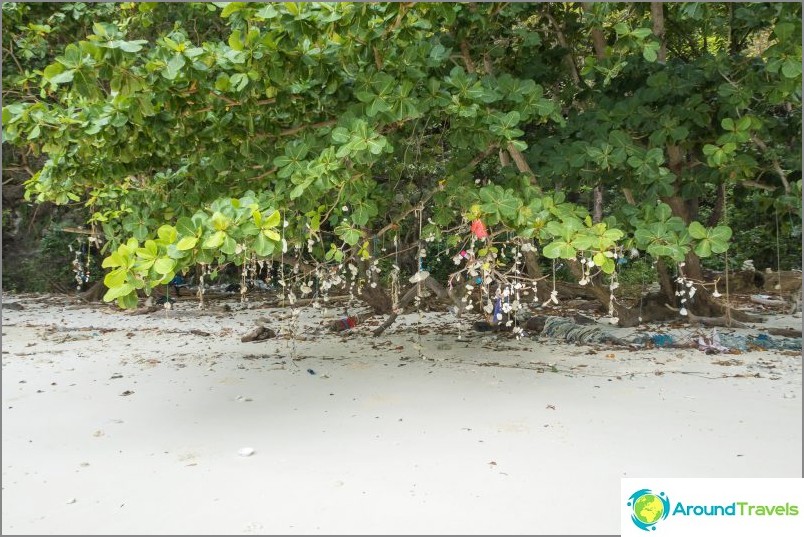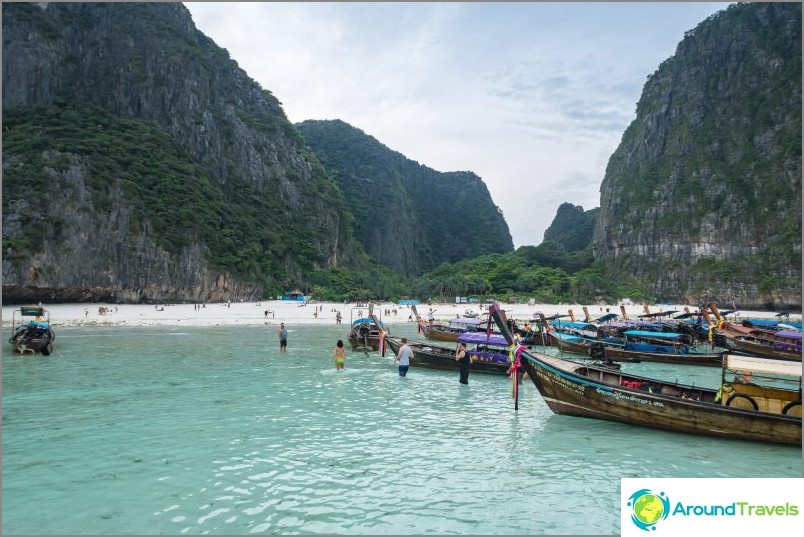 Maya Bay in March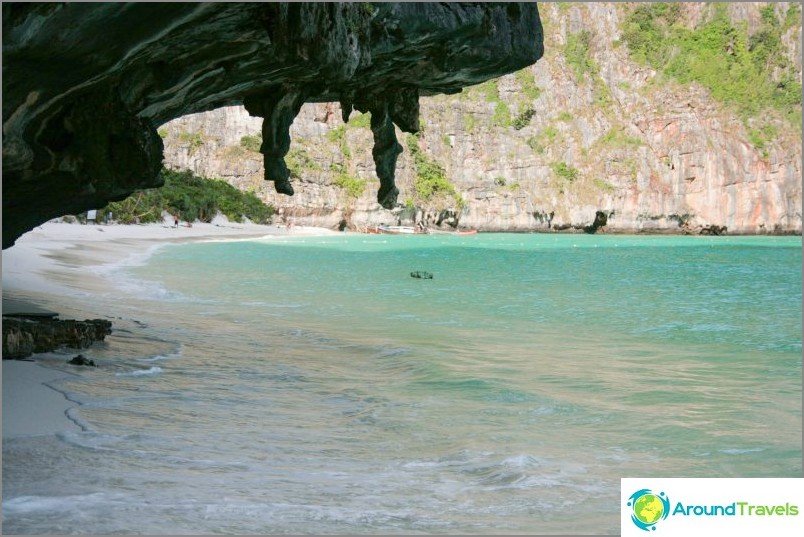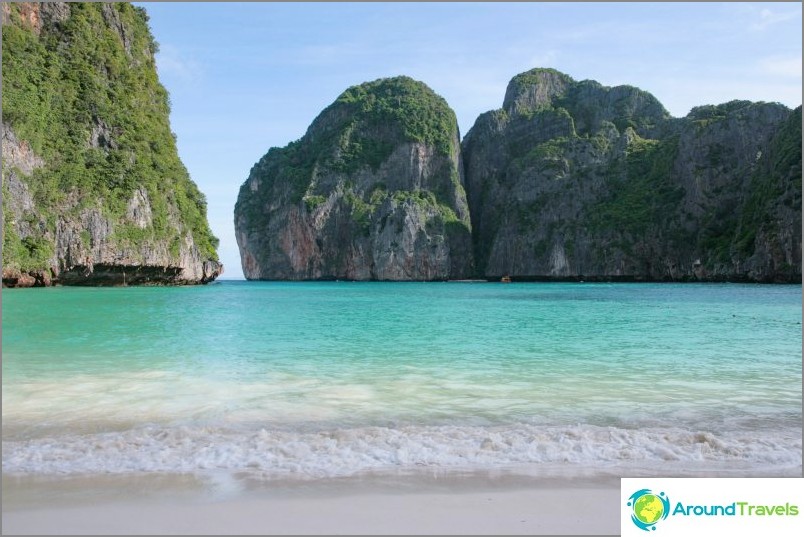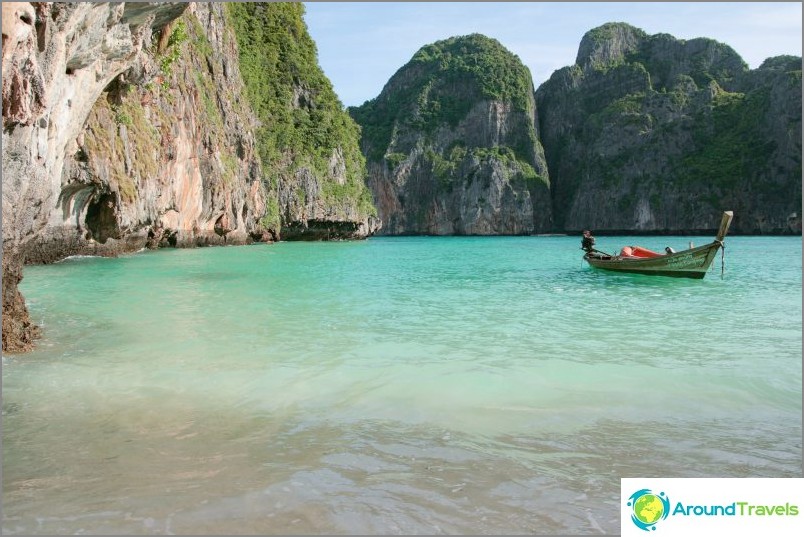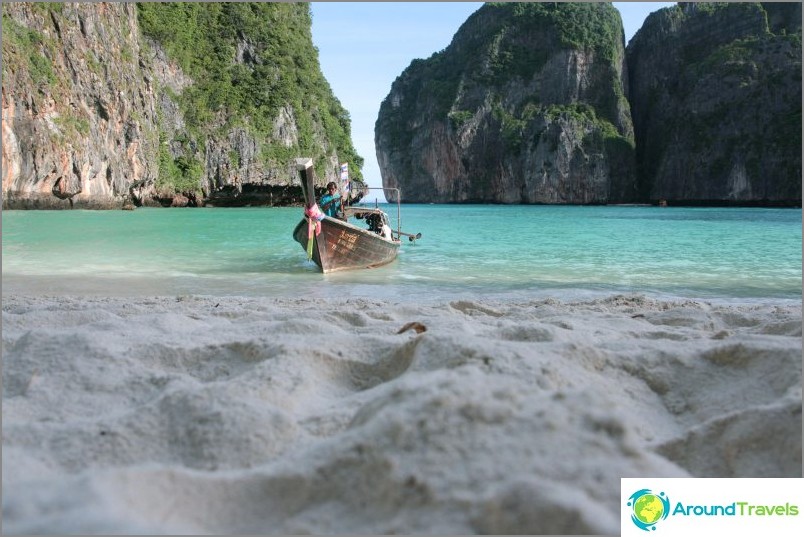 Information to visit
The time of visiting Maya Bay is limited by daylight hours, although this place is considered a nature reserve and package tourists are brought here from 10 am to 4 pm. You can still stay here (after purchasing a tour with an overnight stay on the island).
For this, more or less tolerable conditions have been created here: a tent camp (500-600 baht) and even several bungalows (about 2,000 baht per night), with a cafeteria, showers, toilets and other light amenities of a tent camp.
Reviews about visiting this camping leave much to be desired, as well as reviews about Maya Bay in general. My main disappointment with visiting the bay is that it was overtaken by one of the main problems shown in the film. «Beach» with DiCaprio - people. People very quickly spoil the beautiful and good places of the planet. That is why such places should be kept secret. The earlier you wake up and hit the road, the easier it will be for you to take pictures. «lost paradise» without people.
Tips on how to visit to see paradise
I only recommend 2 options:
Tour with an overnight stay to get up early in the morning and see the beauty of Maya Bay as it is, without tourists and boats to the entire horizon.
Take a private boat that is not tied to the group schedule and is generally not limited by anything, except for the total trip time - 6 hours. But here you also need to plan everything yourself. I described my experience of such an excursion in a separate article.
There is another option, to take an excursion to Phi Phi, which promises to visit the bay at a time when there are no crowds (banners on Phi Phi, they say, Crowdy ettenshen, but we know the way out), but in fact, it all depends on the responsibility of the organizers. Many people put on it. And considering that «no crowdy» offer on every corner, then I would not count on it much. If anyone went like this, write pliz in the comments.
Tips:
Explore the seasonality of ebb and flow in Krabi Province (on Phi Phi). It depends on what you see upon arrival: an azure lagoon or a sandy bottom with stones. You can choose from the table the day when the water will be higher. But keep in mind that on each specific day there will be different times, today the maximum water is at 5 in the morning, and in a week at 15 hours (conditionally). Table for Krabi.
To minimize the number of people, you do not need to swim there during the peak season: December-January-ferval.
Remember about the morning time, when there will be a shadow, think whether it suits you or not. As an option, come closer to sunset at 16, but how many people there will be a question. And I honestly don't know what's wrong with the shadow at this time.
Do not assume that the boatman or the organizers of group excursions take into account the time of the ebb and flow, they do not care, the excursions are a continuous stream.
If you are going on a private tour, then ask to be dropped off from the side of Lo Sama Bay to walk along the isthmus and exit to Maya Bay through dense thickets along a sandy path. Then there will be a wow effect that you will remember for a lifetime. I did it and it was cool.
If you want to see paradise - plan everything yourself. Or, just stay the night, then you will definitely find, and the ebb and flow.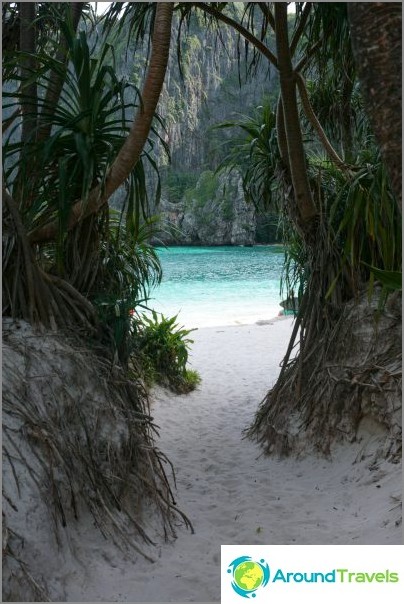 On the map
Maya Bay from the movie
Maya Bay from the movie
The same bay from the movie called "The Beach" with DiCaprio. An iconic landmark in Thailand. In the post, I described all the nuances of how to minimize the disappointment of visiting this place..
More details.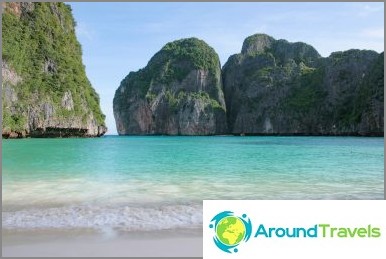 The same bay from the movie called "The Beach" with DiCaprio. An iconic landmark in Thailand. In the post, I described all the nuances of how to minimize the frustration of visiting this place..