A famous landmark of Krabi province, Phi Phi Islands, are two large islands: Phi Phi Don and Phi Phi Le. Phi Phi Don is the largest and most inhabited island in this area, and this is where you find yourself with any ship arriving from the mainland. All local hotels, all infrastructure are located on Phi Phi Don, and this is where you will live during your check-in. And Phi Phi Le is a reserved island, it is five times smaller than Phi Phi Don, and you can get here only by boat or as part of an excursion. Here is the main attraction of the Phi Phi Islands - Maya Bay and the very beach that appeared in the film «Beach», with DiCaprio.
The content of the article
Excursion to Phi Phi
I started early in the morning at 6:30 in a private taxi boat. Two options for this type of transport seemed convenient to me: the departure time and stop points are at the discretion of the customer, the main thing is to meet the paid 6 hours of the trip (which were proudly called 1-day trip when sold).
The following stops were included in the itinerary of my trip: Viking Cave, Pi Le Bay, Lo Samaya Bay, from there walk up the stairs to Maya Bay, then back to Phi Phi Don, there you will see the beaches of Monkey Beach, Nui, Lana, Lo Ba Kao. After them - a half-hour swim to the island of Bambu and return to the home port. The plan was good, but in fact, everything turned out to be not entirely rosy, although I could simply not be lucky with the boatman. And with the weather. And with the tide.
Viking cave
With faces swollen with sleep, in anticipation of the exclusive beauty of the reserved Phi Phi Le, under the dawn flashes of the morning sky, the boatman and I rattled on a longtail towards our first stop - Viking Cave. Viking Cave is located in the rocky slope of Phi Phi Le, just en route to Maya Bay and Lo Samaya Bay. If I knew that the boatman would not want to return this way, then I would ask him to make a stop near the cave to climb there and take pictures, it would take 5-10 minutes. Therefore, you only get two shots taken in passing. By the way, after talking with several travelers, I concluded that many hope for the opportunity to return, and often do not stop at Viking Cave, because they are in a hurry to see Maya Bay.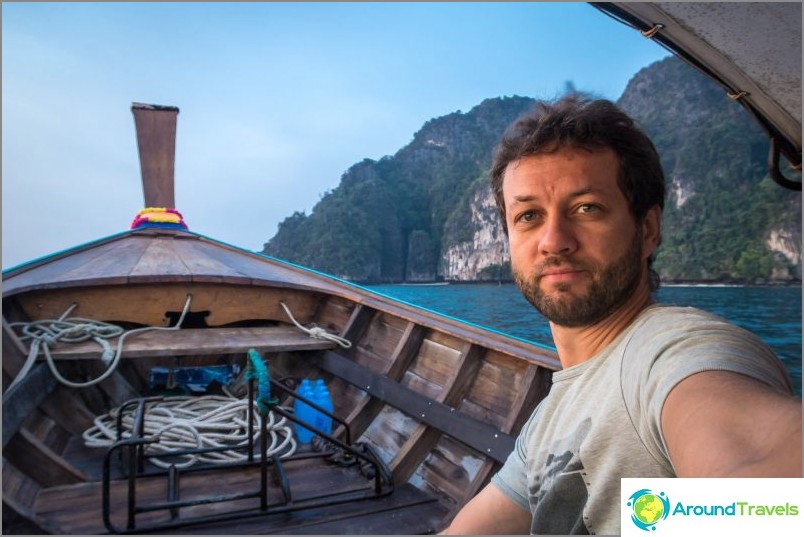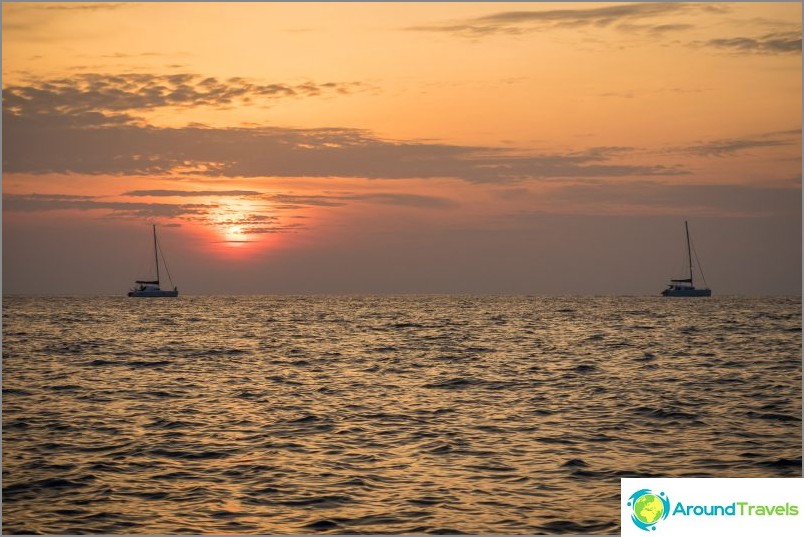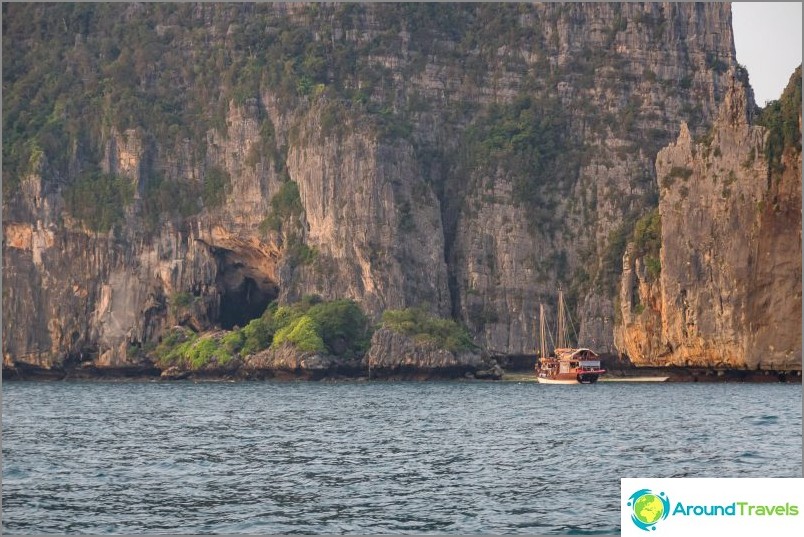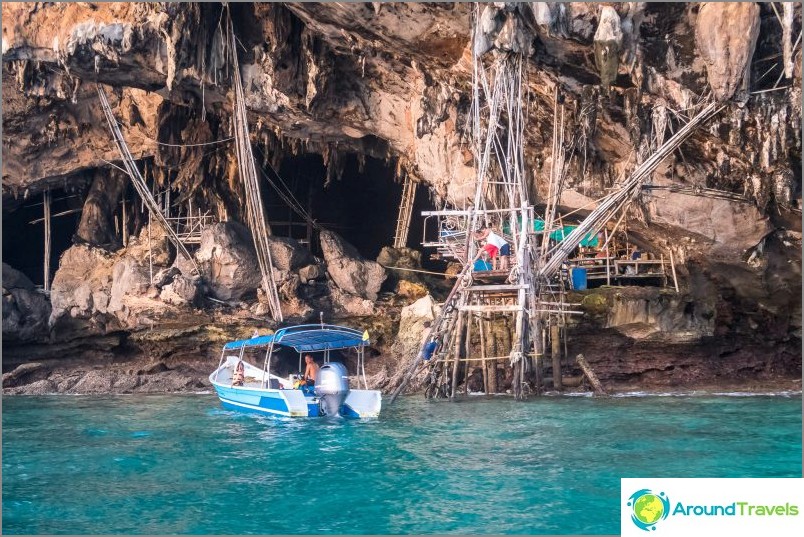 Pi Le Bay
Pi Le Bay looks equally fabulous both on Google maps and in photographs of tourists: shallow water no deeper than three meters, dazzling white sand at the bottom that reflects the sun's rays and illuminates the sea water from the inside with such an amazing color, from which the eyes stop blinking, and you lose touch with reality. It was with these expectations that I worried on the bow of the longtail while the boatman taxied around the next cape. But after the last turn, a sad picture opened up to me - it was impossible to swim in Pi Lei. Low tide. Moreover, such an ebb tide that on that part of the bottom it was possible to easily launch football players. It was at this moment that I suspected that I had chosen the wrong time for such a wonderful excursion to the Phi Phi Islands..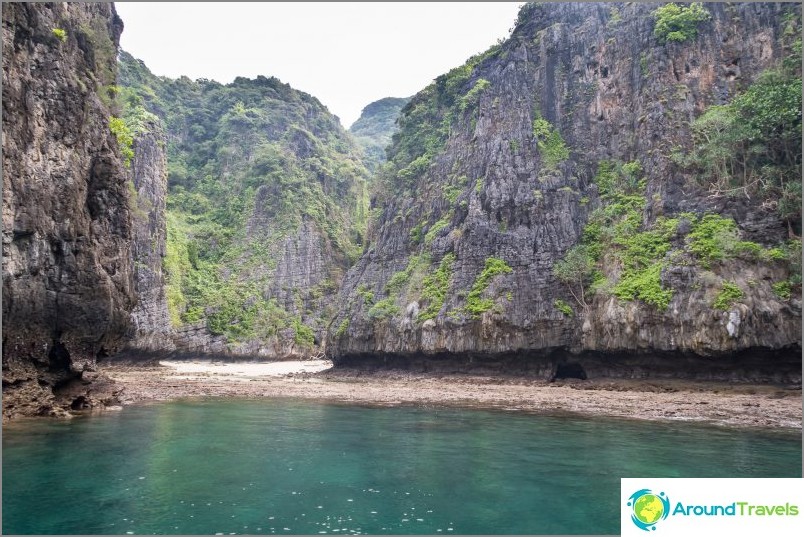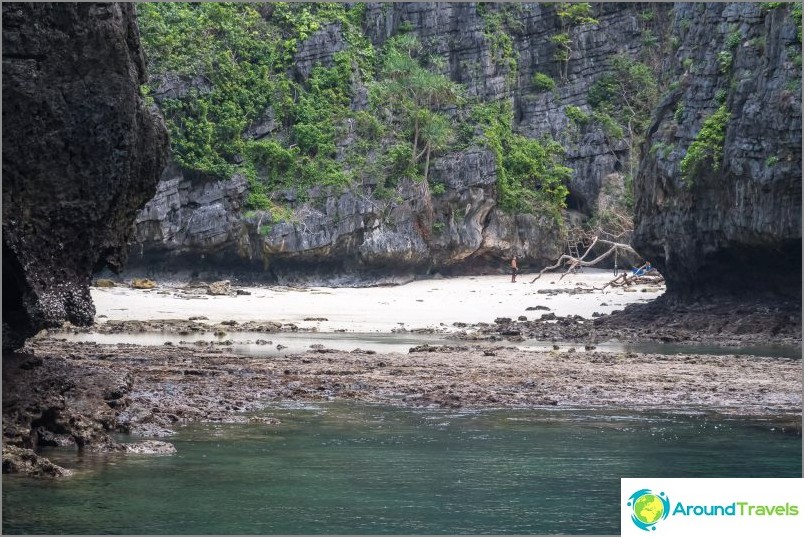 Lo Samaya Bay
We got to May Bay at about 7:30, and I asked the boatman to swim not immediately to the desired bay, but from the opposite side, where it borders on another bay - Lo Samaya Bay. Lo Samaya does not have its own beach, but there is a stone wall, on which a boarding net was thrown, as for pirates, along which you can climb up to a small patch of jungle. From there, on foot through the jungle, I wanted to make my way to Maya Bay to see the cinematic beach as it was shown in the movies: you walk, walk like this through the bushes, and suddenly bam - sudden beauty and euphoria. The boatman meanwhile went around the island to pick me up happy from Maya Bay.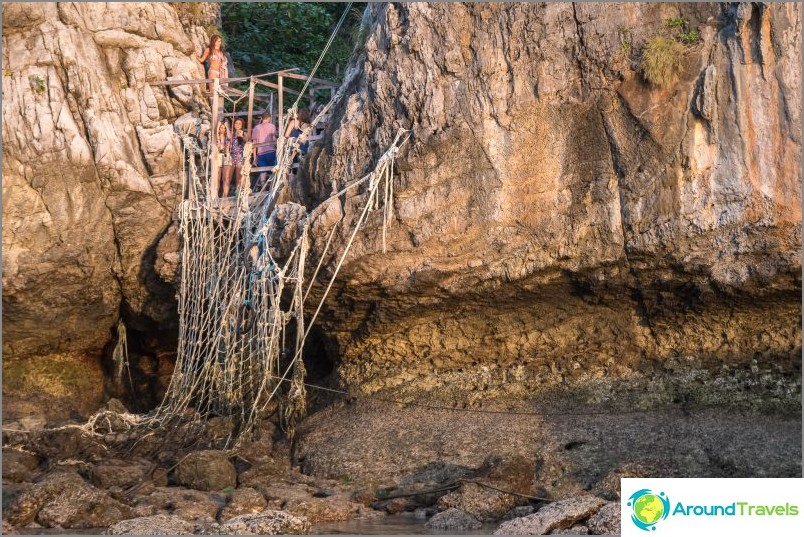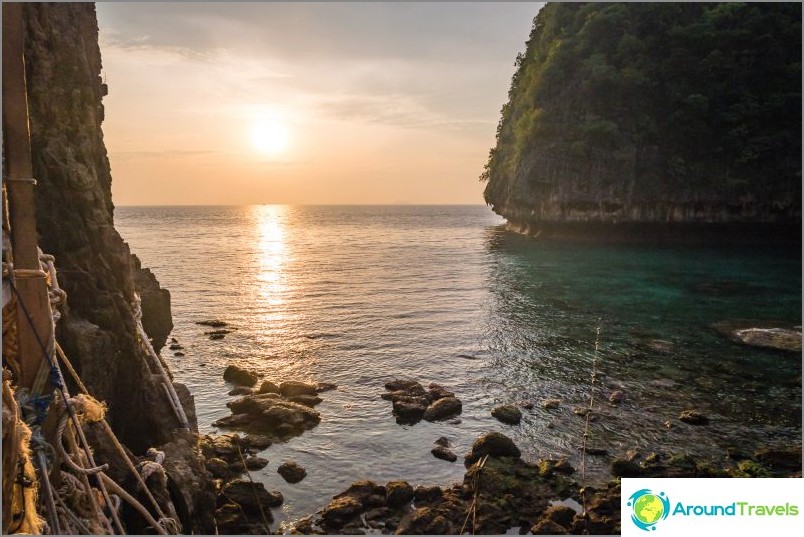 Maya Bay
Excursion to Maya Bay is one of the most popular in the south of Thailand, so if you come on vacation to Phuket or Krabi, then definitely the first place where you will be offered to go is Phi Phi. Living in Phuket or Krabi, you can go to Phi Phi with an excursion, that is, with a return on the same day. Or you can go to Phi Phi Don with an overnight stay or even several, and from there you can take a boat and explore all the surroundings. As you can imagine, the price of the popularity of the islands is usual - they are crowded during peak tourist hours. If you come here as part of an excursion, then the people here will be like in the Moscow metro - they will not be crowded. Therefore, one should sail here early in the morning, while the main stream of people has not yet woken up. I hit the right time and the wrong time. There were no tourists, but there was no sea either. Unfortunately, the tide on Maya Bay has not yet begun at this time.. Detailed description of the beach with photos I have posted it in a separate post.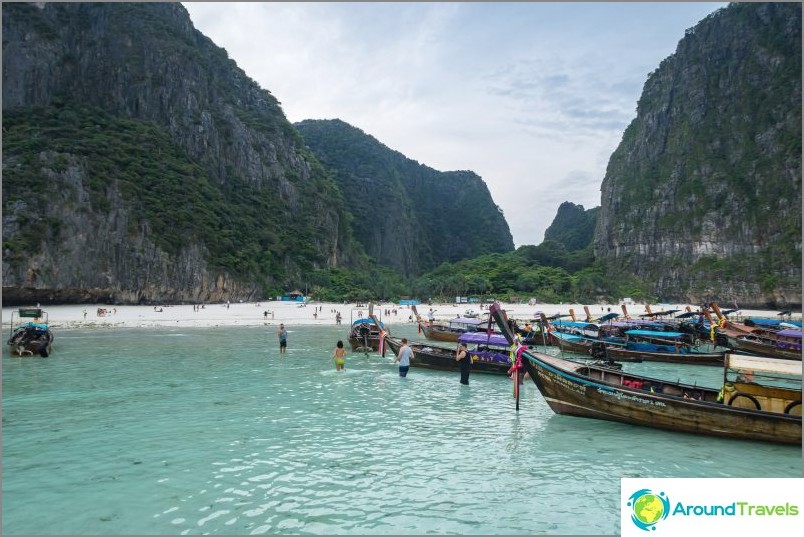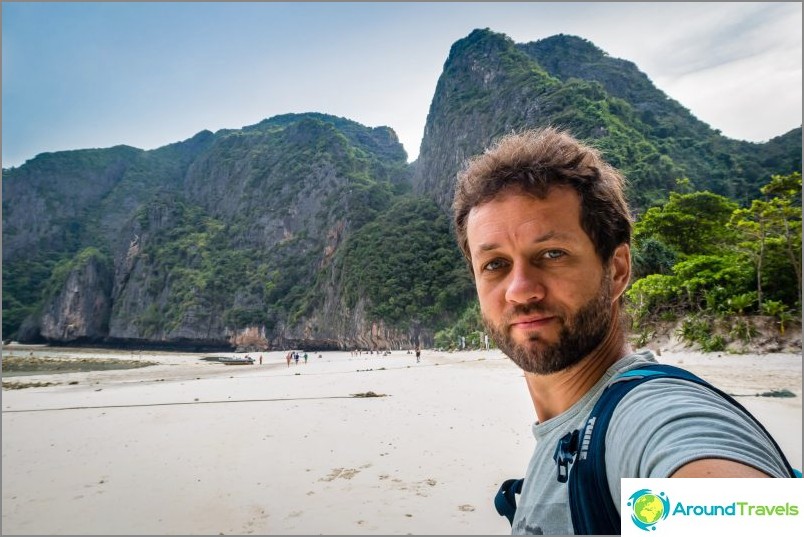 Nung Long beaches and cave
Further, after May Bay, we headed in the opposite direction to Phi Phi Don and first of all drove into the lagoon with the Nung Long beach on the western side of the island, it is very beautiful there..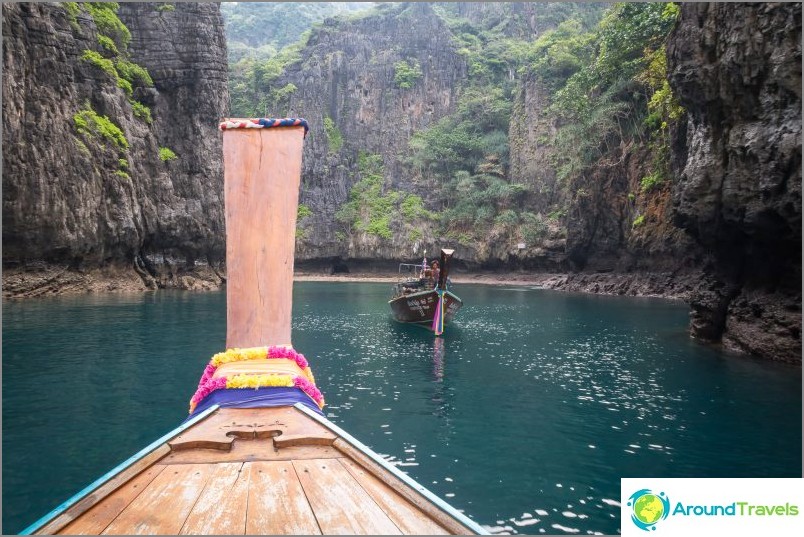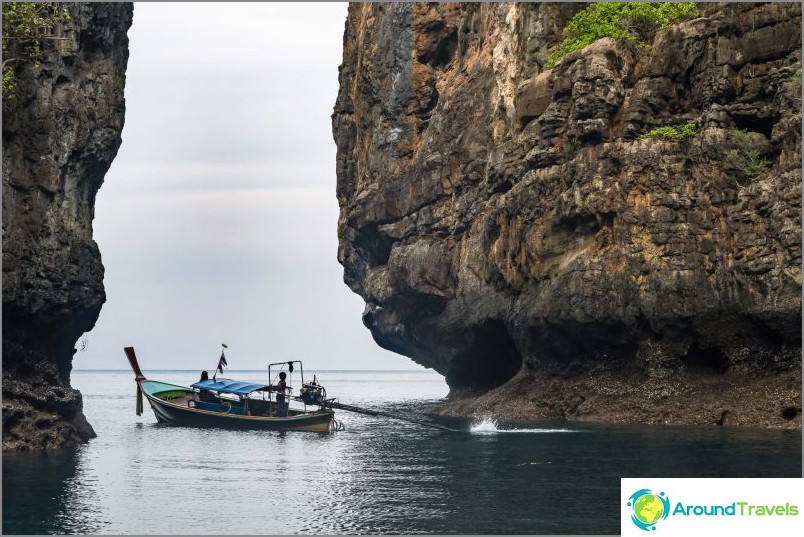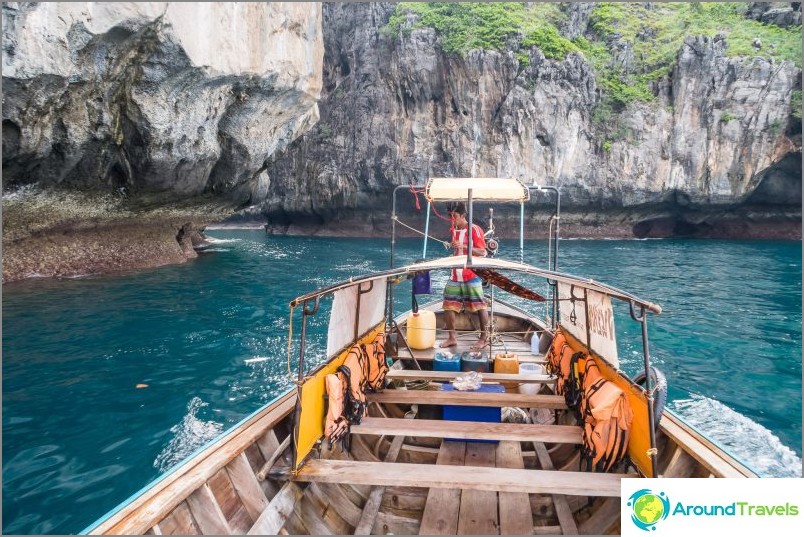 Monkey Beach
Then we visited Monkey Beach. In fact, it turned out to be a usual beach for Phi Phi, just there are many wild monkeys. I noticed that many tourists like insolent monkeys who behave like miniature gopniks: they fight, take things away from you, crawl under your clothes and steal food right with packages. Tourists are moved, squeak with delight and constantly take photos. In my presence the French came and (I do not know on purpose or not) rustled several packs of crisps. The monkeys rushed headlong into the boat towards them, took away the packages, tore them up and began to eat. The French and I arranged a photo shoot for the monkeys. The beach on Monkey Beach - with white sand, interspersed with stones at the bottom, in principle, you can swim. Detailed description of the beach with photos I have posted it in a separate post.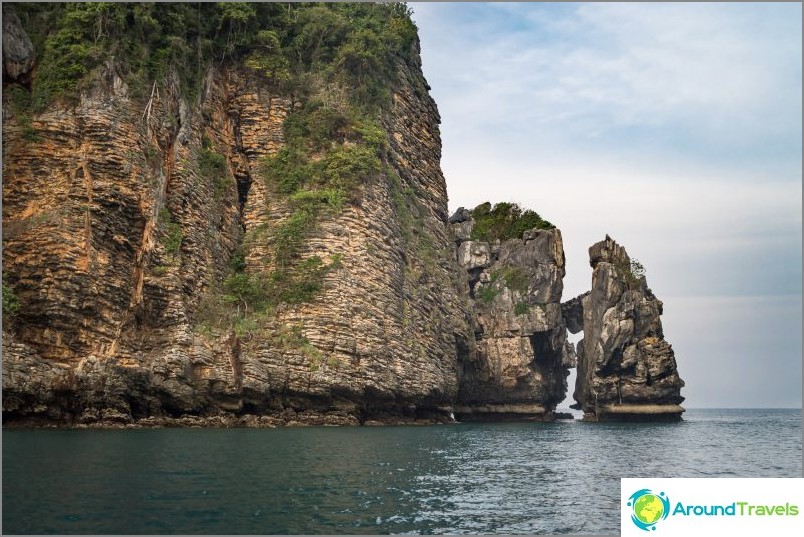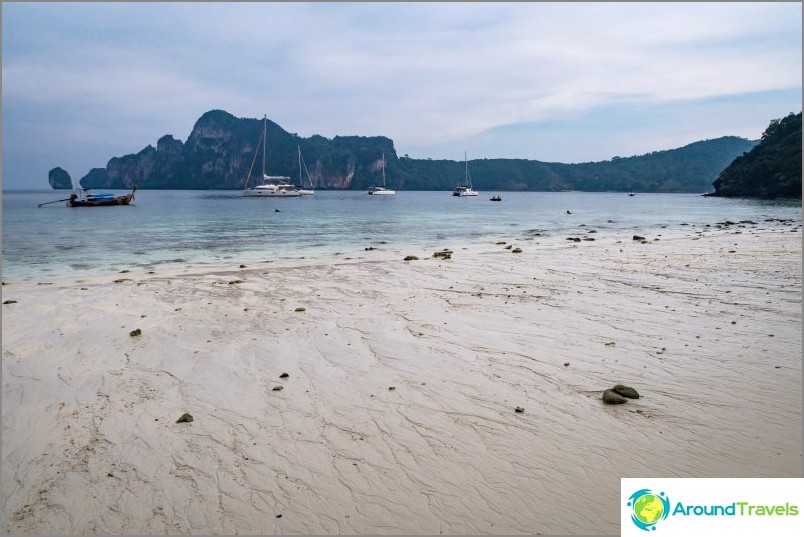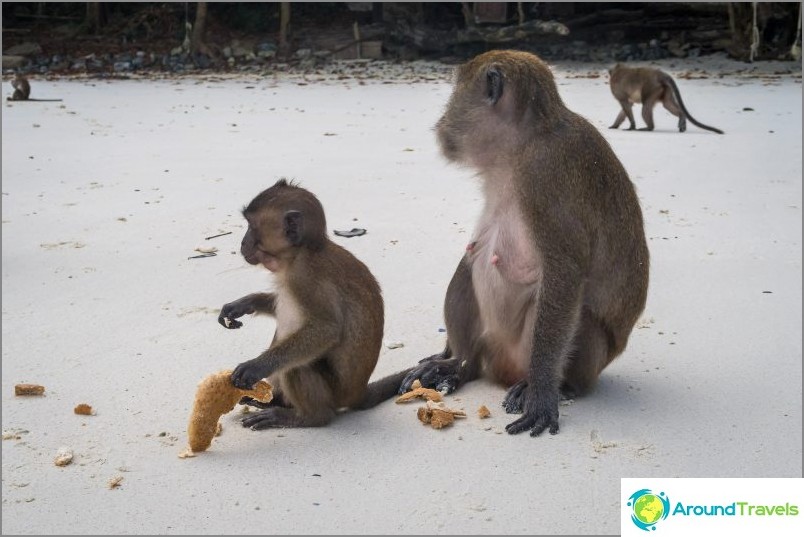 Nui beach
After that we sailed on - crossed the Lo Dalam Bay, reached the second half of Phi Phi Don and the boatman turned the boat to the neat Nui Bay. We only got a little closer to Nui beach, I took a few pictures of this beautiful, cozy place with sheer cliff walls around the beach. Considering that at the time of our arrival there were already several boats that brought people for snorkeling, I concluded that it was most likely a suitable place for snorkeling. True, I looked at my watch and did not disembark and check - time was running out. A little more detail and more detailed description of the beach I have in a separate article.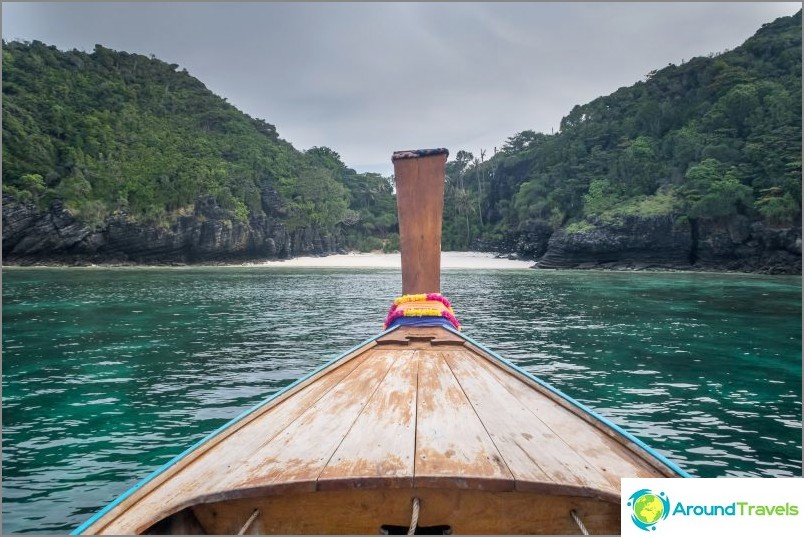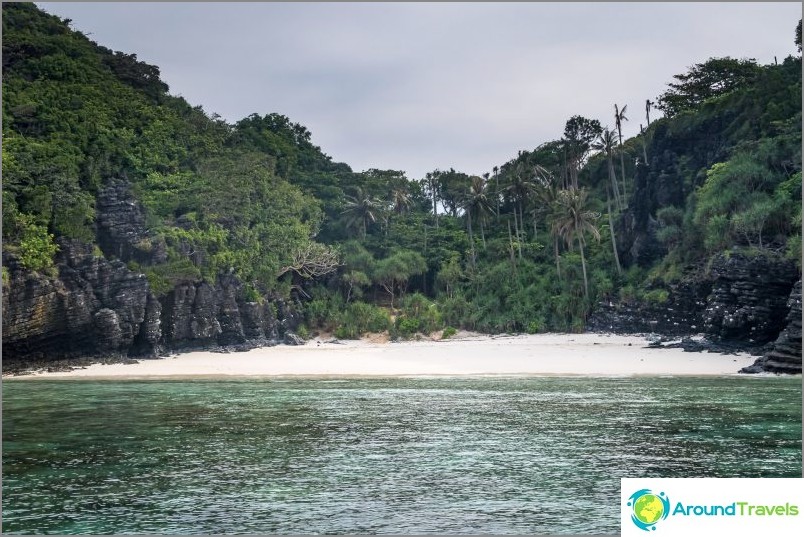 Lo Lana beach area
After that we sailed to Lana beach, parked there and I walked around the area of ​​three neighboring beaches: Nui, Lana and Lo Ba Khao. It is easier to get to Nui Beach by sea, but Lo Lana is already accessible to pedestrians. Lana and Lo Ba khao are located on opposite ends of a small depression that is half flooded with seawater and densely overgrown with mangrove trees. Lo Lana used to be an inhabited place, with a nice bungalow resort, but in the pictures you can see what is left of it. Now it is an ordinary wild beach, with garbage, thickets of grass and bushes, although it is not deprived of the attention of tourists. I wrote a separate post about Lo Lan Beach and took a lot of pictures, so I will not dwell on him for a long time in the description of the excursion.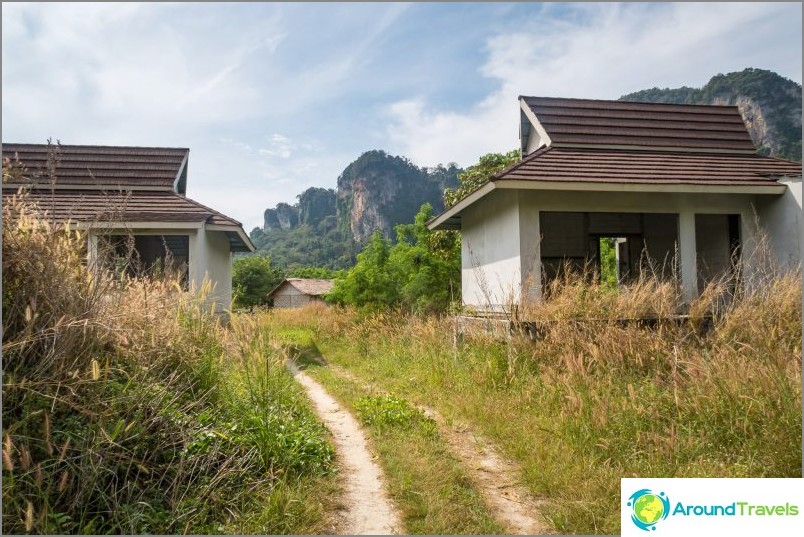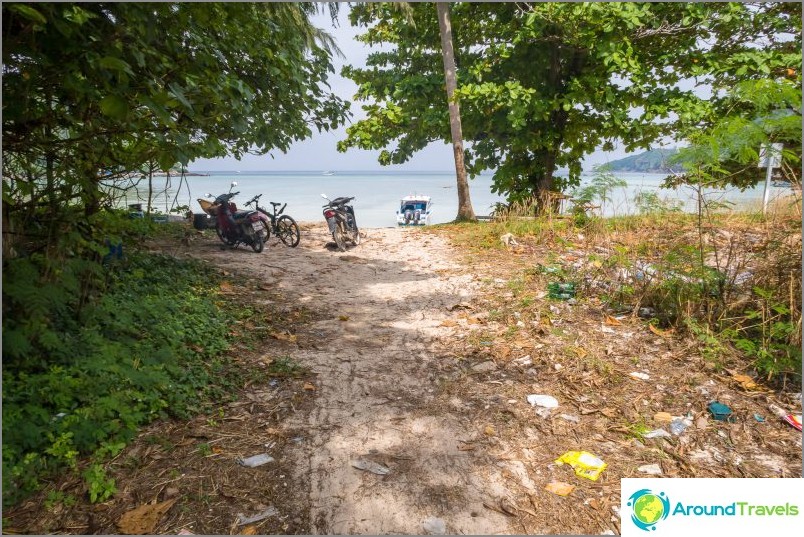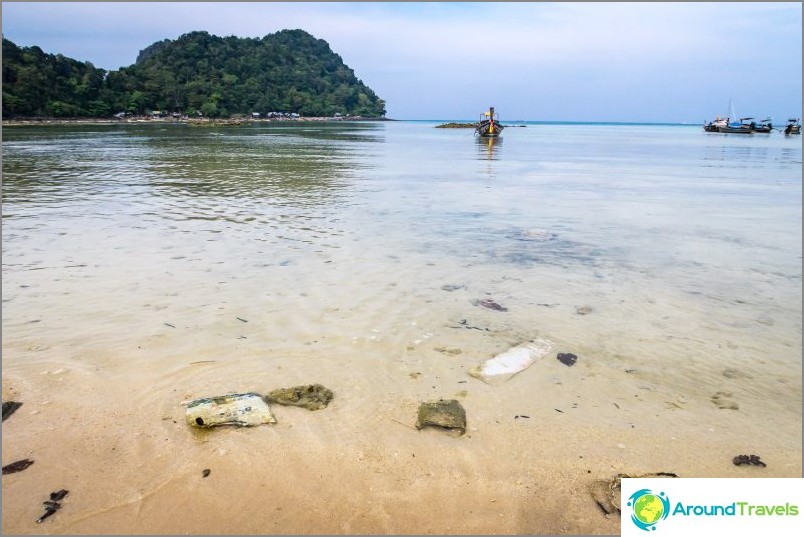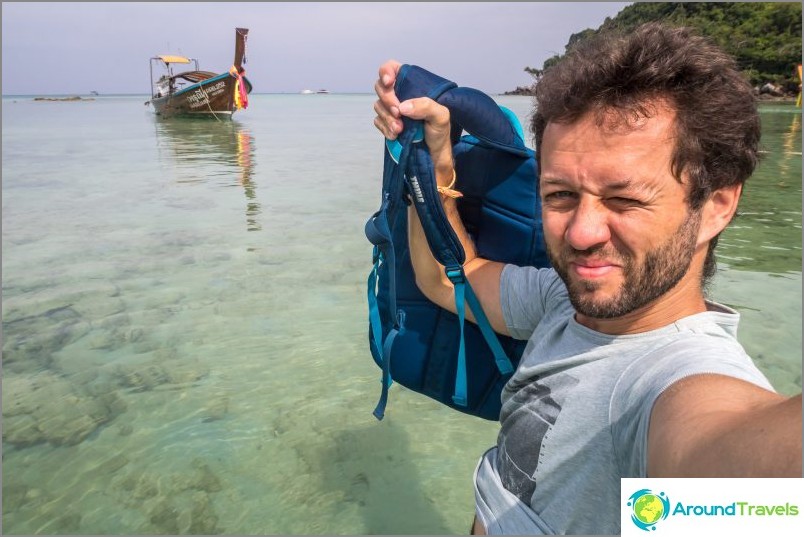 Neighborhoods of Lo Ba Khao beach
Literally five hundred meters from Lo Lan there is Lo Ba Khao beach. I walked across the plain, crossed the bridge there, and ended up on a charming tropical beach. People who want to live away from civilization stop in this remote area, but this location has its own minus - they have to get to Phi Phi Town by taxi boat, which means additional costs and inconveniences. But if you came to purely relax on the beach, then you can not be fooled by taxiboats - just once is enough to look at Phi Phi Town and return to Lo Ba Khao. There is not only a huge five-star hotel, but also several small bungalow resorts with a much lower price tag. You will find more details about the beach in my separate post about Lo Ba Kao.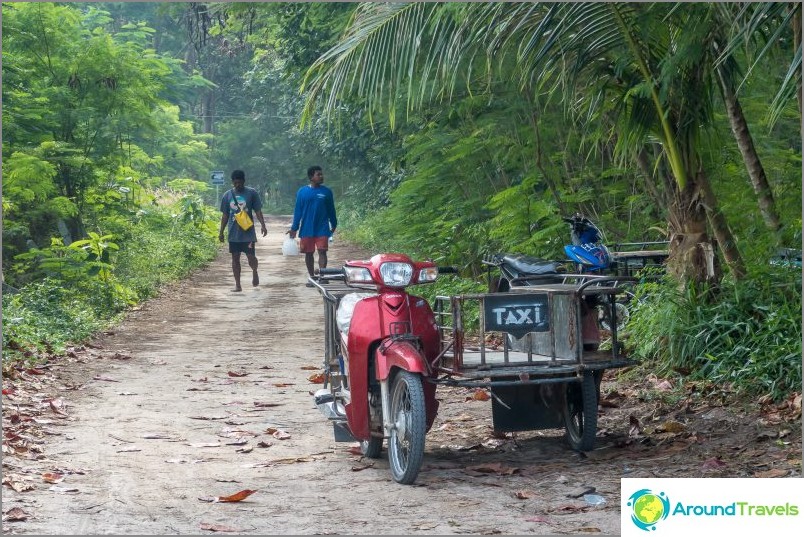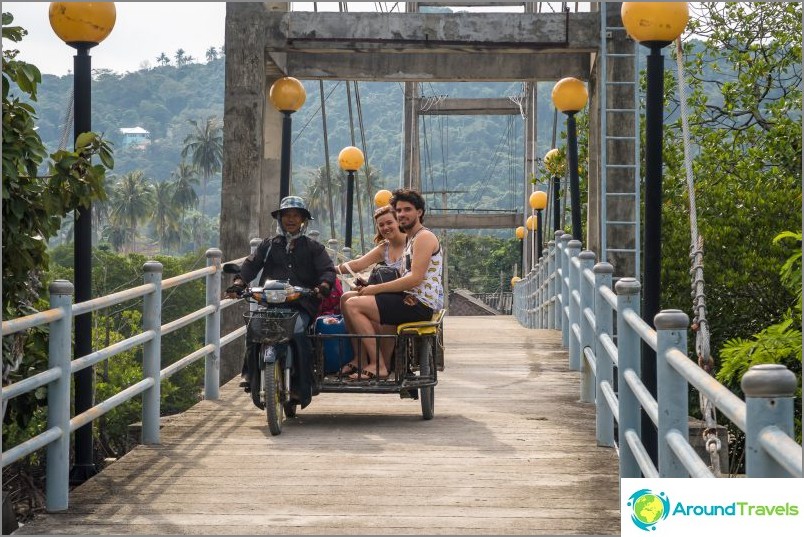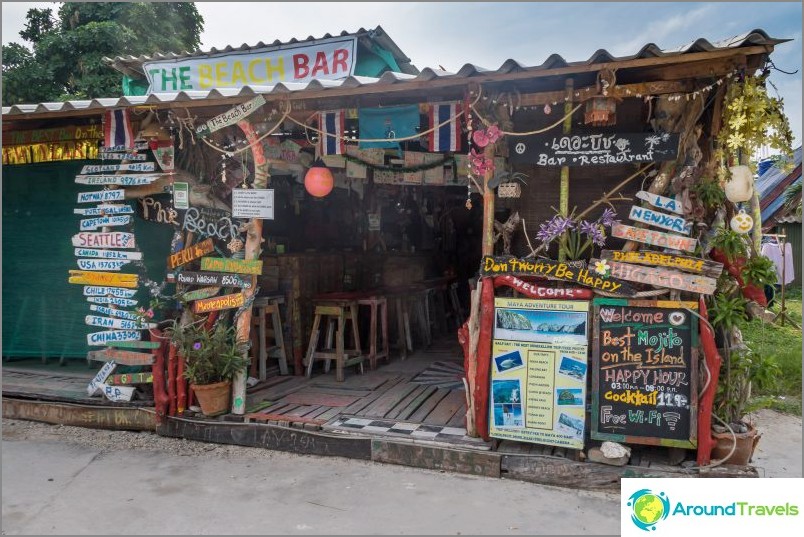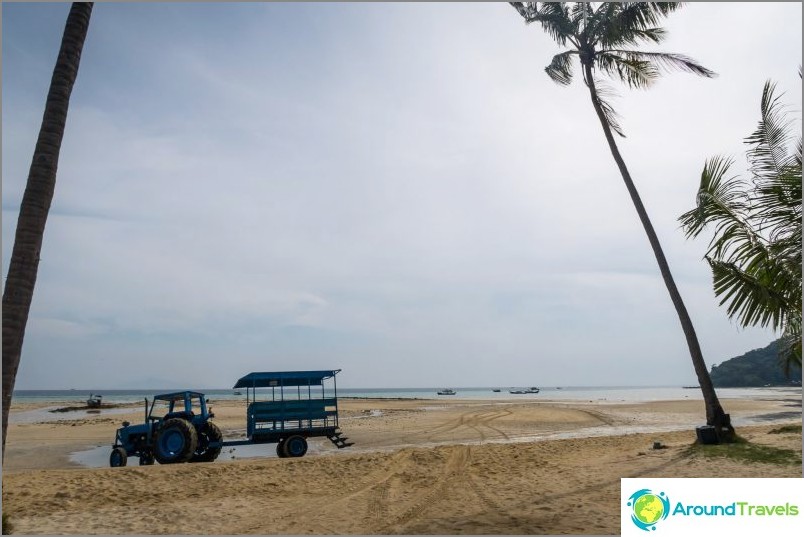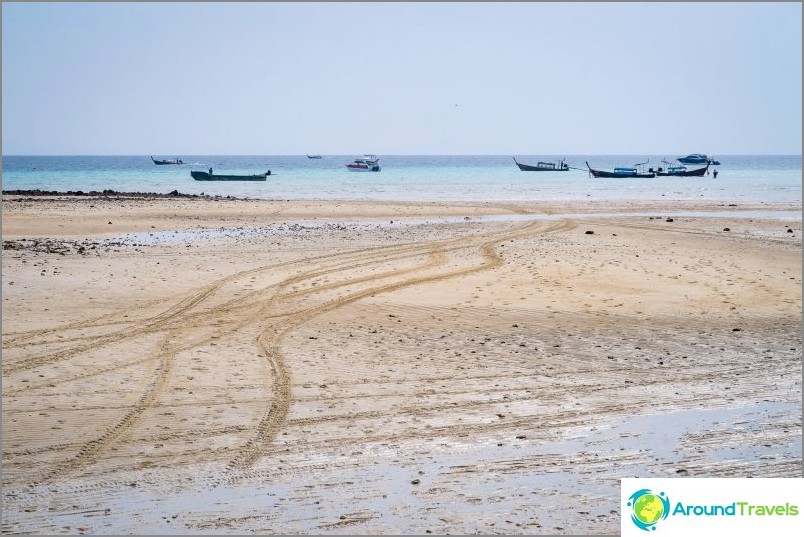 Bambu Island
Then we moved to Bambu Island, which is located north of Phi Phi Don. It is quite small, half overgrown with jungle, but I understand that everyone loved it due to its bright white sand. My boatman moored in the southern part of it, where there are very small patches of sand 5-10 meters long, there are a lot of stones and at first it was not clear to me why we came here. After talking, I found out that he gives me half an hour to walk around and take pictures. I have a separate story about this island - Bambu Island near Phi Phi. In short, I will say that its main beach is located in the northern part, it is very beautiful, really - bounty, but at the same time there are a lot of people. The southern part of the island is less swimable and there is, in principle, nothing to do on it. From Bambu we sailed back to Tong Sai pier, which is located in Phi Phi Town. Travel time from Bambu to Thong Sai - approximately 30 minutes.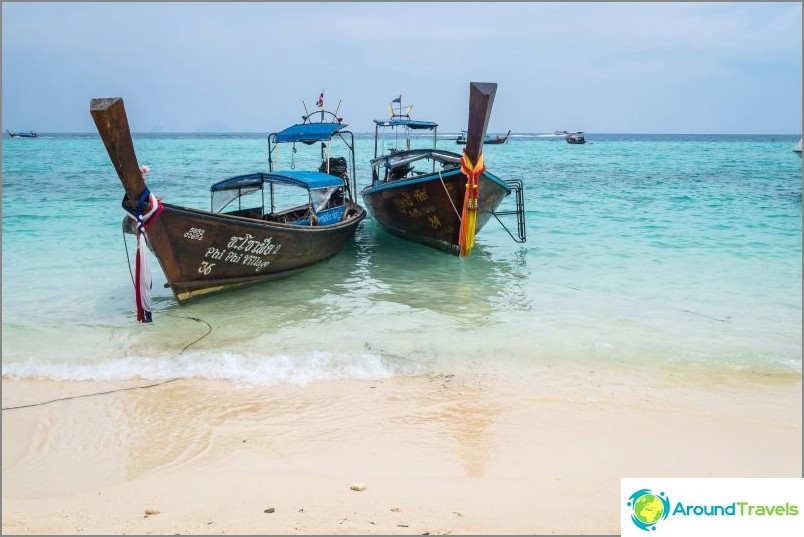 Information to visit
How to get to Phi Phi from Phuket and Krabi
Travel time to Maya Bay
Peak hours, when the number of tourists exceeds all reasonable limits - from 9 am to 4 pm. Hell itself is at noon. If you want to be in solitude, then you need to set sail before 8 am, or after 4 pm, closer to sunset.
But even in this case, if you come during the season (January-February), it is very unlikely that you will be able to be alone. Too popular and hyped place.
Ebb and flow
The beaches of Phi Phi are shallow, and the water at low tide drops in some parts of the islands up to 3 meters, which means lunar landscapes instead of tropical paradise. Look up the tide schedule in advance and write down the tide at the right time in the morning. Unfortunately, the ebb and flow happens at different times, every day.. About tide tables.
Weather
Although, it would be more correct to write - the season. Weather changes everything: light, color of sand, sea and sky, mood and photography. In my case, the weather did not work out very well, although they promised a clear one. In fact, there was a haze, which is why all the pictures turned out to be gloomy, and the water was not at all azure..
Your expectations
If you want to see the real beauty of the Phi Phi Islands and Maya Bay in particular, then you should definitely consider the first 3 points. And if the exact correspondence to the ideal is not so important, and you are able to finish the missing in your imagination, then you can ignore what I wrote.
What is the best way to go to Phi Phi, with what excursion
Variants
You can get to Maya Bay with a minimum of tourists by purchasing an organized Awoid Crowd tour on-site on Phi Phi Don, at 6:30 am for Early Birds. This is an organized tour that only includes Maya Bay. The problem is that these tours sell on every corner and there are many who want to avoid the crowds..
Private boat, as I did. Again, taken locally. You pay for the boat and ride it in splendid isolation, or you can reduce the cost of the trip if you are a large company. I took the boat for 3000 baht per day. This position sounded like a 1-day tour 6 hour, that is, in fact, not a day, but six hours.
Other kinds of tours (day, evening, with a different set of places to visit), which are bought on the spot in one of the travel agencies in Phi Phi or at the hotel reception. All prices are the same plus or minus. Pay attention to the tours, when you find yourself in Maya Bay in the afternoon, there should be fewer people, although it is not a fact that you will like the light.
Tour with an overnight stay on the island, which makes it possible to be alone (well, or with a bunch of still the same romantics) on the beach in the early or early morning or before sunset, and at night, of course.
Take an excursion in Phuket or Krabi for 1-2 days. For the price, this is the most profitable option and takes less time from you, which is important for those who came for 1-2 weeks on vacation and are not ready to give Phi Phi a decent part of their vacation.
If my task was to visit Maya Bay, even with a crowd, then I would take an excursion from Phuket with an overnight stay in Phi Phi Don. This includes a transfer from the hotel in Phuket to the ferry, the hotel on Phi Phi Don, and the excursion to Mayai Bay itself. In total, the money is more profitable than buying all this separately.
Prices for excursions to Phi Phi>
I deliberately took a private boat to check the most, in my opinion, interesting option, which in fact did not turn out to be in my case. And it's too expensive for one, group tours are cheaper.
I myself do not like the crowd. If you also, then in any case it is worth taking some such option in order to go not at the most popular time, that is, this: Awoid Crowd tour, afternoon tour, overnight tour, private boat.
The nuances of a private taxi
In my particular case, the boatman was very sluggish. He doesn't have to be a tour guide, but according to people's reviews, I expected more initiative from him, but in fact he constantly asked me where we were going next. And when we arrived at the place, he did not tell me what to do, that is, it was assumed that I initially read everything, I know everything, and will tell me where to sail. We followed the standard route, but it seemed to me that he did everything sluggishly and reluctantly. And when I told him that I wanted to go to Bamba Island, he began to refuse, like «far away, maybe you snorkel better, waves, wind», at the same time, no storm was observed, and the waves did not bother me personally. It seems that he wanted to bring me somewhere to one place for five hours and then take me back.
He also did not tell me anything about the time so that I could fit into the program. Although initially it is clear that if someone takes a boat for 6 hours, then they love to visit both May Bay and Bambu Island. As I understand it, he had to control the time and tell me how much I had left in each place. I tried to tell him to moor to some beach on the way, but he refused, perhaps because it is not included in private. In short, a lot depends on the boatman himself, and it is better to negotiate such things in advance so that the travel agency does not send you a lazy seal..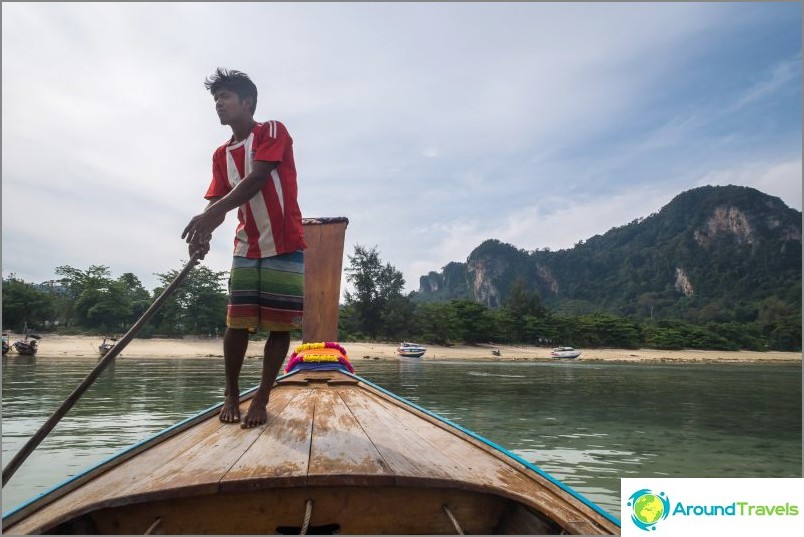 Overnight at May Bay
If you choose a camping tour, you will get to Maya Bay with an overnight stay. There are tents in the jungle and even wooden houses are built along the rocks in which you can spend the night. An overnight stay allows you to experience the best hours of the day at Maya Bay. Theoretically, you can sleep on a mat in a sleeping bag right on the beach.
What to take with you
When you buy an organized tour, there is usually food included. In the case of a boat taxi, you are left without food, and it's good that I took nuts with me. More precisely, the boatman bought some stupid Thai sweets, offered it to me, but I refused. But there were very few of them anyway, so even if I ate it all as breakfast, it wouldn't work. Buy food with you, but something not perishable.
Sun cream is a must. Grab a snorkel and a mask with fins - there will be several stops for snorkeling: at Lo Phi Le Bay (in high water), at Lo Samaya and on the large reef between Phi Phi Don and Bambu Island. Take drinking water, one and a half two liters. There is no fresh shower on Bamboo Island, you will need to wash at least your face after bathing. If you buy a waterproof surfer's bag, it is very convenient when constantly landing from a boat. Swimming shoes - very useful when landing in Lo Samaya and Viking Cave, and in other places of the trip.
On the map
Phi Phi Islands Map
Phi Phi Islands and Surroundings Map: