I have long wanted to get to the northern village of Mae Salong or, in our opinion, Me Salong. Attracted by 3 things: the fact that it is a mountain village, there are tea plantations everywhere and you can drink fresh tea, a photograph of a huge teapot-building, once seen on the Internet. I arrived here in the evening after geyser in fang, it was already dark. Checked in and the reception closed. This point, by the way, should be taken into account when traveling in Thailand. In large cities, of course, this will not happen, but in small towns and villages it will. It is best to arrive there no later than 19 p.m., as the activities of the Thais end with the onset of darkness.
It is better to go to Mesalong early, and not in February, as I went. Much had already turned yellow, tea plantations were not everywhere, in general the landscapes were already simpler. However, this is not a reason to postpone the trip if you have already planned.
The content of the article
Me Salong
The village itself was formerly called Santikhiri, not Mae Salong, but then it was renamed. It was founded by the remnants of the Chinese army who left here from Mao Zedong's party. At first, they simply expected to return to their homeland, and then they stayed to live. They were given citizenship in exchange for helping them fight the Thai communists. So the village is Chinese and the tradition of drinking tea is also from China. Outwardly, of course, the village is Thai, but some Chinese motives can be seen in the architecture..
By the way, they used to grow opium there, but then they retrained for tea. They turned out great oolong tea, I recommend it! Opium was probably good too 🙂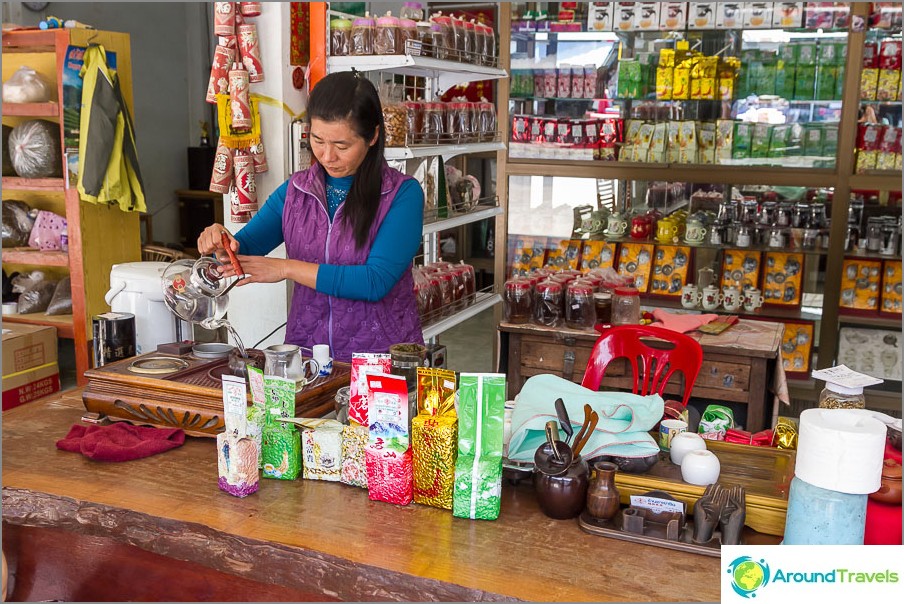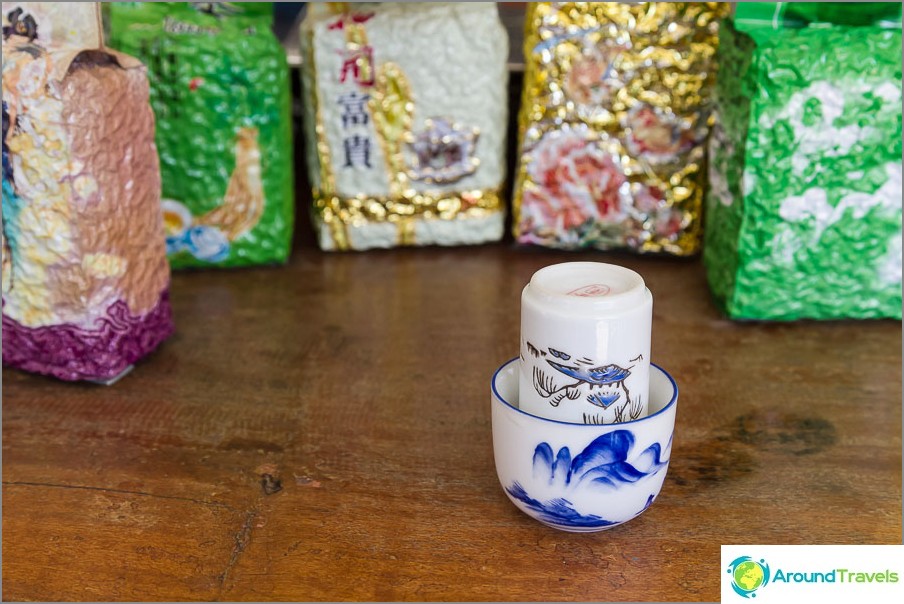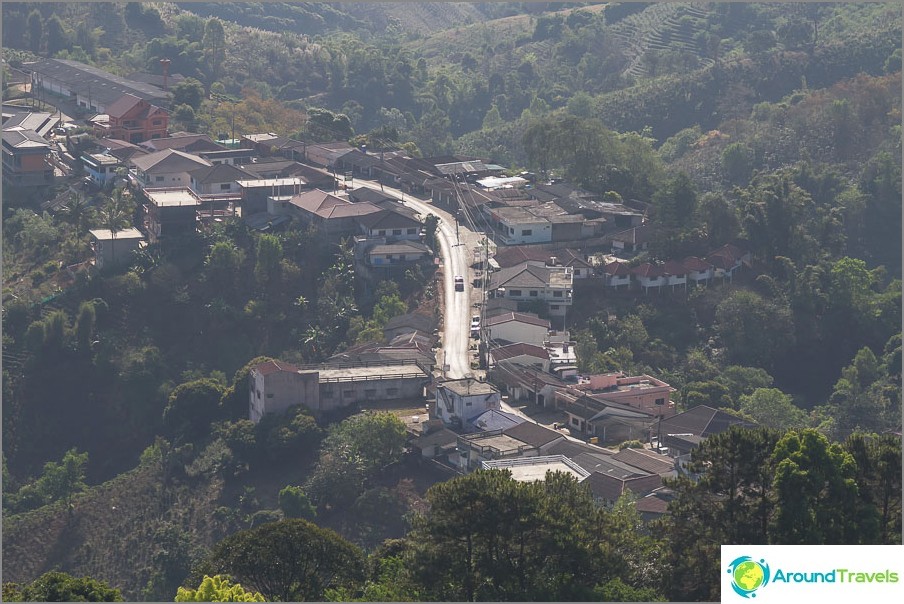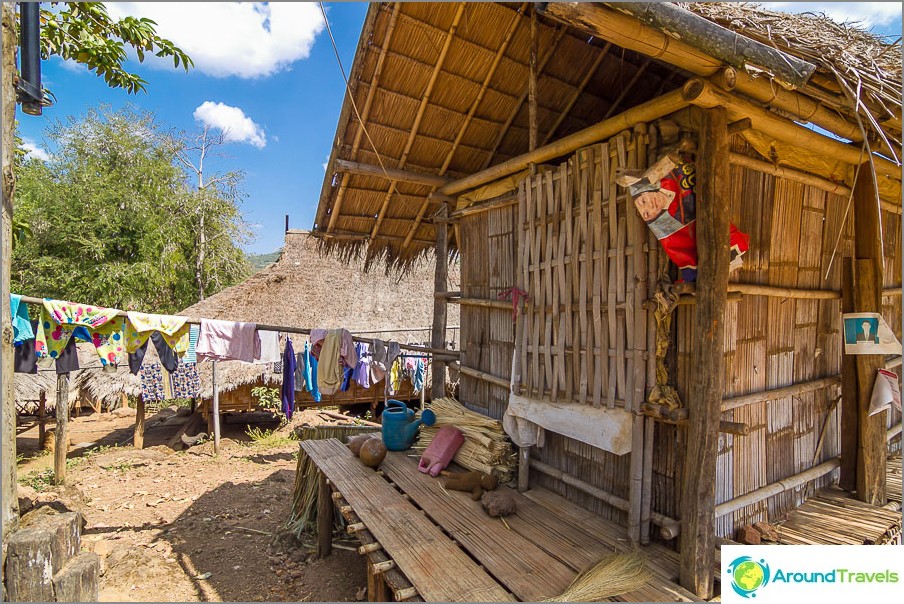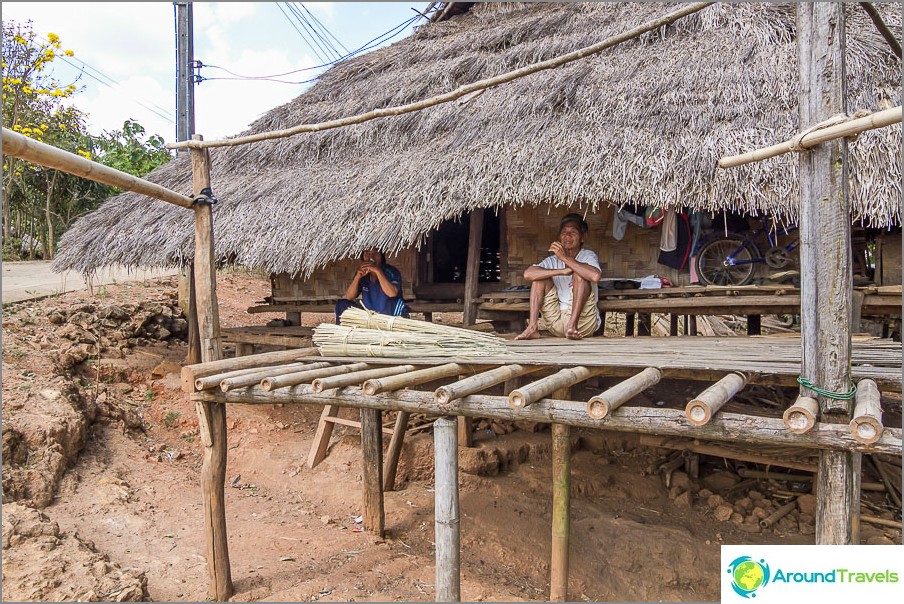 Phra Boromathat Chedi and Wat Santikhiri
Next to the guesthouse where I am staying is Phra Boromathat Chedi. It is a pagoda on top of a hill. You can get there by stairs from a large parking lot, which is located not far from the highway. And in this parking lot there is Wat Santikhiri, you don't have to watch it. Alternatively, you can drive directly to the pagoda itself directly by car or bike. The latter, however, is done at the expense of a hook and along another road, on the map it fits on the left. By the way, I originally thought that the Santikhiri temple is the one on the hill. And it seems to me that others also think so. But in fact, it is Chedi Phra Boromathat on the hill. This is not so much a matter of principle for a tourist, but just so that you know.
In general, I did not take a steam bath and went on foot, that is, up the stairs. Although for some it was easier, on the contrary, to go around so as not to walk again. But the climb is not too long, however, you get tired of habit, it's not for you to sit at the computer.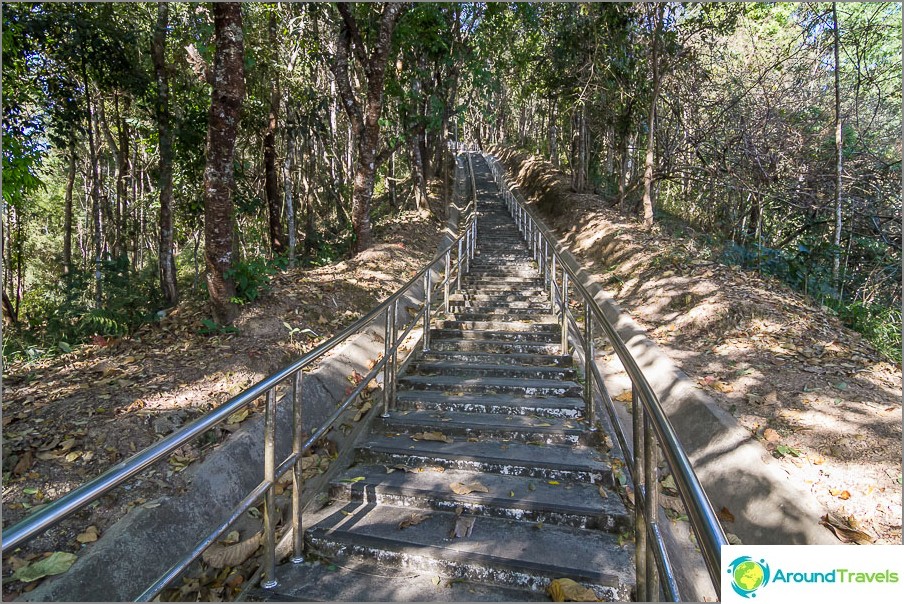 From above you can see Mesalong in all its glory. It is a pity that the view opens only from one side, from all the others trees interfere.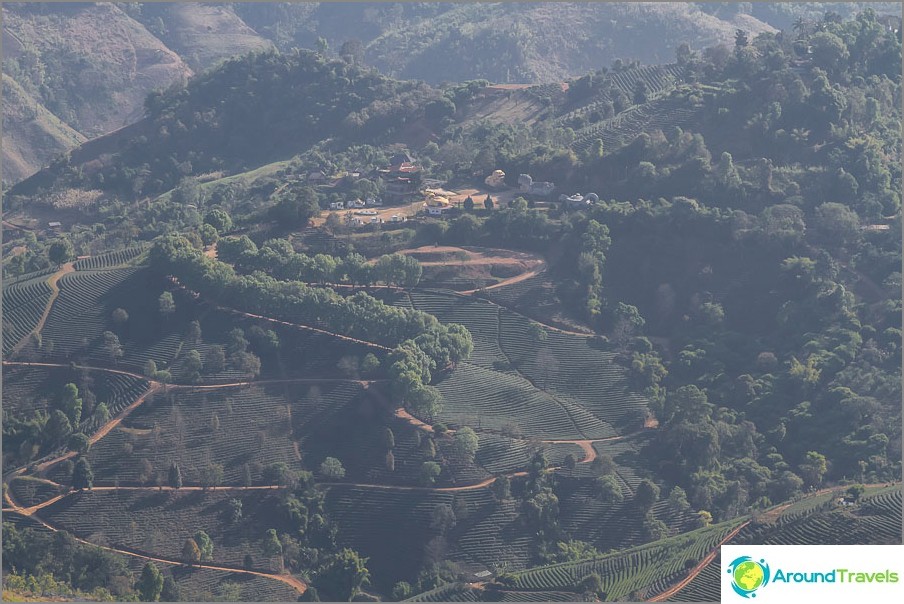 Do not forget to go inside the pagoda, although it is ordinary, but there you can go up to the second floor, from where the view is even better. There is also a third floor, but there are just Buddhist attributes and a generator. And on the first floor, everyone puts coins on the edge in the center of the hall on «altar». Life hack - it's easier to put a 10-baht one, it has a wider edge, and it costs longer, the rest is blown away pretty quickly by the wind. By the way, the monk had significant difficulties, to put a coin ... And from the point of view of donate, the idea is very good, with imagination.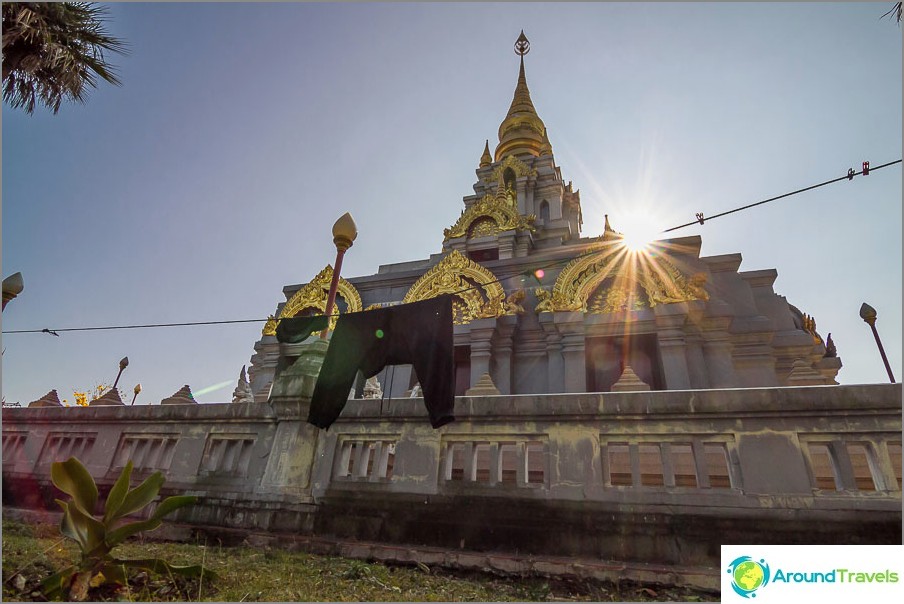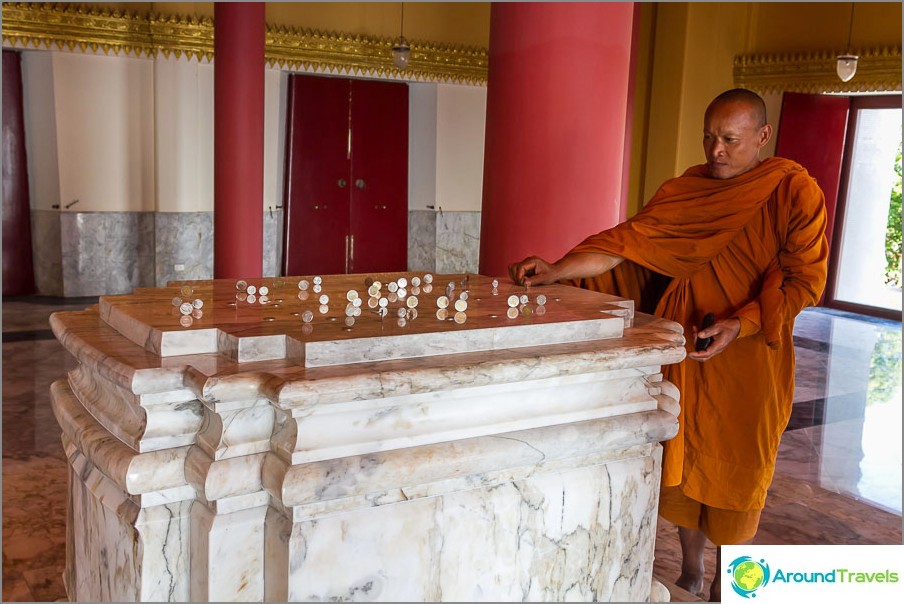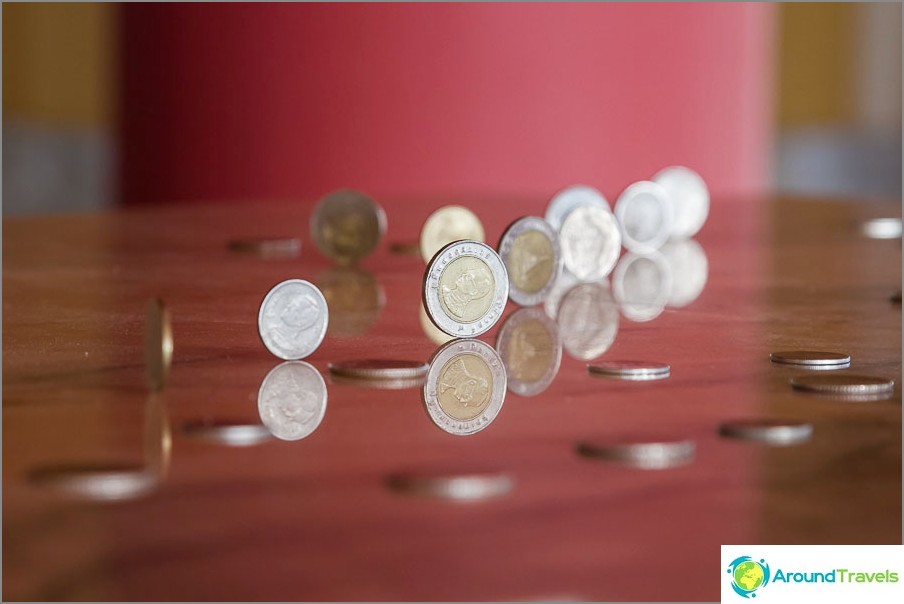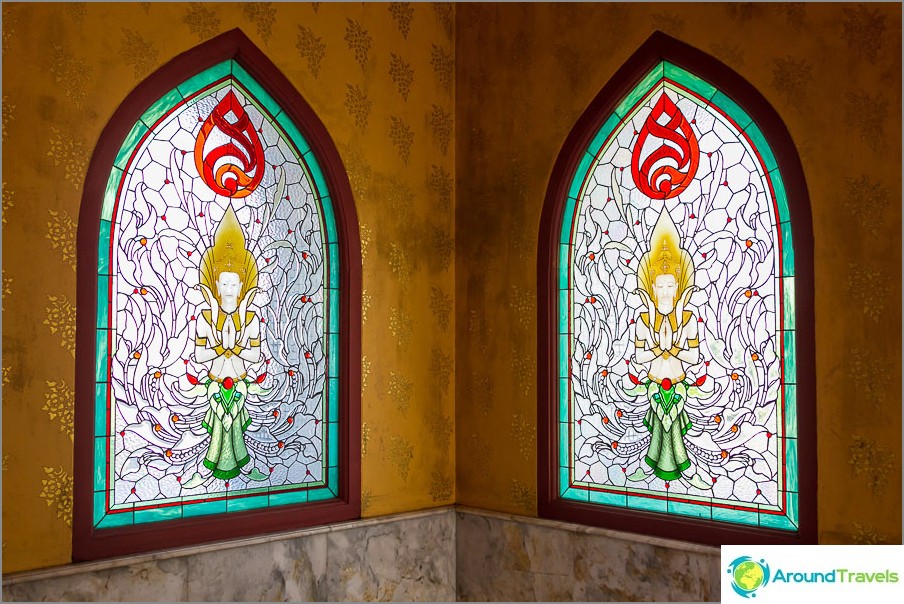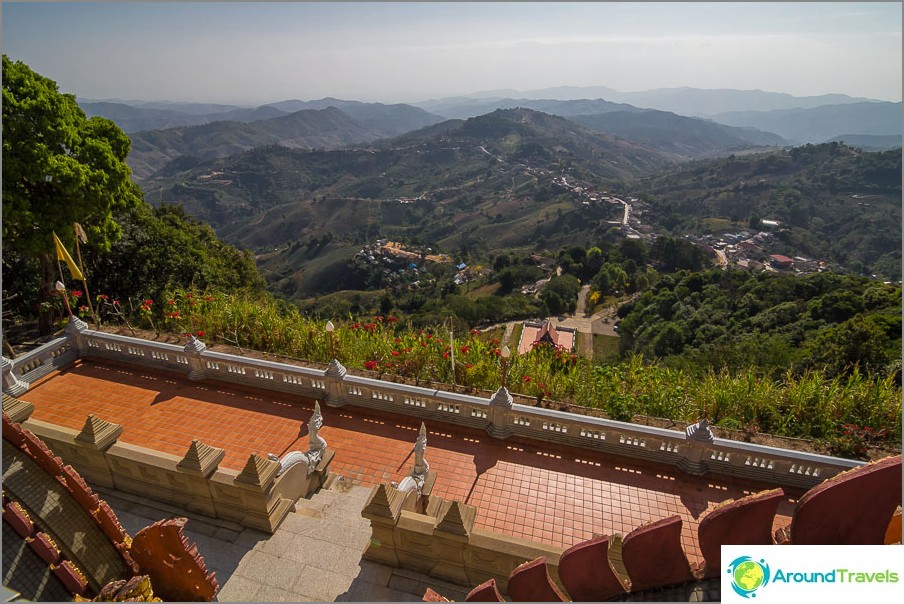 Giant Teapot Temple
Not far from Wat Santikhiri and Phra Boromathat Chedi is a small, semi-abandoned complex with large teapots, lion statues and a teapot fountain. What they wanted to do here, I do not know ... The buildings are already old, gradually decaying, but at the same time a small temple in the Chinese style is being built, there are clearly visible traces of recent construction. Perhaps some kind of resort was planned here, the remains of 6 houses, intended for spending the night, speak about this. What time will show there, but for now this is a rather interesting and unusual place.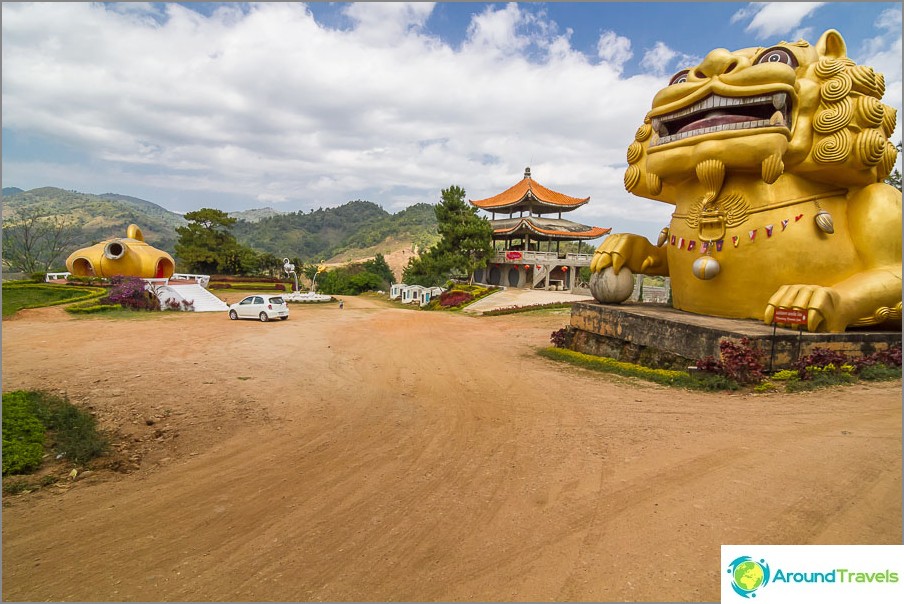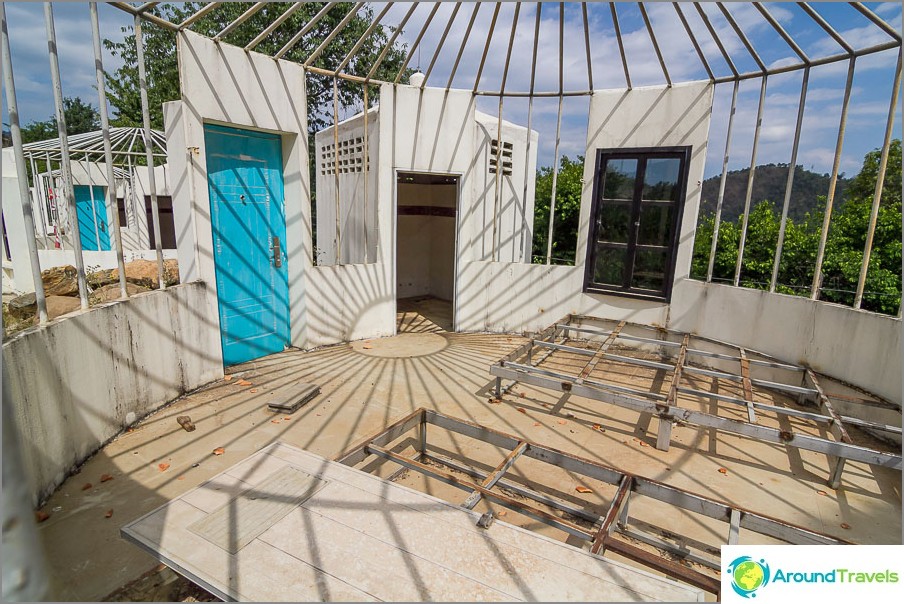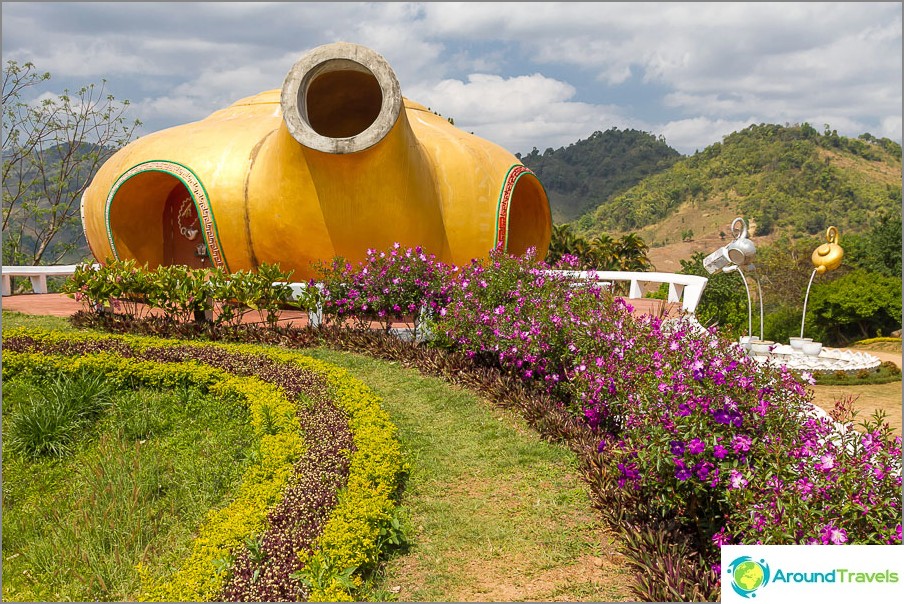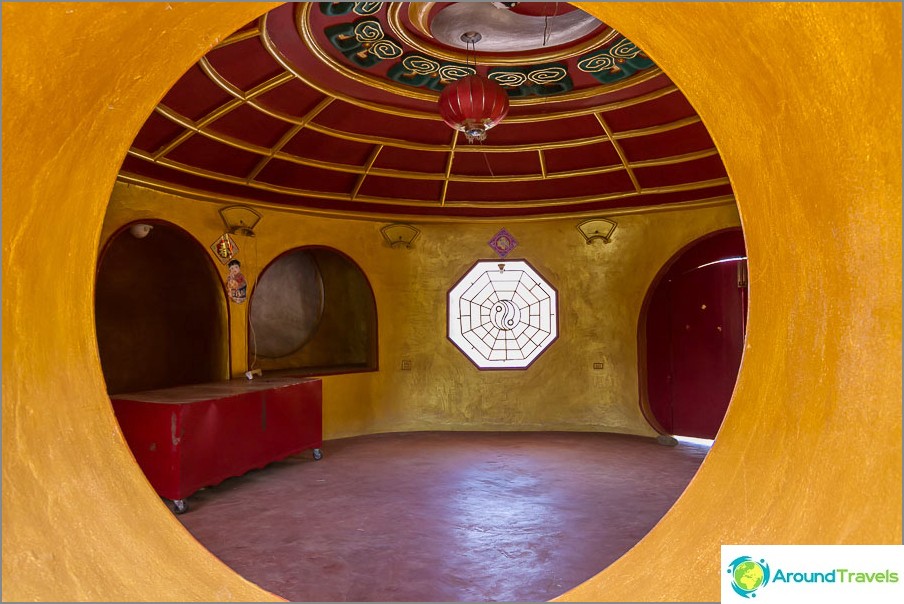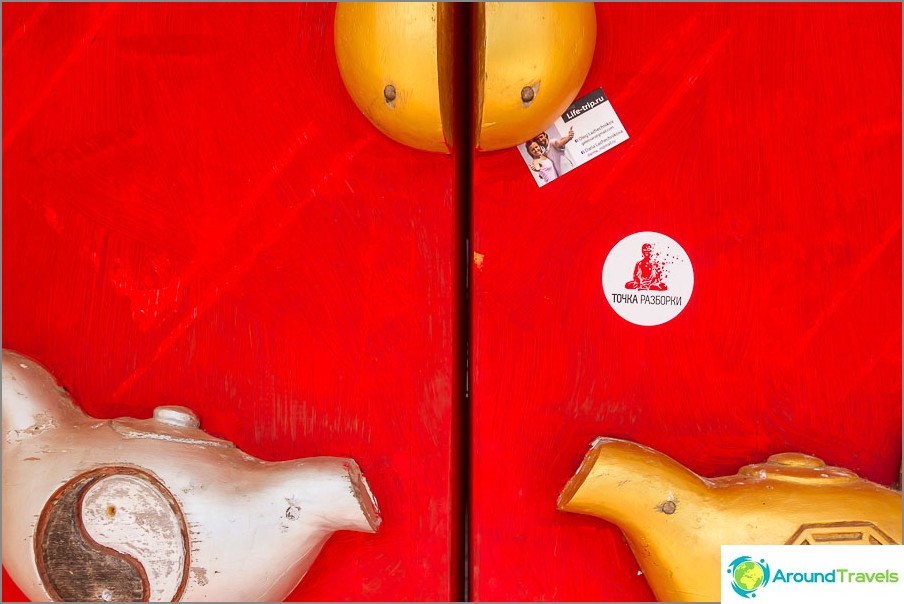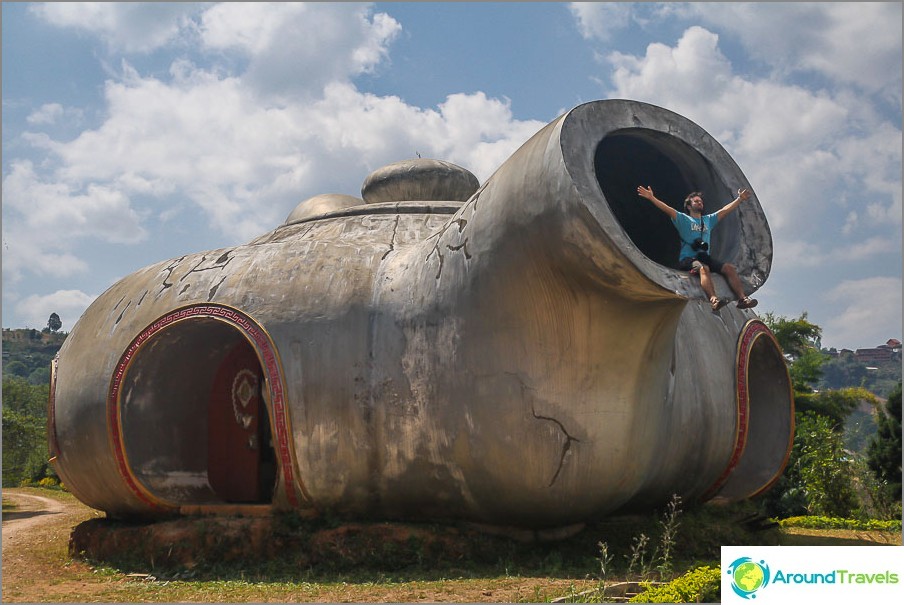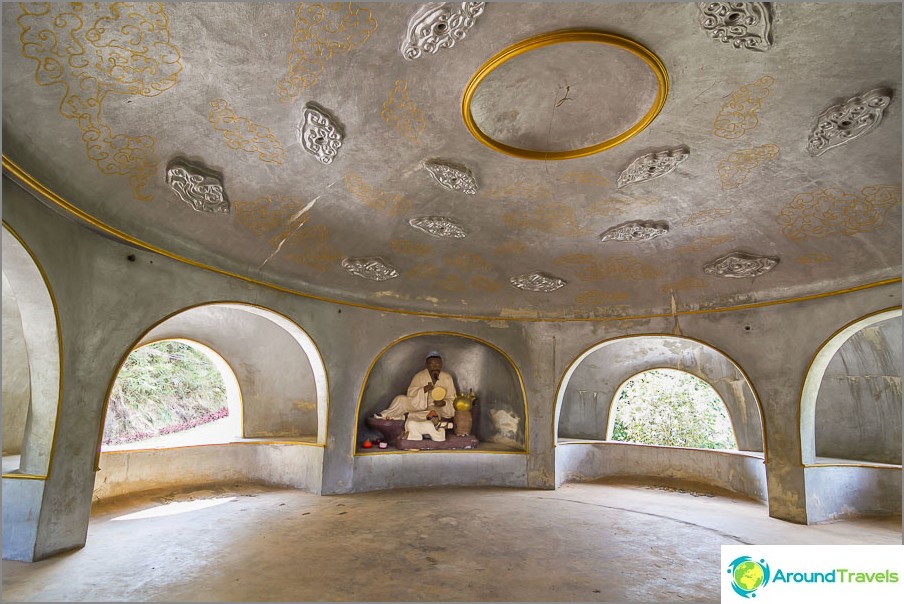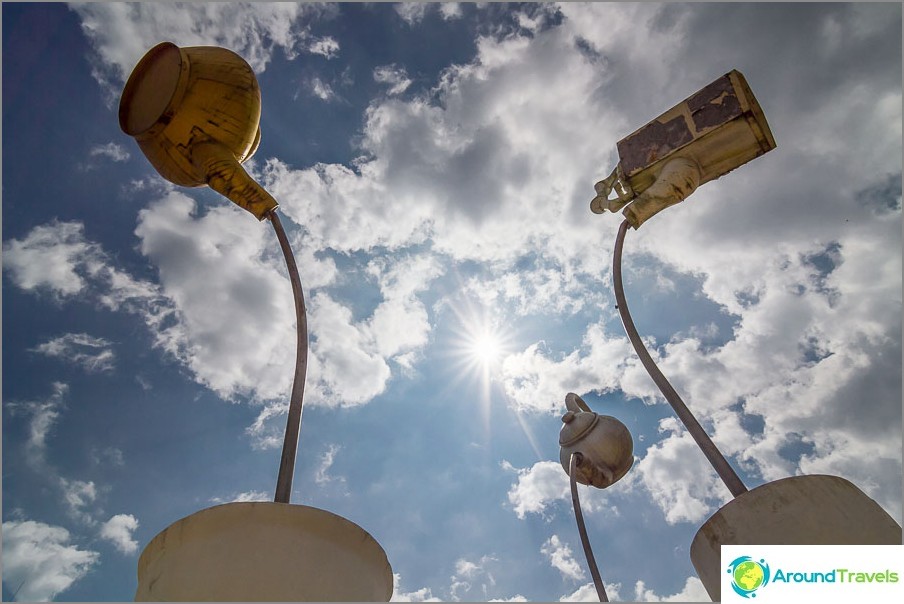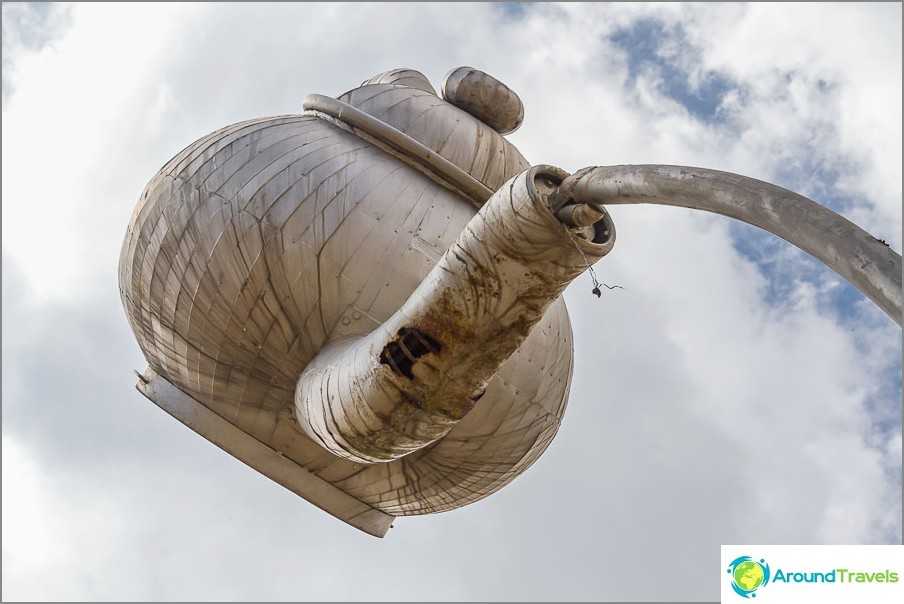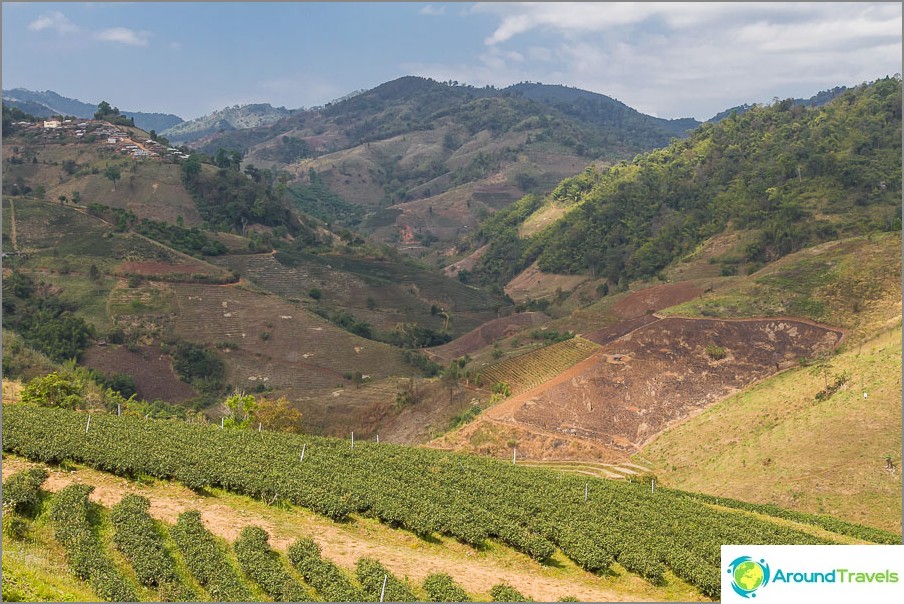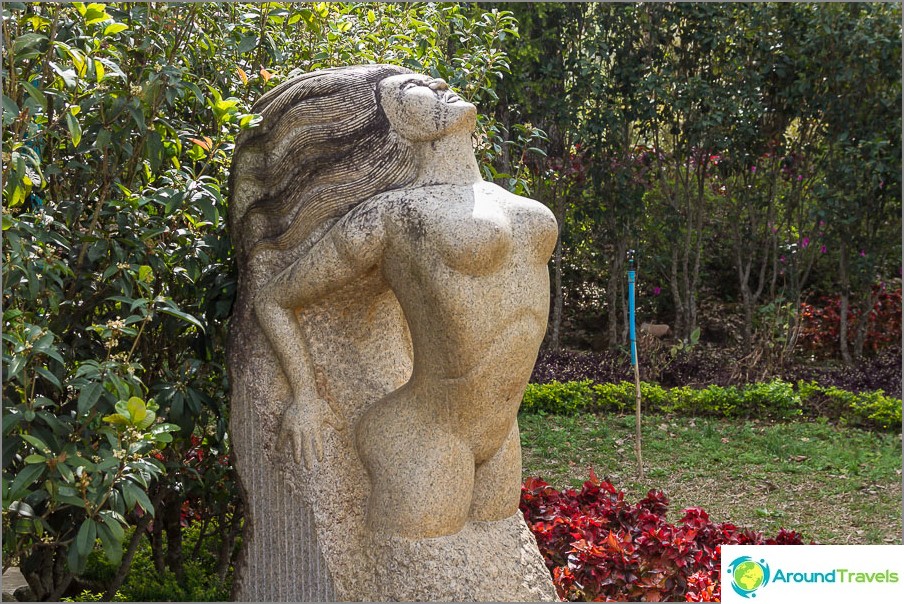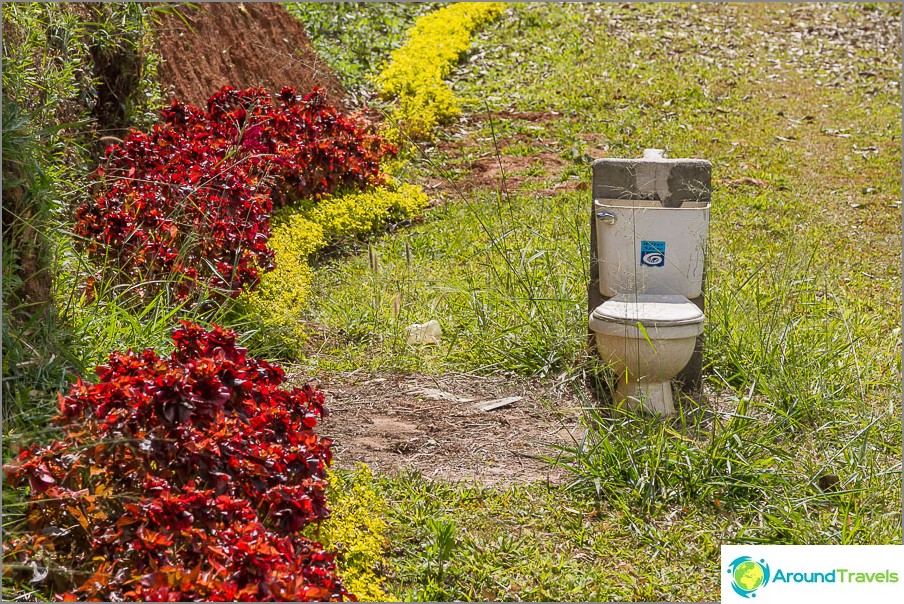 Information for visits
A visit to the temple and teapots is free. Och
Also, in all tea shops you can taste the tea they sell for free. They will pour it for you according to all the rules. And as I said, the tea is excellent. Well, in my opinion. I bought myself a few packs and took them to Russia. I will be there again (and I will definitely be), I will also buy.
Highly recommend to visit park in Doi Angkhang as part of a trip to the north of Thailand, it is stunningly beautiful.
It is better to book your accommodation in advance, there is not so much choice. And come before dark, otherwise you risk being left on the street. You can view accommodation in Mae Salong through RoomGuru, then you will see hotels from all booking systems, and not just from Booking. The same Agoda, where the choice is sometimes greater. By the way, there are absolutely trashy guesthouses for a penny, if you are squeamish and like comfort, I do not recommend it. I decided to try and there is straight tin.
Of the very inexpensive, I can recommend My place mae salong, it is right next to the temple. And of those that are a little more expensive and better: Wang Put Tan Boutique Hotel and Hongfu Boutique Resort. They are a little further, not much, all within walking distance from attractions.
On the map
To Mesalong, I drove from Chiang Dao along highway 1089. It goes further to highway number 1 (Chiang Rai - Mai Sai), so I turned left at the sign to Mae Salong, for some reason this branch is also called 1089. And back down from Mesalong to Route 1089 along an unnumbered piece. The road was interesting, through authentic villages, but dead, partly rubble. Therefore, for speed, it is best to drive, either along the highway 1089, or along the 1234 + 1130.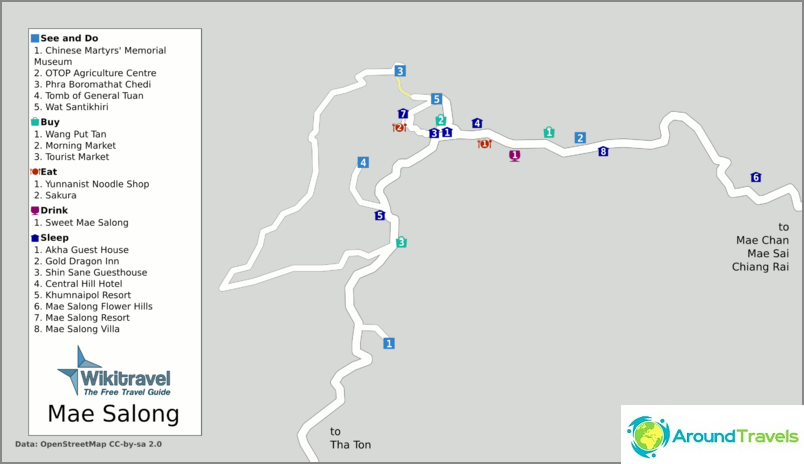 Area near Me Salong
Area around Me Salong: