A small note, suddenly someone else does not know such a convenient opportunity as the delivery of groceries and household goods from the Tesco supermarket. It was just a salvation for us! The only bad thing is that of those places where winterers and vacationers live, delivery is only available in Phuket, Pattaya, Bangkok (and its environs), Chiang Mai and Chiang Rai. Fresh prices from Tesco me too laid out.
The content of the article
What is the convenience
I think it is obvious to everyone how convenient delivery is: you do not need to go to the store, plus you save time on choosing products by throwing the same thing into the basket (ordering from a previous order). But there is one more important point for those who do NOT plan to use a bike or a car, because they cannot drive or save money - you can choose housing without being tied to a supermarket.
This time, when we went to Phuket, we had a prerequisite that the house should be within walking distance from the sea and from the supermarket at the same time. Only two beaches fit this definition: Bang Tao and Kamala, not much. We are afraid to carry Egor on a bike, and we considered renting a car an invoice. Yes, I could go alone for groceries, but I don't always have time, and besides, I was planning to leave for 2-3 weeks. Moreover, you can't take a lot on a bike. For example, our last order from Tesco would barely fit into a grocery cart (vegetables, fruits, bottled water, 12 packs of juice, cereals, etc.). So, if there is delivery, then linking housing to a supermarket is not important at all. Now we are going to Hua Hin and it is a pity that there is no delivery there, it is very constraining in terms of choosing an area for living.
Prices and delivery costs
Shipping cost in Phuket is free, in Bangkok only 60 baht. There is no limit on the minimum order amount. UPDATE. In the comments, they wrote that sometimes they still charge in Phuket for delivery, on what basis it is not clear.
Products in the online store cost the same as in real life. Promotions are periodically held, then the inscription near the product will be red. And they constantly give out coupons, they say, order for 2500 baht, get a 250 baht discount. Coupons are printed, either on the check, or come to the post office. I don't know if in real life such discounts are often given, we didn't come across. The only negative is that there will be more assortment in large Tesco (clothes, appliances, furniture, etc.).
Registration and indication of address
Here is a link to the online store (it is in English and Thai). First of all, you need to register an account. There is nothing complicated, so I will not describe.
After that, you need to specify the address that you will need to find out from the landlord. The address includes not only the indication of the city, but also the province, district, subdistrict. As a rule, the owners know all this and there will be no problems with this..
The most difficult thing is to indicate the nearest Point of Interest (hotels, schools, cafes, etc.). For example, I did not know anything from this list, so I typed in the names from the list into Google Maps and checked how far from our house, if, of course, Google knew such an object. You can also zoom in on the map and see what Google knows nearby. As a result, in Phuket, I had to ask something in our area from the bulldozer, I could not find.
In Road Name / Soi, I indicated our jay. Then, already at the time of ordering and before paying, it will be possible to write a more detailed description of how to get there in the comments. I wrote the nearest large soybeans, which are on the maps. When ordering in Bangkok, in the comments I indicated the name of our condominium and the building number (we have several of them).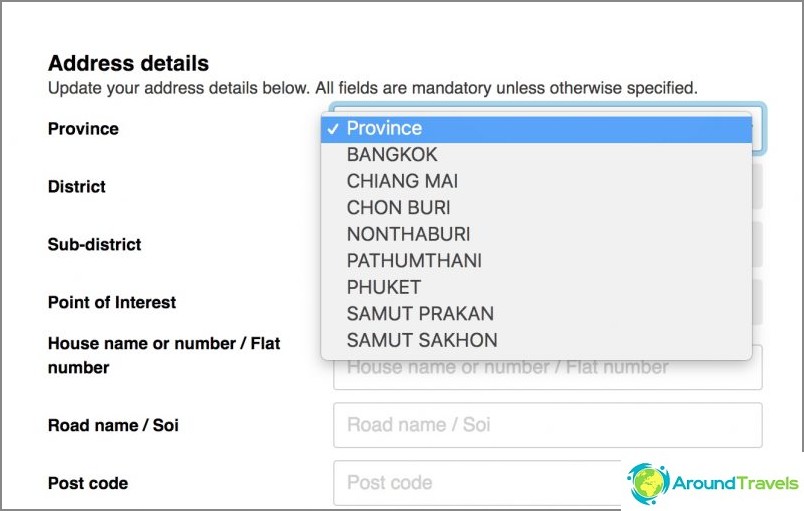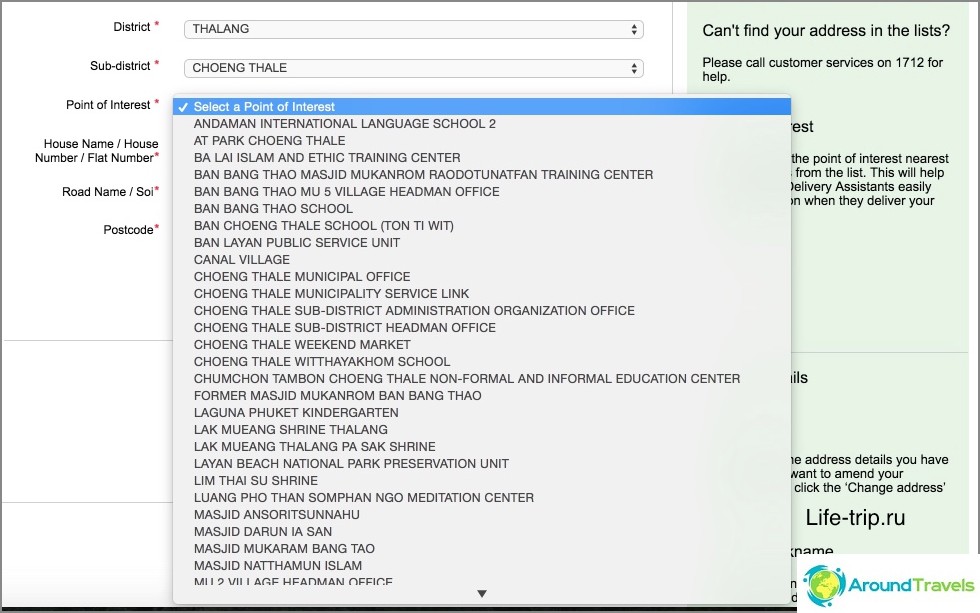 Product order and payment
Ordering products is pretty simple, just like everywhere else. Go through the site and drop it into the shopping cart. Before that, you can immediately book a slot (Book a slot), that is, choose from the available delivery time. In Bangkok, delivery is the next day, in Phuket every other day. The reserved slot lasts 2 hours, then you need to book again. 2 hours is more than enough to add the items you need to your shopping cart.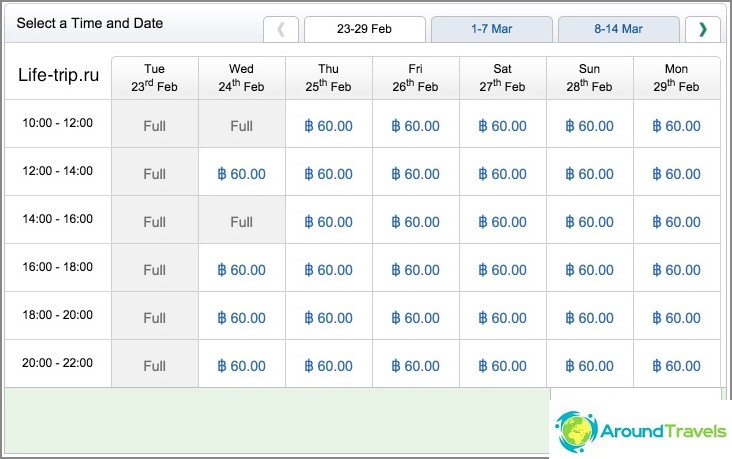 After forming the basket, click Checkout and follow the instructions of the store. If you don't really know English, then here's a quick guide: Checkout => Book a Delivery => Selecting a delivery slot and writing a comment => Checkout => Checkout => Selecting a payment method (with a card - this is Pay online securely) => Select Payment Method => Filling in card data => Confirm order
At the stage of choosing a delivery method (home delivery is Book a Delivery), there is an option for delivery to the store (Click & Collect). But I see no reason to save on shipping costs and receive an order in the store.
You can pay either by card online or in cash upon receipt. I choose always and everywhere to pay by card, because then you can get cashback from the purchase. In the case of Tesco, everything happens like this: at the time of payment for the order, 100 baht is withdrawn, and on the day of delivery, the full amount is withdrawn, that is, 2 write-offs occur. 100 baht hangs for about a month (the period depends on your bank) and then it is returned to your account. Not very convenient, but this is how they did it.

Delivery
Delivery takes place directly to your home. In Phuket, a car came to our jay, got up near the house and unloaded. In Bangkok, you cannot enter our condominium, so they came with a trolley to the lobby, then we drove it all to the entrance to the entrance, where I loaded it into a grocery cart (we have grocery carts near each entrance).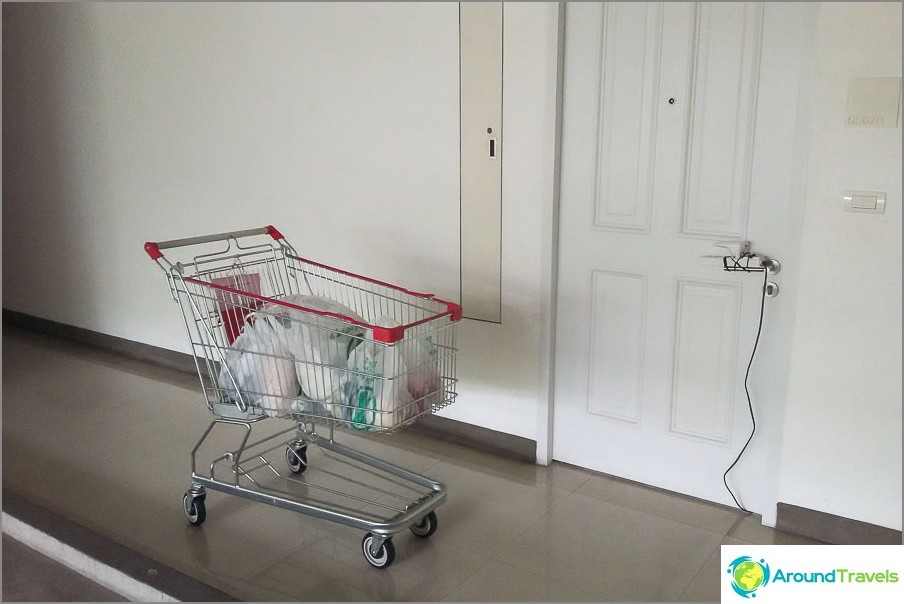 In Phuket, we lived on a not very well-known jay, so the courier, being in our area, called me on the phone and tried to figure out where to go. Since he did not know English, I went out into the street and walked around and watched when a car appeared so that they would not pass by. In Bangkok, we lived in a well-known condominium (and everything is much better with addresses here), so we never had to explain where to go. Perhaps it is better not to pay for the very first order by card (choose cash payment) in order to check how this scheme works and whether they will be delivered to you.
Also, a few hours before delivery, they may call from Tesco and ask you various questions, do not be alarmed. Usually they call to warn that something was not available at the time of collecting your order and they either did not put it in, or replaced it with something similar. Then in the check (several A4 pieces of paper) that the courier will give you, it will be indicated at the very beginning what was not and what was replaced. By the way, the English of those who call from Tesco turned out to be not at the level of my understanding (I still don't understand Taiglish on the phone), so usually I just answered everything in pure Thai «OK».
P.S. If you have any questions, ask.