The Dolphinarium in Sochi is a landmark of the city, about which I was told that supposedly the dolphins have ideal conditions here and they almost come to work from the sea. It looks like a fairy tale, of course, but I really want to believe that one day everything will be exactly the same. The Sochi Dolphinarium, which is located in the center of the Riviera Park, is considered the best institution with dolphins in the whole of Sochi, and even on the entire coast.
The content of the article
Dolphinarium in Sochi
Was in April - this is not the season for the Russian resort and instead of 3 shows a day they show only one show, which, of course, I did not have time to. I will post a personal review specifically on the show with an update in just a few months. In the meantime, I have a little excursion into the prices and services of this corner of smart sea animals. Dolphinarium in Sochi stands near the entrance to Park "Riviera, the one that is opposite the pedestrian bridge over the Sochi River. In addition to the dolphinarium, in the same building there is a petting zoo, which children of all ages are delighted with, there is also a penguinarium and a butterfly garden, whatever that means..
According to some of my friends and acquaintances, the Riviera Park and its dolphinarium is the best place for a family vacation. I already wrote about the park, I will not repeat myself, but in the dolphinarium there are 4 different types of entertainment at the same price, plus diving and swimming with dolphins (this is the most unusual thing there, even autistic children come here for rehabilitation on some days), plus a museum of robotics for children worked in the same building.
It is especially great to come here on very hot days or in bad weather, when it is impossible to be near the sea without ruining your mood. Prices are quite adequate for a large resort, and more than acceptable after the same Moskvarium. If children are adults and can go without adults, then parents can wait out 45 minutes of the show in a local cafe with a meager menu and high prices.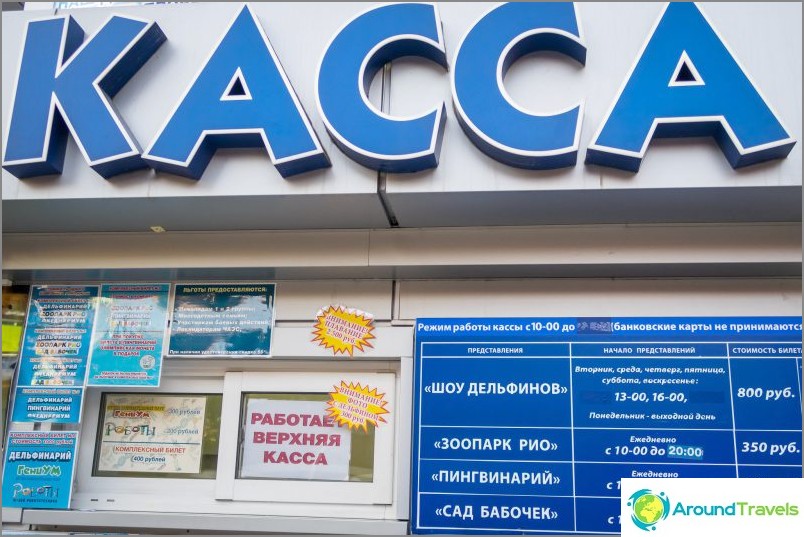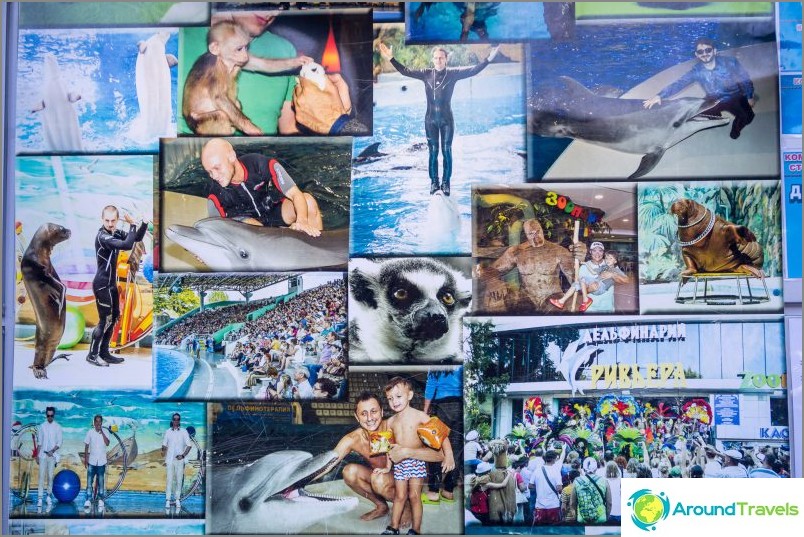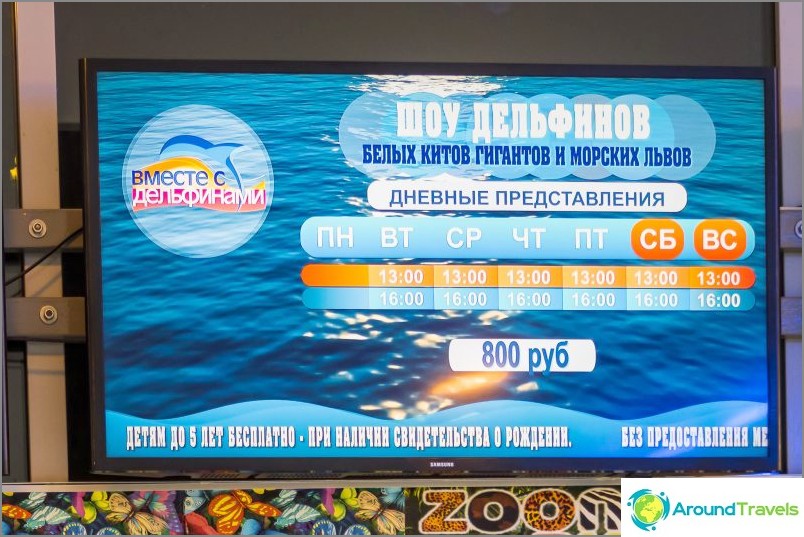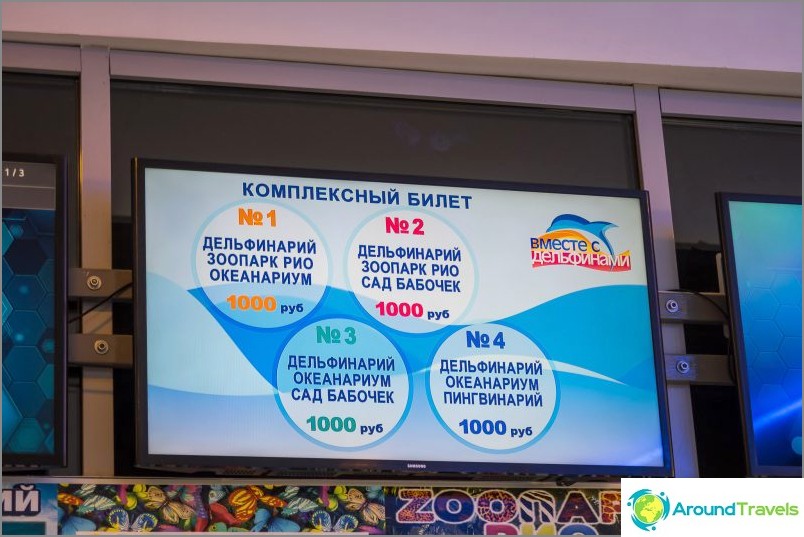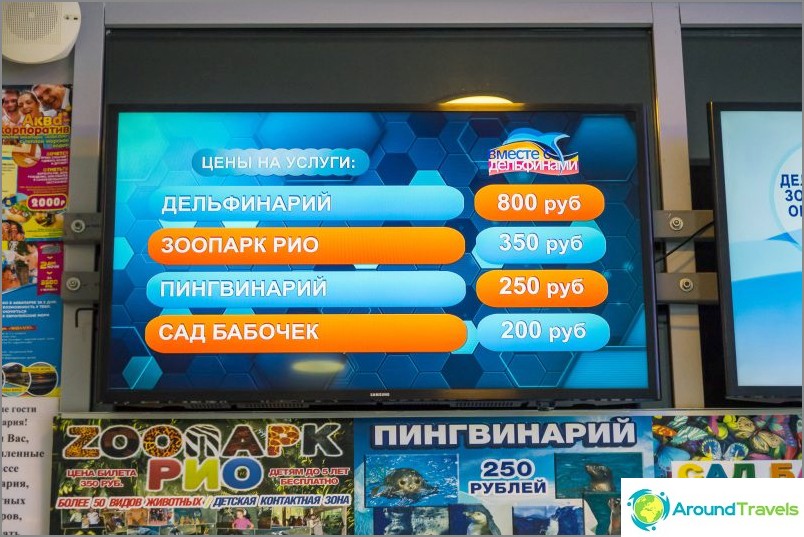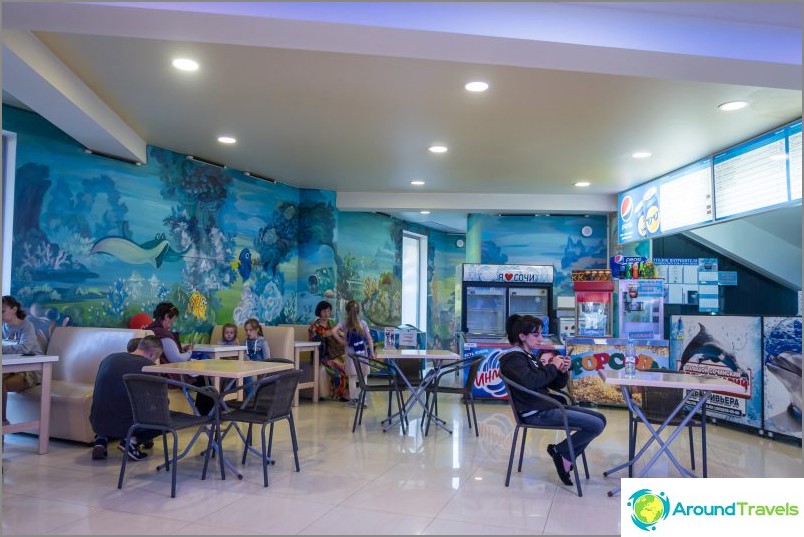 Information to visit
Basically, all numbers are shown in the pictures. Except that you need to take into account that I did them in April, and with the onset of summer and high season, the schedule may change, plus the number of shows will be increased from one to three per day..
On the map
Dolphinarium Riviera
Dolphinarium Riviera
The best dolphinarium in Sochi is located in the Riviera Park. 3 shows per day (per season), you can swim in with dolphins, dive.
More details.
The best dolphinarium in Sochi is located in the Riviera Park. 3 shows a day (per season), you can swim with dolphins, dive. More details.