I didn't think to write anything about the process of emigration (repatriation) itself, but several people asked questions, so I just can't help but write a post and answer your questions in detail. At the same time, I will tell you how it happened with us, from the consular check to the flight itself. You write questions, do not hesitate that I know I will tell you in the comments, or maybe I will prepare more posts.
In general, it turned out to be completely unexpected for me that among our subscribers there were so many people who are considering obtaining Israeli citizenship or are already receiving.
The content of the article
Information part
Requirements for applicants for consular verification
The grandson of a Jew can repatriate to Israel (it is correct to say repatriation, not emigration). And it doesn't matter who was a Jew, grandfather or grandmother, mom or dad. The first, second and third generations can travel without restrictions, that is, it does not matter whether Jewry was passed on through the maternal line or not. You need to be at least a grandson of a Jew or have a Jewish great-grandmother, which automatically makes your grandfather a Jew..
A family with a child, who is already the fourth generation, can also go, and at the same time the spouses receive citizenship at the airport upon arrival in Israel, and the child receives only a visa Aleph 5. This imposes some restrictions, but not critical, and the child after a few years too can obtain citizenship. That is, if suddenly you decide to fly back to Russia from the airport, then you will fly away with citizenship, but the child will not receive it.
In the family, it is enough for one of the spouses to have roots, the second will receive citizenship automatically at the airport. I was also asked what would happen if I marry or marry a Jew. If this person already has Israeli citizenship, then the spouse does not automatically receive citizenship, but receives a long-term visa. If Israeli citizenship was not, and there is a joint repatriation, then both receive citizenship. The only thing that the consulate can more stringently check if the marriage happened quite recently.
There is also some clever way of moving through the acquisition of Jewry by faith, and not through the roots, but here I can not say anything, it was not necessary.
It turned out that one of the burning questions is the indication of religion in the questionnaire. The fact is that when you come to the consulate for the first time in Moscow, you fill out a long questionnaire, where, among other things, you indicate your religion. And everywhere on the forums it is advised not to indicate anything except that you are an unbeliever, or, conversely, profess Judaism. Accordingly, if you write, for example, «christians», then there will be a failure. On the other hand, here below in the comments there were people who wrote that they were Christians, because in theory, Jews by their dad / grandfather can profess anything, unlike Jews by their mother / grandmother, who cannot change their faith. In general, they were given the go-ahead for repatriation without question. Hence the conclusion, whether it really makes no difference what to write, or it all depends on the human factor (consul). We did not have to either lie or indicate Christianity, since we are half agnostics, half atheists..
One of the important points is that the consulate loves originals of birth certificates. If you show recovered duplicates, especially fresh ones, additional questions may arise.
How we prepared for the move
As I wrote in the post, why we moved to Israel, it took us about a year and a half to prepare all the documents. We could have done everything faster, but since we left for Tai in winter, and were on the road at other times, the whole action dragged on. In total, we visited the consul 5 times, while they put visas for permanent residence in our passports.
In our case, the problem was that we had slightly crooked documents. You know, during the Second World War, Jewry was hidden, so the birth certificates of Darya's grandmother indicated that her grandmother's mother (that is, great-grandmother) was Russian. Yeah, Dveira Izrailevna Chernyak and Russian. But no one looked at the full name and had to request data on the birth and parents of the grandmother from the archive. That is, we dug up to the 4th knee to prove that the roots on the 3rd knee did not break. At the same time, everything was complicated by the fact that my grandmother was born in Belarus, lived in Russia, and died in Estonia. At the same time, the grandmother's parents lived in St. Petersburg, and not in Moscow. Thus, the archives were Belarusian and Estonian, and the Jewish cemetery of the great-grandmother in St. Petersburg, where it was also necessary to go.
Boris Vitalievich, Daria's father, helped us a lot in all these investigations. Actually, it was he who made inquiries to the authorities, and we only dug information on the forums and went to the consulate. In fact, the consulate itself did not help in this regard, it only spoke, but let's bring more documents wherever you want, and take them there. Moreover, when we came for the first time, they said that everything is obvious, but since the docks are crooked, then we need 3 more other documents confirming the roots. And when we brought them, they wanted a couple more. Perhaps the human factor, perhaps just checking the seriousness of our intentions.
Here it is necessary to tell separately about the human factor. When we came for the third time, the consul said, let's get passports and put visas. And then we stumbled and did not take the passports, plus Yegor was not with us (and this is mandatory when the visa was issued), since we did not think that they would be given to us. And the consul said, don't worry, come next time with your passports and your son and we'll put your visas for sure. The fourth time we came in full force and relaxed, but we got a very unpleasant consul. He didn't like us from the doorway, he asked questions with hostility and didn't even listen to the answers. For a couple of minutes of communication, he turned us around and said that he was canceling the decision of the previous consul and that we needed to bring more documents (certificates from the Red Cross). For the 5th time, another consul did not even look at the new docks, but only asked when we were ready to go, and gave us visas. That is, as luck would have it. Many get visas the first time.
Buns when moving
All repatriates are invited to receive a free one-way flight from the Sochnut agency. Approximately 2 months after contacting them, you can fly away, turn. The flight is operated by EL AL. But you can refuse and fly for your own money, for example, by Aeroflot. Prices don't bite.
In Sokhnut you will also be given the phone number of a free taxi that will take you with all your suitcases from home to the airport..
If you fly for free, you will also be entitled to 2 free pieces of baggage (23 kg each) per person instead of one. That is, the three of us were supposed to have 6 places, but we barely fit into 8 suitcases, so for 2 extra places we paid extra $ 100 for each suitcase. Moreover, if there was an overweight in free luggage (you can load a suitcase up to 32 kg), then the payment would be $ 70. I figured it was cheaper to pay for 2 extra suitcases than to fly overweight.
When preparing documents, you may be offered a large warm blanket as a gift, do not refuse. I do not know if everyone is offered, but you can ask.
Upon arrival at Ben Gurion Airport and after going through all the procedures, again, a free taxi will take you to your destination city throughout the country. The address must be provided 2 weeks before the flight.
For the first six months of your stay in the country, you are paid an absorption basket. You receive the first part of the first payment in cash at the airport when processing documents. You receive the second part of the first payment and the remaining 6 payments to an account opened with a local bank. You can see the paytable for the current year in the screenshot below. The payments seem to be large, but you need to take into account that everything is quite expensive here. However, one must also understand that this is a gift, and few countries do so..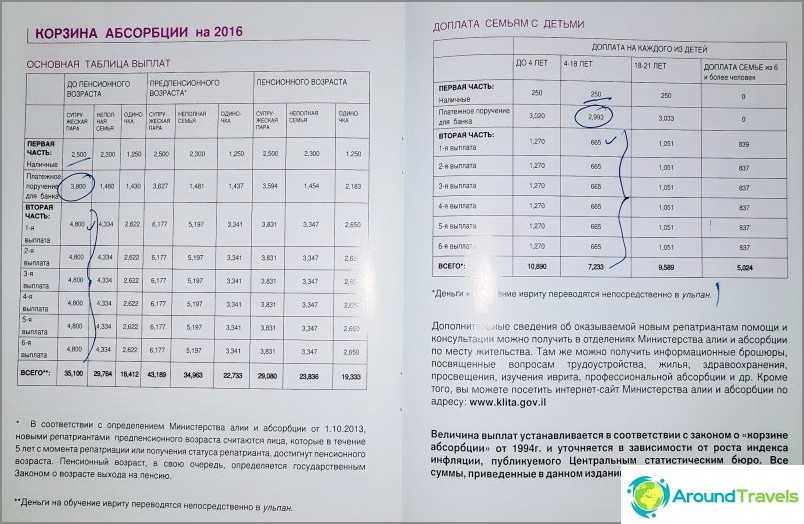 After the basket, you can receive unemployment benefits for six months or a year if you go to ulpan (language courses) or register with a consultant at the Ministry of Absorption. From the second year of residence, all repatriates receive an allowance for renting an apartment. It is quite small, but also a gift. If you have a disabled child, then there are several types of benefits that can be received after passing all medical fees and paperwork.
Some nuances
At the airport, you can immediately enroll in a health insurance fund (for example, Maccabi or Clalit), this is the type of compulsory medical insurance in Russia, only paid. Next, you will need to come to the main office of the health insurance fund in your city, issue a magnetic card and indicate the bank account from which the monthly payment for the insurance policy will be debited. The fee is not very large. Also here you can get extended insurance, it is a little more expensive.
New immigrants are exempt from taxes on income earned outside Israel. For example, I have an individual entrepreneur in Russia and so far I am not going to close it, and it is enough that I pay taxes in Russia. I would also like to note that I work under the 6% STS and this rate does not change, although after a while I will cease to be a tax resident (after six months of absence from Russia). But if I worked in a standard way, receiving a salary from an employer, then the income tax rate would rise from 13% to 30%. This, incidentally, also applies to the payment of tax on the sale of an apartment, car. I'm not sure that everyone will check this straight, but you need to know this.
Within 30 days after opening an account in Israel, and it is absolutely necessary, if you want to receive an absorption basket, you need to notify the Russian tax authorities about opening an account. If the spouses went, then they open a common family account, which belongs to both, and both need to be notified too. I know that many people ignore this requirement, and in fact, if later this information is not shown anywhere, then you can score. But this is not advice, according to the law it is necessary to notify, and I did it, like I try to be white and fluffy 🙂
The first year you can ride on your Russian license (you need international license), without getting local. And within three years (you can right away) replace your Russian rights with local Israeli ones, if your rights were at least 5 years old. This innovation was adopted in August 2017, and earlier, to replace the license, it was necessary to pass the city driving exam..
For tourist purposes in Israel, you can stay up to 90 days within six months and without a visa. This is a question to invite relatives or friends to visit.
You can leave after obtaining citizenship even the next day. In this case, you should not register with the health insurance fund, because it requires payment. You can go back only with a teudat zeut (plastic card, ID), this is a type of internal passport. Darkon - a full-fledged passport can be obtained only after 3 months of living in Israel. Perhaps someday they will be issued immediately at the airport. Darkon gives the right to visa-free entry to a large number of countries, including Schengen.
Artistic part or how we got there
In principle, I have already told part of the whole process in «buns», so maybe I will repeat myself in something.
We have been collecting and dismantling our suitcases for the last six months because of the consul's refusal and the continued collection of documents. The training camp continued on the last day. It's funny, 10 minutes before the free taxi arrived, I ran to the store for another suitcase, because at the last moment we decided to take a vacuum cleaner with us. Although if not for this, you would still not have fit into 7. It seems that you are already assembled, and it remains to literally put this and this, but in fact, a bunch of things are being recruited. It's a mystery to me how you can get yourself together, because most of the things that you take with you are needed every day and cannot be packed.
The taxi turned out to be a minivan, which is logical, otherwise we would not have fit. During the order, they indicated how many suitcases there will be. We arrived at the airport 3 hours before the departure of the flight and there was already a line of repatriates. Since we are with a child, we asked to skip the line. An airline employee talked to us about whether we packed our bags ourselves, and whether someone had access to them while we were moving from home to the airport. Then he fixed the zippers with plastic clamps and signed on the suitcases where what equipment is located. We also carried a multicooker with us, a hairdryer, extension pilots, and hair tongs. For reference, the airline then inspects the baggage separately and can call the owner of one or another suitcase to the gate for inspection through the speakerphone. It seems paranoid, but like that. By the way, no one called us, although we had a large first-aid kit and a bunch of dietary supplements in our luggage, it looks like we were just worried in vain.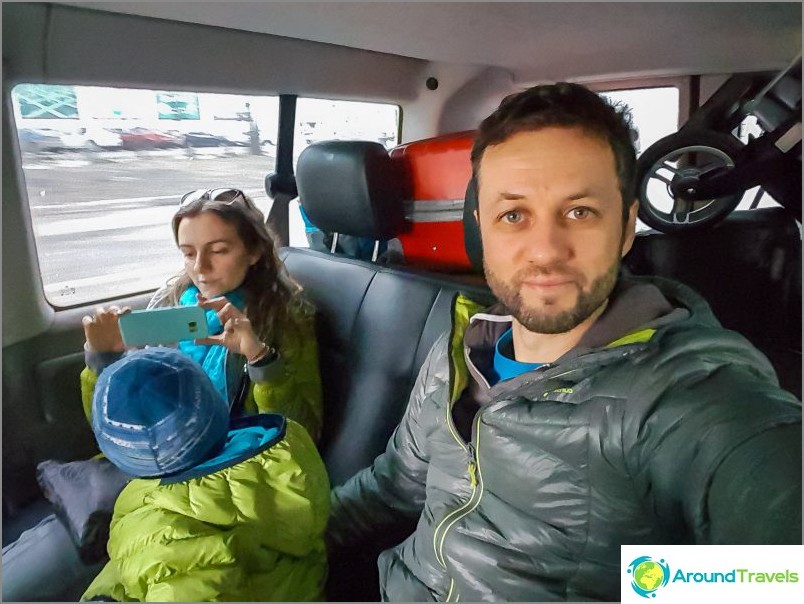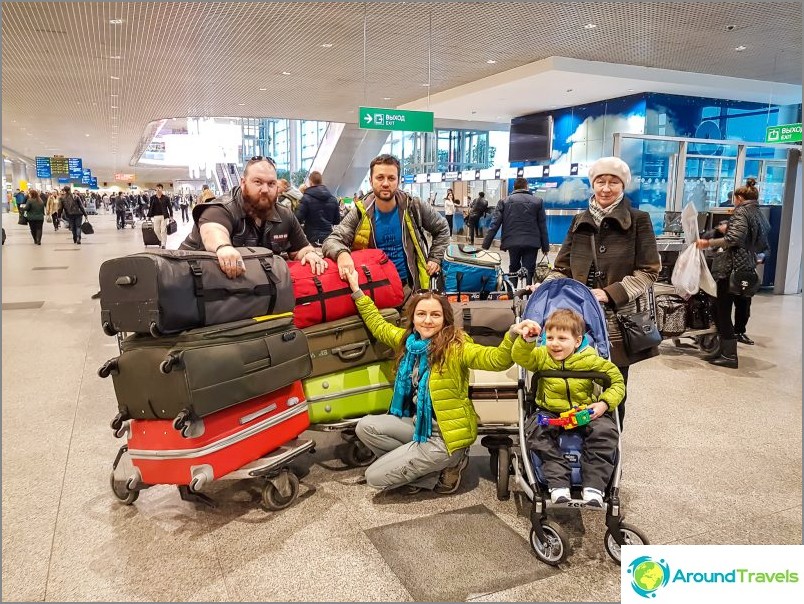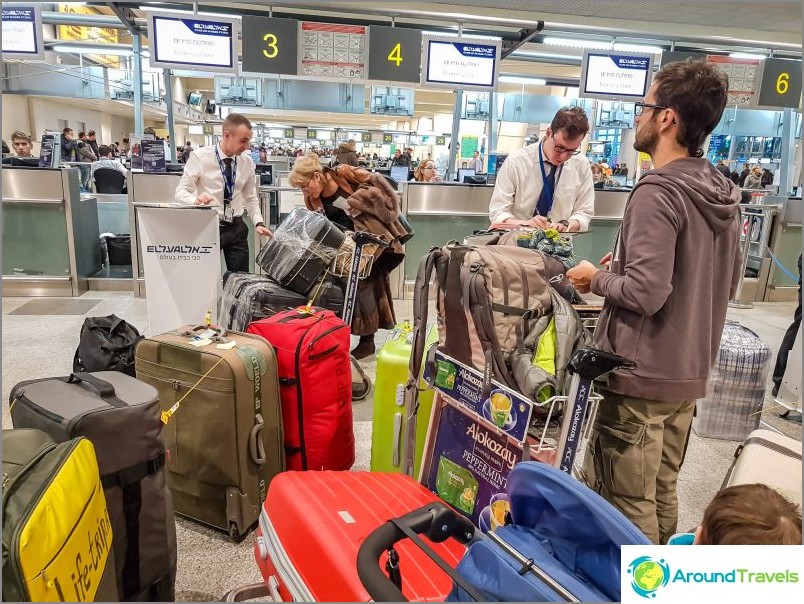 Then the flight was delayed for 40 minutes, apparently because of all these checks. And I have such a suspicion that this always happens. Unfortunately, we had an evening flight, and we arrived in Israel at night. We were very worried about Yegor, because he needed to create a lot of conditions for sleeping, but we were lucky and the boy apparently passed out from more impressions at the end of the flight, and then continued to sleep in a wheelchair, a taxi, and upon arrival at a rented apartment. To be honest, this is nonsense for us, so it was such a gift, otherwise the move would have become much more complicated. Separately, I will say that El Al is a so-so airline, planes are cramped, there was very little space at our feet even for us (and we are small), food is so-so. But again, a gift horse, you know.
Since we said in advance in Sokhnut that we have a disabled child with all the consequences, we were allowed to skip the line upon arrival. No, not even that, we generally had a separate design from everyone. Usually they are taken to another building and the whole procedure takes 4-5 hours. We stayed in this building, where we flew, an employee met us and took us to the department of the Ministry of Absorption, where we were alone. The paperwork took about 1.5 hours to complete. We were given the first cash payment, a local SIM card with 200 minutes in Israel, a warm blanket, citizenship and internal passports. Then we went to get the luggage to the conveyor belt, where it was spinning all this time. Judging by the number of suitcases, we were among the first to take it. Then we waited 30 minutes for a taxi that took us to Haifa.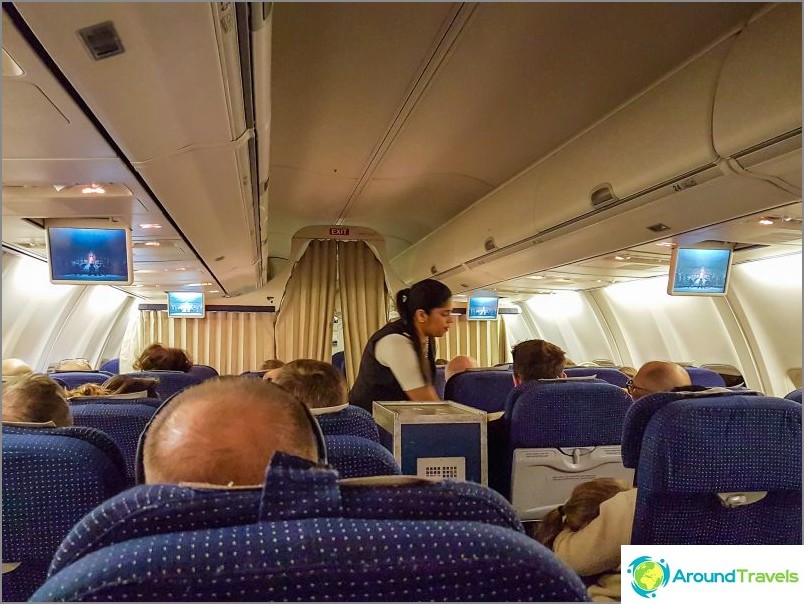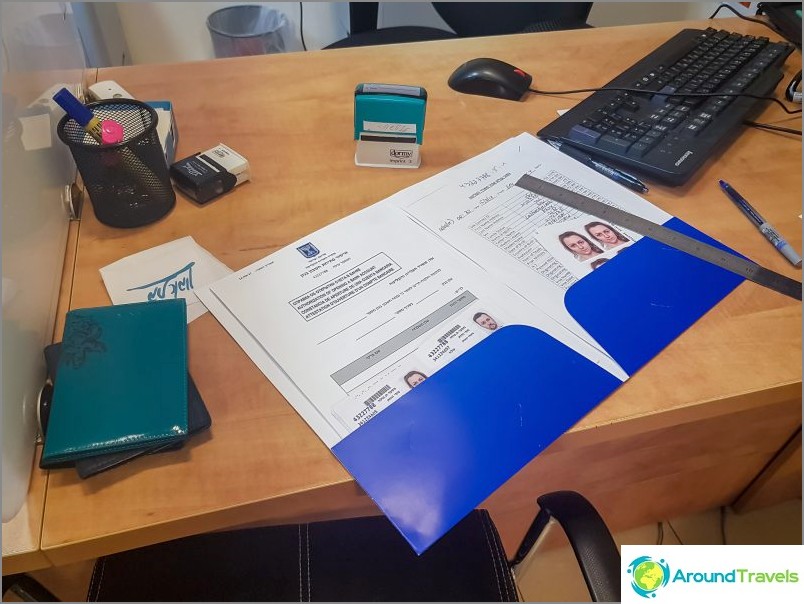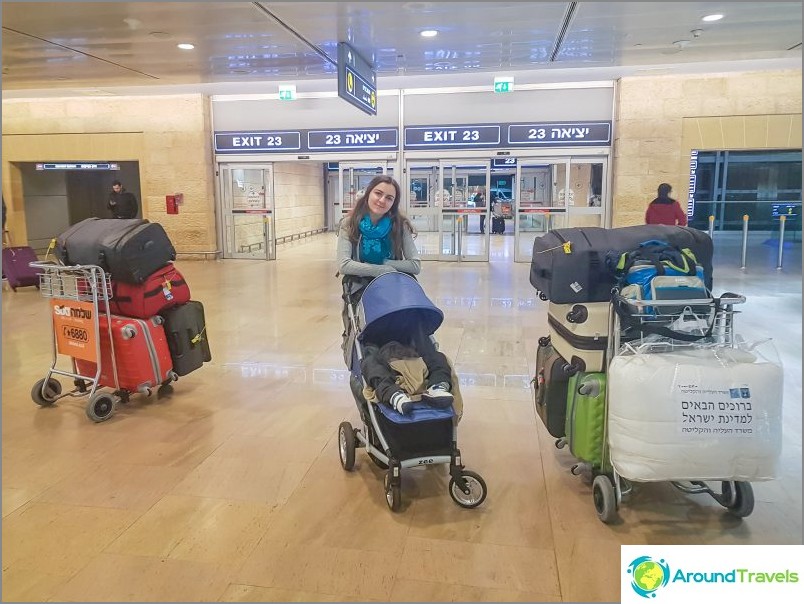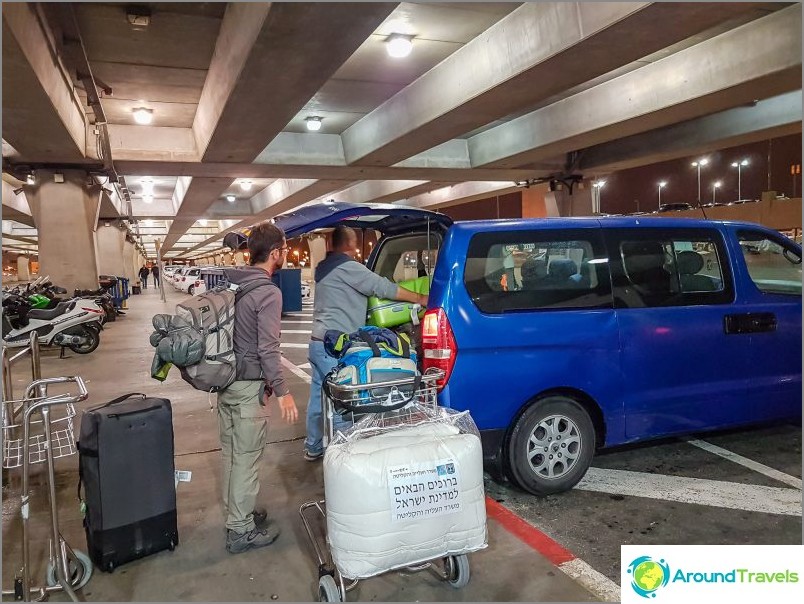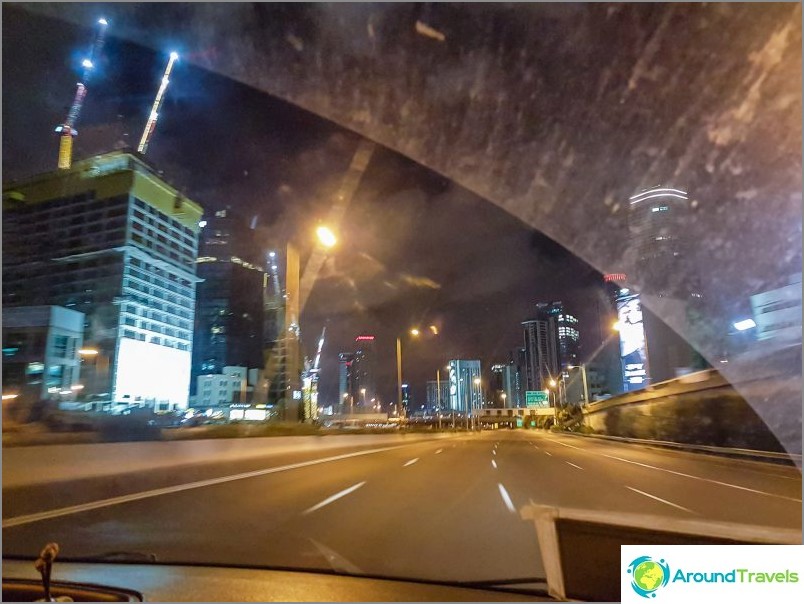 You know, already at this stage it seemed to me that it is easier for disabled people to live here. If not for Egor, we would not need any special treatment. But if not for the expedited procedure, I do not know how Yegor would have survived the night at the airport. Unfortunately, he does not drink or eat ordinary food (which was offered in the building where everyone was registered), he cannot sleep in such conditions. And I also noticed that the airport employee did not just take us to the taxi, but also carried a heavy trolley with suitcases (we put 4 suitcases on each), I would not take 2 trolleys at a time.
But some cunning taxi driver was caught. We first went to the south of the country, where he refueled, and only then went north to Haifa. I don't know what the trick was, maybe there was some kind of special cheap gas station. As a result, we lost an extra 1.5 hours on the road. No ice.
We arrived at an apartment that we ordered in advance through Airbnb. Sign up here and get $ 32 off Airbnb on apartments worldwide. Valid for the first booking, booking must be from 70 $.
Get $ 32 Discount>
No one entered the apartment, they just fell to sleep and that's it. But Yegor woke us up early in the morning, like he got enough sleep. Yeah, for two days then I stood on my ears, travels always affect him this way.
The apartment was super, we just fell in love with it: in a new building, renovated, a large balcony and a steep view from the window, but 150 $ / day. Therefore, a week later, we left for an authentic and cheap apartment in one of the worst districts of the city for $ 35 / day. The apartment actually turned out to be very nice and I would boldly recommend it to travelers, as well as the area, in an original way. But that's another story, as well as the history of finding an apartment for a long time. If interested, then I can tell you about everything, including where we eventually settled.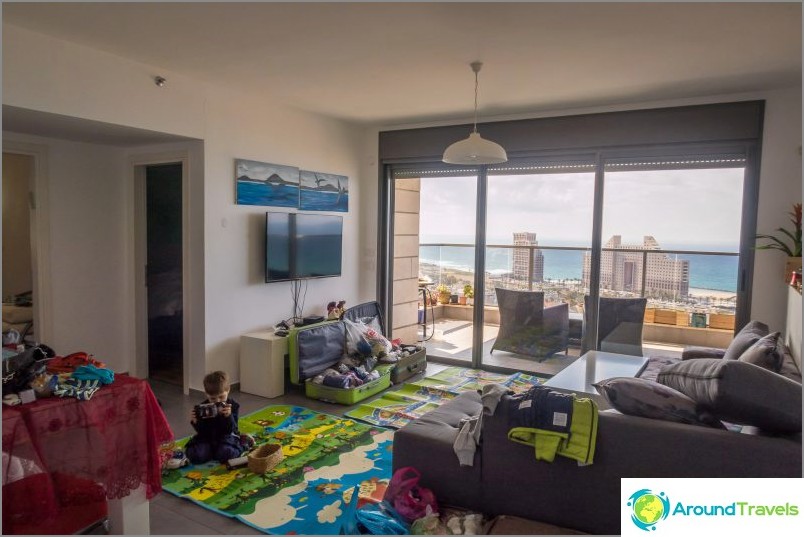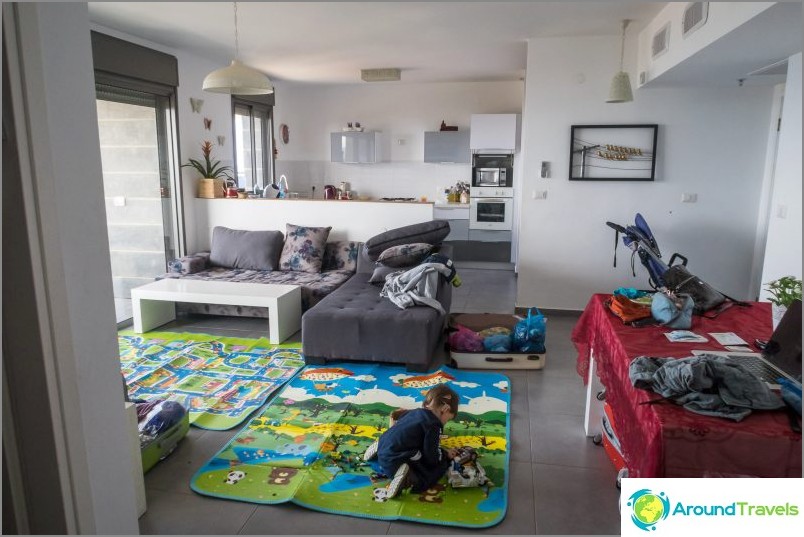 P.S. Please note, I do not pretend to have complete knowledge of all the nuances of repatriation, only what I read about, or what I encountered myself.