Singapore annually attracts a huge number of tourists due to the fact that a huge number of outlandish, bright and interesting objects have been built on its small territory. Here is another unusual attraction - the fountain that makes wishes come true..
The content of the article
Fountain of Wealth in Singapore
This striking structure is eye-catching and unmissable. Naturally, feng shui was also involved here. Even more - the fountain is designed entirely from the doctrine and symbolizes wealth and prosperity.
Fountain of Wealth in 1998 was entered in the book of records as the largest fountain in the world, however, I do not know if this information is relevant now or not..
The fountain occupies an area of ​​about 1700 sq. M. In the evening, it is complemented by lighting. It is located in one of the largest shopping malls in Singapore, Suntec City. A shopping center and 4 more office buildings form the back of the left hand, and the fountain itself is in the center «palms», and, according to the basics of feng shui, it is on the left side that wealth comes.
The very shape of the fountain (its ring at the top) is based on the Hindu mandala, meaning the universe. The fountain supports are made of bronze and they also have their own symbolic meaning. The pillars themselves are the 4 main religions of Singapore, and bronze and water are symbols of prosperity and harmony. The Singaporeans even took care of those inexperienced in the teachings of Feng Shui and placed a sign at the entrance to the fountain with the rules for its use. Nice, isn't it?
At certain hours, the large fountain turns off, and visitors are invited to stroll around the mini-fountain in its very center. This is best done in the evening, when the fountain lights are on. They say that you need to dip your hand into the fountain and walk three times around it «for luck». Supposedly it helps to become successful and rich. The structure gathers crowds of tourists around it. Maybe everyone wants to be rich? And why not ... Yes? Also in such a simple way! I myself have not tried on myself the miraculous properties of the teachings of Feng Shui.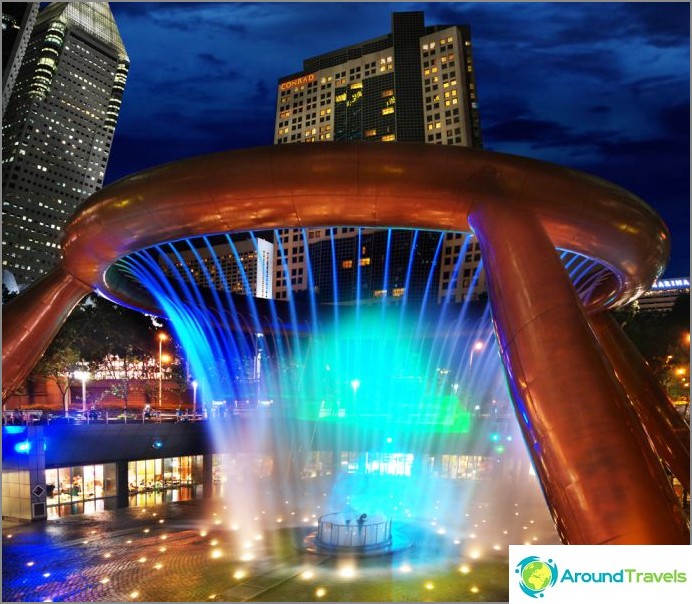 Visit information
The fountain is open every day from 9:00 to 22:00. Free visit.
Time when you can get inside the fountain and go through the enrichment ritual: 09:00 - 11:00; 14:00 - 17:00; 19:00 - 19:50; 21:30 - 22:00.
I definitely advise you to come to the fountain in the evening, when the beautiful lighting is on. But it is not only for this reason that it is worth being here after sunset. There is a free laser show every day at 20:00 and 21:00.
On the map
Fountain of wealth
Fountain of wealth
Fountain of Wealth. Once the largest fountain in Asia. At a certain time, you can be inside. Also there is a laser show.
More about Fontana
Fountain of Wealth. Once the largest fountain in Asia. At a certain time, you can be inside. It also hosts a laser show.More about Fontana