On the way back from Chiang Saen, we stopped at Wat rong khun (White Temple in Thailand), which is located next to Chiang Rai. And when we found out that he was not just nearby, but on the highway leading to Chiang Mai, we immediately decided that we should try hitchhiking. After all, this is a new country and it is necessary to check it for such a useful thing for backpackers. Before that, somehow the opportunity was not provided. There will be almost no photos and text, only a couple of minutes of a positive and funny video, well, at least it seemed to us that way.
From myself, I can say that I really enjoyed hitchhiking around Thailand, and even though we only drove 180 km, which cannot be called a grand experience. However, certain conclusions could be drawn for oneself. By the way, our last hitchhiking was in France and for some reason it was much more difficult.
Not only did we get there much faster than by bus, but we were also very struck by the ease of this action. And not so much from the fact that we stood on the track for no more than 20 minutes, but how much from the atmosphere of a Thai hitchhiking - warm, sunny, you can ride in the back with a breeze, Thais stop, smile and are happy to throw up. And at the same time they also understand English! In general, everything is fun and easy.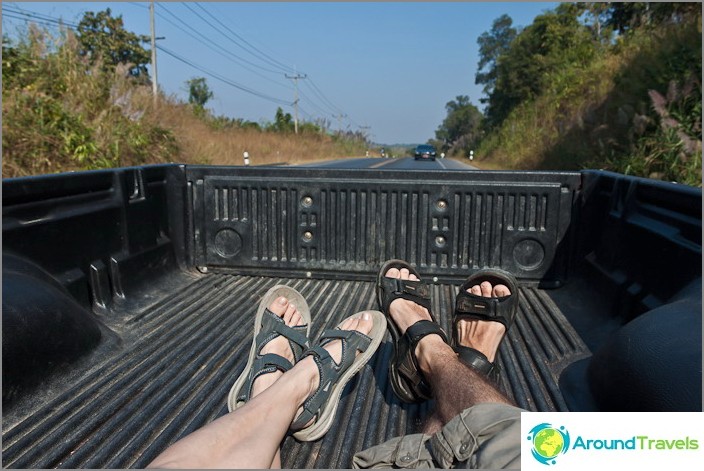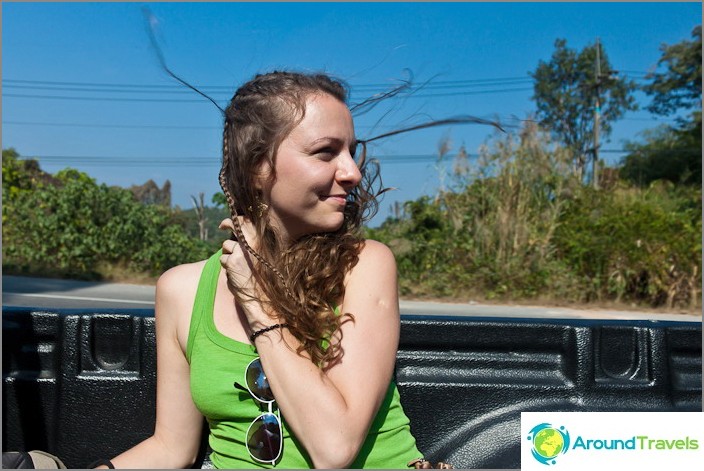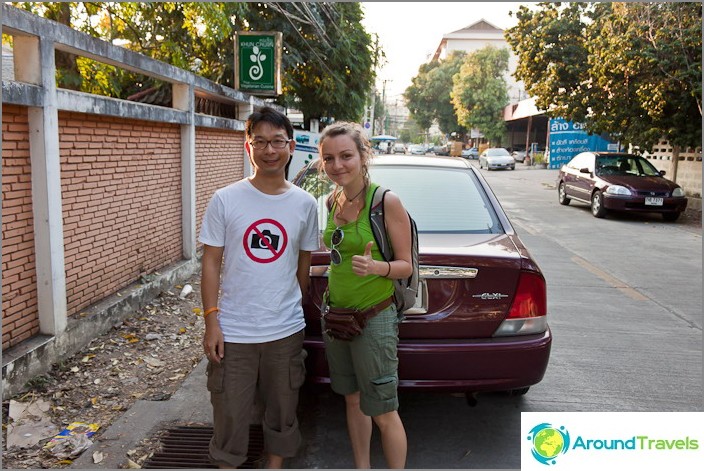 Immediately yet turkish hitchhiking I remembered how we had to not only explain on our fingers and with the help of a phrasebook where we were going, but also explain why we needed it. Each Turk strove to take us away not along the road ahead, but to the nearest bus station. But the countries agree on one thing - the money issue did not arise either when hitchhiking in Thailand, or when hitchhiking in Turkey.
Darya:
The first car to stop was a pickup truck loaded to the dump with people and some sacks. For a long time we tried to explain to the driver that we want to hitchhike and that «thanks, but we will wait for the next car». When he drove off, I realized that everything would not be as easy as it seemed to me. First of all, how to explain to a welcoming, but completely not understanding English Thai, what hitchhiking is and why we don't need a bus. How to show it with gestures? And how to calm him down and say that it doesn't matter that he is only halfway there, we will get out where he turns off the track, and we will catch another car? I probably remember this most of all from the whole hitchhiking, for the first time I could not explain myself so that from the first time I would understand what kind of dances I just didn't suit the car. One driver even had to say all-helping «OK» and let him go in peace, he was very worried that he did not speak English and did not understand what we were asking.
Well, so - it was really one of the easiest hitchhikers that I have ever had: cars stopped quickly, the drivers were nice and friendly, the ride was interesting and fun, especially in the back. And I was lucky with the last car - it was a classic hitchhiking with a very interesting conversation, because the driver spoke fluent English, asked about Russia, told us a lot of interesting things about Thailand and even brought us to a thermal source along the way, just to show what interesting things they have here.
In general, hitchhiking in Thailand is going very well, although it seemed to me that out of all the many cars, yours are only those in which the driver or passenger speaks at least a little English. But these are only first impressions, we will try again!
P.S. Dasha could not resist and write her impressions, so this time again there was not enough text))