The Lo Ba Khao Beach area is located in the northeast of Phi Phi Don Island. The place is considered one of the most remote and impassable on the island, that is, there are always not very many people here, but there is more than enough tropical exoticism. Lo Ba Khao is an almost flat line of the beach, light sand, clean seabed and a good selection of accommodation along its entire length..
On the left (when looking at the sea) there is a river bed (or not a river), which separates the beach from the rocks on the left side of the bay. The current in the river occurs only at ebb and flow, because it is mainly seawater that skirts the beach on the right and fills a decent-sized lowland behind Lo Ba Khao.
The content of the article
Beach description
Great beach for the whole vacation. Lo Ba Khao Bay is surrounded on two sides by mountains, and behind Lo Ba Khao Beach is an almost flat flat part that ends with a beach Lo Lana Beach. In general, there are three beaches within walking distance: Lo Bacao, Lana Beach and Nui Beach - it is located on the opposite side of the hills, but it is difficult to explain in words - look at the map at the end of the article. The distance between the beaches is 500 meters, probably.
The sand is fine, light yellow and there is a lot of rubbish until the staff of the first line hotels removes it. The beach is looked after, although given its shallow water, it is not at all difficult.
Entering the water, depth and waves
The beach is extremely shallow and in high water completely floods the sandy strip. To preserve the coast from erosion, the Thais were forced to build protection from wooden boards and concrete fences, which, of course, affected the attractiveness of Lo Ba Kao..
Like all beaches in Phi Phi Don, Lobakao has a huge ebb and flow. In fact, at high tide and low tide, you will see two completely different beaches. Unfortunately, I was at low tide, so I didn't like all the beaches in that area at all. The water leaves 300-400 meters from the coast, Lo Bakao beach becomes absolutely unrepeatable.
I did not see waves either, but I suspect that they are only in the season of storms..
Sun beds and shade
There is no shadow on Lo Ba Kao, from the word at all. You can find a few more or less dense palm trees on the shore, but they all grow on the territory of the resort. Most likely, you will be asked to leave from there if you settle down without being a guest of the hotel. The rest of the palms are very tall and give no natural shade..
There are a lot of sun loungers here, but again, they all stand behind a fence, in a private area, and I did not notice a hint of beach equipment rental in the distance. Apparently, only guests of nearby resorts feel fine on Lo Ba Kao. Savages are not welcomed here and they are driven out of private meadows immediately..
Beach photo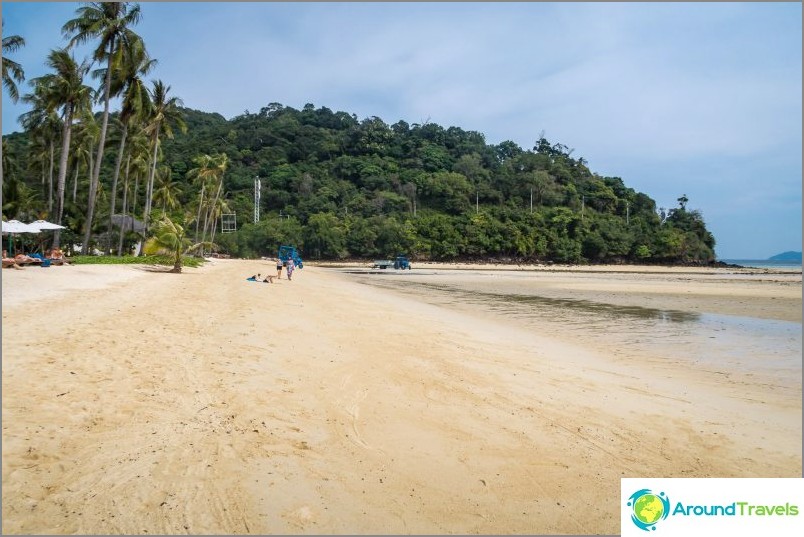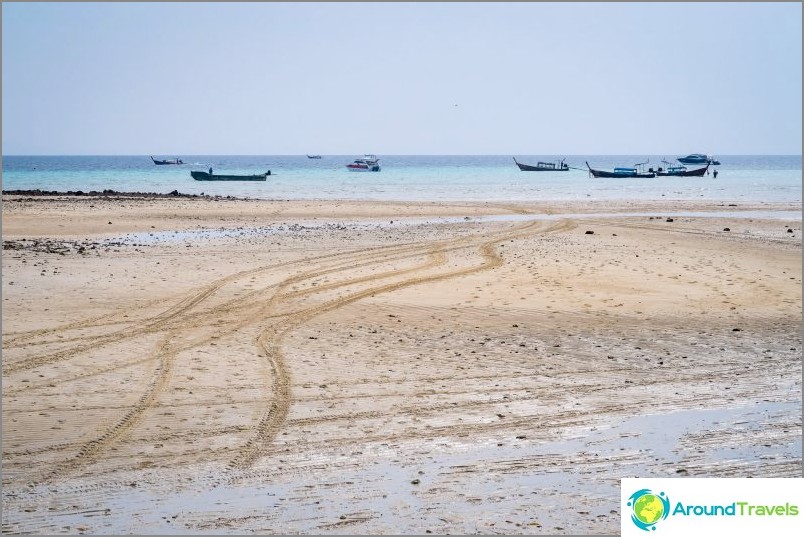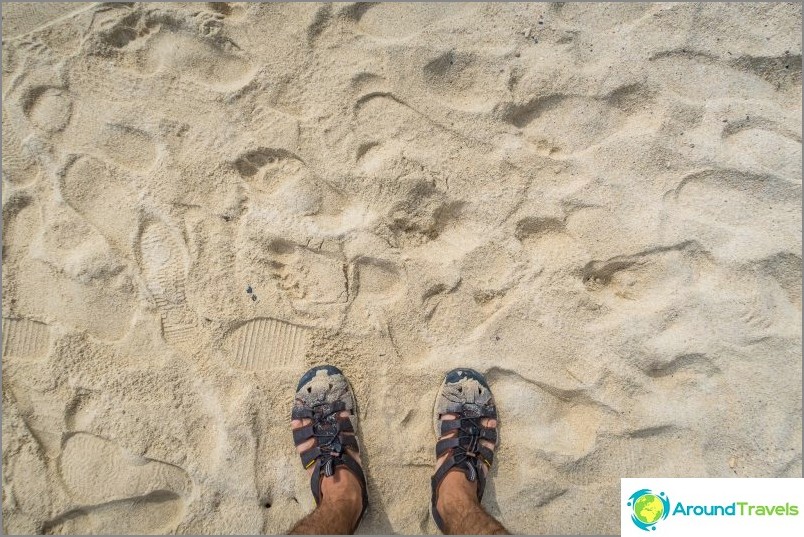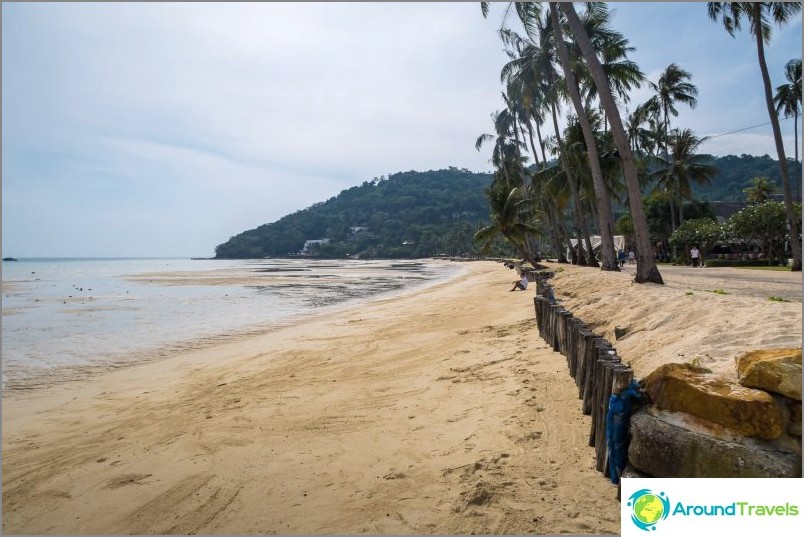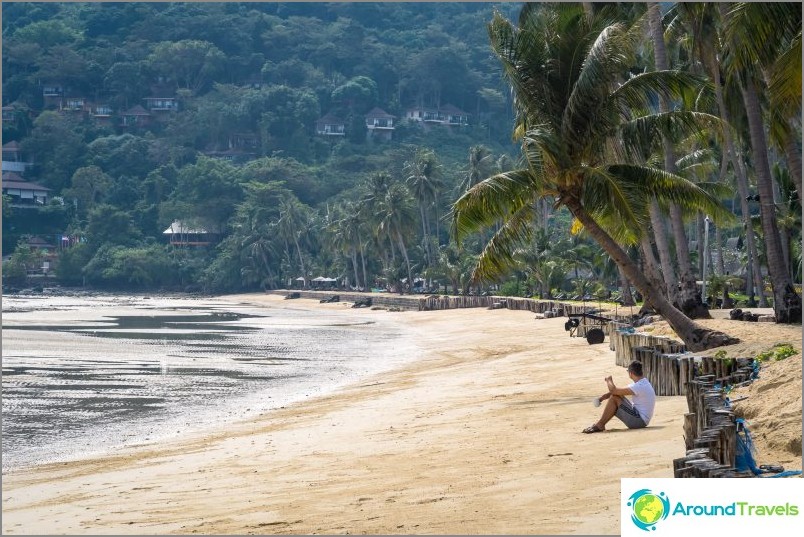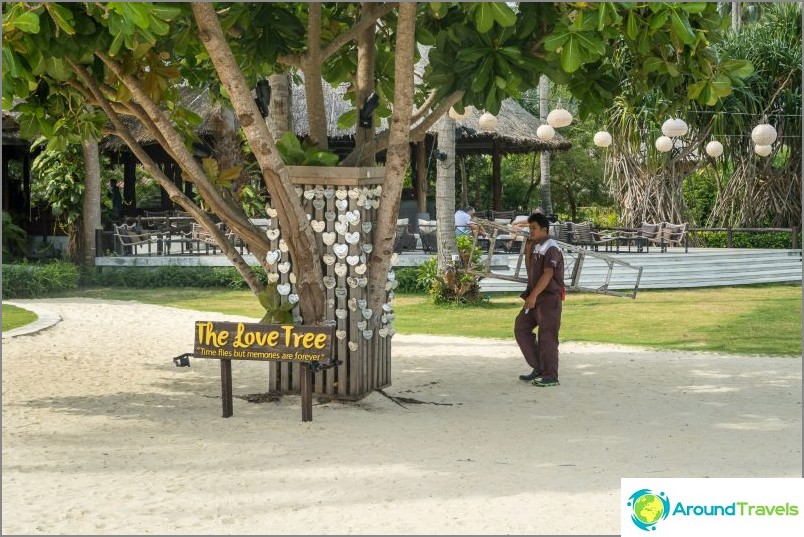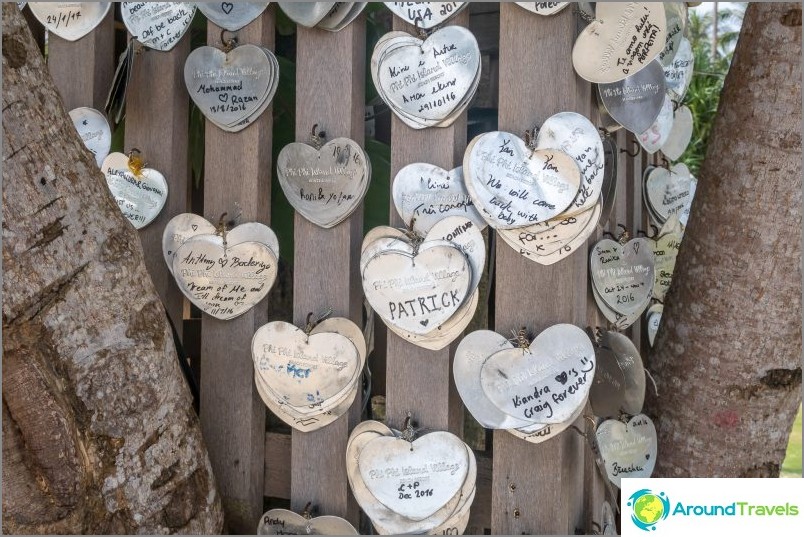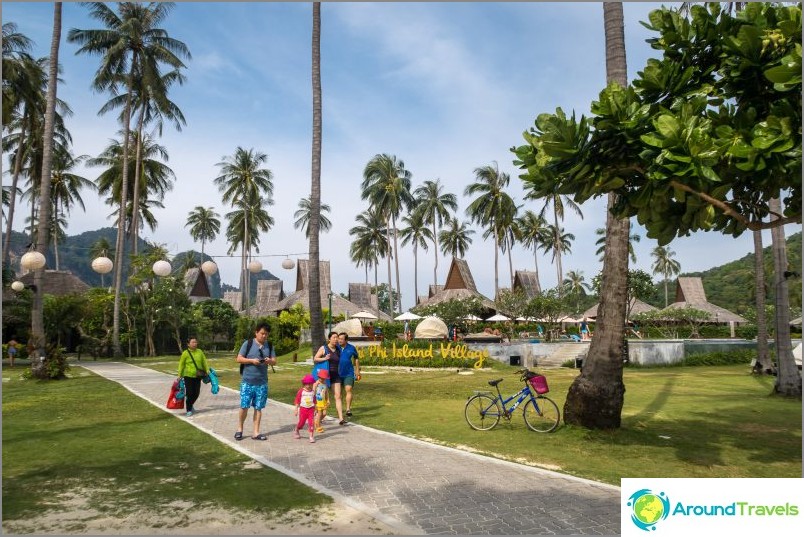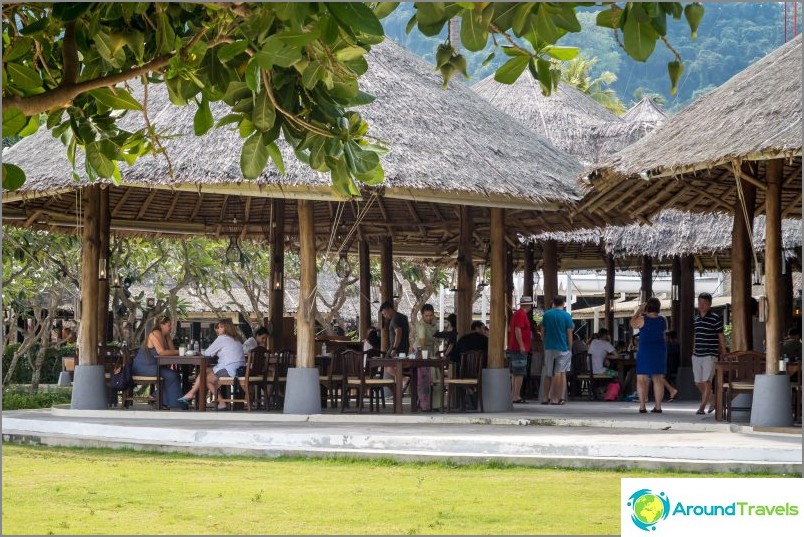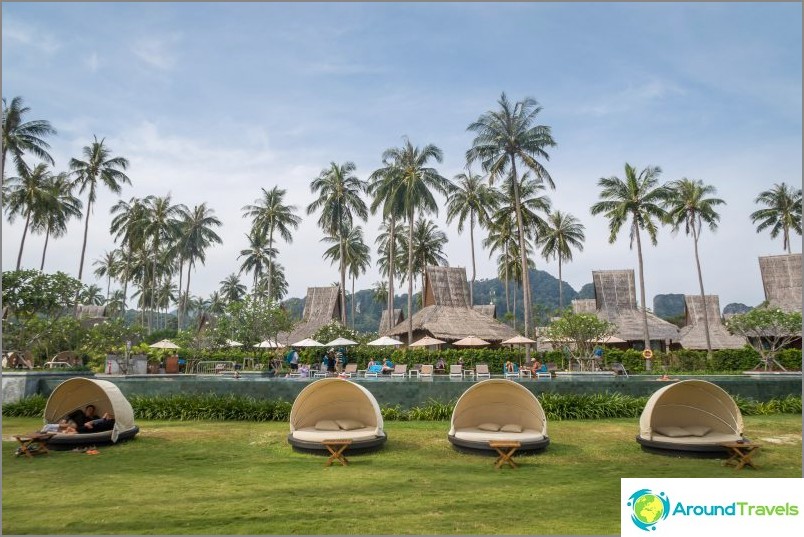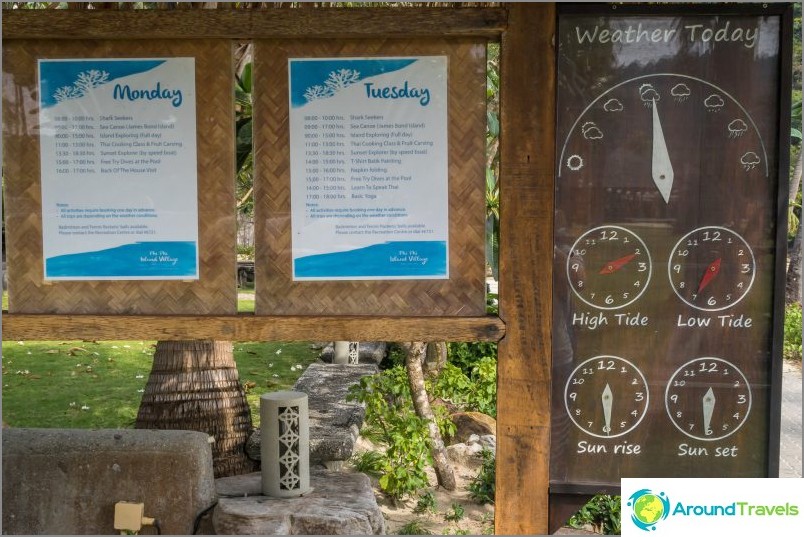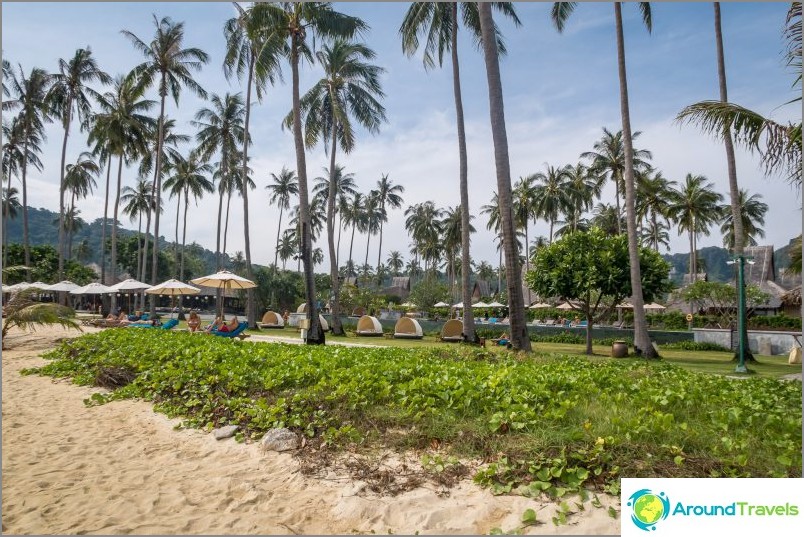 Infrastructure
The area behind Lo Ba Khao beach is very quiet, peaceful, no nightlife. There are literally a couple of hotel restaurants, a couple of local restaurants, a couple of massage rooms, and that's it. By and large, the entire village in the bay is a few small streets and commercial buildings, everything else belongs to hotels.
When you walk through the Lo Bakao area, there are signs with distance and time, where and how to go. You won't get too confused here, but for the first time such pointers can be very useful. Attractions include the neighboring Nui beach, a bridge, one viewpoint and a cave. Not a lot, but still more than on some beaches of Phi Phi Don.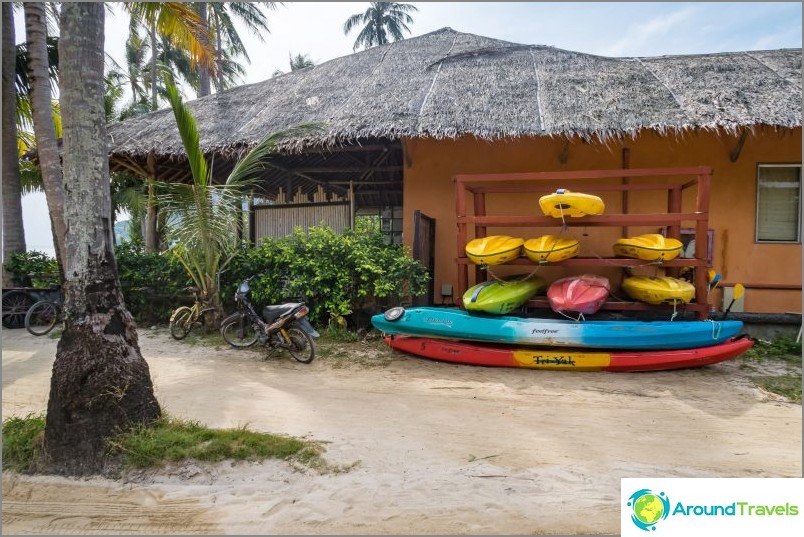 Houses and hotels on the beach
If you do not take into account a small village nearby, then housing on Lo Ba Khao is represented by a large five-star resort Phi-Phi Village, next to which there are several more bungalow-type resorts, of which PP Red Tuna Hut and Phi Phi Ba Kao Bay Resort are the most suitable.
And on the slopes adjacent to the Lo Ba Khao Bay, there are two establishments without their own beaches, but with a beautiful view of the sea: Phi Phi Phu Chalet Beach Resort and Villa 360 Phi Phi Islands. Using the link below, you will be taken to a general list of hotels around Phi Phi Don, but you click on the icon with a map and there you will already decide on accommodation options on Lo Ba Khao Beach. The island is so small that Roomguru doesn't even try to divide hotels by beaches..
Hotels near Phi Phi>
Be sure to check for discounts or specials on the excellent Roomguru service. He will quickly and easily show you discounts in all existing booking systems. In Asia, for example, there are a lot of offers on Agoda.com, which are much more profitable than in the same hotels in the Booking.com system..
For the lazy, here are the direct links to the hotels listed above:
How to find the beach

The beach is located far away for walking, so a boatman is the best option for a tourist. You will need a tourist card, a finger and two hundred baht one way.

Beach Map

Map of the beaches of Lo Ba Khao, Lo Lana and Nui Beach

Map of the beaches of Lo Ba Khao, Lo Lana and Nui Beach: