Updated my post-instruction on buying cheap insurance. He told how and what to do. The winter travel season is beginning and many will buy their own health insurance. I am no exception, so I sat all day, compared prices on all the services I know, and decided to share my research with you..
It will be about Sberbank insurance and how to buy it cheaper. Many simply do not know how to do it, they set the wrong parameters.
The content of the article
Instructions on how to buy insurance cheaper
You need to do just that! Otherwise, you, or in the search results, will not have Sberbank at all, or the price will be higher. Step by step.
Go to the Polis812 service.
In the search form, set, for example, Asia. Regardless of the selected country, the insurance territory will be: «The whole world, except the USA and the Russian Federation». But if you need insurance only for Schengen, then we indicate Schengen.
We set the start date of the insurance, put a tick in the Annual policy and be sure to select 90 days on the right. It is important.
We indicate the number of insured persons and their age.
If my promo code was not inserted automatically, then write LIFETRIPRU under the dates. He will give you an extra 9% discount.
Profit! We receive annual insurance for the whole world for 90 days for 4900 rubles (60.000 euros). You will simply not find cheaper anywhere, the best price for insurance from Sberbank.
~ 3,700 rubles from 35,000 euros (available only for Schengen and temporarily for the territory «Worldwide except USA and Canada», which includes Thailand, but will soon be removed).
~ 5500 rubles from 120.000 euros for all territories.
Buy discount insurance>
I recommend taking exactly 60 or 120 thousand euros. In Thailand, expensive medicine, and Sberbank is more fond of those who take more expensive insurance, issues are resolved faster. I'm not just saying that. The sale of policies of 35 thousand euros for Asia has already been covered, and perhaps soon the price for Thailand will be raised altogether.
When you insure a child or several people, then you need to take separate policies, because there are technical features on the Polis812 website (if the total amount for the policy exceeds some thousand rubles there, then it is not shown in the search results). But there is no difference 1 you have a policy for all family members or everyone has their own.
On Cherekhapa, you can also buy insurance from Sberbank, but there will not be a promotional code. To do this, you need to switch to the euro currency, select Southeast Asia or Schengen, select an annual policy and 90 days. If you do not, then again you will not see Sberbank in the search results..
Insurance from Sberbank on Cherekhapa>
Polis812 is also not without nuances, so I wrote my instructions on how to do it. Now once again the instructions in the screenshots for insurance in Asia, to make it clearer (for Schengen we choose Schengen). The price below is for one person. Please note the price changes depending on the exchange rate, so it will differ slightly from the one in the pictures.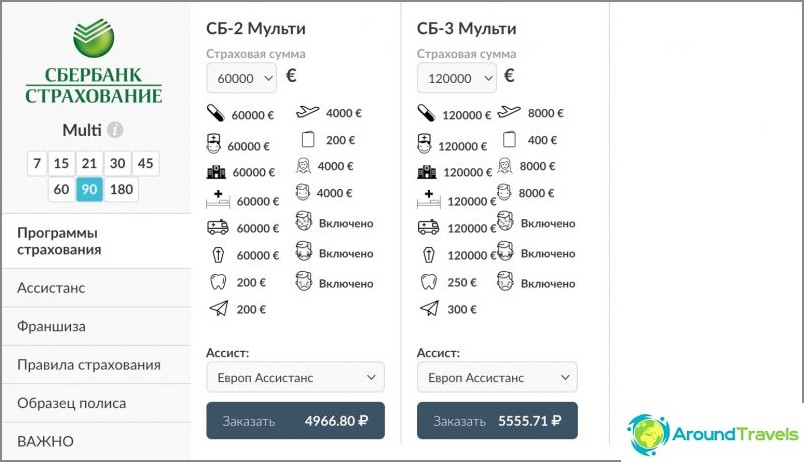 When registering, you will need to indicate the data of the Russian passport. Relax, that's okay. Needed exclusively for payment.
About Sberbank insurance
Use it before the price increases! This always happens, in the beginning they give low prices, people buy, the insurance rating grows, and then they sharply raise the cost. with EPV a similar story was.
I recently bought myself insurance from Sberbank (Europ Assistence) with an insured amount of 60 thousand EUR. It turned out to be the cheapest with good conditions of the insurance contract. Since medicine is very expensive, I never take less than 50-60 thousand.
It is according to this instruction, as I wrote at the beginning of the post, that you will get the lowest price. Lower than on the official website of Sberbank. Don't look for a catch, there is none.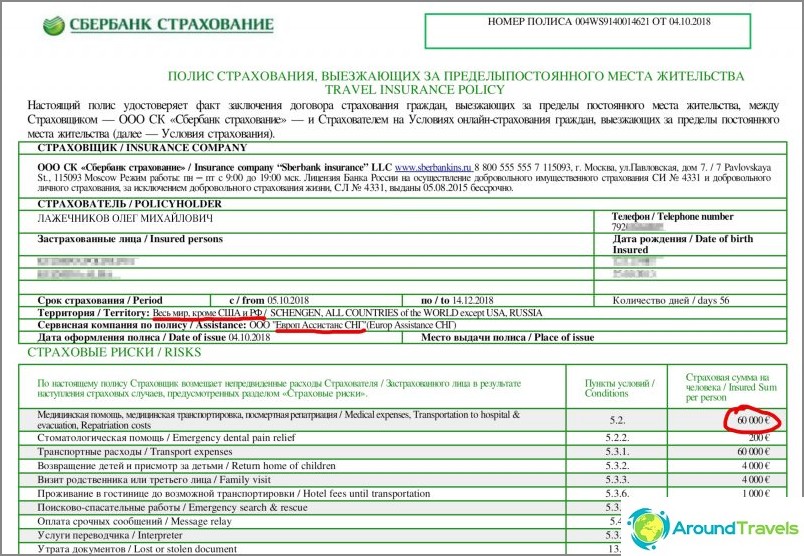 Now insurance from Sberbank-Insurance is cheaper than all the others. And not only annual, but also for specific dates. I wrote about this in my main post about insurance, where I make a rating and write everything about insurance.
If you travel once a year and you have a lot of 90 days, then it will be cheaper to take Sberbank's insurance for 1-2 weeks for specific dates, and not an annual one. Sberbank also has them. But play yourself with calculators in Polis812, Cherehapa and Sravni, from a certain number of days it is more profitable to take an annual.
If insurance is needed for Schengen, it is often cheaper to get insurance from Allianz (Mondial) and Zetta (AP Companies). Assistances are better, and the insurance ones themselves. Pay attention to them.
Pros and cons of insurance from Sberbank
Looking ahead, I will say that I recently had to apply for it in Chiang Mai to Thailand with otitis media (my fresh review). They sent me to a good hospital, the letter of guarantee was already in the hospitals upon arrival, I did not leave my passport, everything was paid without problems, no delays at all.
Pros:
Annual insurance, with an unlimited number of trips per year, for a total of 90 days a year for all trips.
Territory of insurance - «The whole world, except the USA and the Russian Federation», that is, almost all countries.
Covers emergency situations due to chronic diseases, allergies, Dengue, etc. By default, riding a bike is included, you do not need to add anything separately when buying, this is their standard program.
Insurance for a child from 3 years old costs the same as for an adult. Almost the only inexpensive insurance for children. Other insurance companies will have multiplying coefficients (the price increases several times).
Order insurance with a discount>
Minuses:
Actually, minus one - budget insurance. She is a worker, but sometimes you have to kick the assistance, hurry him up so that she can solve issues as soon as possible. In short, they sometimes delay with answers.
In any case, it is better to have such insurance than not to have it at all. I have already used it in Thailand 3 times in total in the last few years and in general everything was solved quickly. Once, in general, they sent to Bangkok Hospital.
P.S. I will also note who is not in the know. There are no more cheap annual policies from ERV, which I talked about in my previous life hack. But you can still buy their insurance cheaper, read my new life hack.
P.P.S. Ask questions if things don't work out..