I have collected here information about the need for return tickets, as well as how you can get to Thailand without a return ticket, if you do not want to buy it for one reason or another. First of all, this situation arises when a person flies one way, entering Thailand on the usual 30-day stamp without a visa. Also, information on tickets for choice and unpaid reservations will be useful to those who make a visa to Thailand in Moscow / St. Petersburg and do not have tickets in both directions on their hands.
All the details are below. And on the topic of flights, you can still read my article - How to fly cheaply to Thailand.
The content of the article
To Thailand without a return ticket
What is a return ticket or a ticket to a third country
UPDATE. Recently I noticed that Timatik's rules have changed and information about a return ticket has disappeared from there. However, in fact, some airlines continue to ask for this ticket, and regardless of whether you are going to enter with a stamp or a visa. I have a suspicion that specifically Tai has stopped demanding a return ticket, and this is more of an airline problem. I am clarifying the question for now.
Not everyone knows that if your passport does not include tourist visa to Thailand, then you first at the Russian airport at the check-in counter, and then at passport control in Thailand, they may require a return ticket, or a ticket to a third country (in English return / onward ticket). Moreover, this ticket must be no later than 30 days after arrival, and it is by air, and not by bus or railway. Wherever you come across information about what is possible without a return ticket, do not believe - it is officially needed. But will they check it or not, this is a completely different question, depending on the human factor. Usually they check it in Russia at the counter.
When boarding a plane, airlines are guided by Timatic rules. You can see them on the links, all in English, not in Russian. It is there that you can find out information about the requirements of the country for entry, depending on your citizenship..
https://klm.traveldoc.aero/
https://skyteam.traveldoc.aero/ is the same as the first link
http://www.iatatravelcentre.com/ - you need to select Thailand in the form on the left and click the button there, all other data is entered later. You don't need the right shape.
https://www.united.com/web/en-US/apps/vendors/default.aspx?i=TIMATIC
And it clearly states that citizens of the Russian Federation need a return ticket or a ticket to a third country when entering Thailand. By the way, this also applies to other countries, such as Malaysia, the Philippines, Indonesia, etc. Therefore, even before your flight at a Russian airport, you may not be registered for the flight if you do not have a return ticket. Thus, airlines are reinsured against the fact that if you are suddenly not allowed into the country, they will have to take you back to your homeland at their own expense..
Return / onward ticket may not be checked, yes. And judging by the various reviews on the forums and my experience, many people are not asked for return tickets, either at the Moscow airport or in Thailand. Whether you specifically face this problem, no one will tell you. For me personally EgyptAir checked tickets to Domodedovo, AirAsia checked in Hong Kong, Emirates did not check, but I had a visa in my passport. But when flying with Aeroflot, no one asked anything, and I read that our airlines do not check. Blacklisted by Qatar, Etihad, Thai Airways and AirAsia, they always check.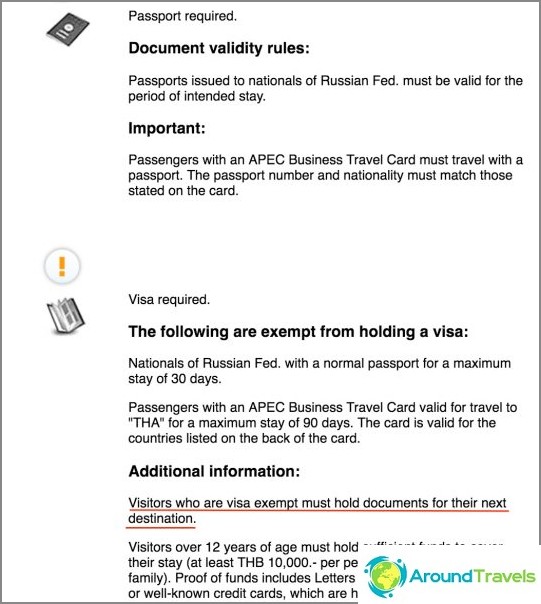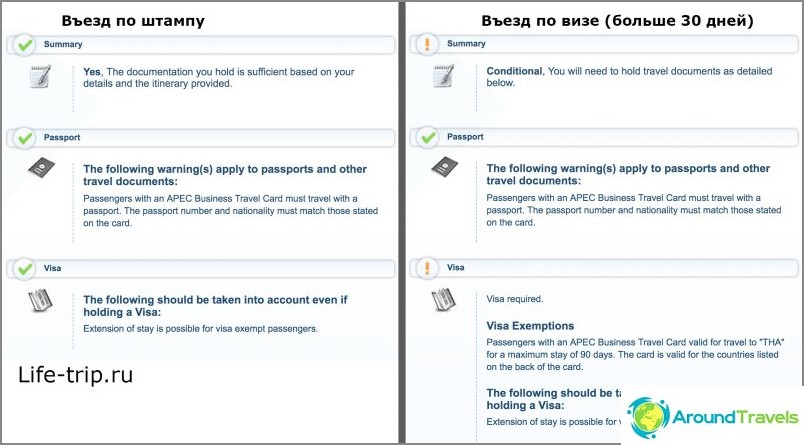 Options for getting out of the situation
Remember the rule. You can fly from Thailand on a charter only if you also arrived by charter. At one time, no one checked this, but now, since 2017, they have become. I suppose that if the entry was by land (for example, after a visa), then this rule is no longer valid.
Make an unpaid air ticket reservation. Full instructions in the next section below.
Buy a ticket with an open date or at a refundable rate. In the first case, then use it, in the second case, pass it. This method is also suitable for obtaining a visa in Moscow. From proven - Economy Premium FLEX from Aeroflot, return without penalties. The only inconvenience is that the money can be returned for a month.
Buy a ticket confirmation on the website euroavia.ru. We select a ticket by searching and there it will already be written about the price whether this ticket is suitable for a visa or not, that is, whether this agent can book it for a few days or not. Choose an item «for the visa» and pay about 300 rubles. After that, a confirmation is sent to the mail. In the system, this ticket is made through. This method is suitable for obtaining a visa in Moscow. I myself have not tried it, they advised in the comments.
Buy the cheapest ejection ticket to a third country. For example, from the airline Airasia to some country, such as Malaysia. See directions: Phuket - Kuala Lumpur, Phuket - Penang, Hat Yai - Kuala Lumpur, Suratani - Kuala Lumpur. For the emission, because it cannot be returned (more precisely, the tariff is not refundable, but fees can be return). The cost of one ticket is 1000-2500 baht, for a promotion it can be 800 baht (and you have to take it without luggage, it's cheaper). Alternatively, fly the same ticket and see new places at the same time. It is convenient to search for any tickets through the search engines Aviasales and Skyscanner, they also sell tickets from Airasia and other low-cost airlines. It will be just convenient for those who do not know English, because the search engines are in Russian, and the AirAsia website is only in English.
Make a fake Airasia ticket. You can download this editable eticket template here. The main thing is, the flight, time, cost, put down correctly. But if they check you, I don't even know what will happen, almost a forgery of documents. I would not recommend doing this.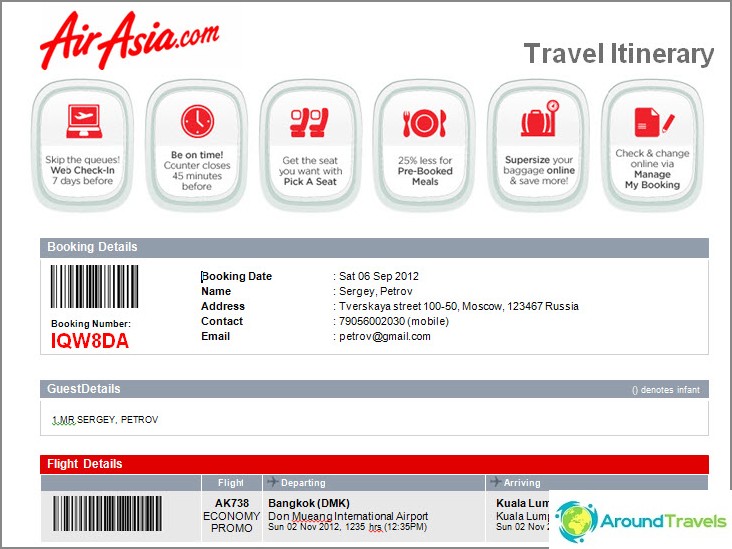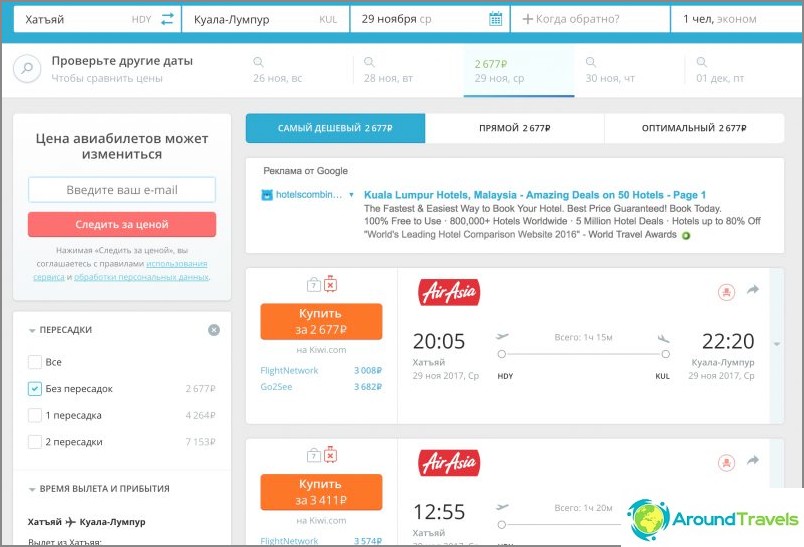 Unpaid reservation instead of a return ticket
They write in the comments that this method no longer works..
An unpaid reservation is much better than a fake ticket, because if they start checking your printout, then at least there will be nothing to accuse you of, they say, they just did not have time to pay. Of course, there is no guarantee that you will be allowed on the flight, however, as I understand it, it is very difficult to check your paid reservation or not, the main thing is that it is in the database. When flying with a stamp, I always insure myself with such a reservation..
But, I think, it is obvious that you need to make a reservation, not the airline that you are flying. That is, if you fly Qatar'ami, then the reservation from them is not suitable.
How to make a reservation
We need the Agent.ru website and the Qatar website. The Qatar reservation lasts about 10 days. It is very convenient, you can then print the reservation on the official Qatar website in English or Russian.
I'm telling you. First you need to register on the Qatar website. Everything is standard there, I think, and you can figure it out without me. Be sure to only enter your real data, name, phone number and mail. Sometimes the site asks to confirm the phone number and mail, and you cannot do this if you specify the left ones. After registration, go to your Qatar personal account and copy your privilege number from Qatar (Membership number), you will need it now.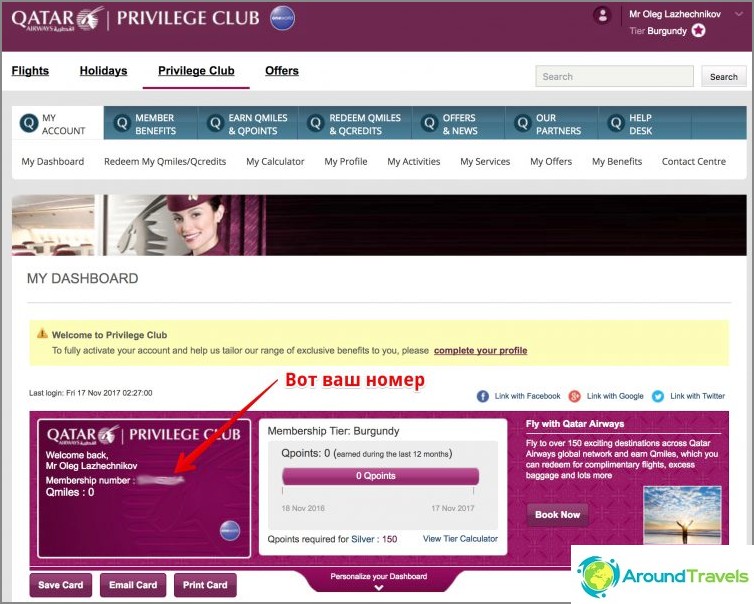 Next, go to Agent and search through the search for a flight, for example, Bangkok-Moscow. In the search results, find a flight from Qatar and start placing an order. This is where we need your Membership number.
Be sure to enter it in the field when ordering «Bonus card». After that, proceed to payment, but do not pay. That's all for that. Reservation made.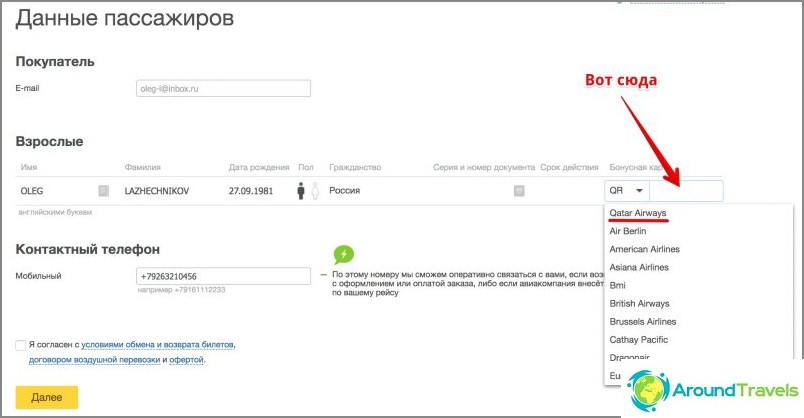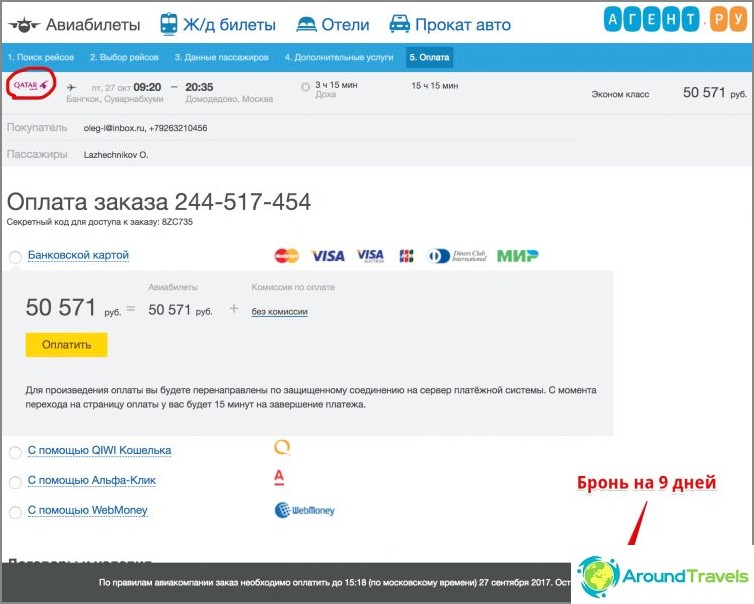 How to print a booking
Go back to the Qatar website, switch to English, as it is better to have the itinerary receipt in English. On the main page, find the My trips tab, enter your last name in Latin letters and supposedly a booking code that you do not have. Therefore, enter any 6 letters by type «TBGBZK».
The site will swear that it cannot find such a booking. But it will give us the opportunity to enter the booking by the last name and your Membership number, which is here called Privilege Club Number. Voila! Now you see the real booking code and the ability to print the itinerary receipt (i.e. e-ticket) with the Confirmed status (confirmed).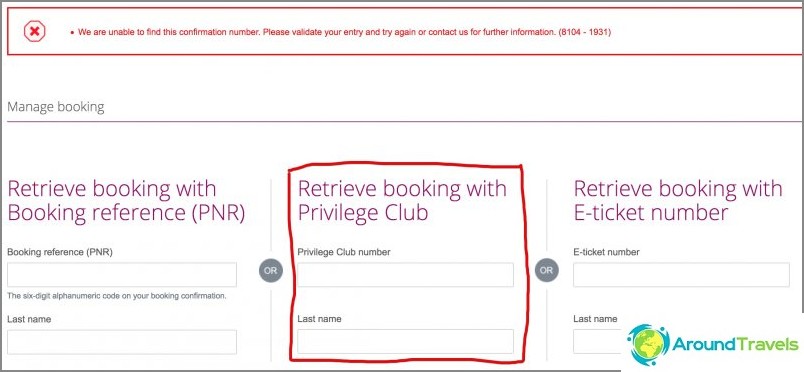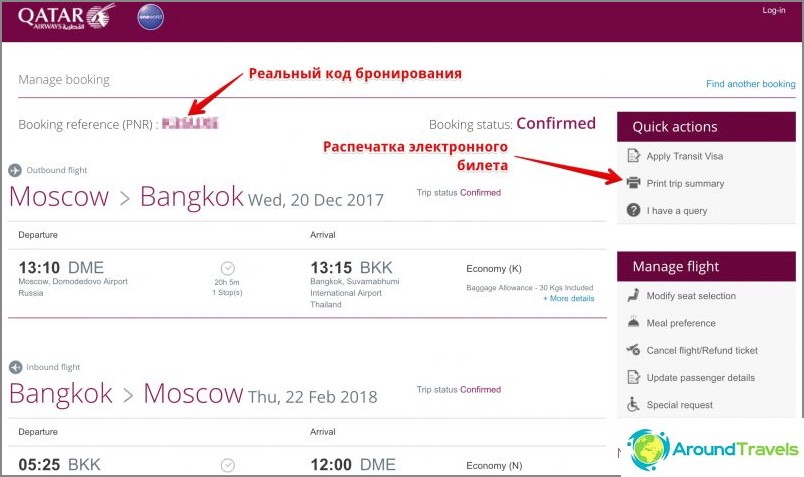 And yes, unpaid reservations can also be made on the Qatar website itself. The site itself speaks about this periodically. But don't be fooled by that. The maximum booking can be 72 hours (3 days) and this service costs 20 bucks. Basically why not, but just know.
But just in case, there are third-party sites for you, where you can check your reservation using the booking code, and then print it out. Not all tickets will break through, but only from some booking systems. And yet, it seems to me that it is better to make a printout from the airline's website than through similar services, there will be more trust.
viewtrip.com (Galileo)
www.checkmytrip.com (Amadeus)
www.virtuallythere.com/ (Saber)
There are no guarantees
This is the most frequent question in the comments, so I will repeat myself. There are no guarantees. If you want to be completely sure, buy either a real ticket to the country you are flying to, or an ejection ticket. Ready to take the risk - make a reservation, but only be prepared for different turns of events. Just keep in mind, this is your decision and you yourself must make it..
In principle, all doubters are better off buying an emission ticket and not fooling themselves, it costs about 1,000 baht in total, it is inexpensive. This is especially true for those who already have a lot of stamps in their passports, Thai border guards may have increased attention to them..
P.S. That's all I wanted to tell you. There will be questions, ask.