I am often asked the question of how to fly to Thailand cheaply, where to look for cheap tickets, etc. In order not to answer every time, I decided to write a post about how I do it, so that later I would just give a link. Nothing supernatural, everything is very simple. For your information: I usually fly from Moscow, so it's a little easier for me than for residents of other cities. By the way, I also wrote separately about how you can fly to Samui from Moscow, because it's not obvious to everyone right off the bat, they ask.
The content of the article
How to fly cheaply to Thailand
The easiest way to fly to Thailand is to buy a regular flight ticket in advance, 2-3 months before the trip. You can start monitoring ticket search sites earlier, or as aggregators call them, but for this it is easier to subscribe to the mailing list of offers. But remember, prices will not always be much lower if straight in advance.
Ticket finders
I always use 2 search engines, I see no reason to use something else. There are no flights that they don't show. These aggregators contain offers from all airlines and ticket agencies. There are no additional charges. Below is a block with current ticket prices.
Ticket prices in Aviasales>
Skyscanner Ticket Prices>
I really like this calendar at AviaSales. In fact, you yourself do not need to look for anything at all, we just look at the desired month and then look in it at what dates it gives out the cheapest flight. But this, of course, is convenient for those who later can adjust to these dates..
Cost reduction options
When looking for cheap flights to Thailand, try comparing the prices of flights between different cities. That is, look not only Moscow-Bangkok, but also Moscow-Phuket, maybe even Peter-Bangkok and Peter-Phuket. But usually the cheapest tickets are from Moscow and to Bangkok. Well, from the rest of Russia there are cheap tickets from Novosibirsk and Irkutsk. But do not forget about other cities besides the capitals, check just in case. Somehow I was looking for a ticket for a person and a good price turned out from Irkutsk to Chiang Mai, and cheaper than if flying to BKK, and then to Chiang Mai.
Probably, everyone understands where it is cheapest to fly from - from Moscow. But it would be more correct to say that it is not cheaper, but simpler: more choice, more airlines, more often something cheap comes across. But from other large cities (Novosibirsk, Krasnoyarsk, Vladivostok) there are also tickets of about the same cost. But if we talk specifically about cheapness, then we will already talk about last minute charters, which you can simply buy from Moscow (About charters below).
You can also try to fly to another country, such as Malaysia (Kuala Lumpur) and then fly to Thailand on the local low-cost AirAsia.com. By the way, I advise you to subscribe to the mailing list of offers from AirAsia, it will come in handy.
Always look at connecting flights. Most often they are cheaper than direct ones. Just do not forget to check the transfer time, so as not to spend the night somewhere.
Try to play with dates, plus or minus a couple of days, or a week and the price can be strikingly different.
If you buy a round-trip ticket at once, it will be cheaper than a separate round-trip ticket. But for those who travel for a long time and do not want to buy a return ticket, most likely, it will not work, usually the winterers do not know when they will fly home. There are open tickets, but they are more expensive than regular tickets..
For the new year and at the peak of the season, tickets are more expensive (December-January-February). Therefore, during this period, you should not rely too much on a cheap flight, only if there is some kind of promotion. Moreover, the return ones during the season (if purchased separately) are usually more expensive than from Russia to Thailand..
Always check the price on the airline's website if it will be cheaper there..
A separate option is the Rossiya airline. They have tickets for ~ 6400 rubles one way in the direction of Moscow-Bangkok. Steep price for a direct flight. Tickets must be taken 14 hours before the flight. And in general, Russia throws out cheap tickets every 2-3 months. It also makes sense to look to neighboring countries such as Burma. From where, again, you can get to Tai on the same AirAsia.
Separately, I also want to mention that if you started monitoring tickets, then it makes sense to subscribe to the direction you need, and then you will periodically receive offers by mail. It is very convenient! Enough, a couple of weeks to monitor and see what the price will be, and then buy it. At any time, you can unsubscribe or change the direction of the flight.
Prices
There have already been many flights, I will try to list. But you need to understand that prices change slightly every year. Either the dollar rate will change, or there are no shares at all, or just like that. Well, lately, I often sin by buying tickets 1-2 weeks before the trip, so the prices are higher.
November 2018: Moscow-Bangkok-Moscow by Qatar with a transfer in Qatar for 32,000 rubles / person
February 2018: Moscow-Bangkok-Moscow on Aeroflot direct flight for 22,000 rubles / person (there was a special offer)
January 2017: Moscow-Bangkok-Moscow on Aeroflot direct flight for 40500 rubles / person
January 2016: Moscow-Bangkok-Moscow to Aerofolot without transfer for 45,000 rubles / person
December 2015: Moscow-Phuket-Moscow by Emirates with a transfer in Dubai for 36,000 rubles / person
December 2013: Moscow-Bangkok on the regular Transaero one way without transfer for 20,000 rubles / person
December 2012: Bangkok-Moscow by S7 one way with a transfer in Novosibirsk S7 for 15,000 rubles / person
November 2010: Moscow-Bangkok on EgyptAir one way with a long transfer in Cairo for 12,500 rubles / person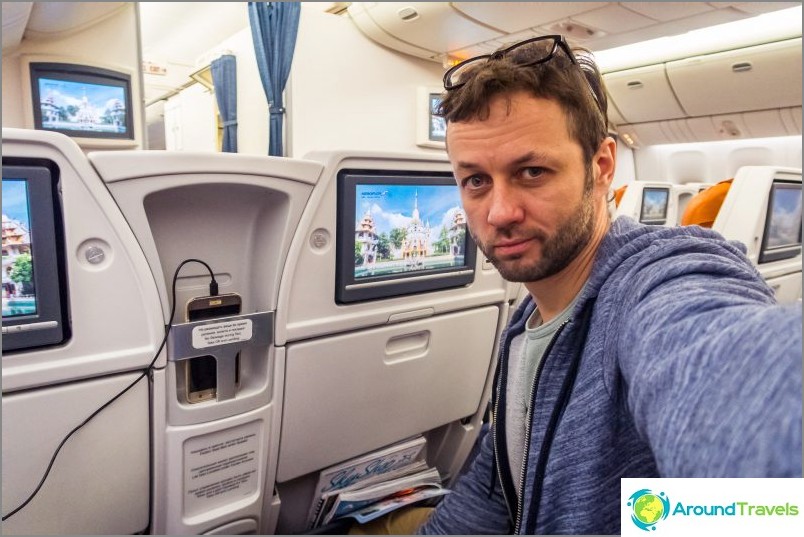 Return ticket
!!! Remember the need return ticket to Thailand, if you don't have tourist thai visa.
Cheapest tickets to Thailand
Last minute charters
After the departure of Transaero with charter tickets, things got much worse in terms of price. Aeroflot, Nord Wind, Royal Flight, Azur Air rarely give really good prices. Russia has recently started flying and there are sometimes cheap one-way tickets. But so far, most often it is cheaper by regular flights with a transfer, especially if you buy a round-trip ticket right away..
Remember the rule. You can fly from Thailand on a charter only if you also arrived by charter. At one time, no one checked this, but now, since 2017, they have become. Perhaps, if the entry was by land (for example, after a visa), then this rule will no longer apply, but not a fact.
There is such a thing as last minute charter flights. Their plus is a direct flight. And the minus is that you have to fly out a couple of days after the purchase. Of course, this is not suitable for everyone, since the departure can take place a couple of days after the purchase of the ticket (although it may be in a week) and tickets are generally easier to find for departure from Moscow. So, if you are not tied to a date, then this is your option, you can save money (when compared with direct flights). Moreover, if you fly in charters in a countercurrent flow to the main tourist masses (in the spring to Thailand, in the fall to Moscow), then the cost will be really very low, I came across prices of 50-200 bucks one way.
Where to find charters
A charter, first of all, is good because the cost of a ticket is cheaper than for a similar flight, but not a charter one. And the second plus is a direct flight at the price of a regular flight with a transfer (a direct regular flight will be much more expensive). Search basically in two places:
Last-minute ticket exchange Tourdom>
Aviaseels also shows charters>
I have bought tickets on the stock exchange more than once. More precisely, the purchase did not take place on the exchange itself, because these are just text ads from travel agencies (you need to call the specified contacts). Alternatively, you can go to the websites of travel agencies themselves, they also have a section «Last minute tickets».
Prices
It is now inconvenient to write about prices, because on the stock exchange everything is almost always indicated in dollars, and the rate has changed almost 2 times since 2015. But at the same time, the price of tickets in dollars decreased, and increased in rubles. That is, tickets in rubles have risen in price, but not twice, which is already good. In this regard, I will write you prices in rubles, so it will be clearer.
Examples of my charter flights are below. True, I always flew only in one direction and did not really get into the cheapest options, rather the average.
May 2014, Phuket-Moscow by Transaero for 17000 rubles / person
September 2013, Moscow-Bangkok by Transaero 15000 rubles / person
April 2011, Bangkok-Moscow by Transaero, 12500 rub / person
I didn't always buy the cheapest ones, because the dates also played a role. Literally fresh - a ticket Moscow-Phuket on May 8, 2017 for 3900 rubles. There were other dates for a month, but I just returned from Thailand. Eh ... I want to cry from such prices, and why I never get to them? 🙂 That is, in general, such prices are found, but rarely and you should not rely on them.


By the way, a burning ticket does not always happen with a departure a couple of days after purchase. Last time I even managed to issue Thai visa in Moscow after buying a ticket.
Remember, if there are no last-minute tickets, then as an option then watch last-minute tours. Their prices can be very low. Our friends once bought a similar tour to Pattaya for 20,000 rubles per person. This is a round-trip ticket, accommodation in a cheap hotel, free breakfasts and airport transfers. In principle, for such a price, you can only use a one-way ticket from this set.
How to buy a return ticket to Russia while in Thailand
With regular flights, everything is clear - wherever you are, the purchase takes place through a search engine using a bank card.
With charters, everything is different, they are sold by travel agencies. The sequence is as follows: monitor Tourdom, as soon as the desired ticket appears, contact the travel agency by email or by phone (via Skype, so it is cheaper), and ask how to pay for the ticket. There are several options:
Go to a Thai bank and deposit money into an account that the travel agency has there. This is faster, since the transfer from your bank to the Russian Federation to another bank can take several days, and the reservation is given for a limited period (day).
Go to the representative of this travel agency in Thailand and pay in cash. The problem here is this - if you are far from tourist places (Phuket, Pattaya), then you may even have to go there.
Ask relatives or friends in Moscow to drive up to the office and pay for your air ticket. Probably the easiest way.
Transfer money from your account to the agency's account, or even pay by card on their website. This is the most convenient and easiest way, they finally thought of it. Once upon a time, no one offered this at all in agencies.
Actually, the last method is the most successful. And although I wrote that the transfer can take a long time (and they usually book for a day), I think they can hold off the reservation for you, since they offer this. I found out about this in 2013, because in 2011, when I was writing this article, something never came across an agency ready for remote payment, and we had to go to the office in Phuket to give cash to the agency's partners.
Supplement for those who do not live in Moscow
I would like to supplement the article a little, as I receive questions from residents of other cities. Unfortunately, I can't advise you much, since almost all my flights from Moscow.
Most likely, you will not have to rely on very cheap tickets. Flights from most cities will be more expensive than from Moscow, this applies to both regular flights and charter flights. Moreover, with burning charters, there will most likely be a general disaster; in addition to Moscow, tickets from Novosibirsk or Yekaterinburg rarely slip at Turdom. What pleases, before they were not at all, but now there is at least something, the trend is in the good direction. Now even a separate section by region has been made - Turdom-regions.
So the basic rule is to watch departures from neighboring large cities if you live in a small city. For example, once from Novosibirsk and Krasnoyarsk there were very cheap tickets for regular flights from S7 airlines. They were even cheaper than from Moscow. Something in the region of 10,000 round trip. Therefore, the likelihood of a cheap flight to Thailand is also from Siberia. It is important to monitor tickets in aggregators, on the websites of airlines, on Turdom, and get here at such prices.

It also makes sense to find travel agencies in your city, call them and see if they have any last minute tickets or tours. Sometimes even the tour is so cheap that no regular flights are needed. True, the cost of the tour can be comparable to a one-way ticket, then you can safely score on a return ticket, for accommodation in a simple hotel in Pattaya and for free breakfasts, and immediately upon arrival in Bangkok go wherever you need.
P.S. Good luck to all of us in finding cheap tickets to Thailand 🙂