There are several ways to get from Chiang Mai to Bangkok in order of increasing cost:
- Bus
- A train
- Airplane
I'll tell you about all in order. And if you need to get in the opposite direction, then read How to get from Bangkok to Chiang Mai.
The content of the article
Bus / train ticket via internet
Not so long ago, the 12Go.asia website appeared, where you can buy bus and train tickets via the Internet. It is now the only service of this kind. Payment by credit card or PayPal, very convenient! The bus ticket is electronic, but for the train you will have to get the original, either from the agency (several points), or by mail. Unfortunately, Thai Railways do not have electronic tickets and do not sell anything on their website..
Tickets Bangkok-Chiang Mai>
Bus from Chiang Mai to Bangkok
About buses
From Chiang Mai we go by bus to Bangkok. There are night and day flights, there are a lot of flights. Time is 8-10 hours. The cost is 400-800 baht, depending on the class. The second class is the cheapest, you can still look for Goverment bus, they are cheaper than all the others (just 400 baht). All buses are air conditioned and comfortable. But if the flight is at night, then it is better to take the first class (first class).
In Chiang Mai you need to go to the bus station Arcade Bus Terminal, buy a ticket there, it's better to do it in a couple of days. Although you can also leave on the day itself, although if there are Thai holidays, you may not get there at the right time. You can get to the station by any songteo (pick-ups are such) for 20-60 baht, depending on how far you live. So tell the driver of the Bass Terminal, they will understand, or poke on the map. If one does not understand, then catch the second. It is possible on tuk tuk, but more expensive. Leaving, of course, also from this bus station.
In Bangkok, the bus comes to the northern bus station MoChit. From there you need to walk to the metro (15 minutes), or take bus 138. The metro is called Mochit (BTS) or Chatuchak Park (MRT). There are two stations, ground and underground, two different independent lines. If you need to get to the airport, then I would sit at the Mochit ground station and go to Phaya Thai, where again change, already on the line to the airport, go to Suvarnabumi station (the line is called City Line). Here bangkok metro map, to make it clearer.
Another topic is an article about that, how to get from the Mochit bus station to the metro on foot. And here about Suvarnabhumi airport, if needed.
In principle, you can go by any bus company, but the best in my opinion are Nakonchai Air and Sombat Tour. Even their usual classes are quite enough in terms of comfort. Also a good state company Goverment Bus 99. Or if you want maximum comfort, always ask for Vip bus.
Nakonchai Air (NCA)
Nakonchai air
First Class (21 seats) - 876 baht, buy only 2-3 weeks in advance, otherwise it won't. Wide leather massage seats (3 seats in a row).
Gold class (32 seats) - 657 baht, on weekdays there is a couple of hours before departure, on weekends and holidays you may not be in time. Comfort for more than an average person.

Sombat tour
Sombat tour
Vip-24 - 789 baht, it is also better in advance, but there are more flights, you can really catch it in a couple of hours. Wide massage seats, individual screens (3 seats in a row).
Vip-32 - 657 baht
First class (40 seats) - 563 baht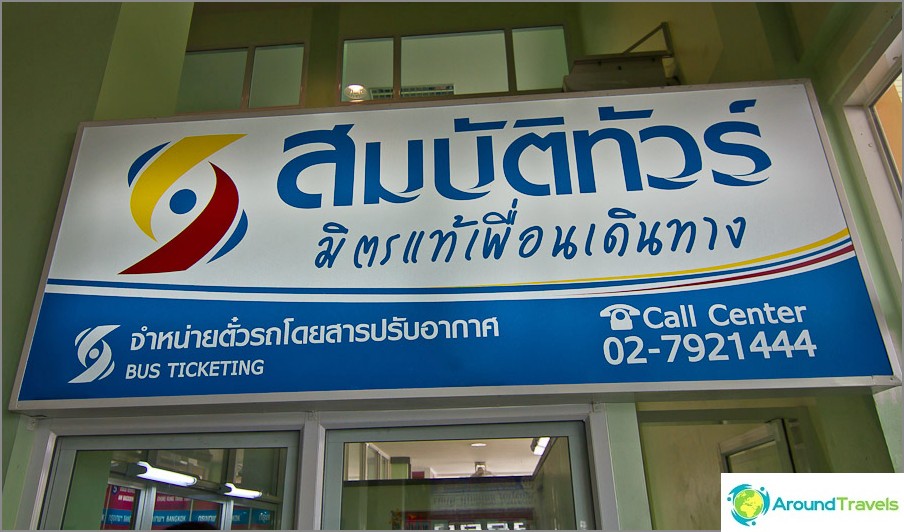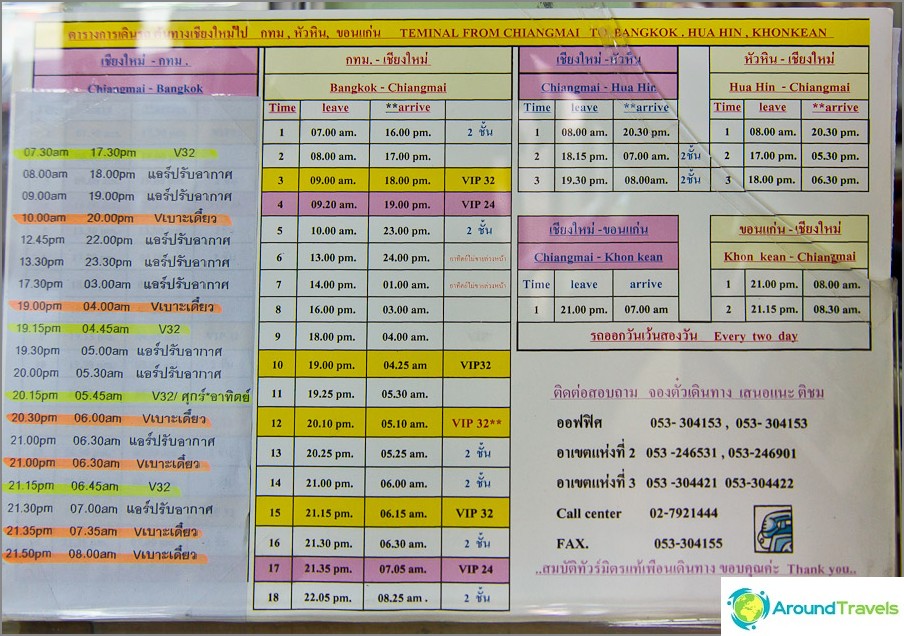 Train from Chiang Mai to Bangkok
You can travel by train, but it is more expensive than by bus and there are often no tickets for recumbent seats (there are almost always seated ones), especially on holidays. You need to buy in advance, preferably a week in advance. Not all trains going to Bangkok have recumbent seats, including night trains, you need to find out at the ticket office. You can also get to the train station by songteo or tuk-tuk.
Ticket prices and timetables can be found on the official railway website railway.co.th. At the very bottom of the main page, select the direction (we need the northern one - Northern Line), and then you can see a list of all trains, prices and timetables. A bit confusing, but you can figure it out.
The ticket price for a reserved seat with air conditioning is about 800-900 baht.
Plane from Chiang Mai to Bangkok
The most expensive way, but the fastest. First of all, tickets can be searched through ticket search engines for all airlines Aviasales.com and Skyscanner.com. Both regular regular flights and low cost flights are presented there. The second option is to buy airline tickets from Airasia.com, which is considered the cheapest in Asia. During promotions, there really come across very good options. Ticket prices start from 1500 rubles.
The airport in Chiang Mai is located almost in the city, we take a songteo and go for about 50 baht, or we take a tuk-tuk. In Bangkok, most likely you will arrive in Don Muang airport but not a fact, since it depends on a specific airline (maybe more Suvarnabhumi airport).
P.S. If you need to find a hotel in Bangkok, you can do it at RoomGuru, there it is convenient to compare prices for hotels in different booking systems. I have stayed in Bangkok many times and in different hotels. I will not provide links to all my reviews, I will give only a few. Nasa vegas - convenient for stopping near the airport and metro, Rajata - good place to spend the night near Khaosan, S3 Residense located in the center next to the park.