My problem is that I always have spontaneous trips. If you can plan a trip several months in advance, then my respect to you. In this case, you can make everything cheaper, from housing to car rental..
This time I took a wheelbarrow in mid-December for 15 days and booked it a few days before arrival. Don't do this 🙂 Do everything much earlier.
The content of the article
About car rental in Tenerife and the Canary Islands
As a standard in all countries, a car can be rented from networked international distributors and from small local ones. Prices for the first ones (Hertz, Avis, Budget, Sixt, etc.) are always best viewed through brokers, so it comes out cheaper.
Broker Rentalcars>
Economybookings broker>
I ended up taking it through Rentalcars this time. In Economi, prices are almost always lower, but you need to look at which companies he offers these prices.
Rental prices from local distributors should be viewed on their websites, in the Canary Islands the main ones are:
Pluscar Tenerife. The price list includes full insurance and the rental price is low. Reservations via email and no payment, all payment on the spot. No deposit required.
Cicar. Allowed to move around the islands without surcharges. The prices are so-so. When ordering through their parent company, Sabreramedina, prices are lower and can be paid in cash rather than by card. No deposit is taken either.
Goldcar. One of the most famous Spanish offices, but smart-ass. They offer the lowest prices, but the cost with insurance is already the same or more expensive. If you do not take it, then they will find fault with every speck on the car. High deposit if no insurance.
On average, rentals start from 7 euros for small cars on a manual box without insurance and from 15 euros with insurance. An automatic car will always be more expensive, sometimes the price difference will be very noticeable.
As a rule, in local prices are always lower than in international ones. Although brokers often give very good prices for Budget and Avis - the same 7 euros. During holidays or peak season, local cars may not be available for the dates you need. In any case, it makes sense to check everything, where it is more profitable - there and take.
What to look for when renting
The minimum age of the main driver (usually from 21-25 years old) and the minimum driving experience (usually from 1-2 years). There may be additional payments for age and experience.
Fuel policy. Usually: Full-Full. Some companies may freeze the cost of a full tank plus a € 50 fine, which they will additionally write off if you return an incomplete tank..
Unlimited mileage or there are restrictions. In the latter case, there will be an additional charge for each kilometer..
Whether an additional driver is included by default or if you need to pay extra. Sometimes it seriously changes the price..
The size of the deposit so that the amount is sufficient on the account. And so that the card is credit, or credit according to BIN. About this below.
Is ferry travel allowed in other Canary Islands. Not all companies allow this. And this usually must be warned about..
Comparison of prices in services
Once again, the prices are the same for New Year and Christmas. In normal times, prices are 2-3 times lower. Apparently a lot of Europeans come to spend the holidays and in the arrivals hall at the airport there are queues at the rental points.
Much has been disassembled cleanly, for example, Cicar and Pluscar-Tenerife - not a single car. Actually, therefore, it immediately became clear to me that I would have to take the car in large offices like Hertz. There was an option with Interrent (the cheapest from brokers), but there are the same crooks as in Goldcar, it is better to avoid if possible. Did not dare.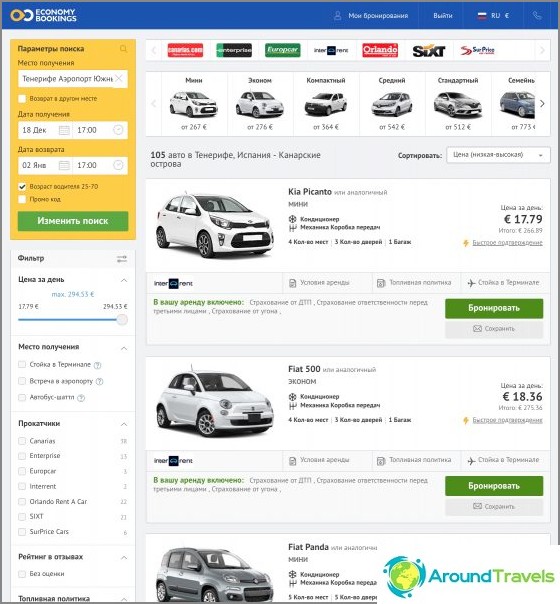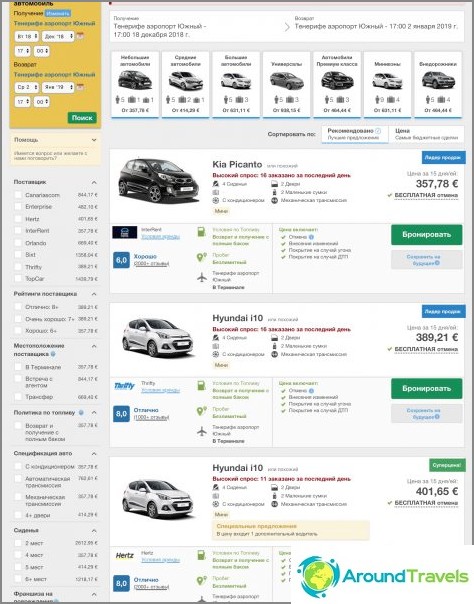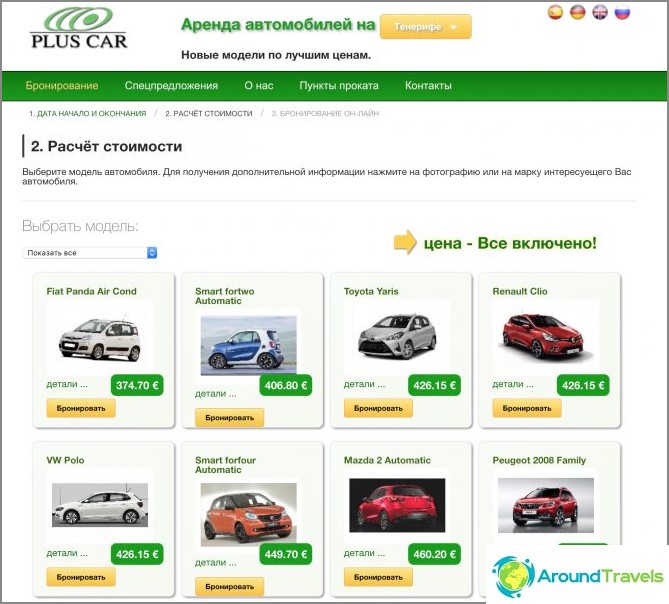 This is how I would take Pluscar, probably, since they have a good price tag for rentals with full insurance (they don't rent without insurance). After all, if initially you are going to take only with insurance, then you need to add a couple of tens of euros to the prices for Economybookings and Rentalcars..
But alas, there were no cars left anywhere except for brokers. I also punched Cicar, and everything was also busy.
Rent a car in Thrifty
As a result, I decided to take the Hyundai i10 from Thrifty (the same Hertz) for 389 euros for 15 days (26 euros per day). Actually, the cheapest option was.
Reservations are made with a broker as standard. Choosing a car, be sure to read all the rules, what is included in the rental and what is not, requirements for age and rights.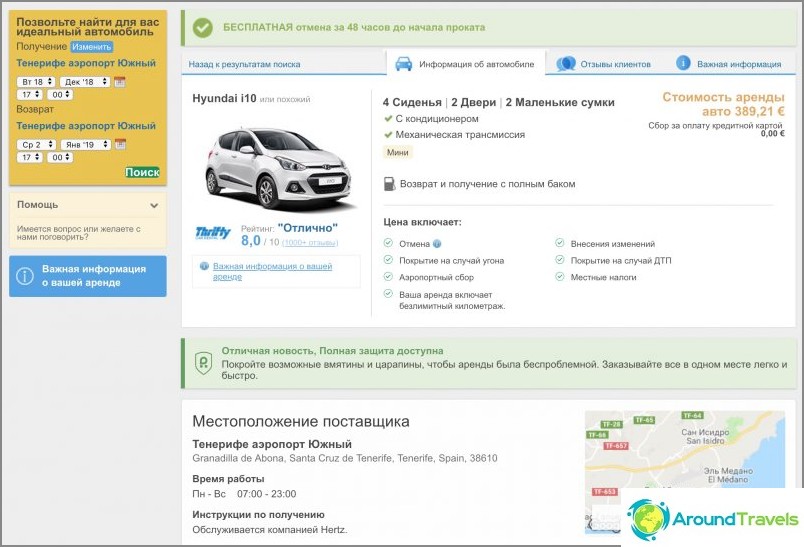 A credit card is required to freeze a deposit. But many Russian debit cards such as Tinkoff or Corn, make their way like debit by number (BIN). You can check your card on one of the checker sites, for example, this one.
And in order not to be soared, make yourself a travel credit card like AllAirlines (link my review). I have been using it for a year now, everything is fine: insurance is free, I have already received a decent cashback.
The deposit is defrosting a few days after the car is returned. Occasionally defrosts a couple of days before the car is returned (I don't know why this happens).
By default, insurance with a deductible is always given, in each office the size of the deductible is different, usually 500-1500 euros. That is, this is the maximum that you can get if the car gets into an accident or gets scratched. In my case, the deductible is 670 euros.
To avoid a deductible and at least some kind of hit on the grandmother (so that you can easily scratch your car everywhere), you need to take full insurance. You will always be offered it at the counter. Take it or not, you decide. It's a good thing, anything can happen - they can grind in the parking lot when you are not around and leave, but the whole question is in the price. Are you willing to pay or not. Please note that the full insurance does not include glass, tires, underbody and roof.
In my opinion, it is better not to take insurance from a broker. For the price, it is about the same, but then there is more crap with it. The rental company will first write off the amount of damage from you (but not more than the franchise), and then the broker will reimburse.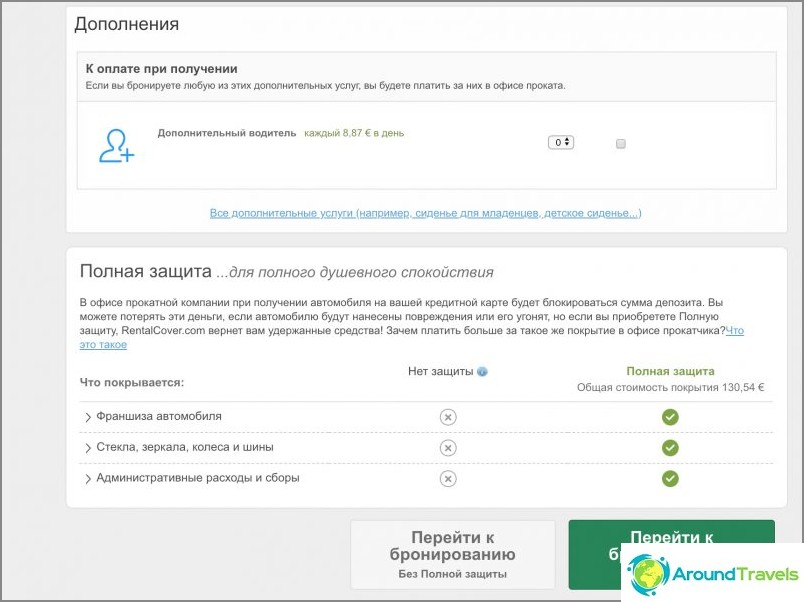 Rentalcars takes the entire amount for the reservation at once, there will be no need to pay extra on the spot, except for some additional services or insurance. At the counter you will only need to show your voucher and your passport. Moreover, the voucher can not be printed, it is enough to show it on the phone (and often it is not needed at all).
The reservation can be canceled without losing money no later than 48 hours before the start of the rental.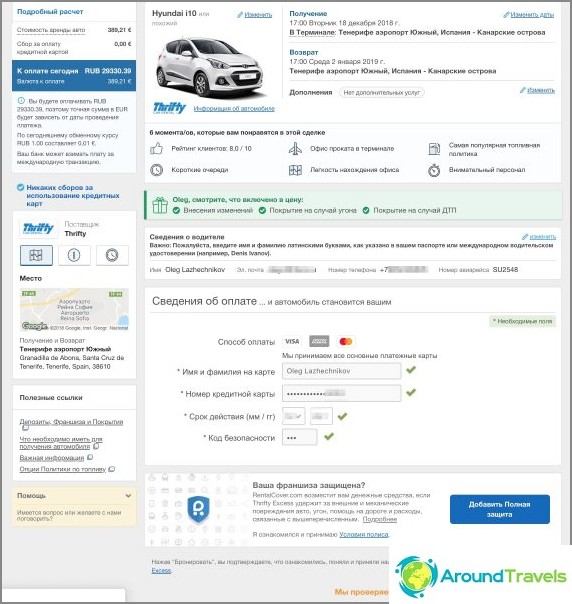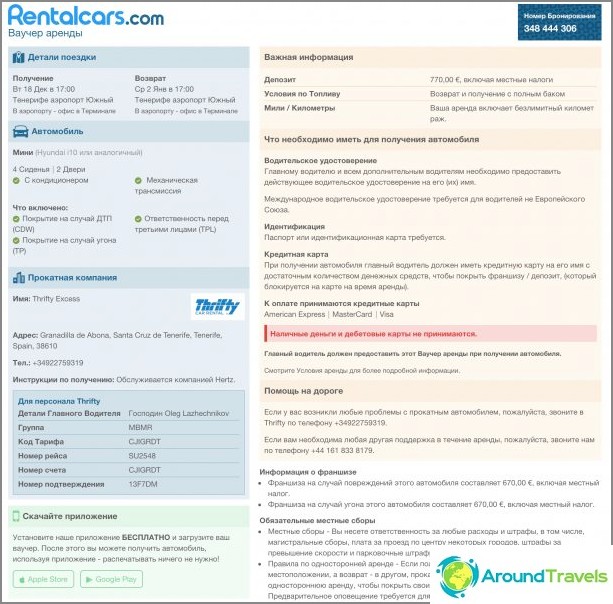 Upon arrival at Tenerife airport, there were only a couple of people in line at Hertz, while in Goldcar and Cicar there were 30 people each..
The delivery of the car took place at the Hertz counter. From the documents on the counter he showed only foreign and Russian rights. There were IDLs, but I decided to check whether they would hand over without them. No problem.
Insurance was surprisingly not offered, I asked myself. The price of the issue is 200 euros for the entire period. I hesitated a little, agreed with the toad and took it. Thus, the rent rose to a total of 40 euros per day with full insurance. You can not steam, leave anywhere, let them scratch. But damn it, 40 euros for such a small machine. Eh ... I won't go on New Year's Eve anymore.
The deposit in my case was taken only 100 euros, from a credit card. When you take full insurance, then either such a small deposit is frozen, or nothing is taken at all. By the way, the deposit was returned 2 days after I gave the car.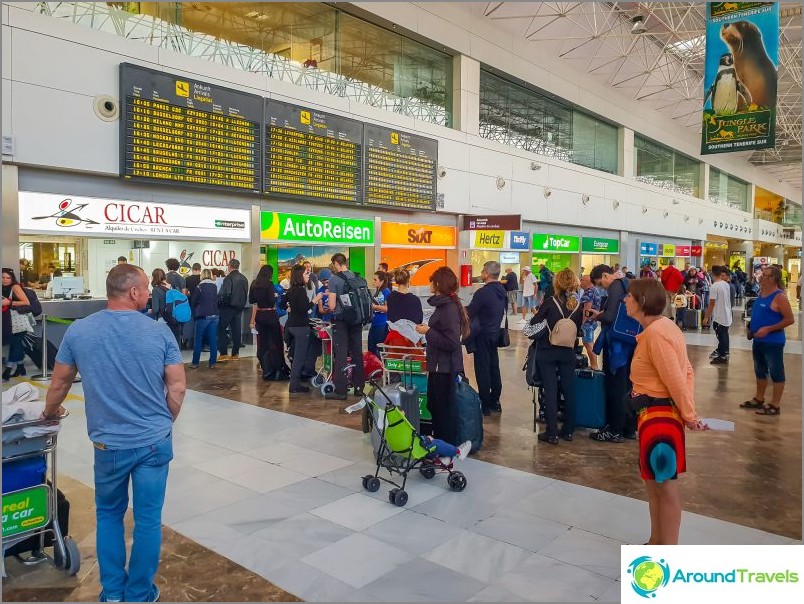 At the counter they gave me the keys, a contract with photographs of the damage to the car, and told me where to go to the parking lot. There are several parking lines near the airport, each with cars from a certain office. There are signs, everything is signed, you can't confuse.
There are also employees in the parking lot, if that. For example, there was clearly more damage on my car than on the printed photos. If the insurance was not complete, then it would be necessary to call an employee so that he would record everything and add it to the database..
Hyundai i10 was issued with a mileage of 40 thousand, but not killed. Quite so lively, little kotz on the outside and perfect on the inside. But the machine is quite small, a maximum of two will be comfortable. And only one middle suitcase will fit into the trunk, the rest of the things will have to be put in the back seat.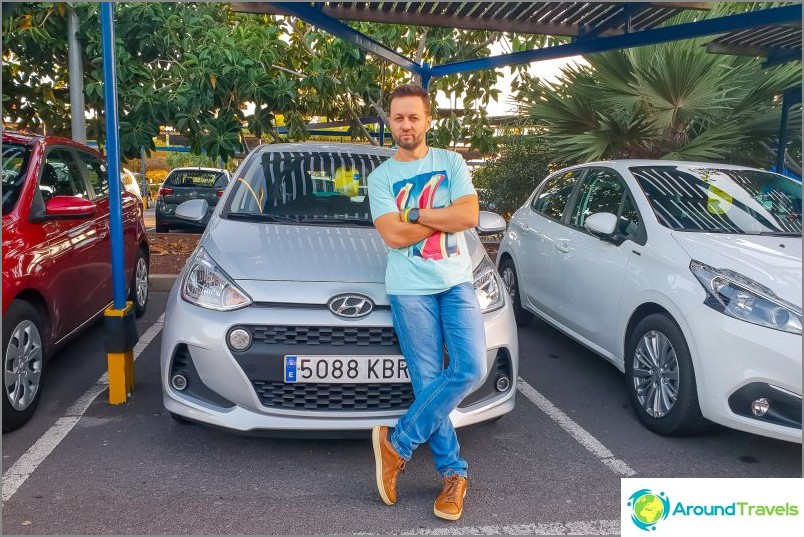 I don't like manual gearboxes, but in Tenerife, with its ups and downs on a manual gearbox, it can even be more convenient to drive than on a machine, provided that the car has a small engine. I crawled into all sorts of slides without any problems and, surprisingly, nowhere did I feel that I really lacked power at all. Well, yes, it was not a rocket crawling up a very steep hill, but there are such turns that you still can't really accelerate. However, I'm not a racer at all, and the car is not for those who like to drive.
For 2 weeks I spent only 2 tanks, that is, about 55 euros. It seems like we went somewhere every day, but apparently the island is small, you can't burn a lot of gasoline if you wanted to. And the i10 eats quite a bit.
P.S. Ask questions that I know, I will tell you. The first pancake was lumpy, despite the many years of experience in car rental, but there was simply no choice. And without a car is not an option, I can't imagine how without it in the Canary Islands.