Once upon a time it was possible for a small fee to take out insurance for all bank cards of Sberbank. The insurance was from different insurance companies. Now insurance is not tied to bank cards in any way (except for premium cards, about them below) and they are sold by Sberbank Insurance, and not by third-party insurance.
At the moment, insurance from Sberbank is one of the cheapest on the market. No idea why, or why they didn't raise prices like everyone else..
The content of the article
Insurance from Sberbank + Europ Assistance
LIFEK. By my instructions, you can buy insurance from Sberbank for a penny at once for 90 days.
What is this insurance
The most common one, which is available for purchase to everyone. I made it myself, cheap. Not without drawbacks, but the price! Now I'll tell you where it is better to buy it..
Polis812
Sberbank's insurance is available through Polis812 for specific dates and annual. The sums insured are € 35,000, € 60,000 and € 120,000. The annual insurance option is very tasty for the price - to see it, you have to choose «Multiple» and «90», only then Sberbank will be visible in search results. If you travel several times a year, it is more convenient and cheaper to take an annual policy right away. LIFETRIPRU promo code for a 9% discount.
Discount Polis812>
Follow my link to get a 9% discount on insurance. Thus, it will be the most budgetary insurance to date, and there is no such price even on the official website..
Cherehapa
Through Cherehapa, you can also buy an insurance policy for specific dates and an annual one. But only for the insured amount of 120,000 €. To see Sberbank in the search results, you need to switch the currency to EURO in the filters and select the insured amount of 100,000 € (don't worry, the policy will still be for 120,000). To see the annual policy, you need to do all of the above, plus check the box «annual» and choose «90 days».
Cherehapa>
Unfortunately, I don't have promotional codes for Cherekhapa (and no one else), but the service has its advantages. First, they stand up for their clients and can help resolve a controversial situation. Secondly, before the start of the insurance, it can be returned without a penalty if you suddenly change your mind or the trip is canceled. Get all the money back, and the procedure itself is done online without leaving your home.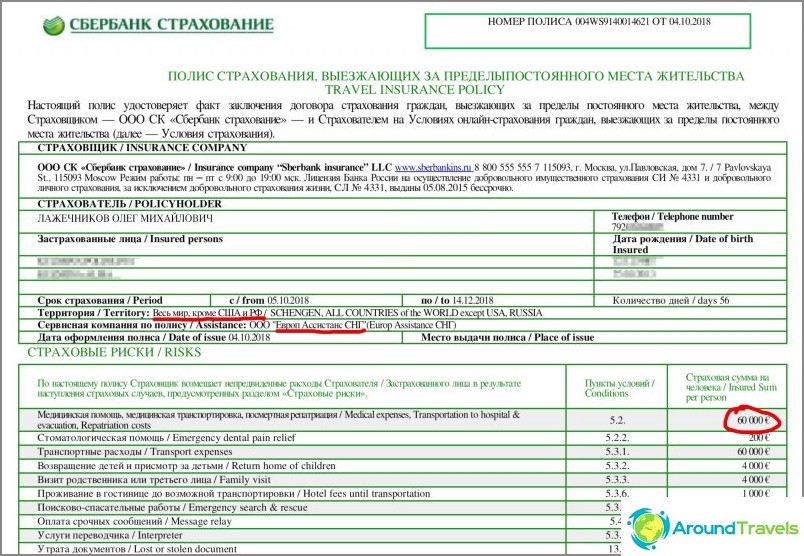 pros
The default insurance includes quite a few options when compared to other travel insurances. Be sure to read my post with a rating of insurance, where I explained how to choose the right insurance and what an asistency is.
Allergies, sunburns, and insurance claims associated with exacerbation of chronic diseases with a threat to life are covered. And they are covered for the entire insured amount, while many insurance companies have a limit - a maximum of 1000-5000 ye.
Insurance covers dengue fever, what does Thailand need.
By default, riding a bike / motorcycle is included, which is also relevant for Thailand. Moreover, this option does not increase the cost of insurance, as is usually the case. By the way, the passenger must also buy insurance with this option, and not just the motorcycle driver, so that you know (applies to all insurance).
Insurance for children from 3 years old costs the same as for an adult. There is no multiplying factor like other companies. There is no coefficient for older people up to 60 years old.
There is no franchise in any direction.
The fragmentation on the territory of insurance is as follows: 1) The whole world, except for the Russian Federation and the USA, 2) Russia, 3) the USA. Thus, by choosing any of the countries, except for the Russian Federation and the United States, you will be insured in all countries, in the sense that the territory will be large. And despite Asia in this area, the price remains low. Many insurance companies have very different prices for Schengen and Asia..
Order Sberbank with a discount>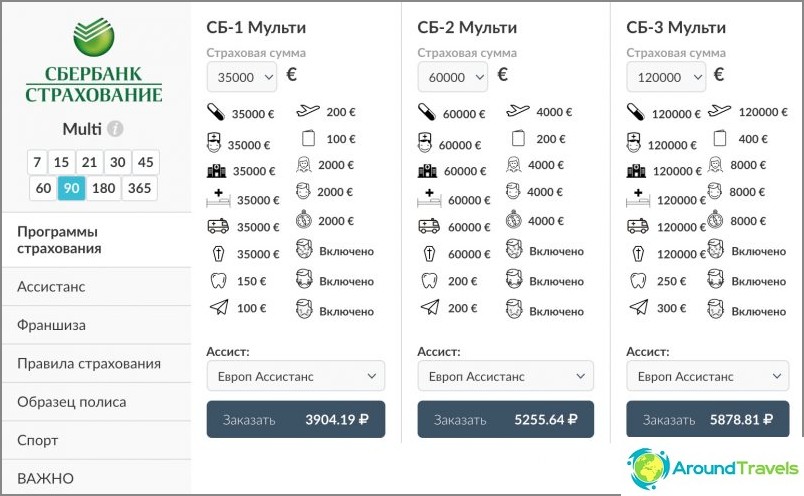 Minuses
The budget service company Europ Assistance, which organizes assistance on the spot. It can take a long time to agree on certain points, they can drag out the answers. For example, the operator does not call back to say which hospital to go to, does not immediately send a letter of guarantee to the hospital. Although I didn't have this experience, everything was fast.
Sberbank itself is also not always fast. After all, it is in Sberbank Insurance that they decide to pay or not pay for doctor's visits and treatment. But this rather concerns serious issues when expensive treatment is needed. Acceptance for 100 bucks, they will pay without any problems without agreement.
You need to be ready to call the assistance yourself and rush it if they suddenly start to slow down. In principle, this happens with both cheap and expensive insurance in Thailand. But it's cheap. There is no alternative. I made it myself, what can I say.
In order not to spend money on calls, you do not need to call from your Russian SIM card. Here's how to do it, calls will cost a penny.
Sberbank insurance + Mondial
What is this insurance
While I am just thinking about issuing an Sberbank (Mondial), I already have insurance for the All Airlines card, also a good option, I recommend.
Sberbank has an interesting product for us travelers - the Premier package. Initially, of course, it was not invented at all for travel, but as a VIP service. However, upon its registration, travel insurance is free of charge (not sold separately). At the same time, the assistance will not be Europ Assistance, but Mondial (now it is called Allianz Global Assistance, although many still call him Mondial).
The package includes a free World MasterCard Black Edition and Visa Platinum Premier bank card with increased bonuses Thank you, a Priority Pass card for access to business lounges, increased deposit rates and medical travel insurance.
The insurance will be for $ 100,000 and applies to the whole family: spouses under 70 years old (including civilians, if there are common children), minor children, and adults over 18 years old, if they study on a full-time basis. The sum insured is the same for everyone, so it's best not to get sick together. The cardholder must travel without fail, the insurance does not work without him.
Expensive
But not everything is so chocolate. The first 2 months the Premier package is given free of charge for trial, and then its cost is 2500 rubles per month. But if, on the accounts of Sberbank, there is from 2.5 million rubles (for Moscow and the Moscow region) or from 1.5 million (for the regions), then it will be free of charge and further. Not an option for everyone, right?
It should also be said that increased deposit rates are not particularly helpful (5.7% instead of 5.15%). Take the same Tinkoff, there is 7% for everyone and without packages. If we calculate, then freezing 2.5 million rubles in Sberbank, I will receive 142,500 rubles without capitalization. In Tinkoff, I will receive from 2.5 million - 175,000 rubles. The difference is 32,500 rubles, this is how much the service of the Premier package costs for a year (2,500 rubles x 12 = 30,000 rubles). That is, a deposit in Sberbank of 2.5 million does not give a win, you can keep money in Tinkoff, pay 2500 rubles a month to Sber, and it will be the same.
Increased bonuses Thank you, not particularly increased compared to other Travel cards. Read my review about the special travel map from Tinkoff, her cashback is more profitable.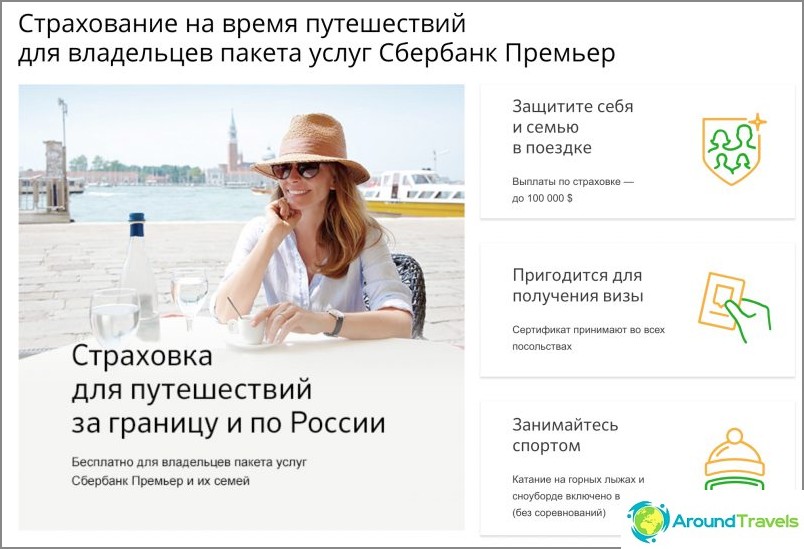 The way to get it for free, not for everyone
There are several options.
Make for 2 months, go on a trip, arrive and close the package. The method is one-time, as you understand, and requires body movements. You will have to pay only 1 month, that is, 2500 rubles, quite a bit.
Put on Sberbank from 1.5 million (regions) or 2.5 million (Moscow and Moscow region) and keep there. As an option, keep assets in a brokerage account for this amount, now this is also already rolling.
To go specially to the region from Moscow and open a deposit there, putting 1.5 million on it. Accordingly, the Premier package should also be issued there. Unfortunately, there will be two entrances to Sber Online, and not all operations can be done in Moscow, but if we are talking about insurance, and only a deposit is on the account, then you will not have to travel to the neighboring region.
I myself am thinking about the last option. It seems that there are no dirty tricks. You need to get a new experience for the blog. Although not so much for the sake of insurance as for Priority Pass. But so far I really do not want to freeze even 1.5 million on Sberbank accounts. Well, a good assistance Mondial does not save Sberbank from the brakes, so there are negative reviews about insurance. That is, the package is all premium, and the insurance is not quite premium..
Reviews about Sberbank Insurance
If you have used this insurance, then please leave your review here. Feedback is important to me and my recommendations. I always edit posts when new information comes in..
I already had personal experience with this insurance several times:
- In Chiang Mai sent to Chiang Ram, which is one of the best in town
- There was a good Vejthani Hospital in Bangkok
- In Phuket, sent to the so-so Siam International Clinic
- In Hua Hin, they generally sent to Bangkok Hospital
Order insurance with a discount>
Why such a spread in hospitals, I do not know. There may be more visits at the resorts, so the popular Phuket is saving money to justify the costs. And in the same Chiang Mai, initially all services are cheaper and very few tourists go there..
Soon I will write my experience of applying for Sberbank insurance, so that you understand how it works. Looking ahead, I will say that I liked it. Maybe lucky, of course, but the very fact.