We went to Thailand for the first time and hibernate right away, hoping for a Russian maybe, and rave reviews on the forums, so many things turned out to be unexpected and unusual for us. Also, it probably played a big role that we are literally 5 days before Thailand. returned from Europe, and, accordingly, the contrast is felt stronger than if we were just traveling from Russia. Well, now about life in Thailand, which we saw at first.
The content of the article
People and city
Everyone writes about smiling people, and indeed the people here often smile. In order not to lose our face in the dirt, we try to do the same, and also not to raise our voice on the street. By the way, at the airport, a woman-customs officer was checking documents with such a nasty face that I was ready to sink into the ground. Probably not Thai blood flows in her veins.
First of all, what we noticed is a decent population density. Moscow, of course, is still an anthill, but for some reason there is a feeling that there are more people here. Maybe because the buildings are low, there is no empty space at all, and somehow cramped.
Unaccustomed to it, the streets are very hectic and noisy, and the air is very dirty. All pedestrians apparently switched to motorbikes, and scurry back and forth in huge numbers, pouring puffs of exhaust gases on everyone walking by. And the chatter is so worth it that it is very difficult to talk. Crossing the road is also not an easy task.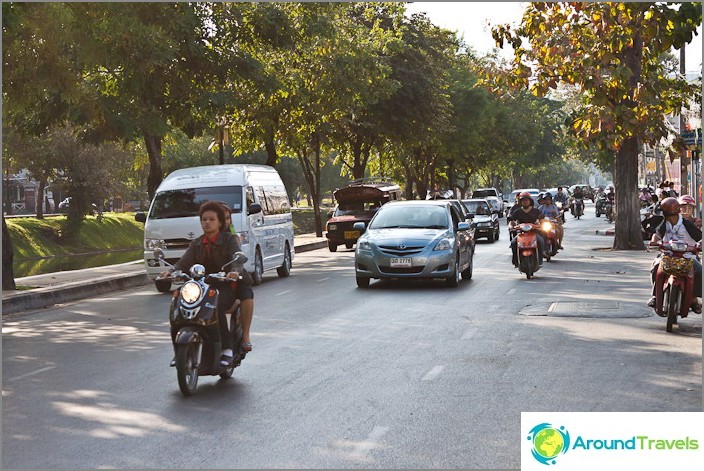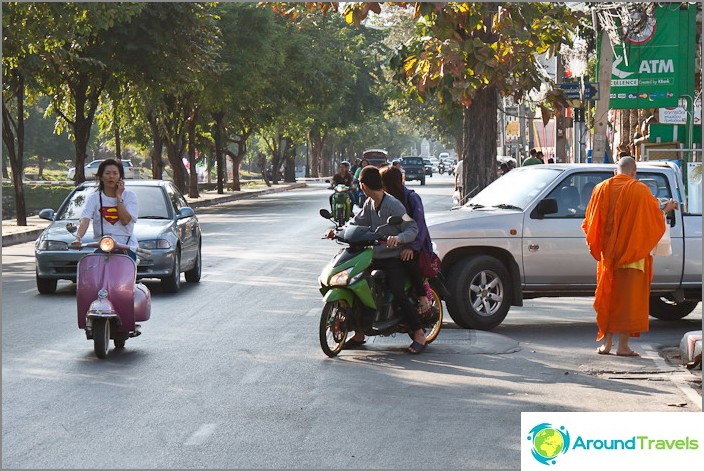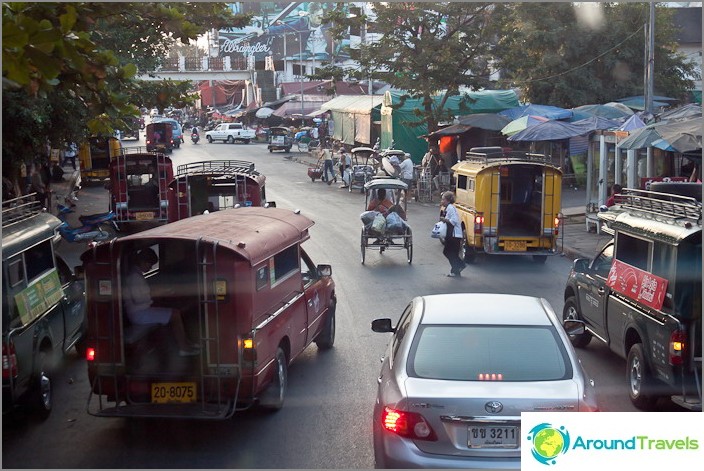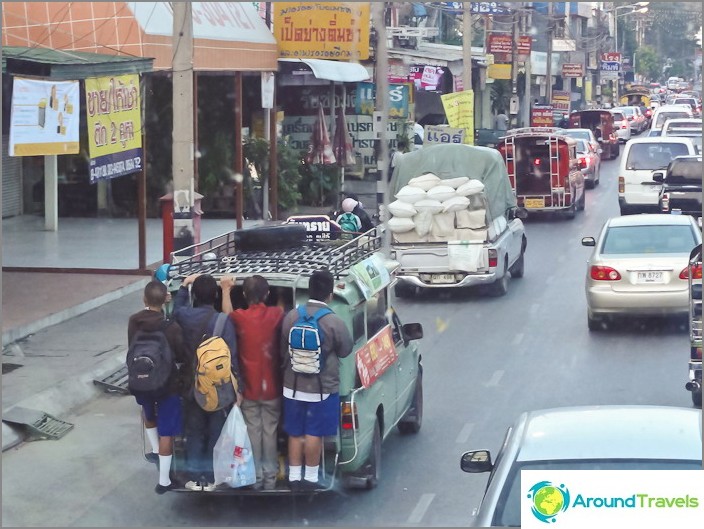 For some reason, there are no sidewalks, or if they are, they are narrow and filled with bikes, cafes, stalls. And, accordingly, you have to go in single file along the roadway, jerking off bikers rushing alongside. Therefore, the walk turns into a slightly nervous movement from one point to another..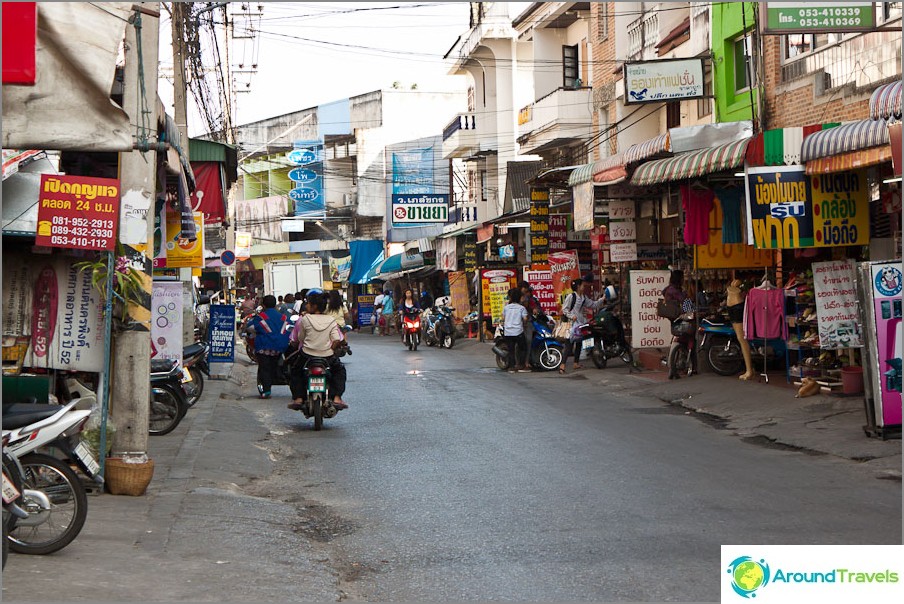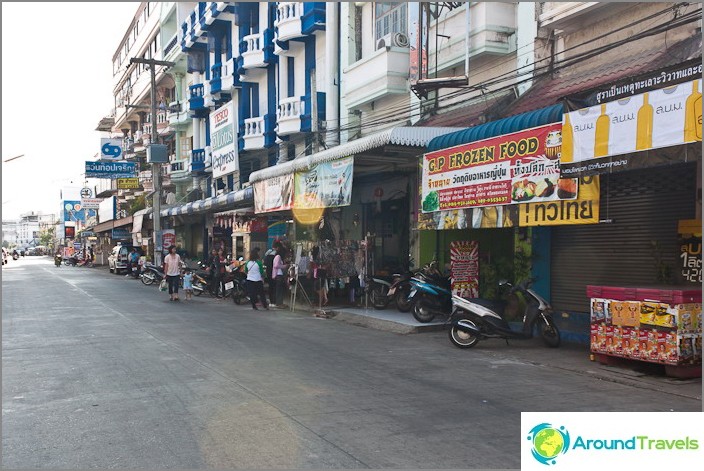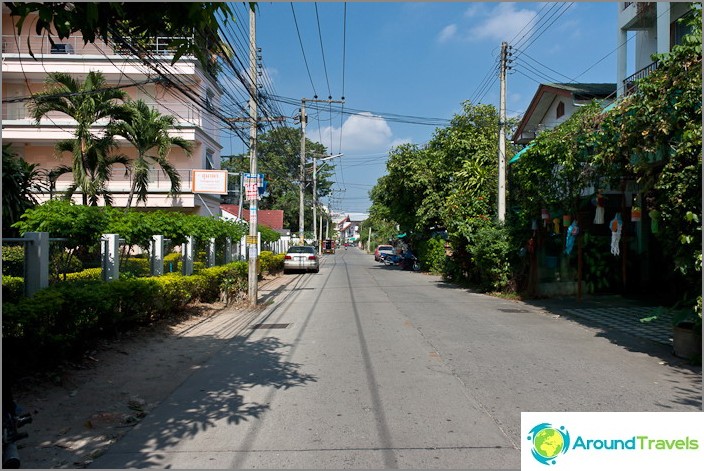 We were pleasantly surprised in Thailand that many inscriptions on the streets, in cafes, in shops are duplicated in English. True, in terms of finding an address, this does not help much, due to the lack of house numbers.
Food in Thailand
Buying food is a quest, especially for the first time. You try to find the usual products, but they are not there - for example, cereals and black bread, or are expensive - chocolate and cheese. How can I now be without chocolates, eh ... But different-growing noodles and rice, and cheap brown sugar are presented. The first time around the store, we probably walked for an hour and a half in search of. You walk in circles, and you do not understand what it is for sale, especially if the packaging is opaque and there is no inscription in English and there is no picture. Although sometimes even transparent packaging does not clarify the situation. How about dried sweet fish chips, or a bun with chopped beans, yogurt with corn, or rolled oats with beets? How much more interesting time will it take to study the assortment and select the menu that suits you?.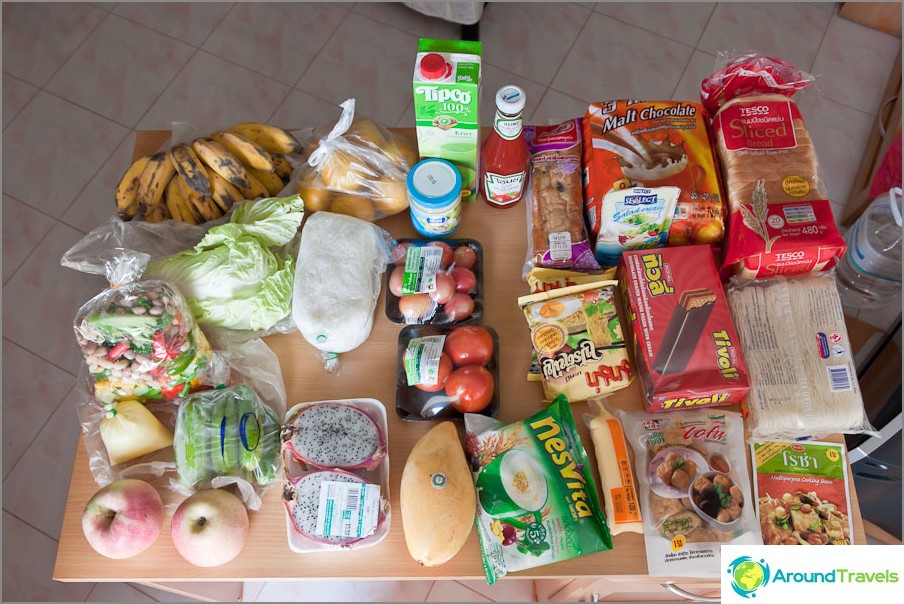 It turned out unexpectedly that the cost of food in the supermarket and on the market turned out to be approximately the same as in Moscow. Therefore, spending 2 times less on food will not work, as many people living in Thailand promised. Apparently everything strongly depends on a particular person and what and where he is used to eating. In Moscow, we spent a little, about 8000 rubles a month for two. But lovers of cafes can relax, they are much cheaper here than in Russia.
I would also like to write an ode to mango. It turns out that it can be so deliciously delicious. For this alone, you can already come to Thailand. But the rest of the fruits have not yet impressed, melon, papaya, and dragon fruit (red crap with white pulp).
We have already tried Thai food in cafes. I'm still somehow not very, but my wife likes it. There seems to be some kind of spice added, and the taste is not for everybody. She still smells everywhere on the streets. By the way, it is also unusual that there are smells all around.
Apartment
There were 3 apartments in mind, the addresses of which were found back in Moscow. We took off first apartments, I did not have the strength to walk and look at others. In a month we made it big overview of 30 apartments in Chiang Mai, use it for health. We also have review of guesthouses Chiang Mai, and for those who are looking for a hotel, I can recommend the service Rumguru.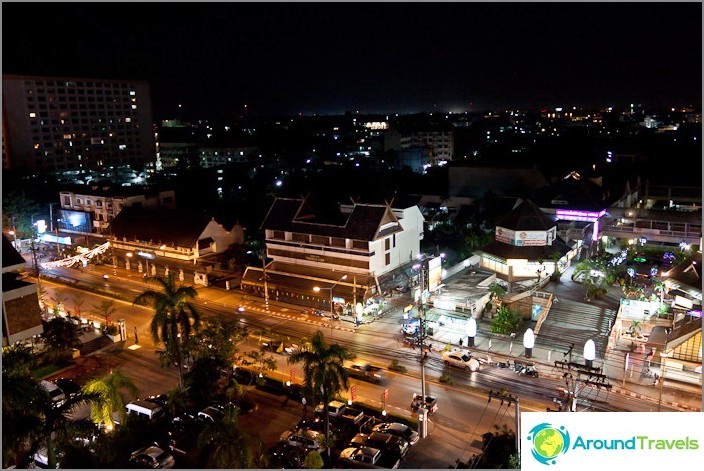 Everything is fine, only there is no microwave. But the main stress is the blunt Internet and its strange behavior. And for some reason, some Russian sites do not want to open, and you need to use proxies or anonymizers. Why can this be?
Warmly!
That's all for now. We have about 32 degrees here and we enjoy the warmth. It's a little hot, but I think we'll adapt after a while. But how great is it to walk in one T-shirt!
This is how life began for us in Thailand.