There is really no problem with renting an apartment in Thailand, at least in Chiang Mai. There is always a choice, both in terms of distance from the center, and in terms of equipment with certain objects. However, if you are going to rent a house in Thailand for a long time, you should still see more for yourself already upon arrival or read exactly the reviews about the apartments, and not the sites themselves..
For information: read our two informational posts - Overview of 30 apartments in Chiang Mai and Tips for Renting Apartments in Thailand. You can find my booking instructions at the link: How to book a house in Thailand - 5 ways.
And accommodation for a short period can be searched through a search engine for hotels and guesthouses, where there are thousands of hotels, there are reviews on them, and it is possible to book in advance while looking for an apartment. We also have our own overview of guesthouses in Chiang Mai.
Apartments in Thailand are called condos or apartments. And they are located in several storey buildings like hotels. The difference is that, as a rule, you have to pay separately for water, electricity, internet, and prices are lower for a long time..
Initially, we wanted to settle in the Chai Mansion condominium, which was tested before us, but there were no places there. Since they were sick, they did not look for something else and settled in the nearby Chiang Mai Lodge for at least a month, and then we will see.
The content of the article
The cost of living in Thailand at Chiang Mai Lodge
(rate 1 baht = 1 rub for November 2010)
Just a studio room with a minimum of furniture, shower and air conditioning:
24 m2 - 5500 baht / month (if you shoot for 3 months or more, the price will be 4500 baht / month)
40 m2 - 6500 baht / month (if you shoot for 3 months or more, the price will be 5500 baht / month).
If you want in addition a little more furniture, cleaning the room, linen, the Internet, then:
24 m2 - 8000 baht / month (if you shoot for 3 months or more, then the price will be 7000 baht / month).
40 m2 - 9000 baht / month (if you shoot for 3 months or more, then the price will be 8000 baht / month).
Deposit - the cost of a month of rent.
Electricity - 7 baht / unit (minimum 150 baht for 20 units).
Water - 25 baht / unit (minimum 150 baht for 6 units).
Internet Wifi - 500 baht / month 2 m / bit.
Internet Lan - 700 baht / month 1 m / bit.
Laundry - 20 baht per wash.
Electronic key, lift, gym - free.
Internet
We have connected Wifi internet. The reception is very good, since there are 5 routers on each floor. But, the problem is that the Internet is being distributed to everyone, so it periodically dulls, and still does not download the torrent at all. It is also inconvenient that one login - one computer. And either buy a second login for 500 baht, or use a network cable to transfer the Internet to a second computer. We don't have a cable, so let's go to the city to look for it at our leisure.
Our apartment in Chiang Mai
We rent a room of 24 m2 for 5500 baht, as we rented only for a month. We have a bed, a wardrobe, a table and a non-stool. As well as a refrigerator and TV. In principle, only the microwave is missing, it would be replaced by a TV.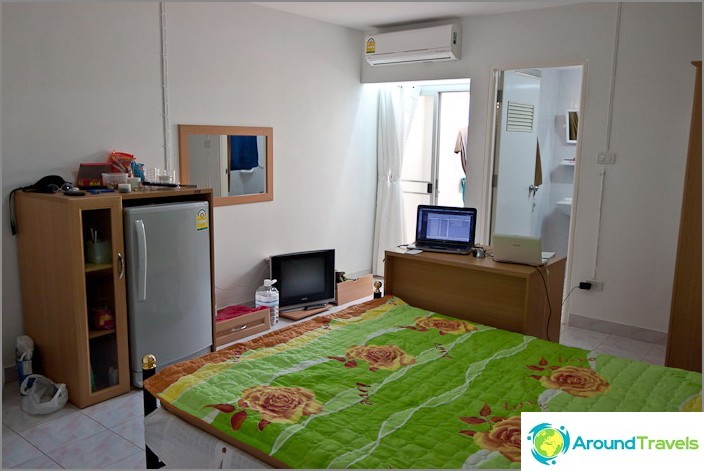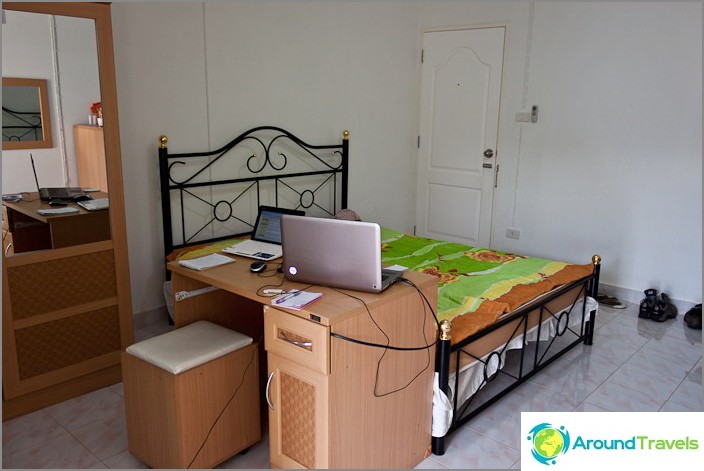 When they arrived, they started a rearrangement, and moved everything in the room to make two jobs. The problem was that there was only one table and one stool. Initially, they even shoved me with a laptop into a closet, but it turned out to be somehow dark.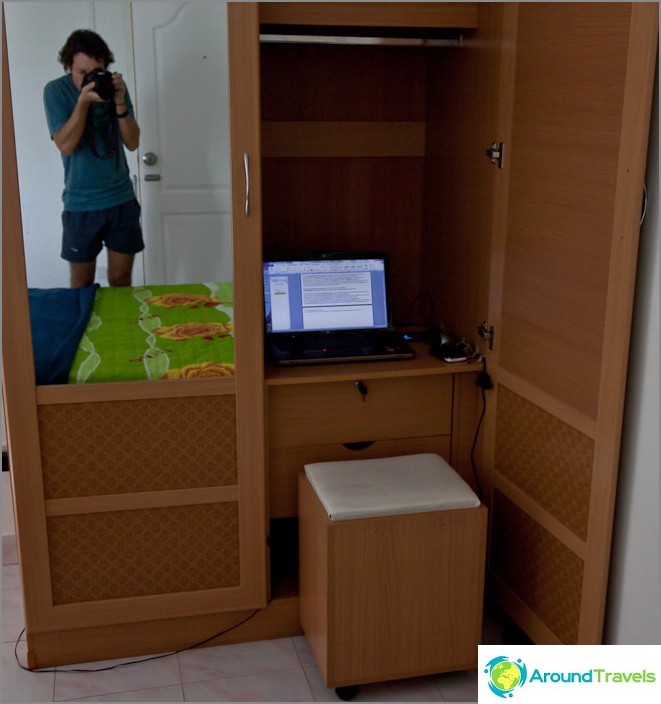 The bathroom is ordinary for Thailand - without a bath and shower tray. We also have a small balcony with a stunning view of the mountains..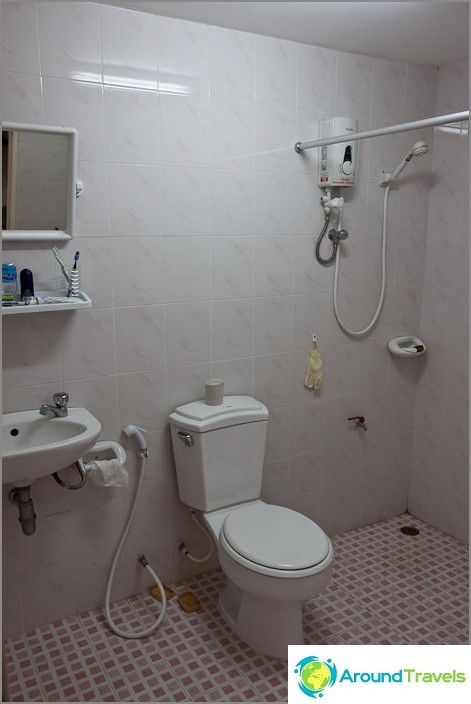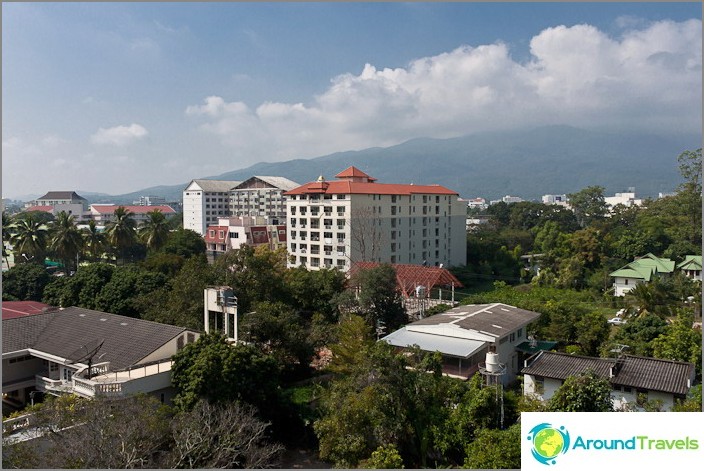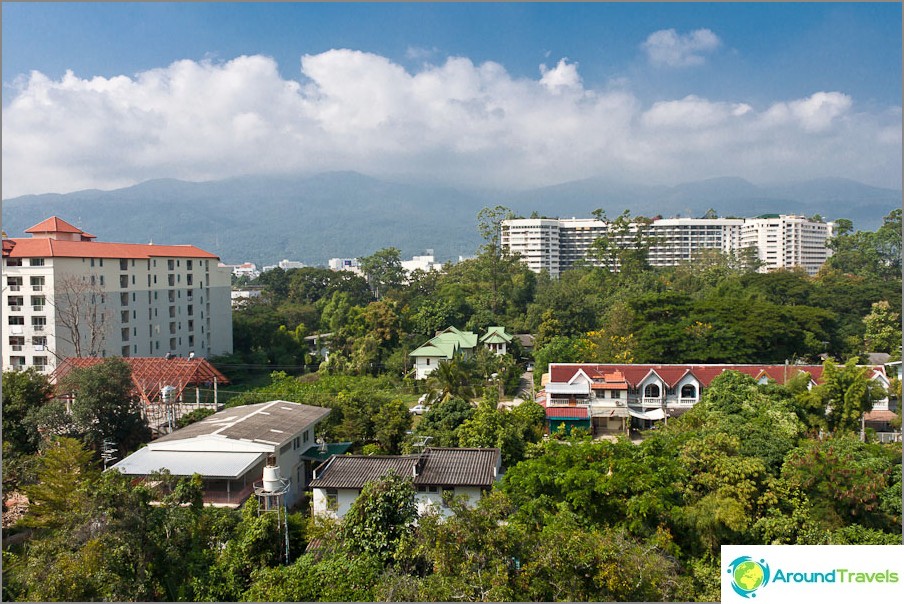 Chiang Mai Lodge outside
In general, we like these apartments both for the price and for everything else, except for the little things. Everything is clean, neat. It may well be that we will stay here after we try to look for other options..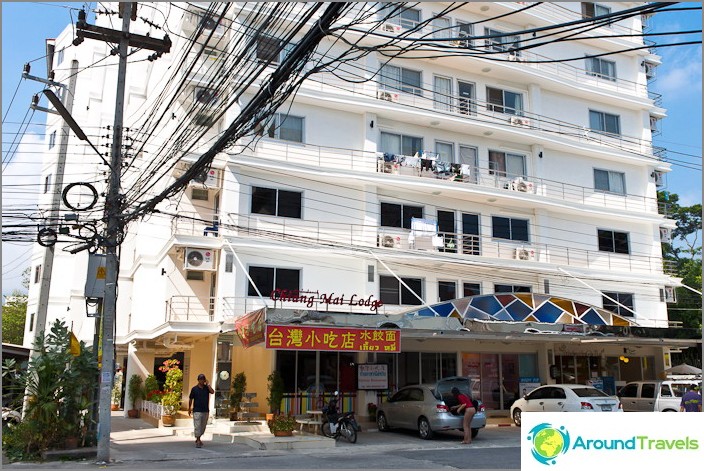 Another significant plus is the gym, which is 10 meters from our room. True, there are only 3 simulators, but for now, that's enough for us. Now it will be difficult to get away from the healthy lifestyle that we advertise everywhere.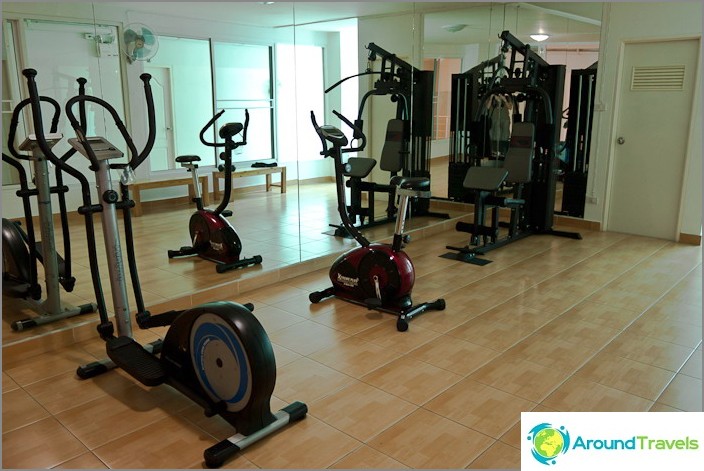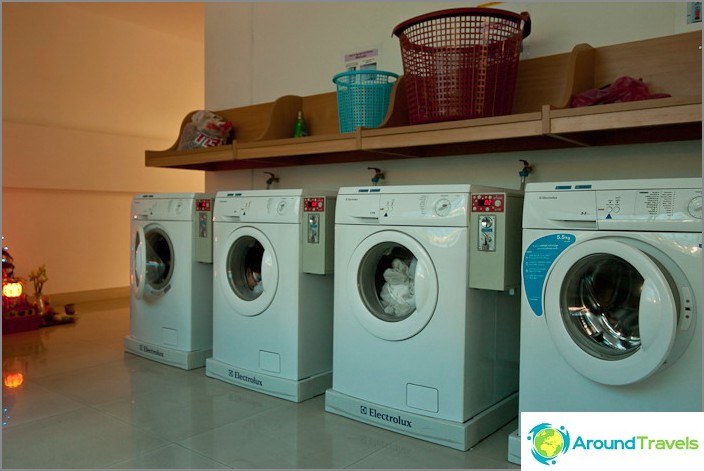 Here is such a place we have found in Thailand the first time. Maybe the next one will be even better.