The palm among transport links with Phuket, by right, belongs to airlines, both domestic and international. In today's article I would like to talk a little about the main air port of this one of the largest islands in Thailand - Phuket International Airport..
The content of the article
Phuket airport
The airport consists of local and international terminals located in two different buildings. Domestic terminal has two floors and until 2016 it regularly received both domestic and international flights. Since 2016, a separate, international terminal has been opened on as many as four floors, after which tourists and employees of Phuket airport breathed more freely..
How to fly to Phuket
According to statistics, Phuket Airport is the second airport in Thailand in terms of total passenger traffic. Direct flights from countries such as Malaysia, Singapore, China, Japan, Australia, Russia, France, Switzerland and many, many others land here. Also charters fly here. You can always search for tickets for the dates you need on Aviasales and Skyscanner, who likes what, but, as a rule, they show almost the same prices. Remember, tickets to Bangkok are often cheaper, so consider flying to Bangkok too.
Online board of departure and arrival in Phuket
Below is an online scoreboard with arriving and departing flights. Information on the scoreboard is displayed in real time and you can always see which flight is expected, which is delayed, etc..
Domestic Terminal
The old, domestic terminal has two floors and serves domestic flights. The second is the departure area of ​​passengers, the first floor is the arrival area.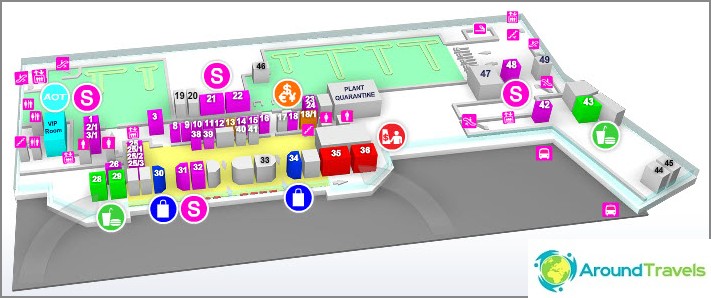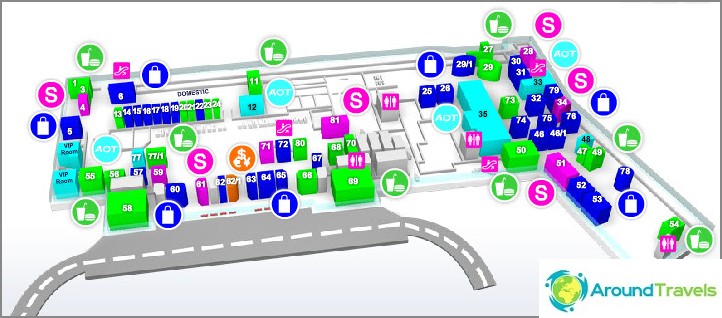 Arrival of passengers falls on the first floor of the Domestic terminal. Having received your luggage, you almost immediately go out into the street. In front of the exit there will be a very small hall where SIM card sales counters, offices of international distributors (they are also in the international terminal), ATMs and luggage storage are located.
Going out into the street, you will immediately see counters with minibuses and taxis, as well as private taxi drivers who offer their services. Here is the bus stop. Details on how to get to your hotel in the second part of the post.
Passengers check-in is usually done on the second floor of the terminal (there are also airlines' offices on the third floor), but some flights are registered in a separate side building on the first floor. Before entering the terminal, you will have to go through the scanner and metal detector frame, either on the first floor or on the second. A taxi can bring you to the second floor, but on the first floor you will need to enter not the doors from which the arriving passengers leave, but into the side building. The terminal is small, there is no normal waiting room for arriving passengers. I explained a little confused, but it will not be difficult to figure it out on the spot.
On the second floor you will find cafes, coffee shops, shops with various souvenirs. After passing through passport control, there will be no duty-free, but there will be a number of shops with a so-so assortment and a couple of stalls with snacks.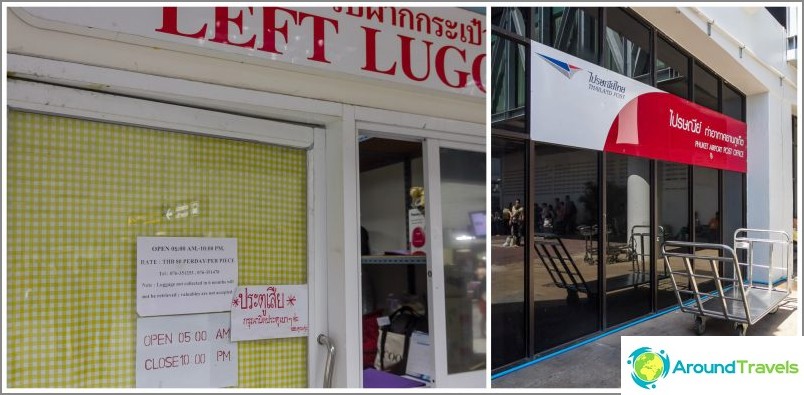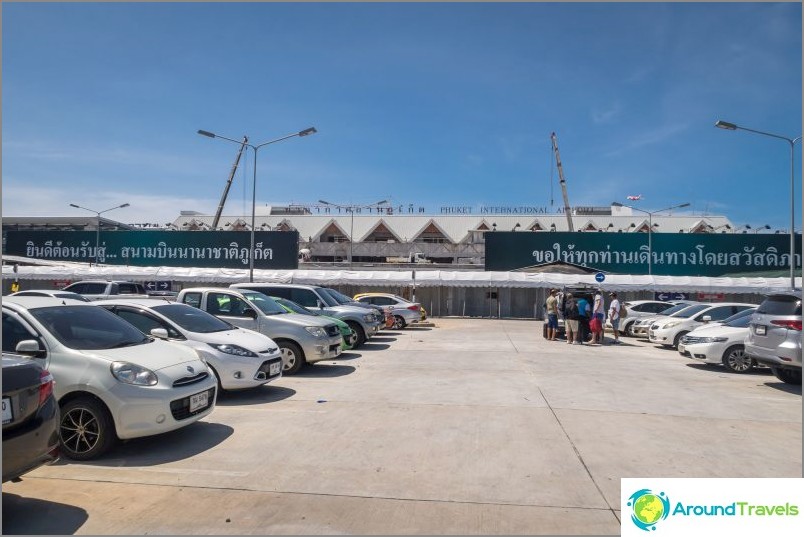 By the way, if suddenly there is such an opportunity that your luggage on arrival suddenly will not appear, you must immediately contact the appropriate counter and fill out the necessary documents. In the application, you will indicate your personal data and planned place of residence on the island, as well as describe the luggage. After that, you will be given a copy of this statement, with which you will go to the hotel, where you will wait for the decision of the fate of your belongings..
International Terminal
Phuket Airport International Terminal was built and launched in 2016. It is located next to the Domestic terminal, so there is no transport connection between them, you can walk in 5-10 minutes. At the time of my visit in 2017, all the work had not yet been fully completed, so I had to bypass the construction site through the parking lot. Once completed, the path will be even shorter. It is also possible that there will be transfers of any racks between terminals and visually everything may differ from my photos.
The international terminal consists of four floors: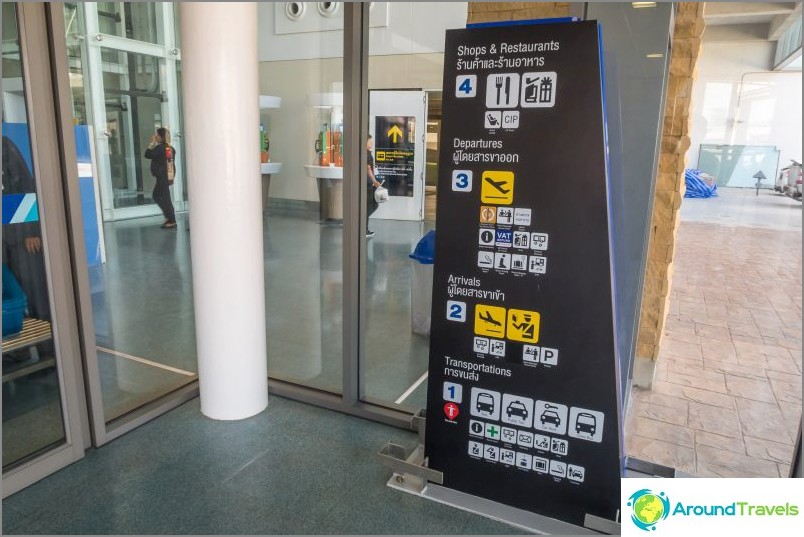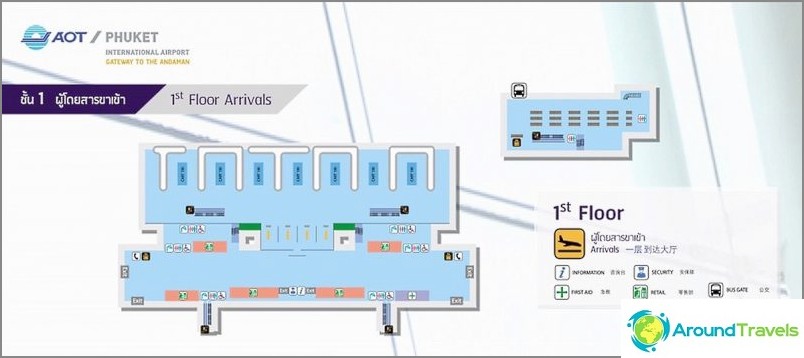 To enter the building of the international terminal, you need to go through the frame on the first floor. Then you can follow to the desired floor. On the ground floor there are counters selling SIM cards, international car rental counters, currency exchange offices and ATMs. On the second floor there is a 7-eleven minimarket, you can also get to it from the first floor from the street along the escalator.
On the street near the exit from the terminal, you will see counters with minibuses and taxis, prices are exactly the same as at the terminal of local airlines, no matter where to leave. Details on how to get to your hotel in the second part of the post.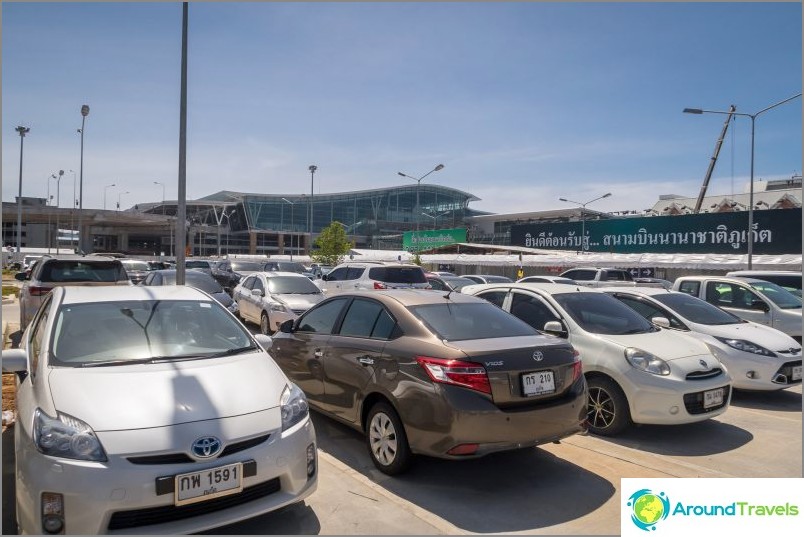 Services at the airport
Currency exchange and ATMs
As for the local currency, you can exchange your hard-earned money for baht both on the beach and right after leaving the airport at any of the terminals. True, it is better that these hard-earned dollars or euros (what money is better to take with you). The Russian ruble is not exchanged everywhere and not always, and most often at an unfavorable exchange rate. In addition, do not rush to part with the entire amount at once (especially if it is not in rubles), if necessary, this can be done at any time, because the difference in exchange in one place or another is not significant.
You can also withdraw money here at any of the ATMs. It doesn't matter where to do it, here at the airport or later on your beach. The bank also does not really matter, well, only if you do not have a Thai bank card. I already wrote about how to withdraw money in this article.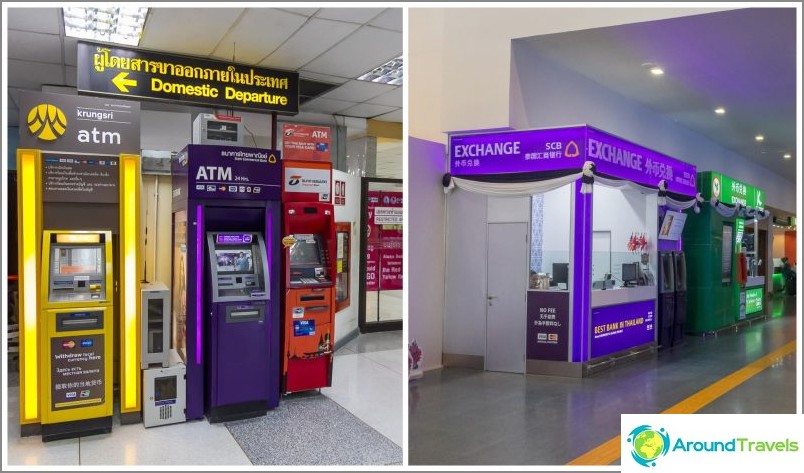 Simcard at the airport
It is best to take a SIM card of a local Thai operator right at the airport, so as not to look for it later in the offices of operators and in minimarkets. So you will immediately leave the airport with 4G Internet, which is several times cheaper than from a Russian operator in roaming.
There is no particular difference which operator to take, they are all about the same, both in terms of coverage and tariffs. There are only 3 of them: DTAC, AIS and True move. I usually use DTAC for many years now. Their tariffs are somehow clearer or something.
Simka DTAC is 2 times cheaper>
Buy a local Thai SIM card in advance on the Klook website and get 4G internet for 8 days for just 131 baht instead of 299 baht.
VAT refund or VAT refund
At Phuket Airport, before departure, you can get a tax refund on purchases (Vat = 7%) made in Thailand. Purchases must be over 5,000 baht. Previously, when making a purchase in a store, you must draw up a paper for a tax refund by coming up with your check, which will have the Vat Refund stamp. True, this is not in all stores, and the amount of purchases for paperwork must be at least 2,000 baht one-time..
Also, purchases must be made no more than 60 days before departure from Thailand. I wrote about this in more detail in this article. VAT refund in Thailand - we save on purchases.
How to get from Phuket airport to the hotel
The most important question that worries most passengers arriving on vacation in Phuket is how to get from Phuket airport to their destination, for example, to their hotel in Phuket. There are several options for different wallets:
City bus and minibus
Transfer via the Internet
Taxi
Car rental
City bus and minibus
The most budgetary option for transporting tourists is a city bus, since the fare is 100 baht per person. But there is one significant drawback in city buses - the bus does not run at night, and in general it does not have many flights. You also need to understand that the bus will bring you to the city, to Phuket Town at the Old Bus Terminal, and not to your hotel. That is, in Phuket Town, you will need to change to a minibus and ride it.
There is also a bus from the airport to Patong Kata Beach. Price 120 baht.
A more convenient way to get to the hotel is by minibus / minibus (according to our minibus). Minibuses are always located near the exit from the arrivals hall, and this pleasure will cost about 150-200 baht, depending on the distance of your beach. A bit more expensive than the bus, but more comfortable and faster. According to the latest data, minibuses run from 7 am to about 10 pm.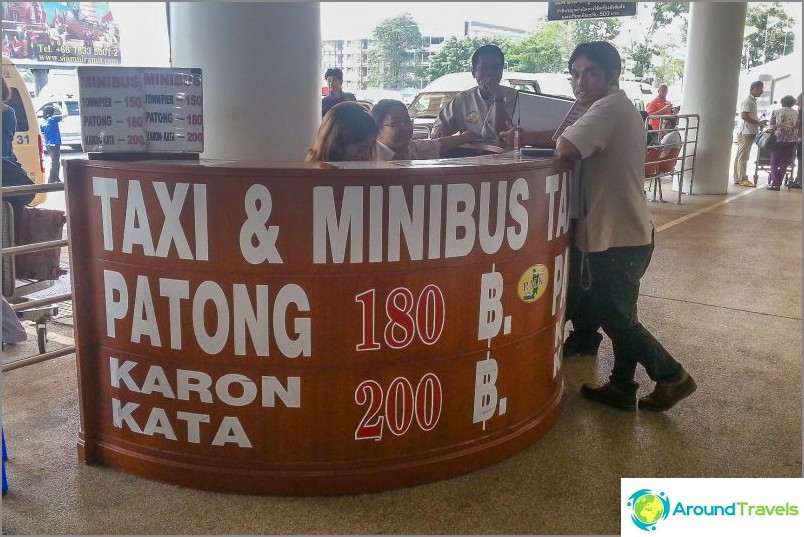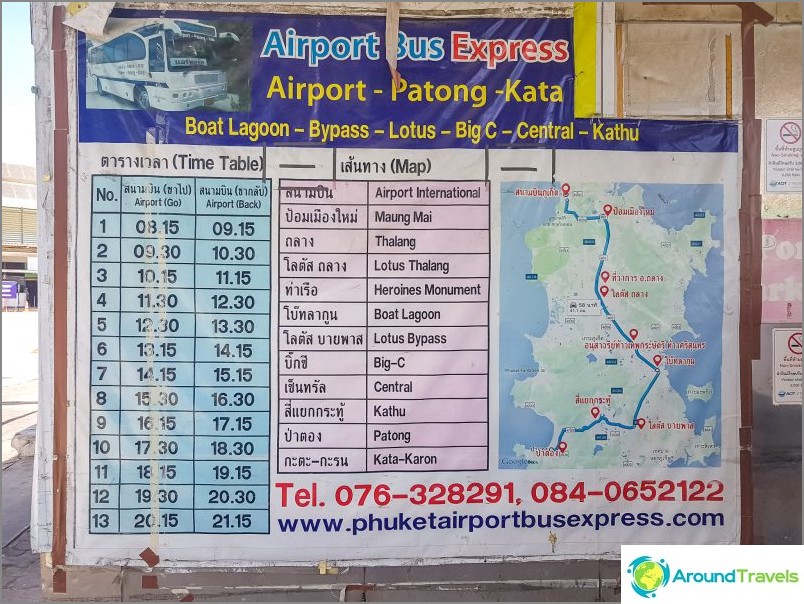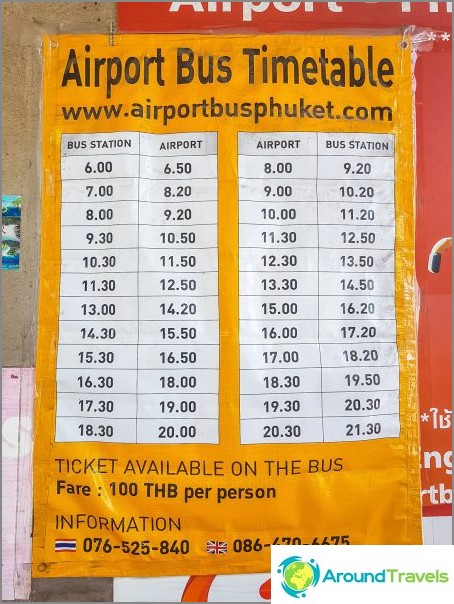 Transfer via the Internet
Anyone who wants a minimum of body movements can order a transfer to Kiwitaxi in advance via the Internet, while still at home. You will be met in the arrivals hall with a sign, take your luggage, put you in the car and take you to the right place. The method is good because there are no problems at all, you do not need to think about anything, which is important for those who are traveling for the first time and will be tired after the flight. At prices about AS MUCH as on the street.
Transfer to your hotel in Phuket>
I have already traveled on a transfer from this company and was completely satisfied with it. As promised, they were met and taken to the hotel without delay. Here my review about Kiwitaxi. You can ask the price yourself in the form below. I took to Patong, but you can choose other beaches: Kamala, Karon, Kata, Nai Harn, etc. By the way, hotels also sometimes offer transfers, but as a rule, they are more expensive..
Taxi on site
If you have not ordered a transfer, then the most common transport in these cases is at your service - a taxi. It can be taken on the spot. But keep in mind that there are two types of taxis, depending on the payment method:
- Fixed fee (limousine service)
- Payment by meter (taxi-meter)
The difference in price between them is small, about 200-300 baht, given that here you are not Bangkok and even driving on the meter is much more expensive than the capital. And the trouble is that the taxi-meter fleet is small and the waiting time can be delayed. I flew to Phuket how many times, only once I left according to the counter. Plus, when driving on the meter, you will have to pay an airport tax of 150 baht..
For example, the road to Patong by taxi-meter will cost you about 600 baht: 400-500 baht according to the meter and 150 baht airport tax. The fixed price is somewhere from 800 baht. But again, after midnight, the taxi-meter reception desk closes and, accordingly, does not work. In general, lately it is almost unrealistic to leave by the meter, it is better to count on a fixed fee, and agree on it on the spot. The only problem, the taxi driver can tell the price from the ceiling, seeing your confusion.
Fixed rate cost:
Nai Harn - 1100 baht
Kata, Kata Noi, Karon, Rawai, Cape Panwa - 1000 baht
Patong, Chalong - 800 baht
Phuket town, Kathu - 700 baht
Kamala - 750 baht
Laguna, Bang Tao, Surin - 700 baht
Knighton - 650 baht
Nai Yang,
The farther the beach, the more expensive (my review of all the beaches of Phuket). The price of a regular taxi, which fits 1-3 people. If the car is large, where you can sit and 5-8 people, then multiply the price by two.
There is also another option to take a taxi, install the Grabtaxi application, register in it and upon arrival call a taxi through it (both a taximeter and a fixed fee). In the application, you need to indicate where you are coming from and where. The only caveat is that the application does not know all the addresses, and you cannot select an arbitrary point (just somewhere), so sometimes you have to select a point somewhere nearby. It is also advisable to indicate your Thai phone number when registering, because taxi drivers almost always call after receiving an order to find out where to go. By the way, it's easier to answer them, something like «follow GPS» or simply «Gps», because there is often no other way to explain the language barrier. If you cannot call the taximeter, then try to call the fix, it so happens that the taximeter is either far away, or everyone is busy (there are not many of them). The application is not very convenient in my opinion, but you can use it.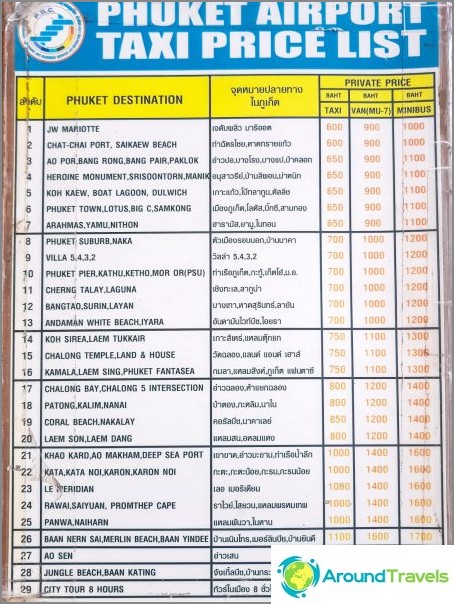 Car rental
A good way to deliver tourists to a hotel, in my opinion, is to rent a car. But this is in case you are an active person and will then go somewhere, and not just lie on the beach. Read my detailed post - how to rent a car in Thailand.
It is best to book through a trusted broker Economybookings, through which it will be almost 2 times cheaper, apparently due to the volume of sales. I checked it personally and more than once! I always book this way myself. Plus, they have offers from all international distributors on one site at once, so there is no need to go through the sites one by one..
Discounted car rental in Phuket>
Arrive and a car will be waiting for you at the airport. Recently, I always take a car, not a bike, with a wheelbarrow there is much more comfort and freedom, you can go anywhere and not depend on a taxi: to a hotel, to a neighboring city, or anywhere. There are rental offices, both in the local airport terminal and in the international, it does not matter where to go, the parking lot is common, since the terminals are very close.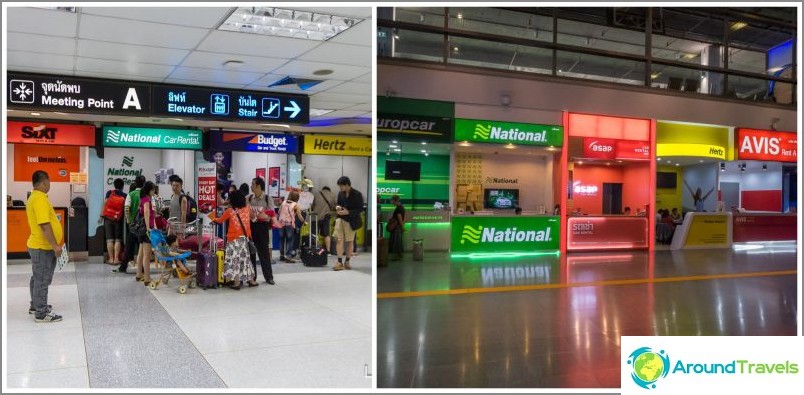 Where is Phuket airport
It is located in the north of the island on the western side, only 32 km from the center of the city of the same name - Phuket Town. Moreover, this northern part of the island is not the most popular among tourists. But there are beaches, the nearest beach where you can rent a hotel and swim Nai Yang. And there is also a piece of beach right next to the airport., where planes take off overhead.
If you would like to inquire about short term accommodation options in Phuket, I have a personally compiled hotel overview. In general, the choice of housing in Phuket is presented for any budget, it remains only to open RoomGuru and choose what you like.
Phuket airport
Phuket airport
The second airport in terms of passenger traffic in the country. Direct regular and charter flights arrive here. There are two terminals for servicing flights: domestic and international..
More details.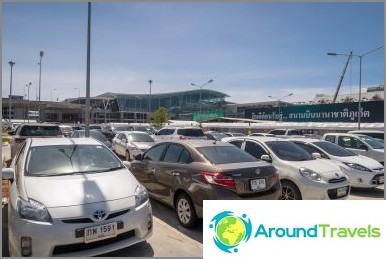 The second airport in terms of passenger traffic in the country. Direct regular and charter flights arrive here. There are two terminals for servicing flights: domestic and international. More details.