I receive many questions regarding the cost of renting accommodation in Thailand at various resorts. I have already written a number of posts related to renting, and I want to add one more, dispelling some pink dreams. It will be useful to those who are going to go to Tai soon.
The fact is that some things in Thailand are not entirely perceived correctly, for example, rental prices. We bloggers sometimes not on purpose, but create the illusion that for a penny you can rent almost a villa with a private pool. Although it's not true or not quite true.
The content of the article
The real price for renting a house or apartment
So how much does it cost to rent an apartment or house in Thailand? I will try to outline the prices that should be guided by when renting a house / apartment, regardless of the resort. I will talk about all the resorts, since it is cheaper only in Pattaya. In other places, plus or minus is similar. Price per month.
8-15 thousand baht - a very simple one-bedroom house or a simple apartment like a cheap hotel room. All thaistal. Search only by yourself.
15-30 thousand baht - a house with slightly better furniture / appliances, 1-2 bedrooms, occasionally there may be a communal pool on the territory. House thaistal. Also, somewhere from 20 thousand baht, there are cramped apartments (studio or 1 bedroom), sometimes with a communal pool and mini gym in the building. The apartment will not be thaistal, but with a very simple renovation. If you book such accommodation, then only in advance.
30-50 thousand baht - houses and apartments with larger areas, maybe a view from the window or the sea closer. All sorts of pots on the shelves, pictures on the walls (design in the Thai sense), better furniture, a communal pool and gym on site. But the houses will still be thaistal, and the apartments are fairly simple renovations. Usually, starting from this price range, this accommodation is offered to those who are looking for it shortly before the trip. But at the peak of the season and this may no longer be, everything is booked.
50-100 thousand baht - you can already count on a house with a private pool. In terms of renovation ... There will be something transitional from thaistyle to eurostyle. But apartments in this price range are already familiar to us, they are normally furnished, in more expensive areas, with a sea view, a bathroom instead of a shower, with all household appliances, etc. In terms of armor, it is somewhat simpler, but it's still better at least a little in advance, especially during peak season.
100 thousand baht and above - you can already apply for a villa. That is, a large area, several bedrooms, good furniture, all the necessary household appliances, all kinds of gazebos on the territory and a swimming pool. The more expensive it is, the better the quality of housing will be. In my opinion, a real renovation starts somewhere closer to 200-300 thousand baht. They do not look for villas on their own, all through realtors. In terms of armor, it is somewhat simpler, but it's still better at least a little in advance, especially during peak season.
If you are traveling to Thailand for the first time, then I recommend booking a house or apartment in advance. This is done only through a realtor. Yes, they do not deal with the cheapest housing and take a commission, but this allows you to avoid unnecessary hassle in an unfamiliar country. Believe me, independent searches on the spot are difficult and not worth it. You are going to rest.
Send me a request to advise a trusted realtor, whom I myself trust. And then recently there have been a lot of scammers.
Send request>
As I said, prices are approximate, as they depend on many conditions. An apartment rented in the winter for a week or in the summer months with a contract for a year will have a completely different price tag per day.
How to rent correctly
Accommodation must be booked six months in advance. If you are traveling during peak season and want affordable options, you need to start worrying about housing at least six months in advance. That is, for December-February, apartments and houses should be booked ideally in spring-summer..
Shoot off peak season. The main stream arrives in Thailand in December-February, so if you arrive outside of these months, the choice will be much greater. For example, Samui has great weather in summer, few tourists and very good prices..
If you want cheap and have time to comb areas with houses, do it yourself 🙂 However, I recommend to everyone who is looking for the cheapest housing to do everything on their own on the spot (my instruction). Realtors do not deal with such houses.
So in Thailand, cheap or expensive housing?
Thailand is full of different types of housing - houses, villas, apartments, bungalows. For every budget and taste. But a trip on New Year's is one thing, a trip out of season or a long winter is another thing. It's one thing, you want it as cheaply as possible, and another thing - you have money and you are willing to pay for comfort. Completely different approaches and prices.
Request to the realtor: «I arrive in a week on January 5, I want a house for a month with a pool for 15 thousand baht and near the sea.»
Mmm ... Let me explain the essence of the problem. Indeed, in Thailand, you can rent a simple accommodation for 15 thousand baht and sometimes even with a communal pool, but booking it even a couple of months before the trip, for dates falling in December-February, is UNREALABLE! Even 30 thousand baht will not work, and 50 thousand baht may not work ...
No, I'm not saying that during the peak season everything is booked totally, they may offer you something good, or they may not offer anything at all. As luck would have it, 50/50. Moreover, even doubling the budget may no longer save.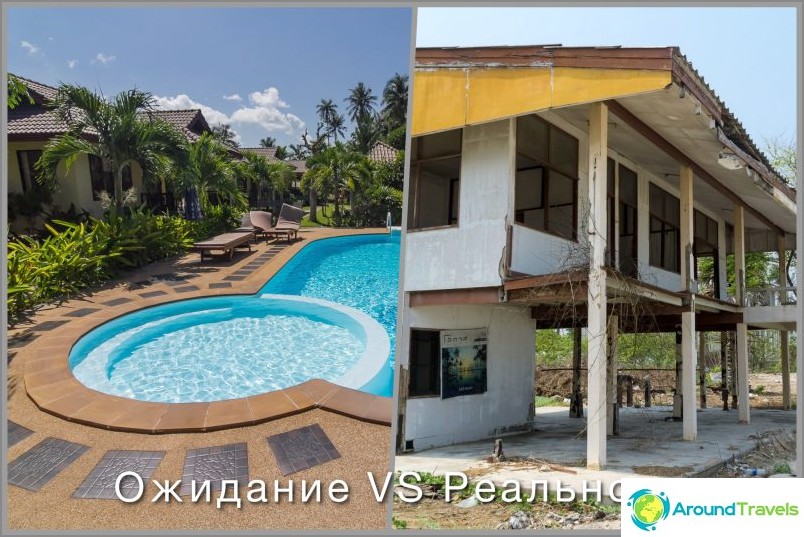 Where do the low prices on the Internet come from??
When a person with a limited budget comes to Thailand, he will in any case look for a house for the 10-15 thousand baht he needs. She will search on her own - since she does not want to pay a commission, and until she turns blue - there are no other options. And then she will tell you how cheap it is to live in Thailand.
Are you ready to hang around for a week in the heat, combing the streets and alleys for 5 hours a day? And if you only come for 2-3 weeks, you need it?
I remember that once my acquaintances came to Phuket in December and were looking for housing on their own. They did not find anything at all and went back to Russia. Like this.
Also, on the websites of real estate agencies, you often see a database of apartments and houses without indicating whether a particular object is free now or not. And when you start writing to them and asking them, it turns out that everything has been taken for a long time, and there are only more expensive options. For, I repeat, everything had to be done in advance.
P.S. What is not clear, ask. I have personal experience of self-rental and through agents, in almost all resorts in Thailand.