The blog already has a detailed post about scooter rental in Thailand, there I have everything from how to rent a bike to how to drive. Well, here is a small list of proven rental offices. Although for Chiang Mai this is not particularly relevant, here somehow it seems to me not at all divorces. How many times I took off the bike in different places, everything was fine, however, I did not break it, and in most cases the divorce will be in this case.
The content of the article
Verified bike and car rentals
If you are staying in a square (old city, center of Chiang Mai), then finding a bike is not a problem, there they are at every turn. Here's one more just in case my review of 22 guesthouses there.
POP Car Rental. One of the most famous and largest offices in Chiang Mai, it rents both bikes and cars. One of their offices is on the outside right side of the square near Thapae Gate (middle side). They rent cars, serious motorcycles and bikes.
Here, near Thapae Gate, only on the inner side of the square (up the map from the gate for a couple of minutes), there are two offices nearby for bike rent. One of them is POP Car Renatal, I don't remember the name of the second. Without a passport pledge and you can still take insurance to the bike.
Take from our Russian chela Kostya Zhvenkov, here is his page on bikes and phone +66 85 711 4403. Verified person and not only me. He has really low prices, new bikes, normal helmets (plus they recently started issuing dust masks), no passports as a deposit, no problems with scratches, and so on. If you scratch or break something, there will be a humane price list without overstating the price. In addition, the bike can be driven to the desired point in Chiang Mai with a full tank, which is not usually the case in Thai offices..
You can also take a bike from Vadim, (phone + 66877888839). But I didn't take the bike from him, but took the car several times. Likewise, no problems, scratches were not checked at all. If anything, I didn't put them on, the car was already scratched. So they didn't look whether there were new ones or not, and the old ones didn't try to hang on me. The car will be squared if necessary. In general, I recommend! Next time, too, I will take Vadim again, already a tradition, once a year in winter 🙂
You can always rent a car from network distributors, at the airport, for example. All the nuances are outlined by me in a post about car rental in Bangkok, just there I took from the network, but the essence of the city does not change.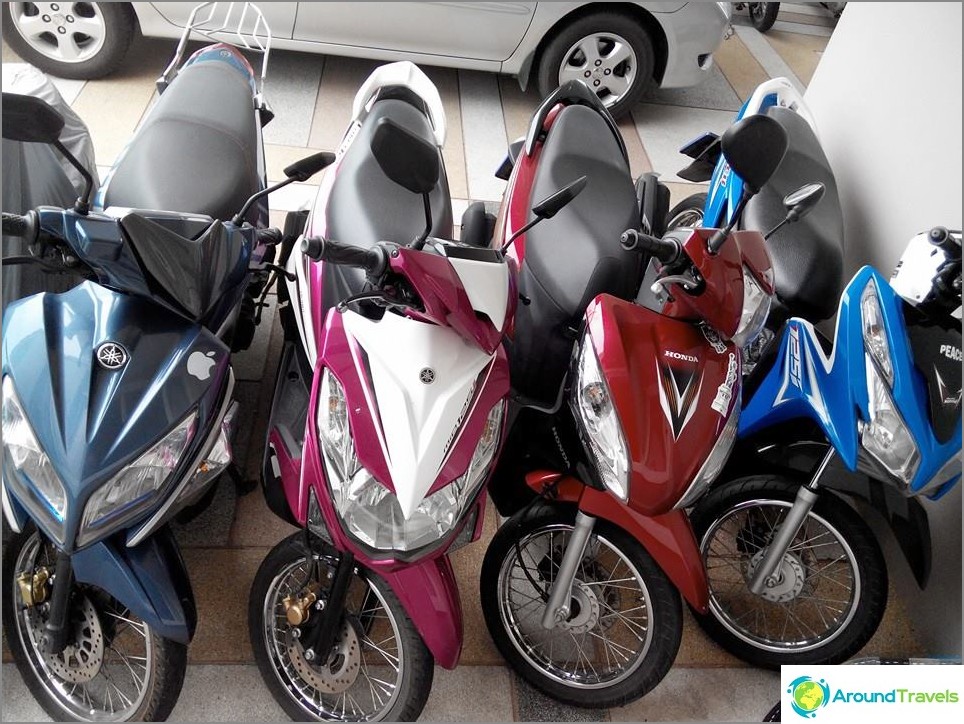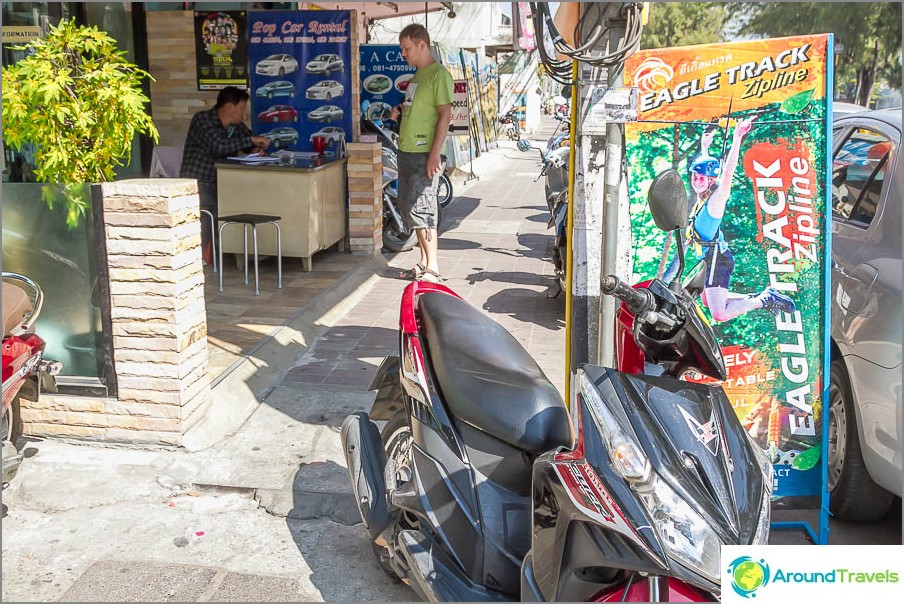 The cost of renting bikes in Chiang Mai
Kostya:
Honda Click 125i - 3000-3500 baht per month depending on the season, or 1000-1200 baht per week, does not rent for a shorter period.
Honda PCX 150cc - 5000 baht per month, 2000-2400 baht per week, 400 baht per day.
You can try to bargain, especially if you take for a long time.
Pop Rent:
Regular bikes machines at 200 baht / day and 3500 baht / month, PCX 500 baht / day and 5500 baht / month.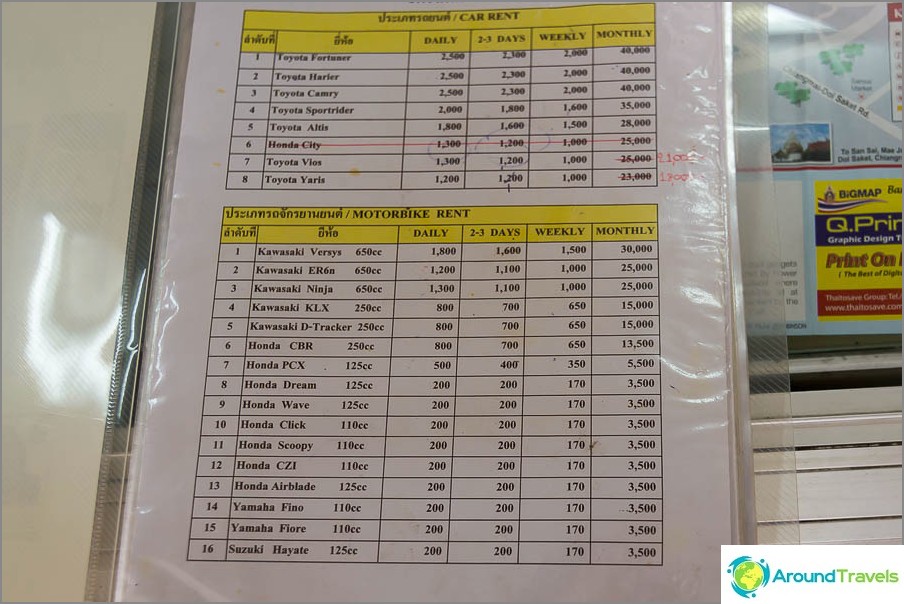 In general, in Chiang Mai, you can count on an average cost of 150-200 baht / day for short-term rent, and 2500-3000 baht for a monthly one. Of course, here you can find bikes for 100 baht / day, but this will have to look a little more, the office will not be in the center (not in a square), and it may well be that the bike will be cumbersome. My choice is to take Pop Rental for a few days, monthly from Kostya, and Vadim's car, in fact, is what I do, which is what I advise you..
On the map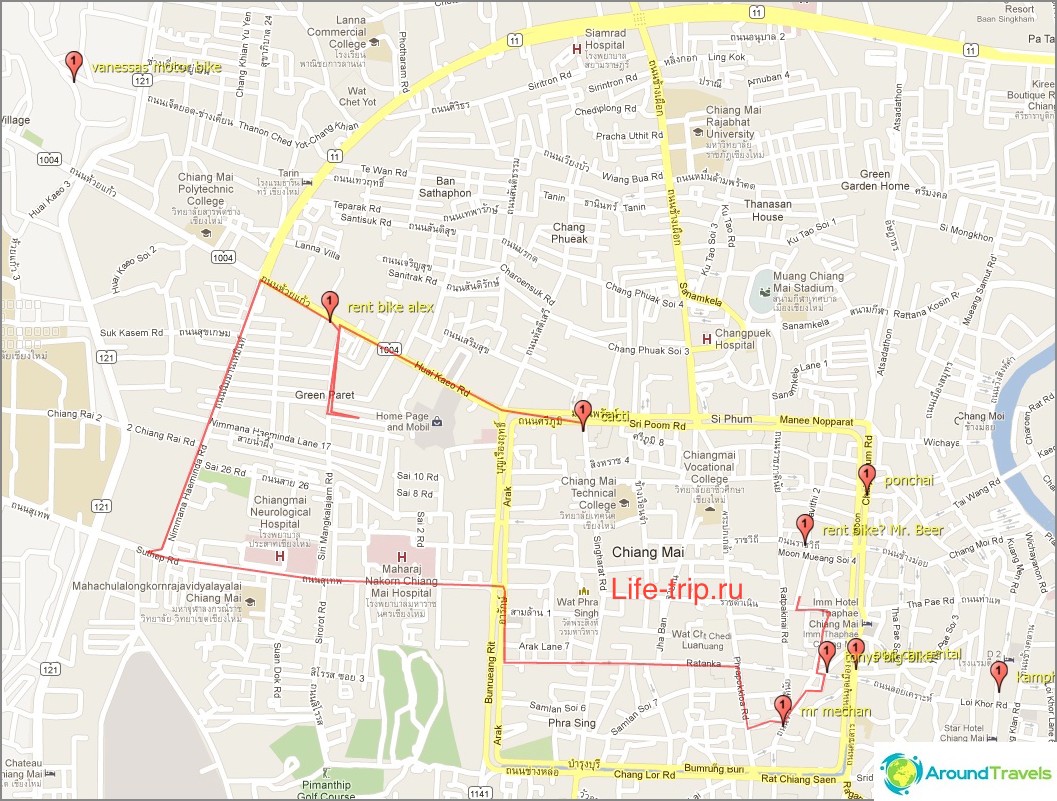 Services in Chiang Mai
Services in Chiang Mai: