Finally got around to writing a report on our group trip to the north of Thailand, where I was in the role of a guide. First of all, I want to say thank you to the guys who responded to my proposal and used my services. At the end of the trip, I personally did not even want to part, so I would have continued to travel with them, the company turned out to be cheerful and with similar interests. Whatever one may say, but it's great when it turns out so good.
The route was slightly corrected by me, and also the final destination was changed (from Hua Hin to Ko Chang), so don't be surprised. First, I post the feedback of the participants, and then there will be the report itself with photos and videos..
The content of the article
Igor's review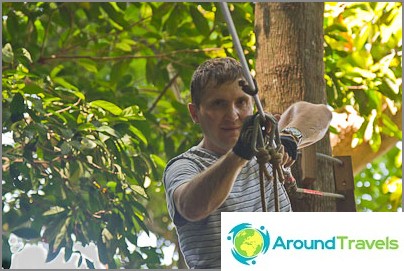 Until three months ago, I did not know anything about the Life-trip blog or its author. By that time, we were a little bored with standard package trips according to the scheme: travel agency, vouchers, hotel, beach, buffet and standard pioneer excursions. The first thought upon seeing the announcement was: «Cool», second: «Wish I was there» and finally, after a while: «Why not?».
We hadn't been to Taia before, and of course we wanted to travel around the country, to see its hinterland, hidden from the eyes of many vacationers. Although it was possible to get some idea of ​​the organizer of the trip from the blog, there was, of course, some risk - after all, strangers, it is not known how everything will turn out. Having weighed everything, we decided to take a chance, and we were not mistaken - the rest was a success. So two more farangs plunged into Thailand.
And we climbed the canyons, and swam in the waterfalls, and moved on elephants, and rowed on kayaks, and drove on bikes, and climbed the ropes. And there was a lot more. There were temples, palaces, parks, markets, massage parlors, and restaurants. And how many things from Thai cuisine have we tried ... All sorts of pad tai, kao man gai, and other outlandish names that my European ears simply cannot digest.
As a result, the rest turned out to be intense, and in this I see its main advantage - we got a lot of impressions. The company was successful, they joked and laughed a lot, Andrey's role in this can hardly be overestimated 🙂 Oleg organized everything well, there were no serious overlaps. There were, of course, difficulties: they walked a lot, and spent the night on the bus, and fried and froze, and were content with modest hotels. But all these are trifles against the background of positive impressions. The main thing is to be mentally prepared and treat difficulties as inevitable costs of such a trip..
We took a lot of photos and videos, who are interested in the link to the trial video below, later I plan to make more detailed video stories about the trip.
Feedback from Katerina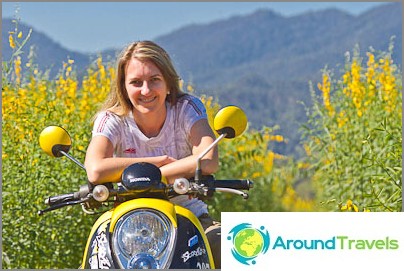 When on the Internet we accidentally saw Oleg's announcement about recruiting a group for a backpacker trip to Thailand - I immediately «lit up» this idea. It was an unusual, non-standard proposal to look at the country differently, to see it from the inside..
Most of all on this trip I remember the Thai village of Pai, its atmosphere, nature, bike rides, as well as Chiang Mai and a trip to the highest point in Thailand. I enjoyed this trip and the company of people who shared it with me. This trip became for me the most unforgettable, bright event of the past 2012. Thank you very much to Oleg for the opportunity to get to know this amazing country in such an interesting way, for the friendly atmosphere in our small company and sincerity.
Some photos from the trip: http://katyarks.livejournal.com
Andrey's review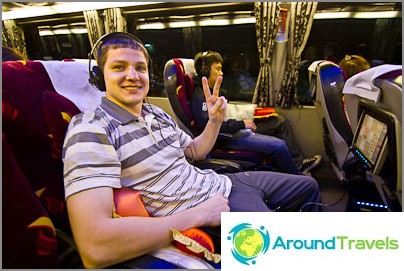 The thought of visiting Thailand came to me after reading numerous blogs of free travelers. I had such an opportunity, and I was incredibly happy.
During the two weeks spent in Tai, we managed to visit many interesting places, get a ton of positive emotions, recharge with positive energy, not to mention what a very useful experience I got. We rode all available vehicles (except the train), of which the motorbike was undoubtedly the most memorable. We ate traditional Thai food, fruits unusual for a Russian person, tasted grasshoppers and larvae :). We also gained the experience of independent search for accommodation from hotel rooms to a simple bungalow.
I would like to express my deep gratitude to Oleg for organizing the trip by all 146%, and Igor and Katya for the pleasant company, cheerful and easy communication. This trip was one of the most memorable and impressive. I will definitely return to Thailand for a longer time, but I'll just improve my English, there is nothing to do in Tai without it ...
Northern Thailand Travel Report
The first day
The guys, in the amount of three people, arrived in Bangkok early in the morning. Since I lived in hotel near Suvarnabhumi airport, then we met right at the airport. And from there we went to settle in inexpensive hotel. Unfortunately, we were not settled right away (it was too early) and the idea to wake up fell through. Therefore, we had to go to get acquainted with Asia after a sleepless night on the plane. And I could not resist and offered to try Pad Thai from the makashnitsa, which is prepared next to Khaosan Road, and, in my opinion, is very well cooked. Dive like this, dive! After all, you can eat ordinary food at home..
And after a nap, we went to Temple of the Golden Mountain (Wat Saket) and from there we sailed along the klong to the business center of Bangkok to climb Bayoke Sky observation deck. By the way, I recommend klongs to everyone, the attraction is still the same! Speed, spray, amazing boat roof construction, flying views of Bangkok backyards!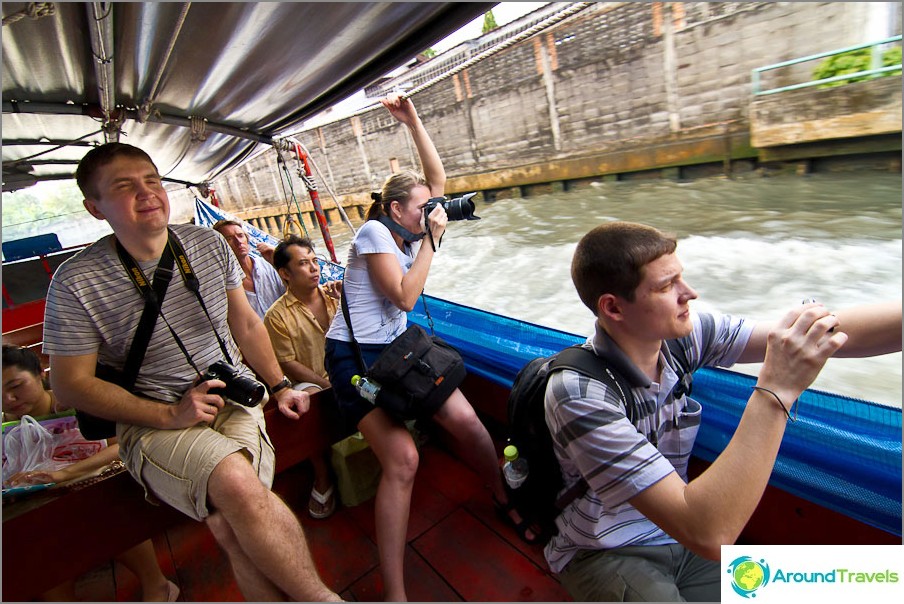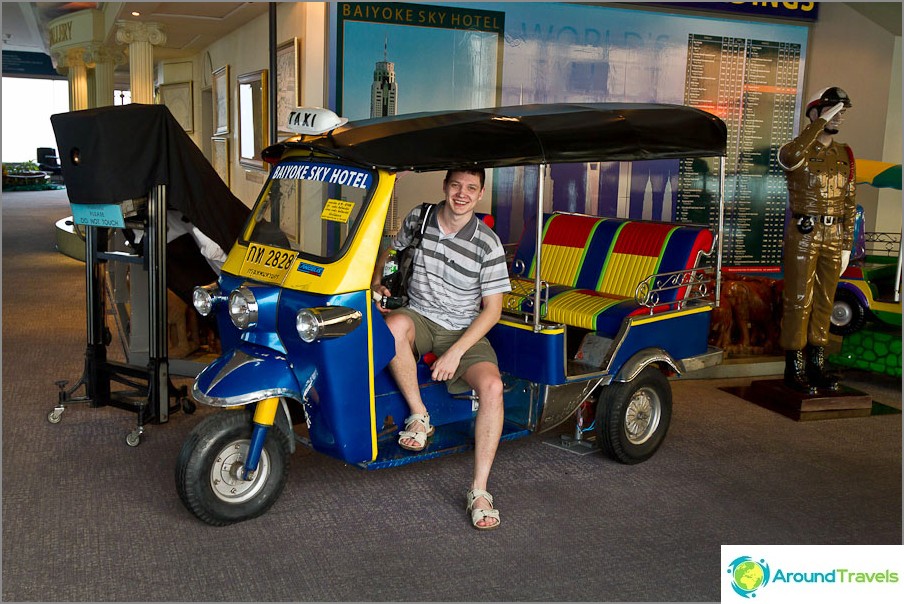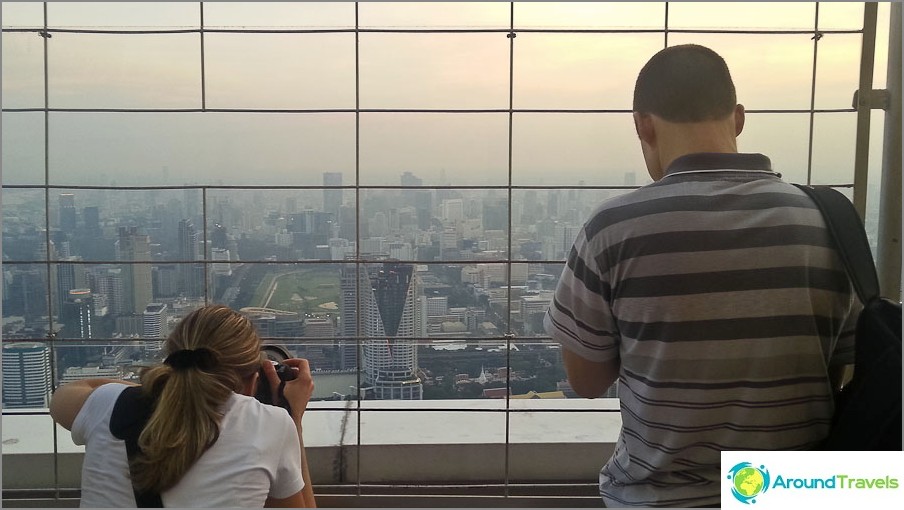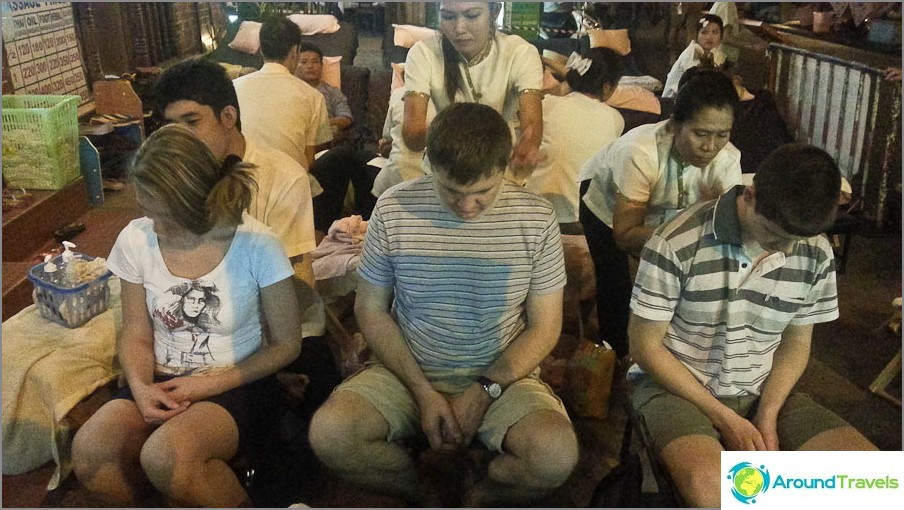 Second day
The second day began with water procedures. On a river tram we sailed to Temple of Dawn (Wat Arun), seen from afar from the ferry. From there we swam to the other side, and went to Temple of the Reclining Buddha (Wat Pho). They also wanted to drop into Royal Palace, but due to the birthday of the king, by this time the visit to the complex had ceased.
Since in the evening there was a departure by night bus to Chiang Mai city, we just wandered a little more in the crowd, walked along Saranrom Park in search of monitor lizards (we did not find them, although they are there), and on a wonderful shuttle bus without windows went to the side of our hotel.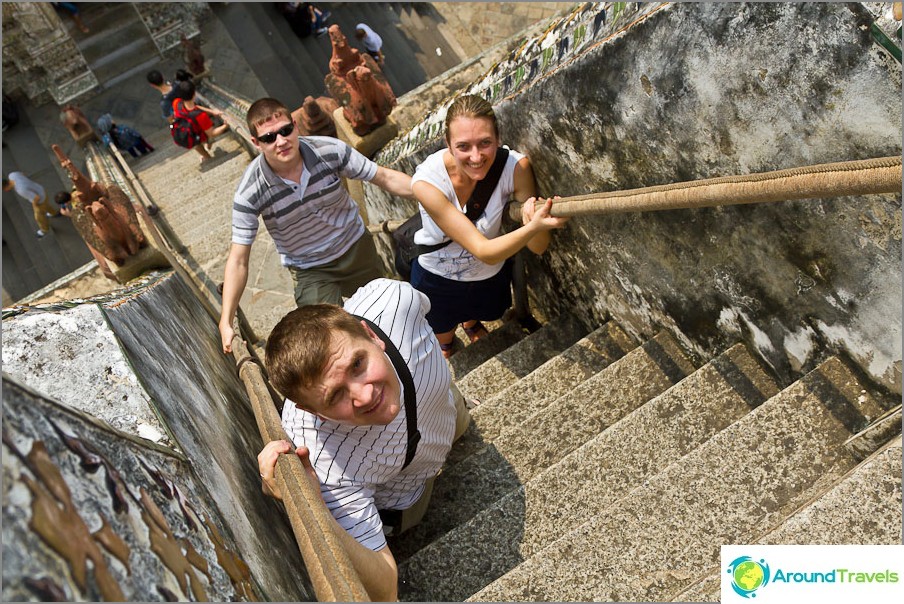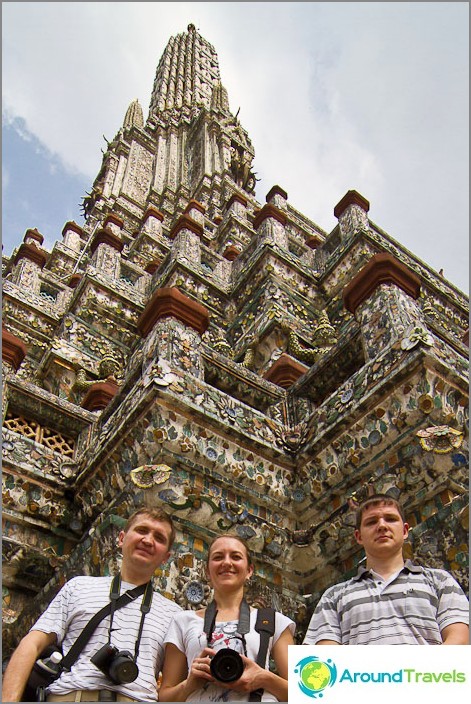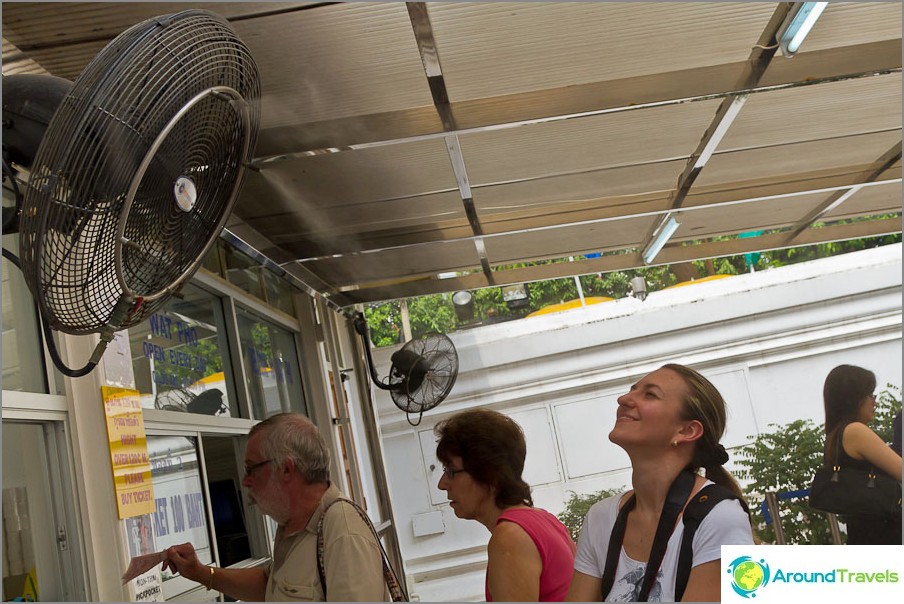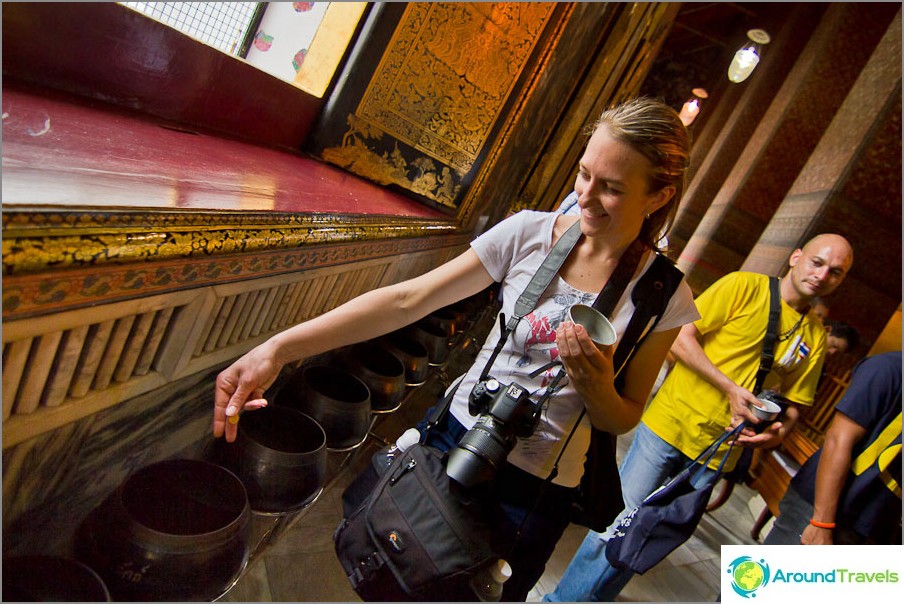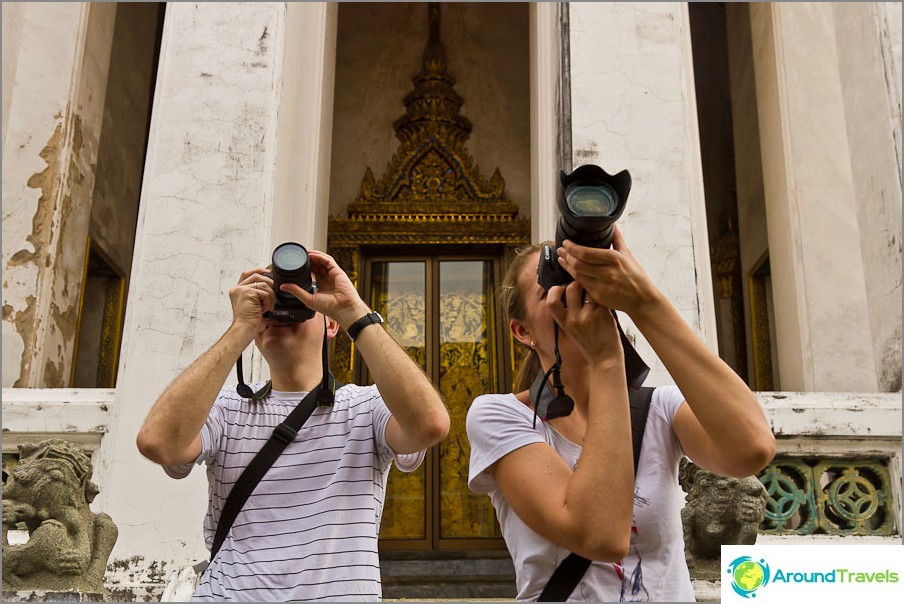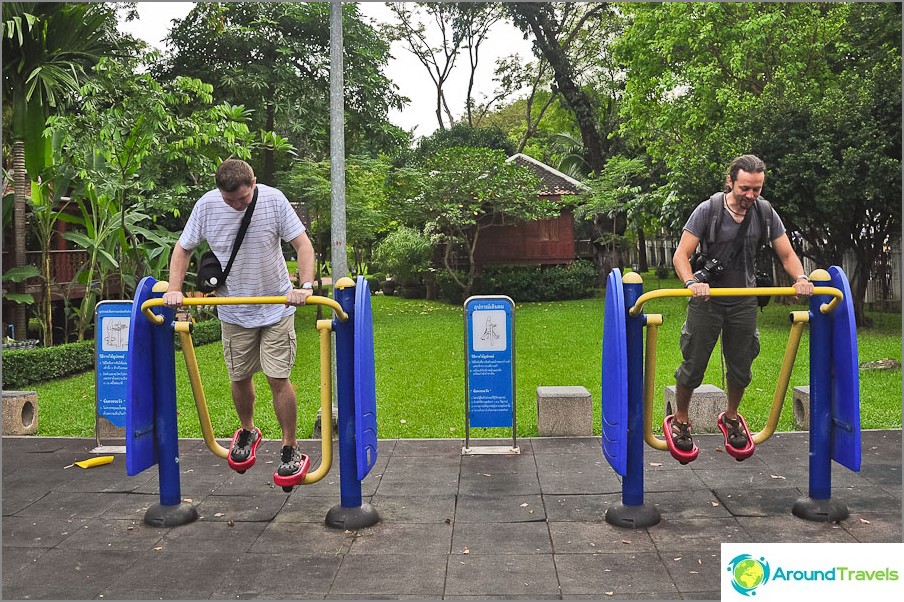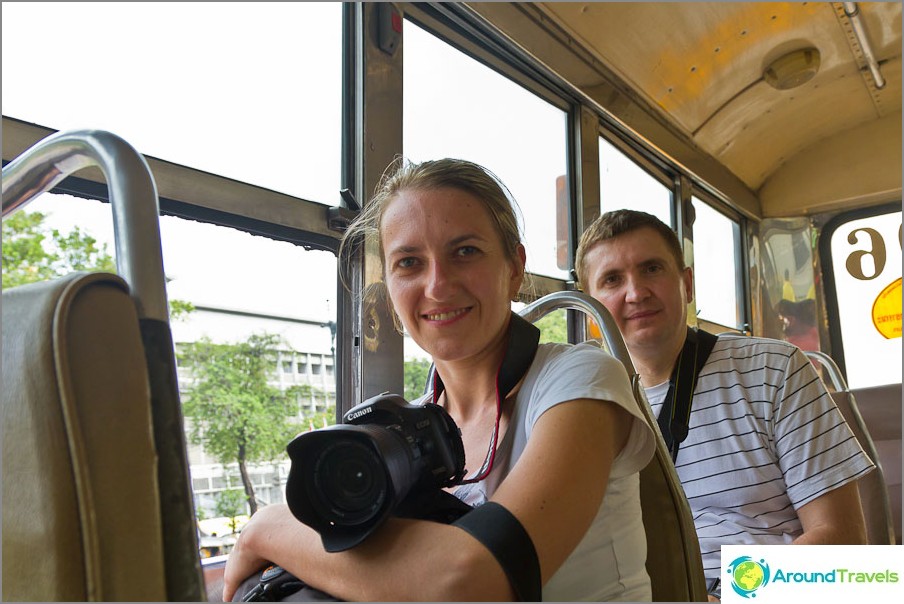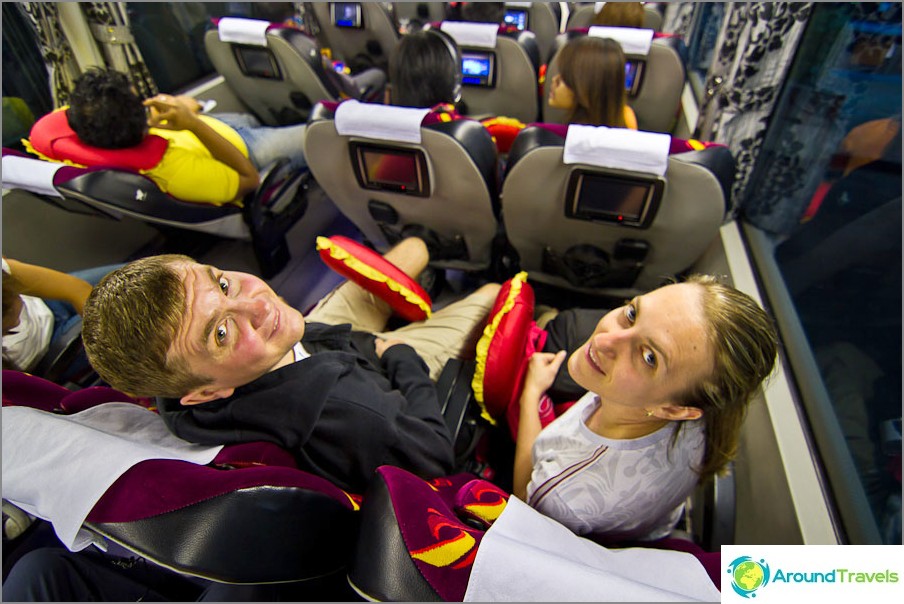 Day three
Early in the morning we arrived in Chiang Mai, immediately bought tickets for a minivan, and an hour later we went to Pai. In addition to the beautiful nature, here you can have a great break from the Bangkok heat. Tired after a long journey, we found decent bungalows away from the noisy street in less than an hour. It's great that the participants agreed to live in a bungalow, because this is the only way to try to feel the local atmosphere. And we finished this day elephant rides and walks around Walking street.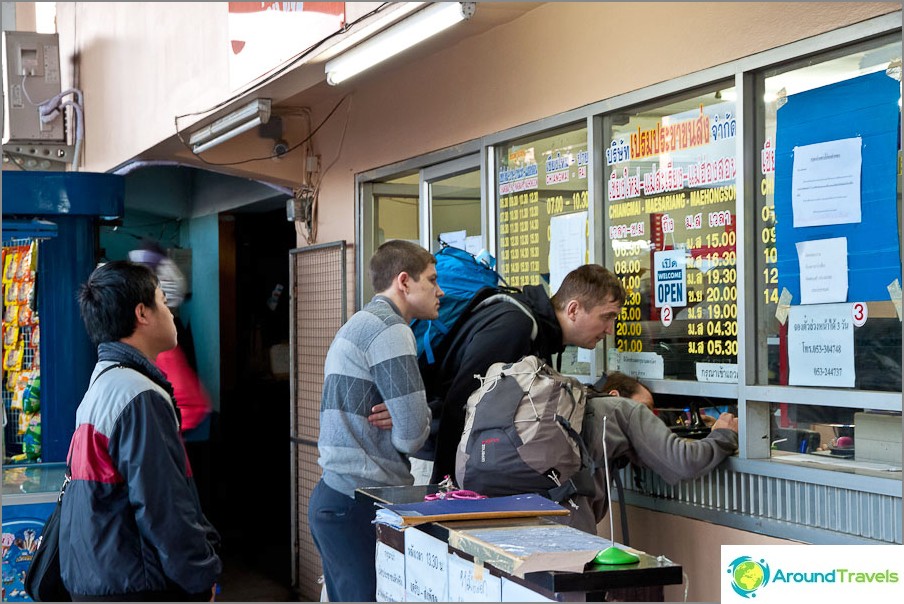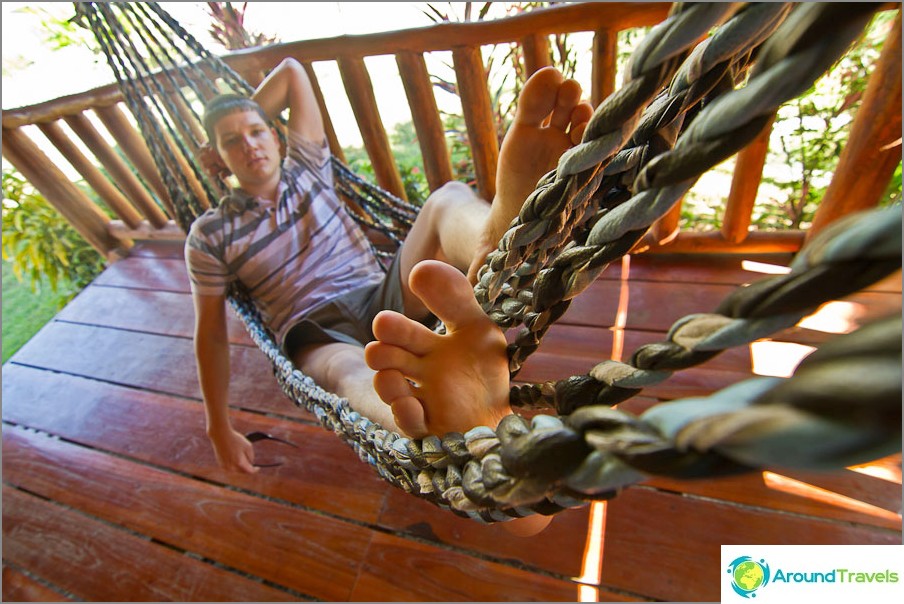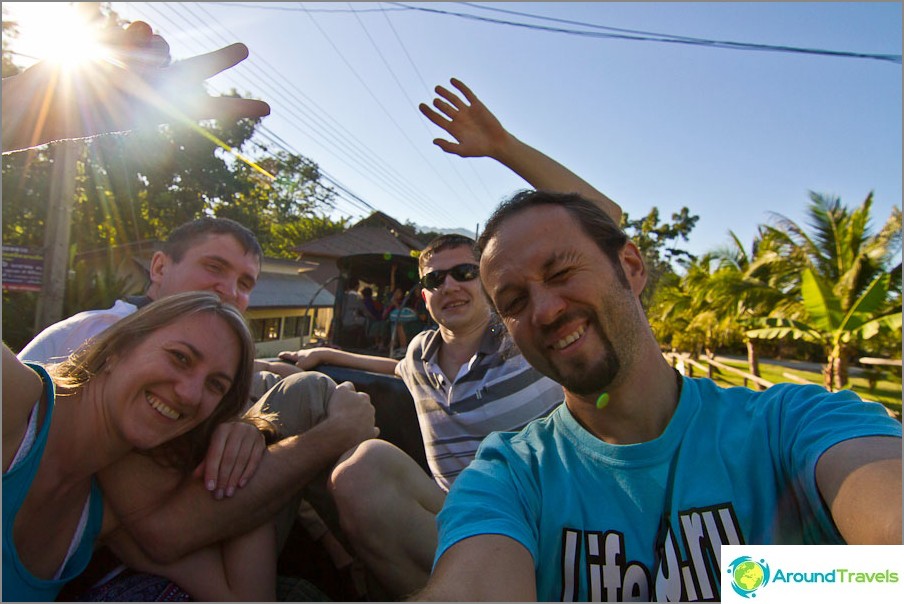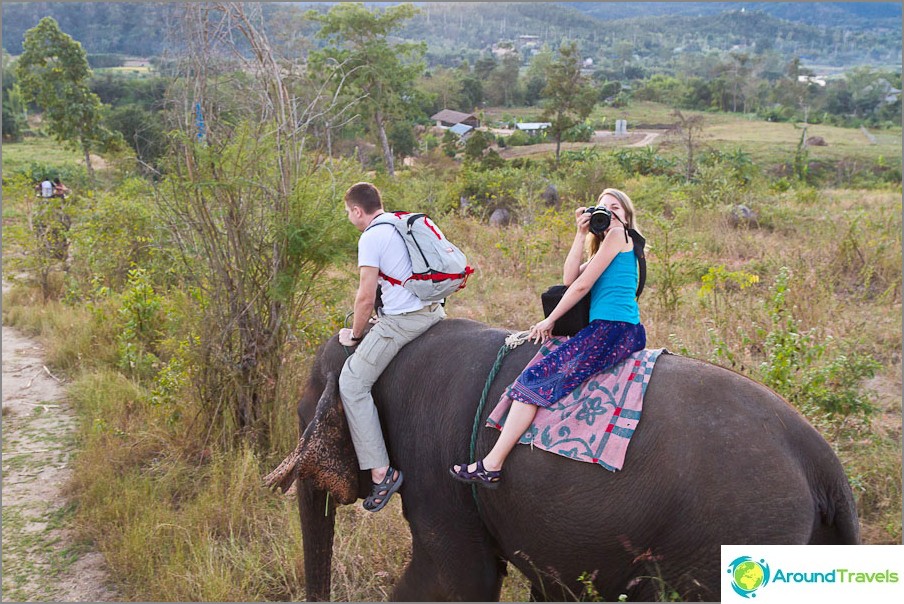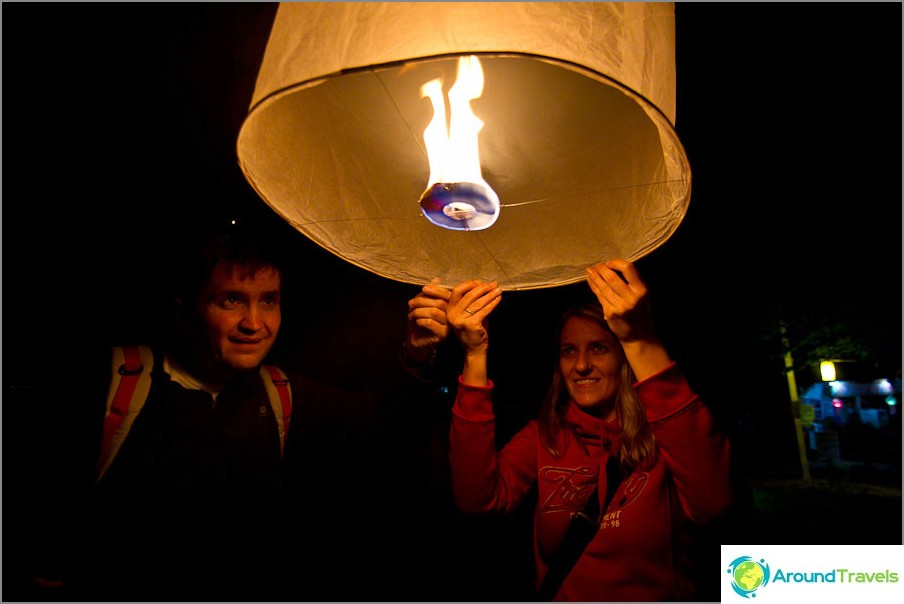 Day four
Day is the denominator that we learned to ride bikes. I still remember my feelings when I tried to get behind the wheel of a scooter in the same way. The guys had it for the first time, and they did a great job, I got the confidence that we will also ride bikes on Koh Chang..
Temple on the mountain, two waterfalls, payi canyon - We drove around Pai all day. By the evening we were so stiff that we wanted to return to the heat.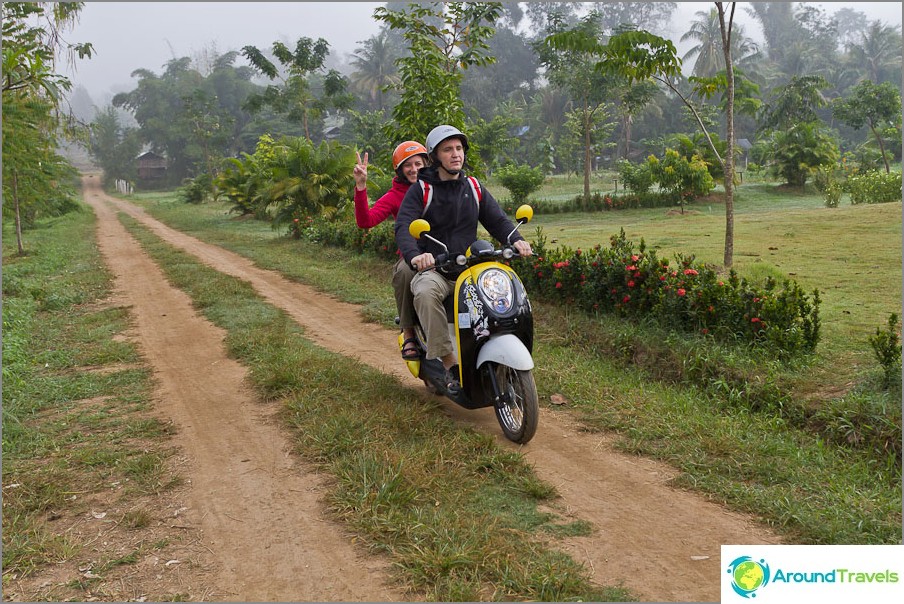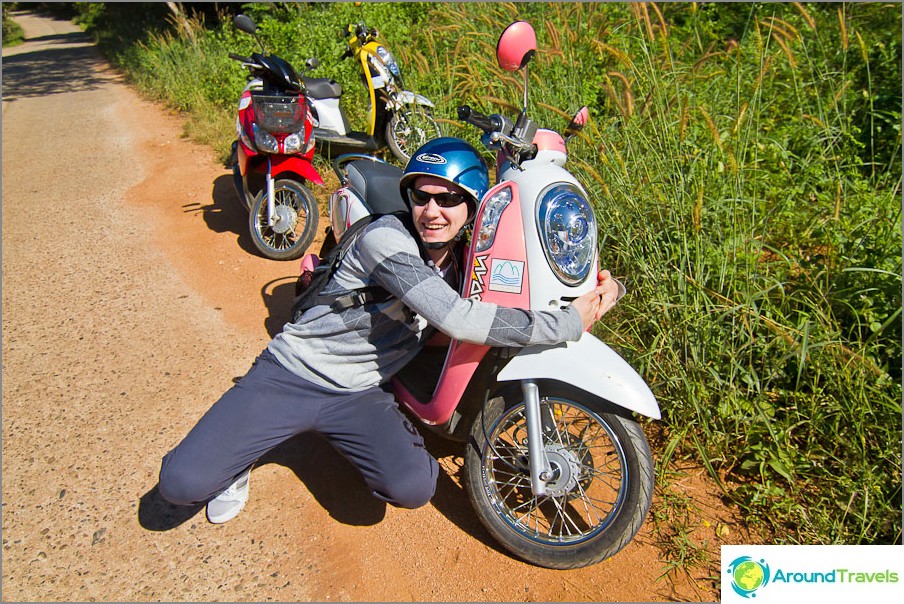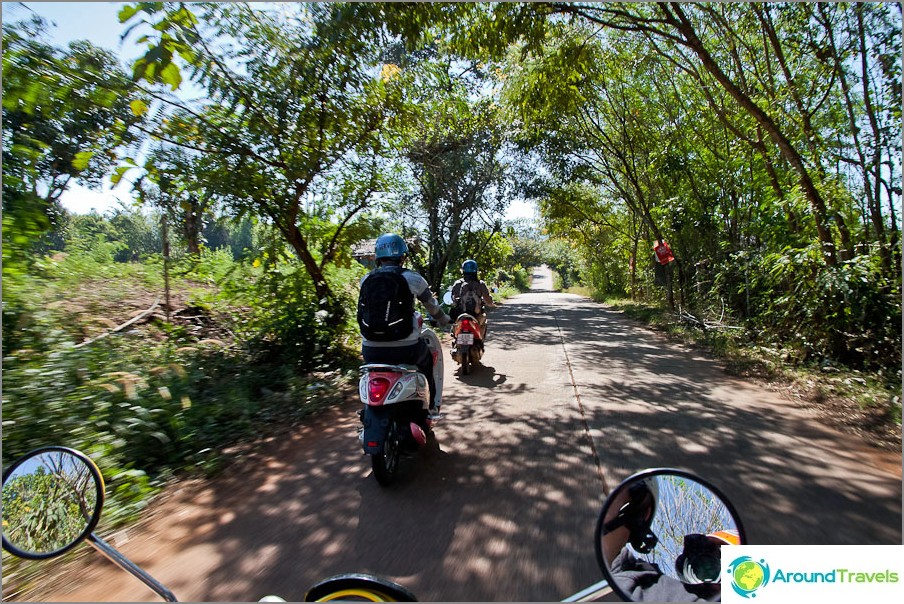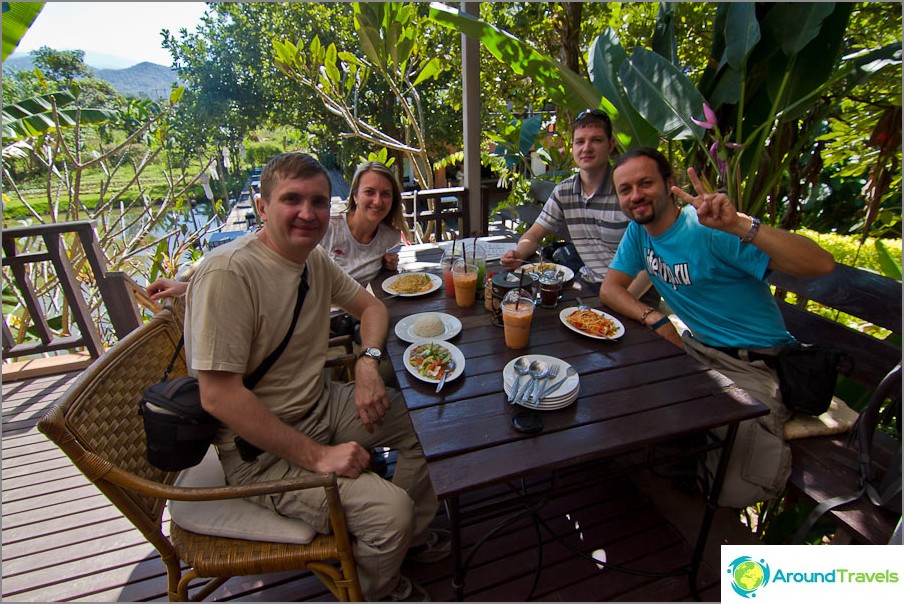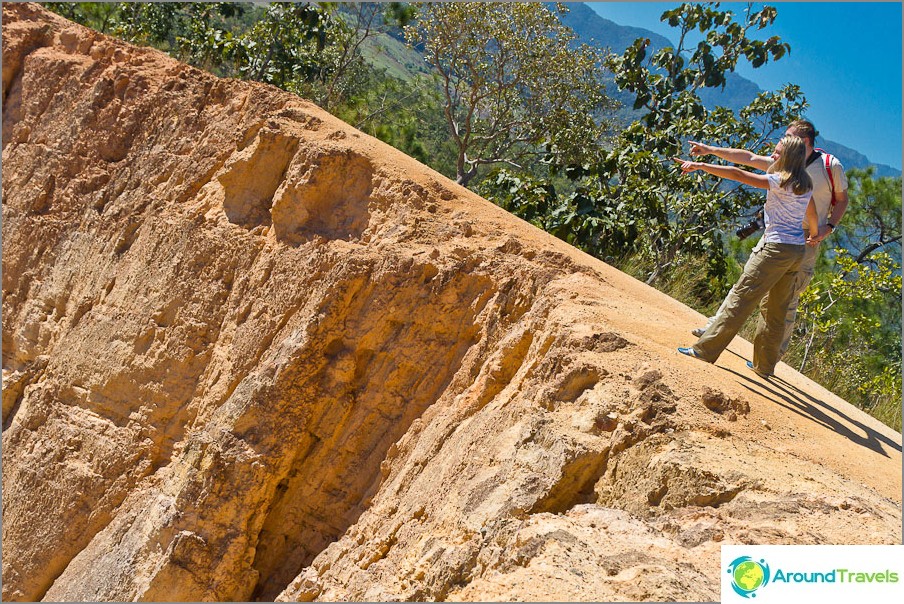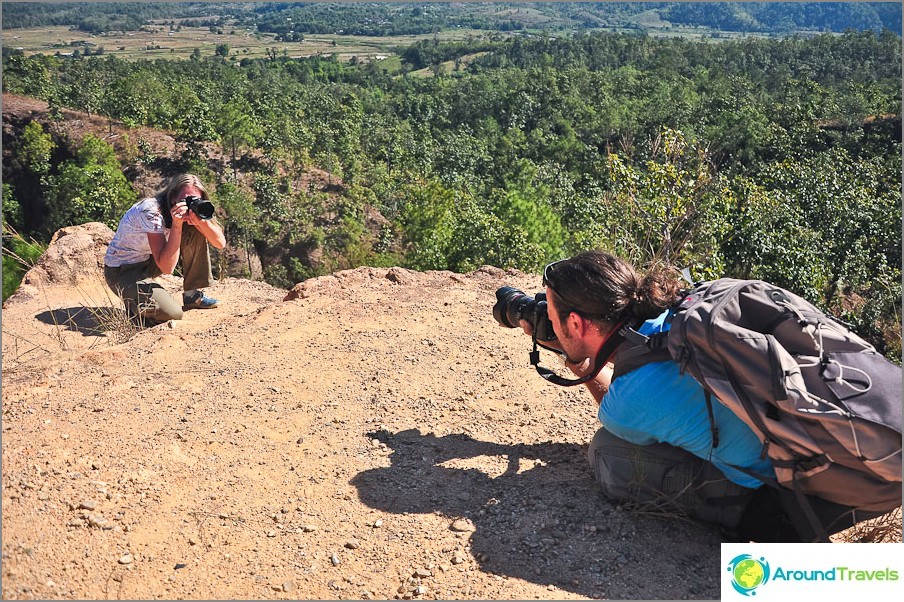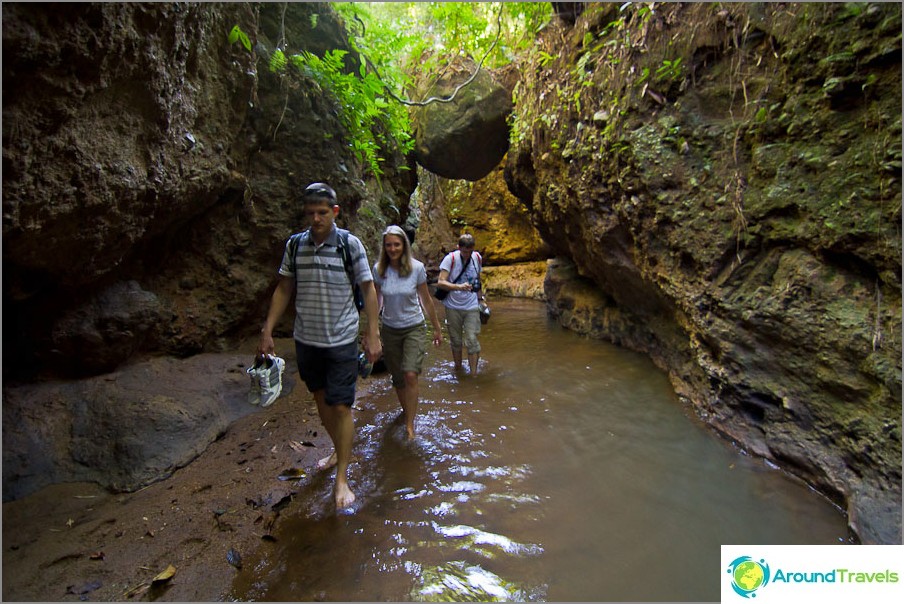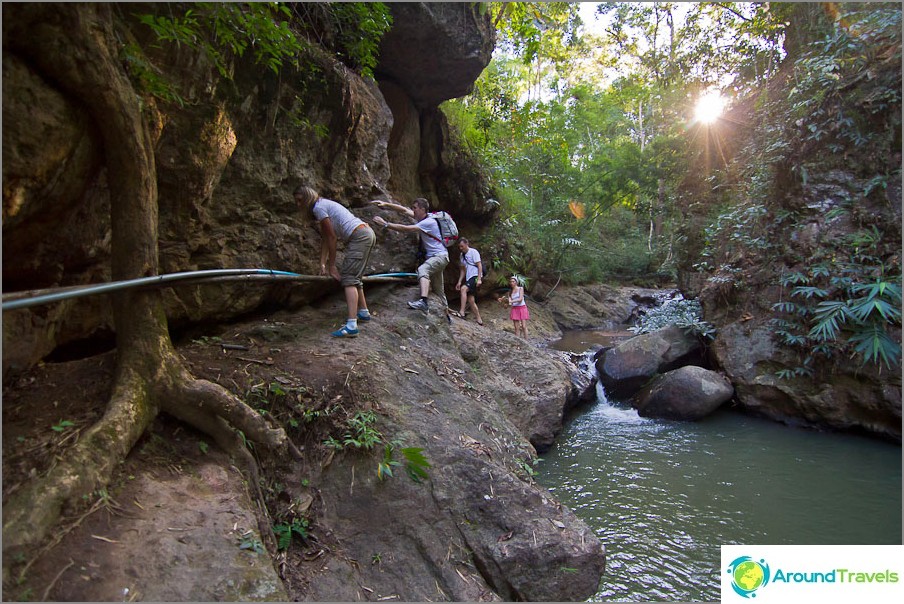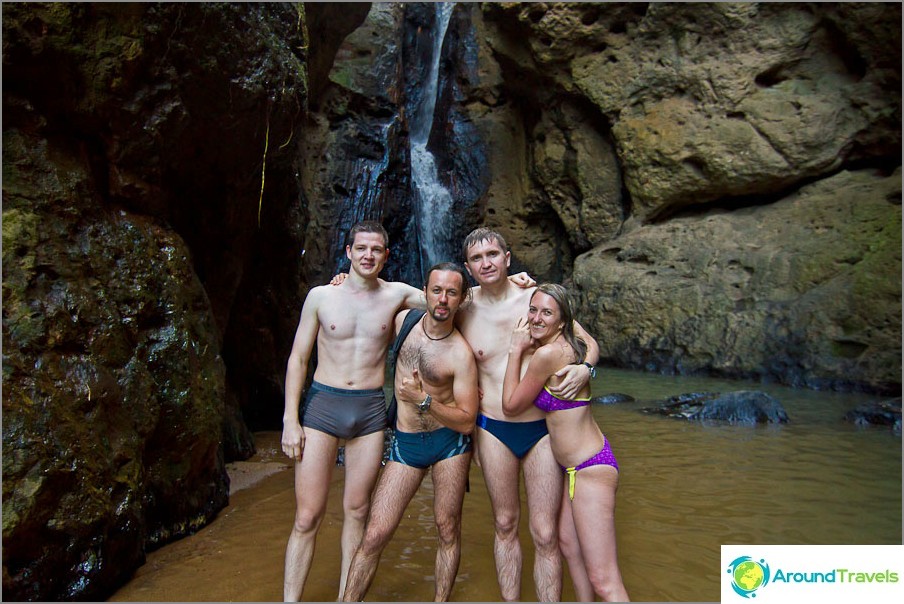 Day five
We return to Chiang Mai, again looking for guesthouse (the hotel can also be searched on RoomGuru) and without any problems we find it in half an hour, check in and immediately go to Thai massage. After pleasing the body from the outside, you need to please it with something inside, so we go to excursion to the supermarket and picking up all sorts of things, from fruits to sweet peppery fish. And where can you eat it, if not on the roof of a shopping center 🙂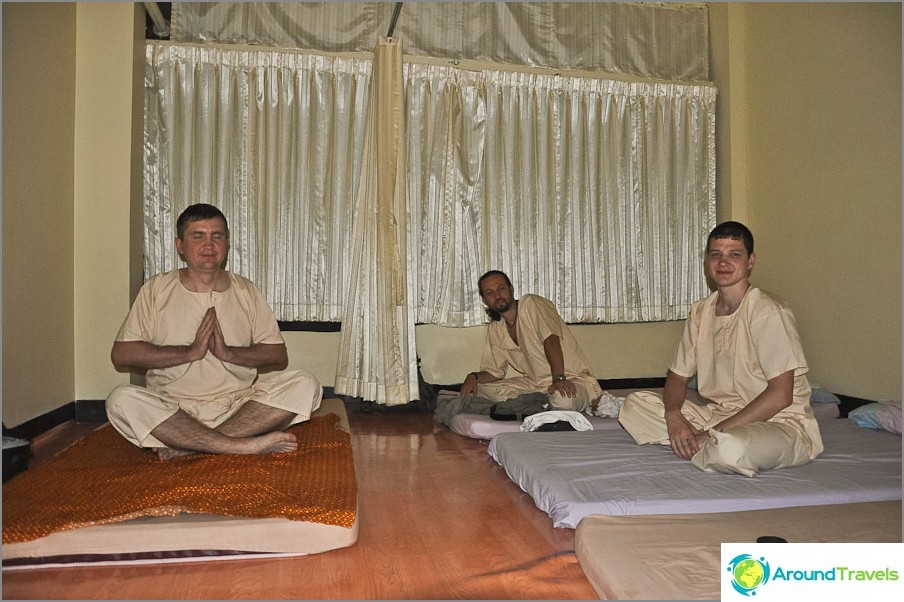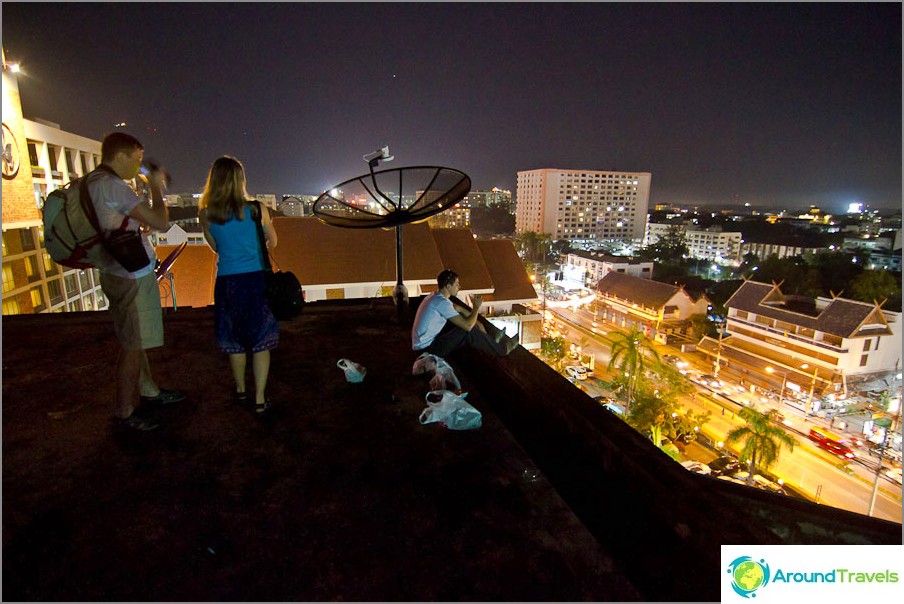 Day six
To visit Chiang Mai and not go to the highest point in Thailand? And also not to see the highest waterfall in the country? This is not about us. We rent a car and drive this little white fury to the Doi Inthanon National Park. All day in nature, in the mountains and in the splashes of water. And also the whole day almost without food and clothes, and by the evening at an altitude of 2500 meters, you know, it gets very cold. But nothing, hot soup from a bum bag warmed us up and improved our mood!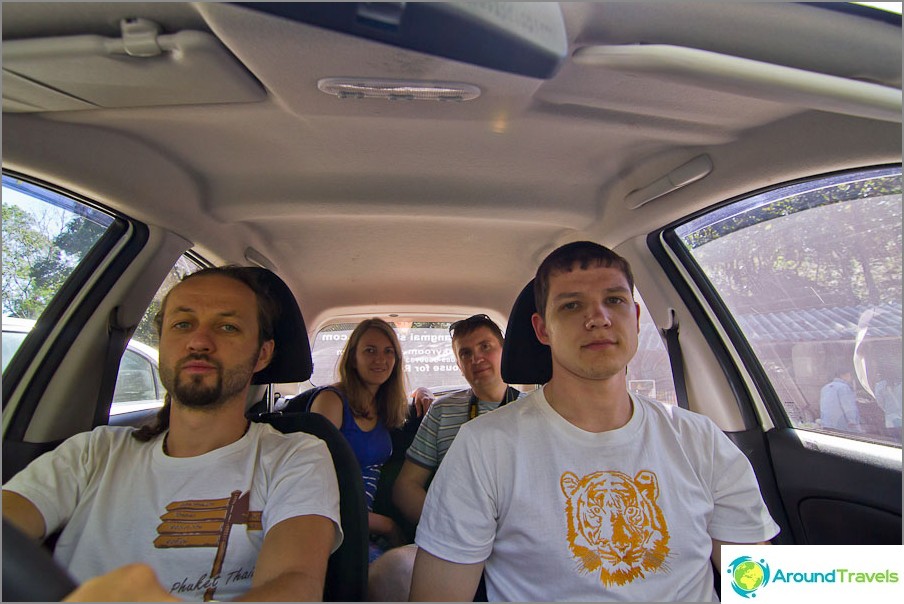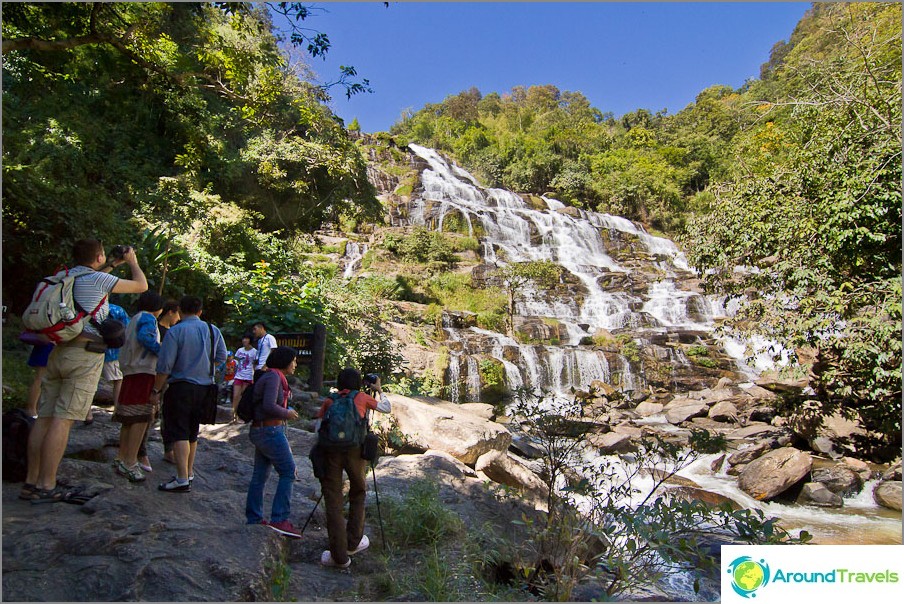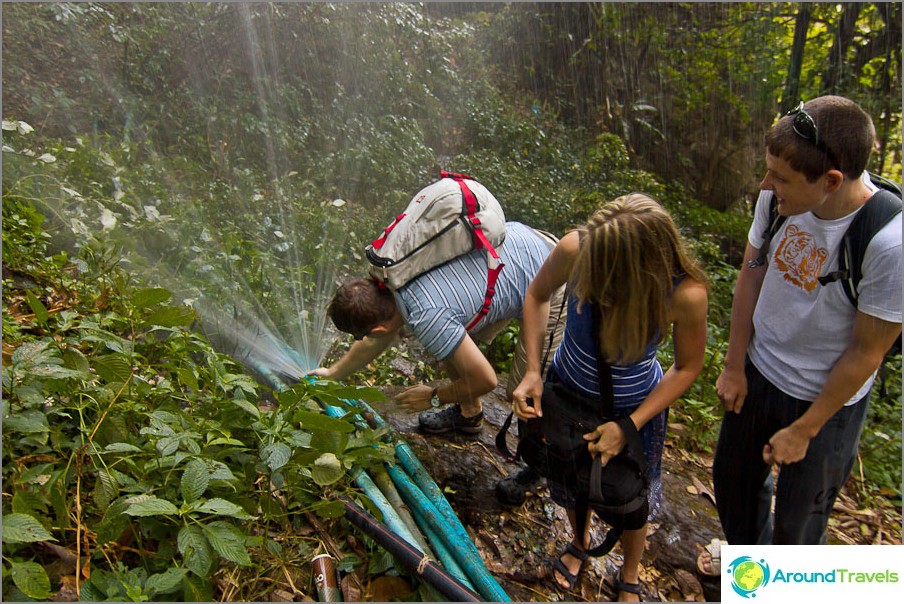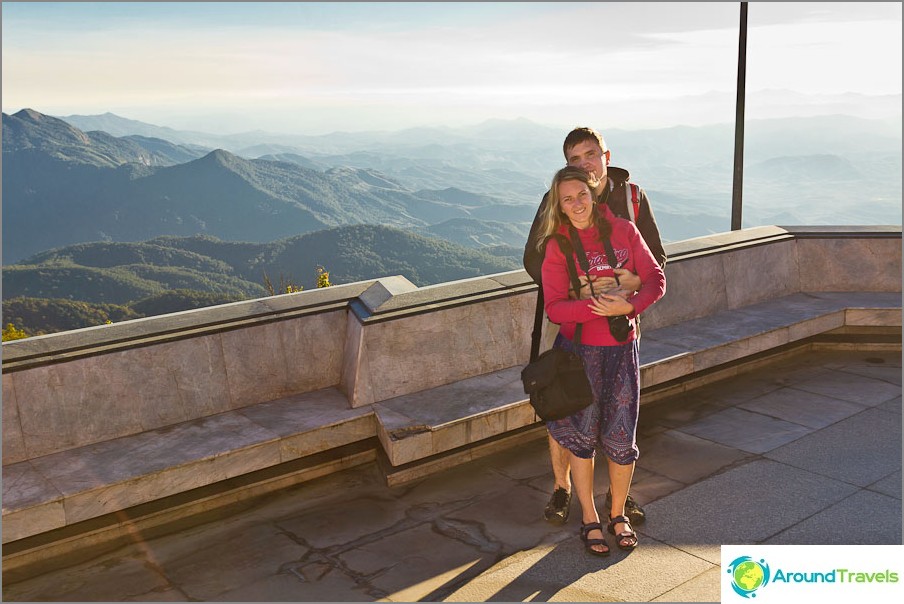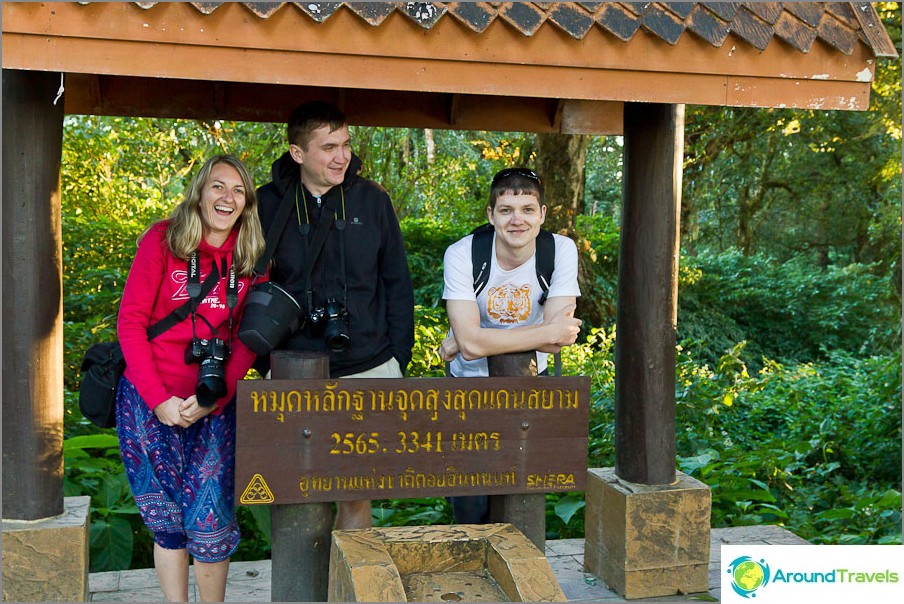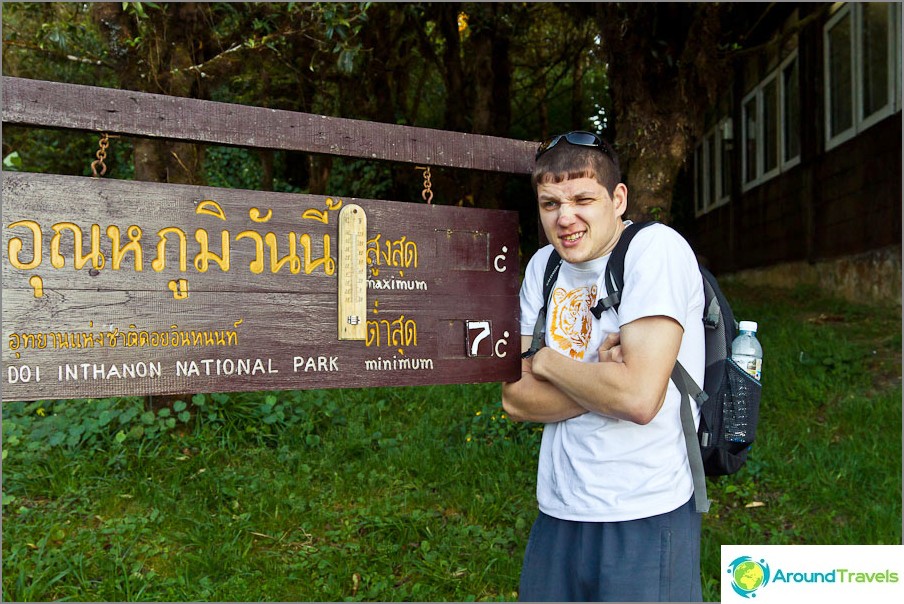 Seventh day
In the same white car we go to White temple (Wat Rong Krung), one of the most unusual temples in Thailand. The only pity is that there were no white clothes to complete the image. But there were wonderful mountain views along the road, an excellent cafe in a wooden style and a hot spring.
But on this sortie, our movements did not end, a night bus was waiting for us to Bangkok.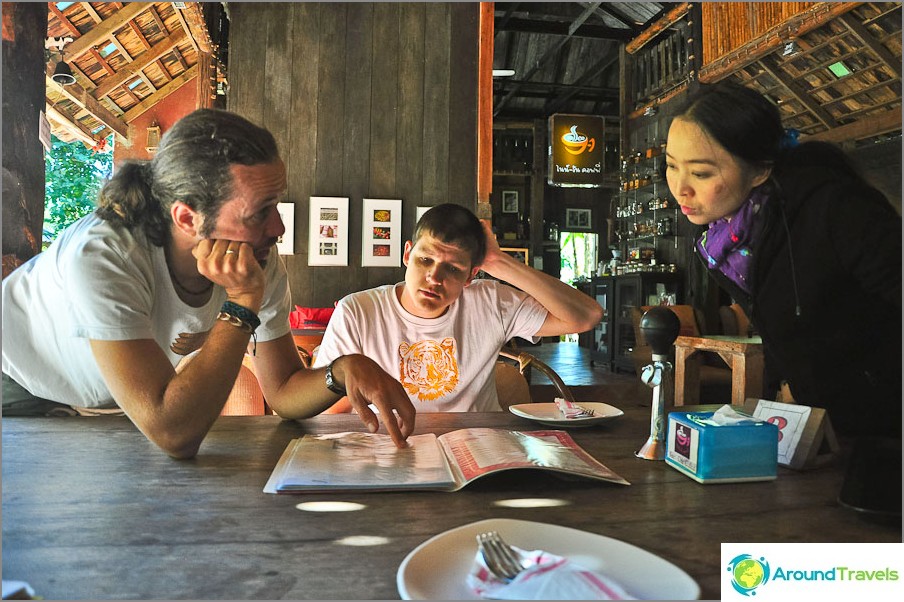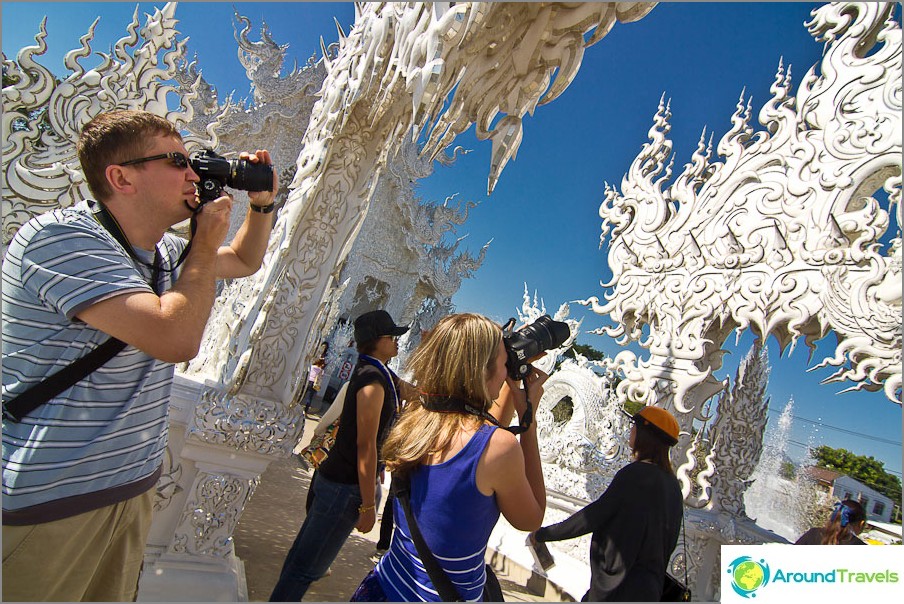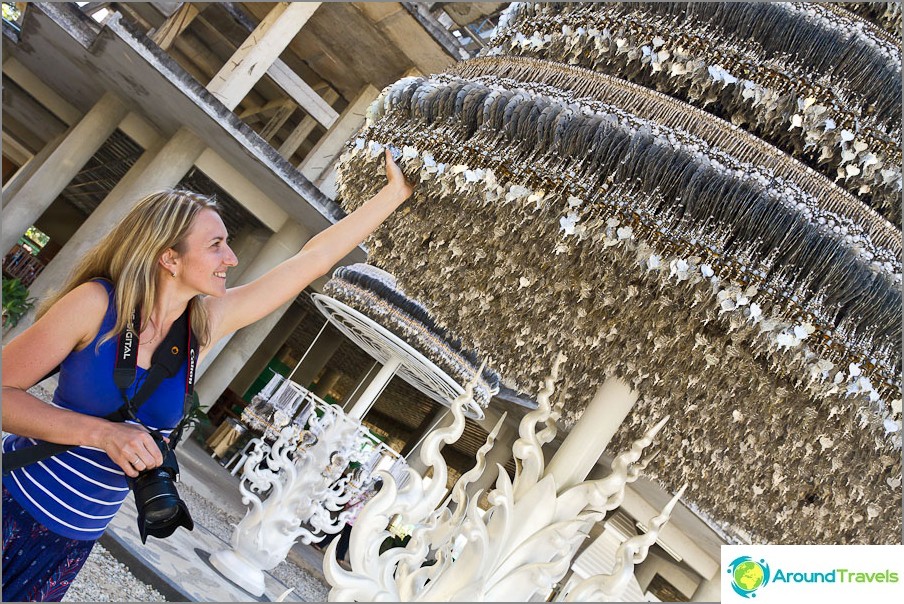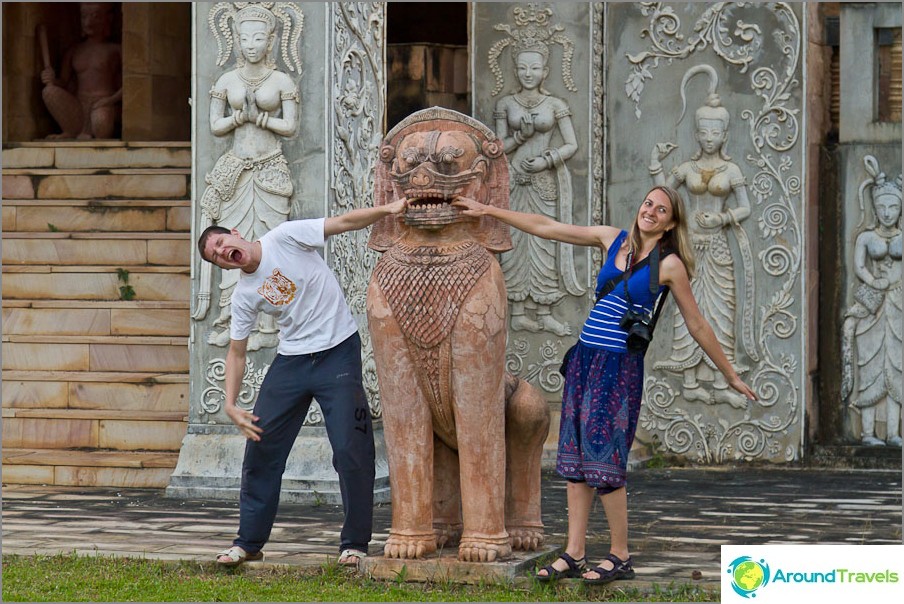 Day eight
The most difficult day ... We were not as lucky with the night bus as the first time. There are only tickets left for the regular class, so you have air conditioning from all the cracks, and rocking with characteristic sounds, and cramped. But it was not over yet, then the second bus from Bangkok to Trat, minibus to the ferry, ferry to Koh Chang, minibus to the desired beach! And our Katerina was unwell since the evening. I can say that she endured the entire move with courage and dignity, like a born independent traveler..
This evening, the only strength left was to settle in bungalow White Sand Garden, swim and dine.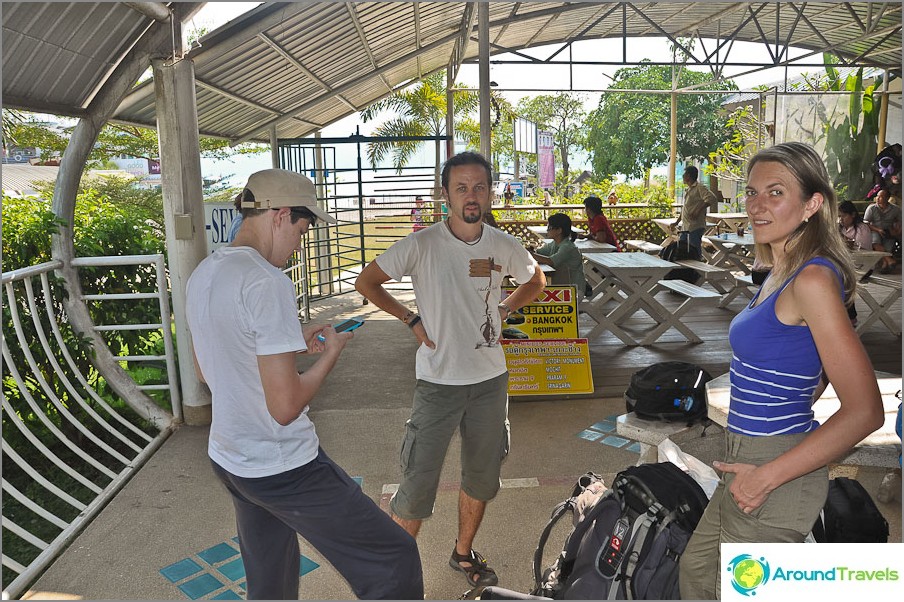 Day nine
Here it is the long-awaited sea-oceans! But first we call in Klong Plu waterfall swim in fresh water, and only then we rent kayaks for several hours to surf the expanses of the sea surface and see the small islands that are within reach. Physical activity is good, the most it is, at the same time, enjoy the views and silence.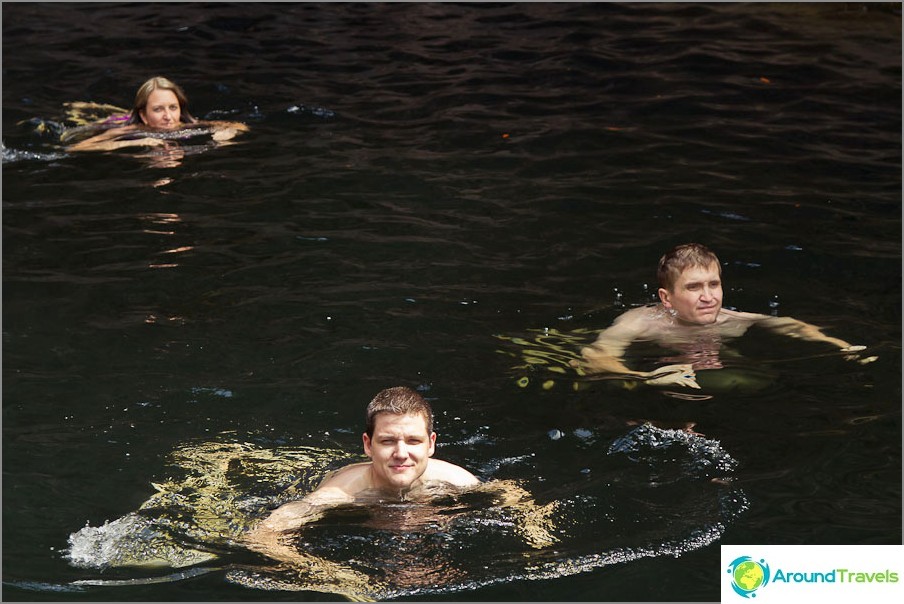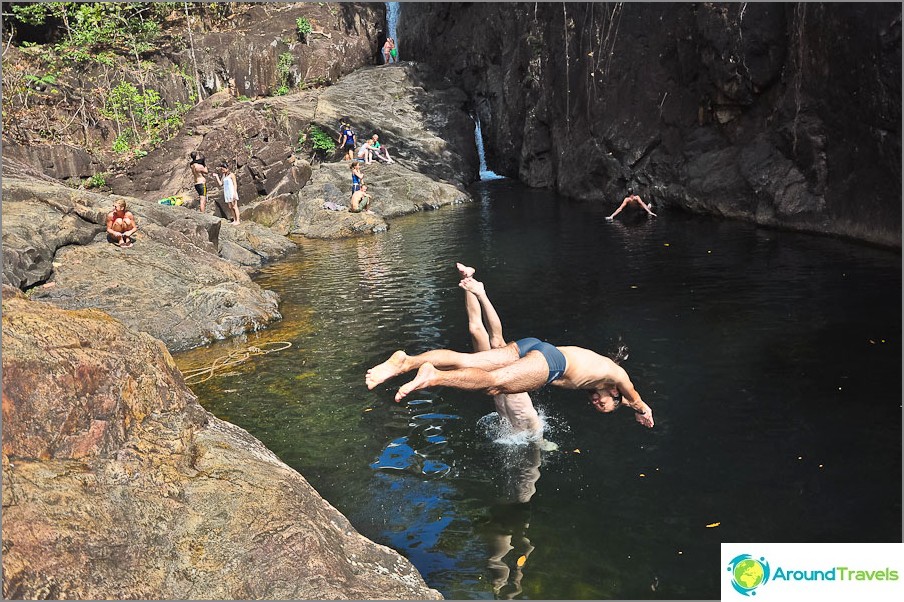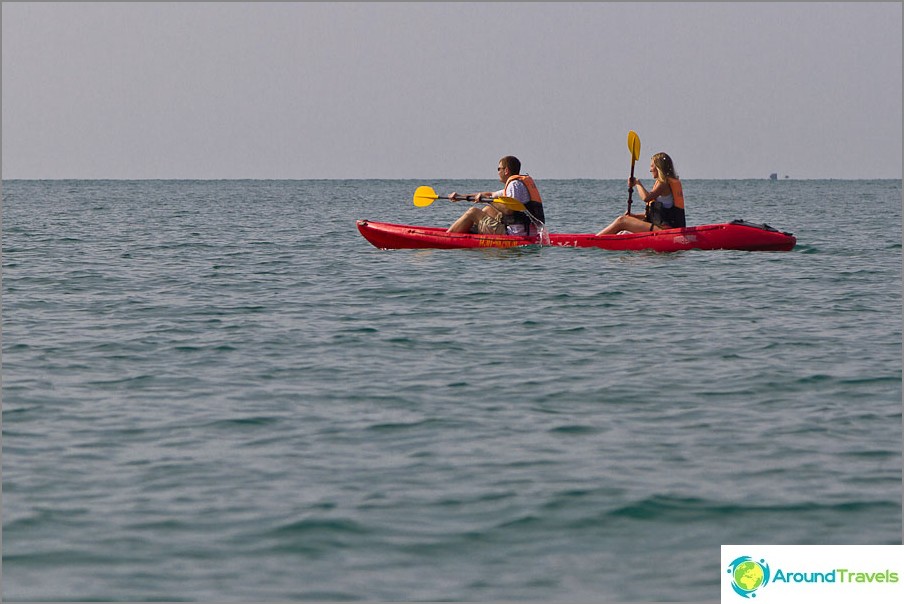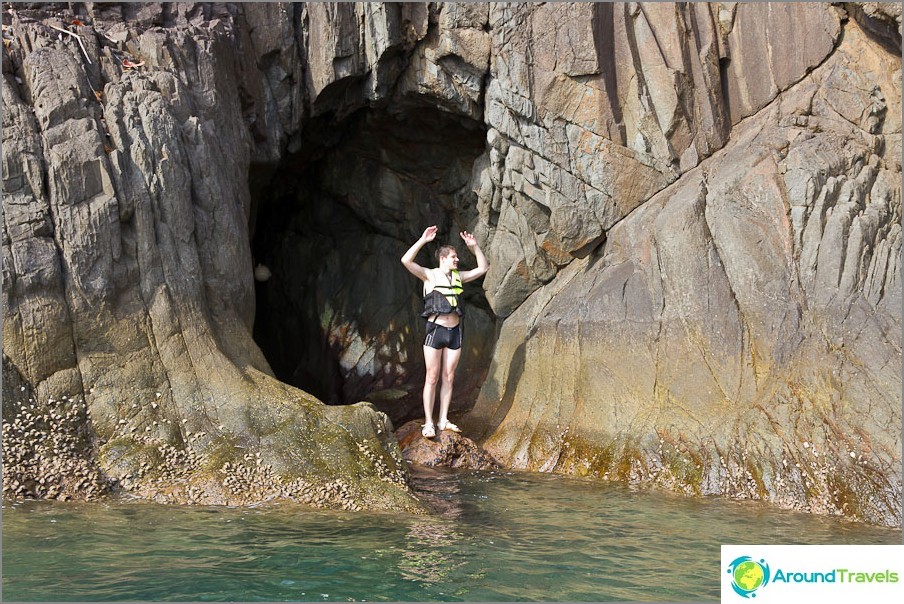 Day ten
Did you climb trees as a child? So we, too, fell into childishness for a short time and for a couple of hours wandered along the rope paths of Tree Park and flew on ziplines over the palm trees. On the last day, there was no strength left, the impressions were already above the roof, so we just went to the sea to relax, lie in hammocks in a cafe and snorkel a little, as far as possible near the shore.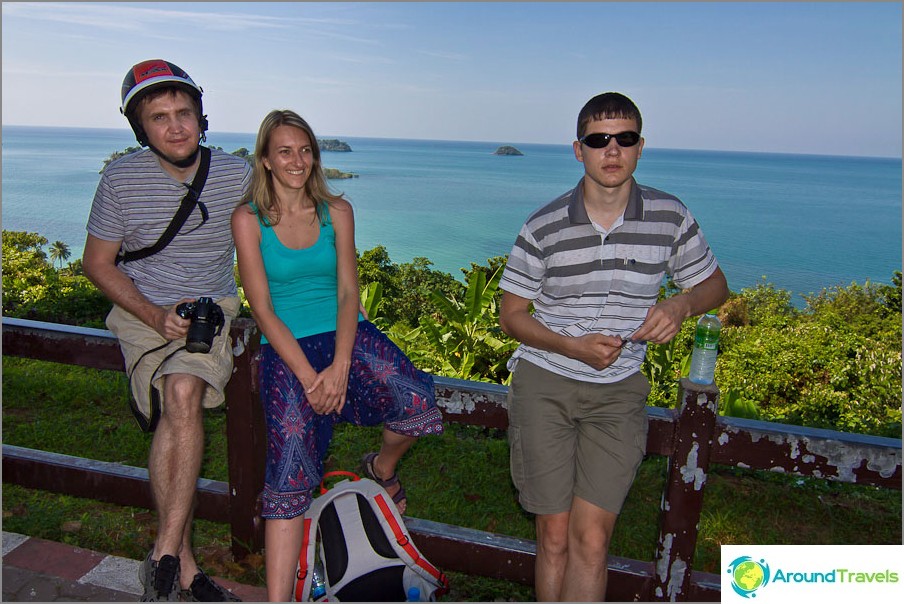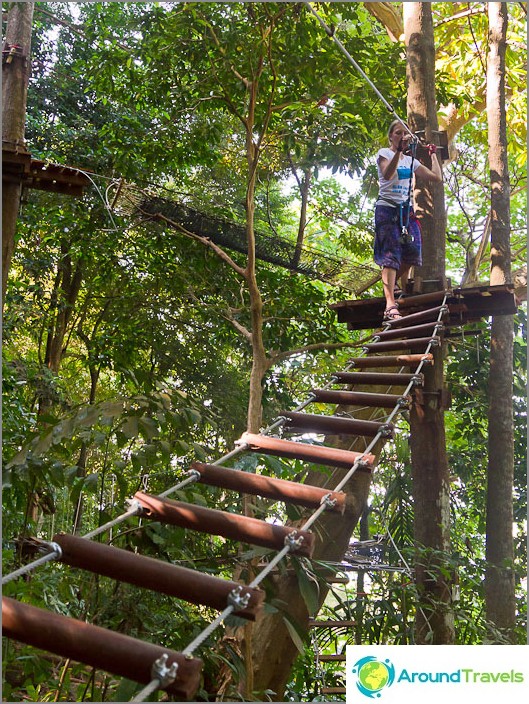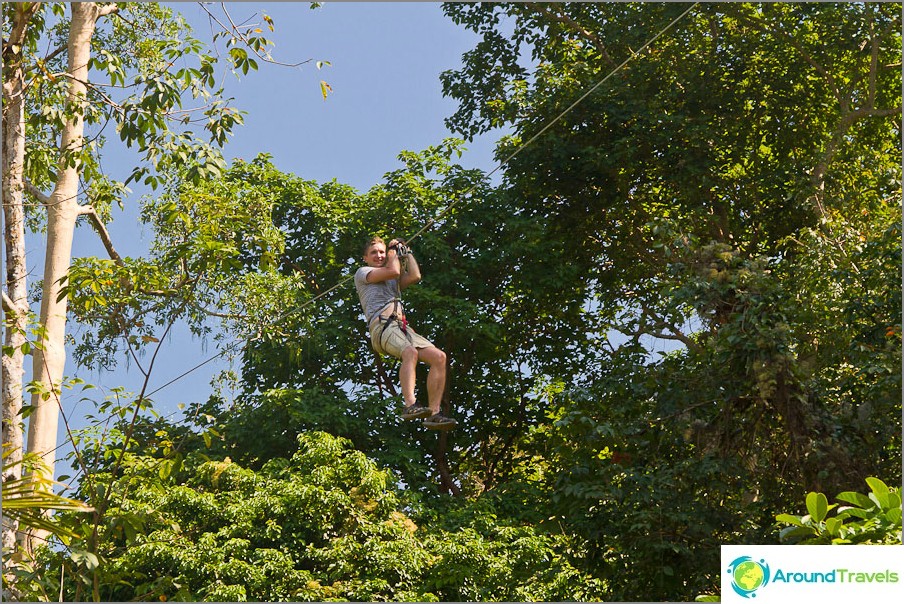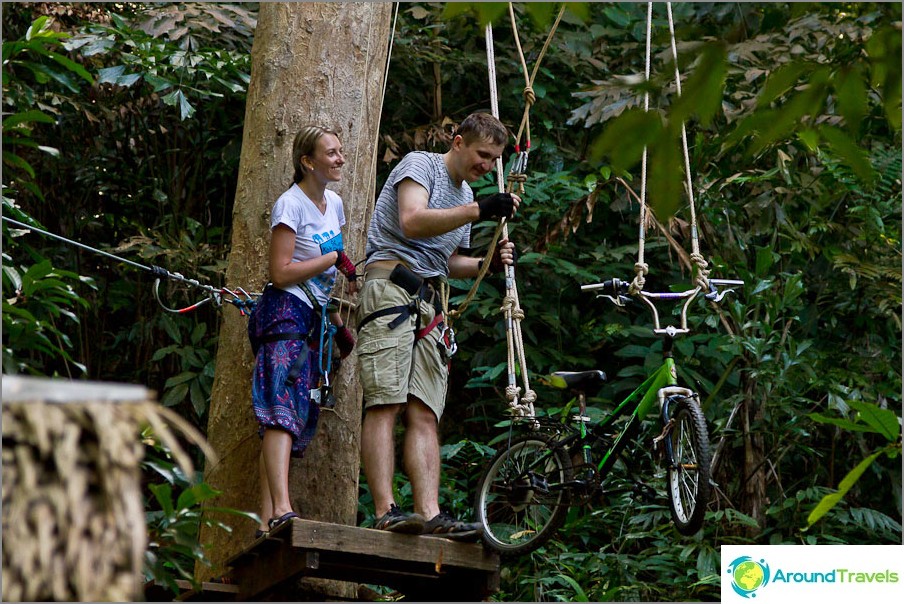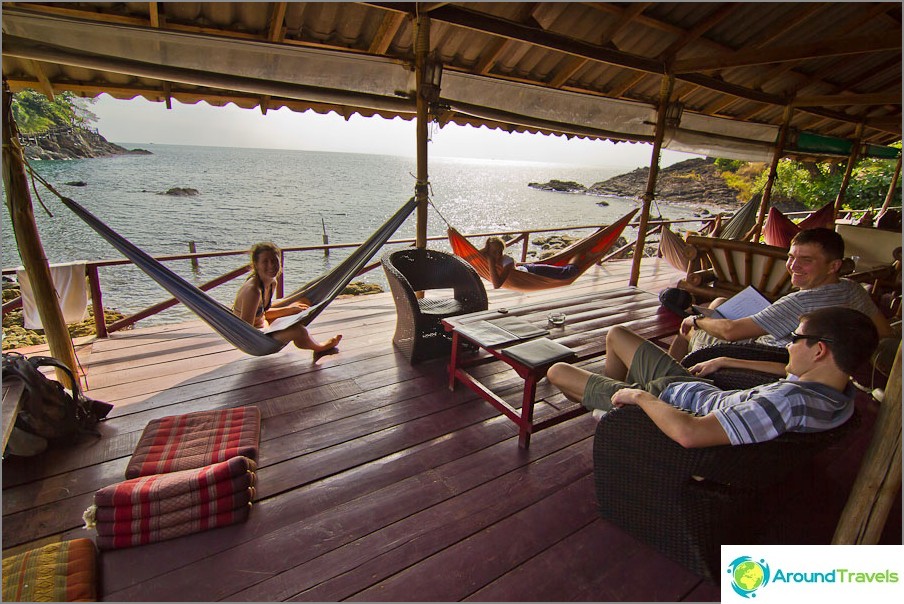 Video
P.S. Photos without Life-trip.ru watermark, as well as video belong to Igor and Katerina. All other photos from the trip, taken by me, you can see in the albums of the social networks Vkontakte and Facebook, who is more comfortable with what 🙂