Why did I throw a cry and collect these stories? Not really to show straight «ideality» Taya. I am sure that all sane people understand that in any country, there are good and bad, swindlers and virtues, sincere individuals burdened with tourism ... Therefore, absolutely any country and people can be presented in the light you need. But! There is one such big «but». For some reason, the number of positive stories among my acquaintances and friends who have been in Tai or live here is off scale ... By the way, from my personal experience of living in Thailand for a year, I can collect as many stories as will not be collected for the rest of my life in Russia. This is not bad or good, it's just that we (Russians) are different, we behave and act differently.
Positive stories in the land of smiles
Svetlana Nekrasova
On our first visit to Thailand on the island of Phuket, we dined at a restaurant overlooking the sea, which was the first one we came across on our way from the hotel. Of course, we planned to find a cheap Thai cafe, and due to inexperience we wandered into a cool restaurant at a five-star hotel. We sat very well, but decided to continue to eat in simple cafes in order to save money. The staff there was friendly and every time we walked past the restaurant (3-4 times a day), the guys came up to us, greeted us, smiled at Yulia and talked to her. They even spoke Russian «Julia, how are you». We smiled back at them)
So that's it. When we with the watermelon, which we had for dinner, settled on the stones next to the sea, we heard the Thai shout something, as if calling, but did not even think that it was for us. A few minutes later, a guy from that very restaurant brought us spoons and wished us bon appetite. I was shocked! Enjoy it, of course! It's just that the stones where we are located can be clearly seen from the restaurant and he was not too lazy to make such a kind person. I rather expected that we would be asked to leave from there, rather than bring spoons! On the way back to the hotel, we returned them, and this incident somehow kindly set us up to the Thais..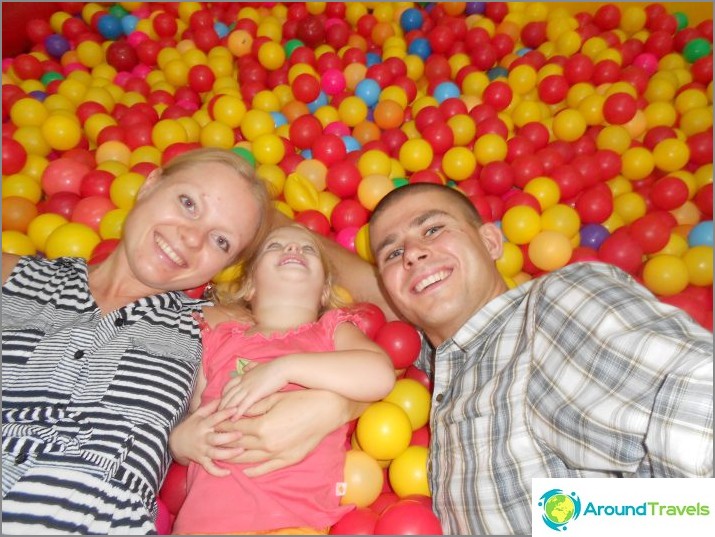 Alexey Matveev
I forgot my bag with photo and video equipment on the bus, got on the ferry and sailed to the Koh Chang island, where I immediately discovered the loss. I already thought that I could return nothing, but no, a couple of calls to the transfer company and we were told to return to land. There they were already waiting for us with my bag. The bus driver got a call and he came back (!), Gave the bag to the company employee. Then we were put on a ferry for free and sent back to Koh Chang. How, my surprise knew no bounds! They strained so many people because of my confusion, otherwise they could have taken my equipment for themselves. Special thanks to my companion Nastya, who helped me get her back, since I don't know English, she was in charge of all the negotiations..
Ekaterina Batova
«Sorry, sorry, sorry» - just endlessly repeated the smiling Thai doctor, trying to take a swab from the throat of our 11-month-old baby. Do doctors often apologize to you in Russia? Before me never.
We, with our son, with a high temperature, got to the Bangkok hospital on Koh Samui. I've already heard about the level of this hospital. Yes, indeed, everything is very clear, fast and professional. But that's not the point here. It's about attitude. I've never, well, just never seen so many smiles in our clinics. I'm not talking about free, it's somehow incorrect to even compare with this. But even in paid, cool centers, no one ever smiles so much at your baby and so sincerely. While his blood pressure and temperature were measured and the card was filled in, 5 people from the medical staff managed to talk to him and everyone tried to make the baby laugh, cheer him up and cheer him up. But most of all I was amazed that the medical staff explained each of their actions, i.e. they didn't just climb into my child's throat or ears, as is customary with us, but before each manipulation, they seemed to clarify if I was against it. And when it came to taking a swab from the throat for analysis, our boy resisted and began to be very indignant. And the doctor began to completely sincerely apologize and continued to do so until the young man calmed down with a cup of tea in his teeth. It surprised me so much ...
Then, on the way home, a thought occurred to me. After all, almost all of us, adults, adequate people are afraid to go to doctors. And like many fears, this one has legs growing out of childhood. And for some reason it seems to me that if from childhood we, going to the doctor, understood that there we would be met by a smiling person who would always clarify whether he had the right to get into your nose / ears / mouth and that he would sincerely apologize for the inconvenience, we would have a completely different attitude towards doctors in general.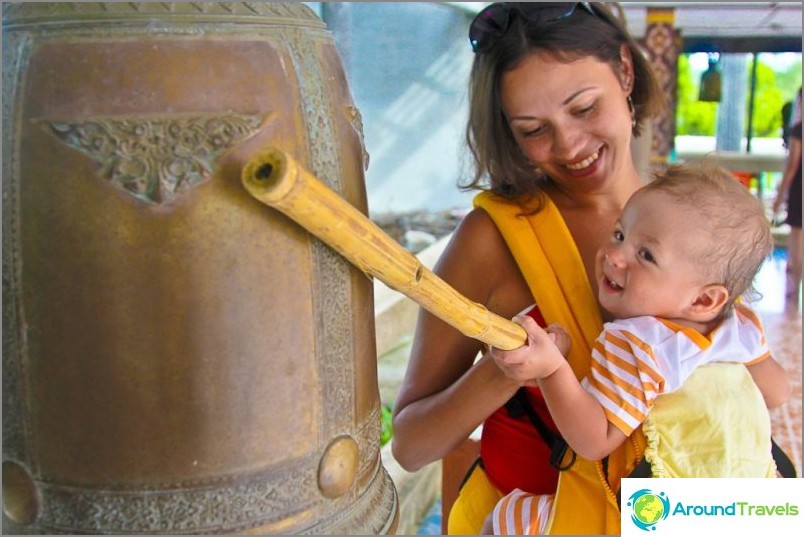 Once we were looking for a bungalow in Pai, came to the same complex and they told us a certain price. Like fools, we decided to ask: is there somewhere cheaper? What was our surprise when they answered us: yes, there is, so go there around the corner and there will be bungalows at the price you need. Ahhh, who does this business? After the Russian realities, where everyone is trying to convince that only he is the cheapest and we can't find anything better, such a Thai desire to help even to the detriment of his earnings seemed to be something unreal.
Tatiana Shtengauer
The story is banal. We lived on Riley and decided to go to the end of the peninsula, got to a bar, or rather a hut and a bar and a lonely Thai man. We went to collect shells and decided to have a beer. He was delighted with us as a family, we drank beer with him. Then the story of the Thai about his dream to see a hippopotamus and a long story about what they are, after that we gave him Russian money and a bottle of whiskey, he roused himself and went somewhere, returned with huge shrimps that we cooked together and ate and drank to songs by the fire ... just a sincere attitude, and the fact that he shared his food with us, moreover, it is clear that he lives very poorly and did not take money from us, although we drank beer in the bar. On the island of phi, where we spent quite a lot of time, at the kiosk, the saleswoman constantly gave us ice cream and beer to the water, although they never asked, they just constantly bought. Just their spiritual attitude ...
Alla Kovaleva
When you are a mother, you perceive people depending on their attitude towards your child. We, of course, read before the trip that children are loved in Thailand, but we never thought that much. Every day, our almost 10-month-old daughter is amused, praised and generally shown in every possible way. Taika Lina, from whom we rent a house, congratulated Gerda on her 9th month, she gave her a dress and a note with the words «Gerda, Happy B-Day, I love you. Lina». And she really loves her very much. When the child was ill for several days due to teething, Lina asked several times a day how she gave us a teether, worried.
And my husband and I are always very grateful when, in a cafe or in a massage parlor, the staff entertains and fiddles with our daughter, and we can relax a little.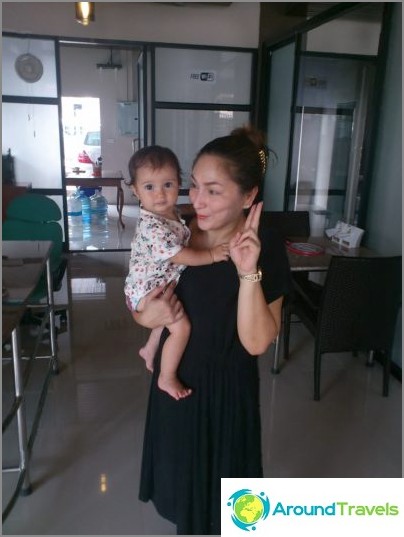 Alexandra Bulygina
Once at the Tesco store, which is 2 km from our condominium, we stood loaded with bags and could not get a taxi. A policeman came up to us, brought a cart and loaded our bags there. And then he went with us to the road and drove each taxi with a baton until one of the taxi drivers agreed to take us home. We were completely at a loss and laughed to ourselves, thinking what our policeman would do in a similar situation..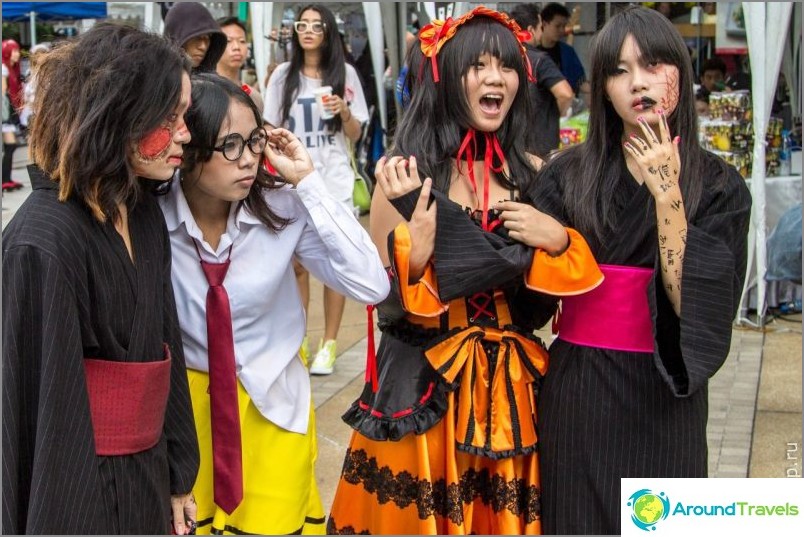 Animal little
In the spring of 2012, we rested with a girl on the island of Chang. Once we were returning on a motorbike from a long trip around the island. On the way, they were overtaken by a moderate rainstorm. Having managed to pass the most difficult part of the path on slippery asphalt, near one of the view-points they suddenly lost control of the vehicle. At the exit from the hill, the bike led, and the further way down, to the turn to the view-point, we (me, the girl and the bike) separately did somersaults along the road. Thank gods, everything was done with abrasions and a small shock, without serious injuries. Not having time to really come to our senses after the fall, we immediately found ourselves in the hands of several Thais, who appeared as if out of the ground. Local residents quickly began to wash us with water from a hose and treat us with antiseptics. After making sure that we were safe, rinsing the bike and evaluating with gestures and facial expressions its condition after the fall as satisfactory, we were released on a further journey).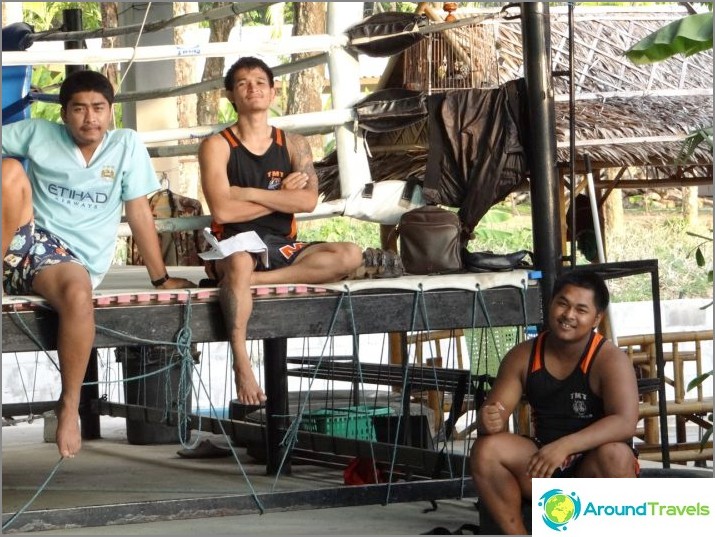 Maria Sokhatskaya
Two years ago there was a warning about a possible tsunami. There was an earthquake and wave risk in Indonesia. So, when the warning sirens howled, I was at home with my one and a half-year-old son, with a secret who is cleaning my house and with her two children, they helped her with cleaning. My husband was diving at sea. I am without a car. Thai on a moped we can't all fit on. We conferred with her, decided that she would first take her children to a safe place, and then come back for us. They left, we began to collect documents and all sorts of things and watch how the neighbors are loaded into cars. We went out onto the porch with a backpack in the back - things are in it and with a backpack in front - there is a child in it, farangs, including Russians, are driving past us, no one offers help. The wave was promised in an hour and a half from the start of the siren. An hour has passed. I think another 10 minutes and I will hitch a ride. But then my secret comes.
We jump on a moped to her and drive to her house, there are 2 cars waiting for us (those with open buggies). Tomik and I were put into the salon and taken to the mountains, there is a small house, mats on the porch, homemade food. So they waited out the threat and drove home by 11pm))
Irina Domnicheva
I have been living in Thailand for the seventh year and I never cease to be amazed at this people. When, while traveling to the southern borders of this wonderful country, a huge cobblestone flew into the glass of my car on the island of Ko Lipe, one could assume that we had big problems. Because at that moment we were already several hundred miles from some more or less decent city life, with its workshops and services. The question arose of what to do with a car without a windshield, how to leave it parked in the port. Leaving a car open in a parking lot in any wilderness in Thailand is not a problem with the safety of things in it, the problem is that if it rains, it will simply flood in the open area. So I thought while we continued on our way to the pier, of course, without a windshield at all, enjoying the oncoming air flow and the scent of flowers.
When asked where the glass can be replaced, the owner of the parking lot answered: «10 km. there is a workshop from here, but you can leave me the keys and money and I will do everything, and when you return in 3 days the car will be in perfect order and you can go». It was great, but I was even more pleased with the answer to the question - how much will it cost?
«Around 1500-2000 baht, I'll give you a check.» - said the Thai. 1500-2000 baht for which, I did not understand, for the fact that you will take the car for repair? «For everything, for glass, for repairs and for what I will take.» - this was the answer of the owner of the parking lot.
We left him money and went to dive on Koh Lipe. The trip was great, the diving was impressive, but replacing the windshield with a Toyota in a Thai village a couple of hundred kilometers from the nearest town, and even for 1800 baht (we were then given a check), I and our tourists remember no less than four-meter sharks of a nanny and 45 moray eel on the reef «eighth mile».
Vera Tarasova
I lived in Tai for only a month and a half, but during this time I got the impression of them as very positive people.
The guys who work in a cafe on Koh Samui are most memorable. This cafe is located at the intersection of the main road with Mae Nam 1, next to a supermarket. It is small and simple. But the people working there all the time smiled, laughed, teased each other and looked so happy and independent that I still remember the expressions on their faces. As if people completely accept the life they live and get the maximum buzz from it. Actually, this is how you need to live, it seems to me 🙂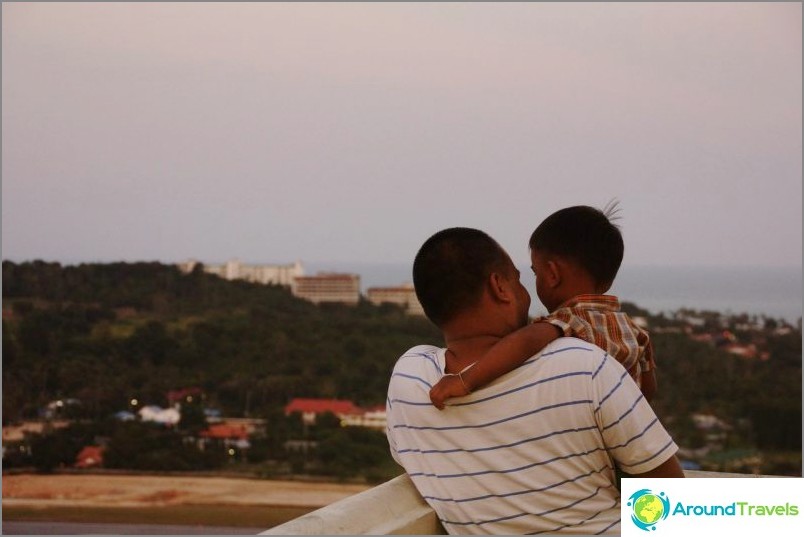 Natalia Solnechnaya
One fine day, my husband and I decided to go to the hot springs. On the map, we roughly found where they are. We took off the bike and moved in the direction we needed. And somehow it happened that we lost our way, and lost the map that helped us so much. And as luck would have it, cars don't drive along this road, and people around you are not visible at all, and soon it will be dark and scary. And there was also a fear that we would soon run out of gasoline in the bike and then we would definitely get acquainted with the night fauna of Tai..
To our great joy, a pickup was driving towards us! We began to wave our arms, although he already began to slow down when he saw us on the road. A Thai man came out of the pickup, who apparently did not know English, but his wife, who understood very little English, was traveling with him. We explained on our fingers what we need in Ao Nang. We thought that they would give us a wave of the hand in which direction we need to go in order to get onto the highway leading in the direction of Ao Nang. Imagine our surprise when the Thai waved his hand, like follow me, turned his pickup around and drove forward, where he came from! We drove for 40-50 minutes, and had no idea where we were going for the pickup, all sorts of bad thoughts got into my head! And after a while, we drove onto a large highway! The Thai stopped, got out of the car with his wife, and they explained to us that along this very highway we will reach the place we need. In general, we tried to thank the Thais with money, but they did not take in any! Moreover, the Thai woman got a couple of pineapples out of a pickup truck and gave them to us! Saying goodbye to us, the Thais left in the same direction from where they had brought us! I still remember them, and I am grateful that they helped us so then.!
Arseny Kamyshev
from Samui I remember the owner of the courtyard with our first houses, such a very old, smiling. All the time I came with my daughters to clean up the yard, to tear some grass, cut palm trees, take out the garbage. He will always play with the children, give them something, smile. When I found out that Elka (wife) had begun to learn Thai, I helped her, drew something with a stick in the sand, and told her. She always came and told something when the lights in the area were turned off. I drove and still rides an old bike, it is not clear how it is still alive.
This seems to be a completely typical situation, but: then I learned that she not only owns our yard for six houses, but two more are under construction, she and her husband have their own sawmill and a construction company. An absolutely rich inside and an elegant home. And nothing ... An old bike will always help, give something, smile, clean up by itself. Cool 🙂
Mikhail Schwartz
A couple of years ago, I lived for more than six months in Thailand near Hua Hin, and at the beginning of my stay a remarkable story happened to me that well demonstrates the attitude of Thais towards others. I rented a scooter, although I had never driven it before and was an inexperienced driver. And a week later, when my inexperience in driving two-wheeled vehicles unsuccessfully superimposed on the unusual left-hand traffic, I had an accident. I had to cross the Khuakhinskoye highway along Soi 116, but I did not calculate and did not have time to do it - already almost at the opposite side of the road I heard a scream and a moped with a secret vehicle flew into my left side at full speed. Both mopeds were scattered to pieces, the sneaker tumbled over his head, flying over me, and I rolled over and rode on my side on the asphalt. Fortunately, despite the fact that both mopeds were completely unusable, apart from abrasions and shock, neither of us was seriously injured. But the most interesting thing started right after this incident. In Russia, we would most likely lie alone on the asphalt for about half an hour, surrounded by a bunch of spectators, while the police slowly arrive, and then we would find our story on a YouTube.
This is not how it happened in Thailand. In a matter of seconds, about ten people appeared around us. A couple of people lifted us up and sat us on the steps of the store by the road, at that moment two more quickly removed the wrecked mopeds from the highway, others collected large fragments and plastic from the road, the third brought the confused food and things of the poor secret, the fourth during this time somewhere in time find cotton wool and iodine, give us water. Three minutes later, the police arrived, but making sure that there were no serious casualties and we would sort out the situation between ourselves, they immediately left. Of course, I felt guilty and, of my own free will, fully paid for the repair of both mopeds and a couple of days off for the Thai, who, although not particularly affected, was very frightened. It would seem that I, a stupid inexperienced farang, almost killed a local woman. But in this whole story, I did not notice a single crooked look from the local residents, and I did not hear any accusing intonations addressed to me - I expected the worst, but I felt only help, sympathy and support..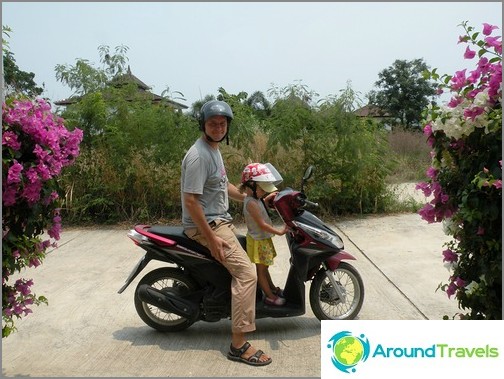 Yulia Kozhevnikova
My husband and I rested in Phuket for the second time in April. Somehow passing by countless cafes they heard «A glass of vodka on the table» with a Thai accent) Couldn't resist, sat in the front row, met. There were 5 days left until the end of the vacation and these last days we spent in his company, the Thai turned out to be so open, he talked with us with pleasure, talked about Thailand, we sang with him, danced (there are photos and videos), in 5 days he became our family friend. He said where to buy souvenirs and cheaper things, offered to take us to the night market (we were without a bike and without a car).
One day he was wearing a T-shirt with the inscription: «Used man For rent.» Many Russians naturally smiled at the sight of this inscription, we were no exception. And the next evening a Thai man came up to us with a package and took out exactly the same T-shirt and gave it to my husband). My Dima was delighted! And then the Thai asked me what kind of T-shirt I would like to remember, with what inscription. I said that I didn't care, and the next evening he gave me a T-shirt with the inscription I LOVE PHUKET, said that it was just a keepsake. When we flew away, my husband and I came to this cafe, said goodbye (we were already upset), gave the Thai a good whiskey, agreed to chat on Skype, Facebook, sang karaoke together and ... flew to Russia.
More than half a year has passed, we still communicate with him, we sometimes help him to translate something from Russian, we dump popular Russian songs for him (he teaches and sings them), and he told us that if we decide to move to Phuket, then we can count on his help. That's how we got a Thai friend named Mr. Razak.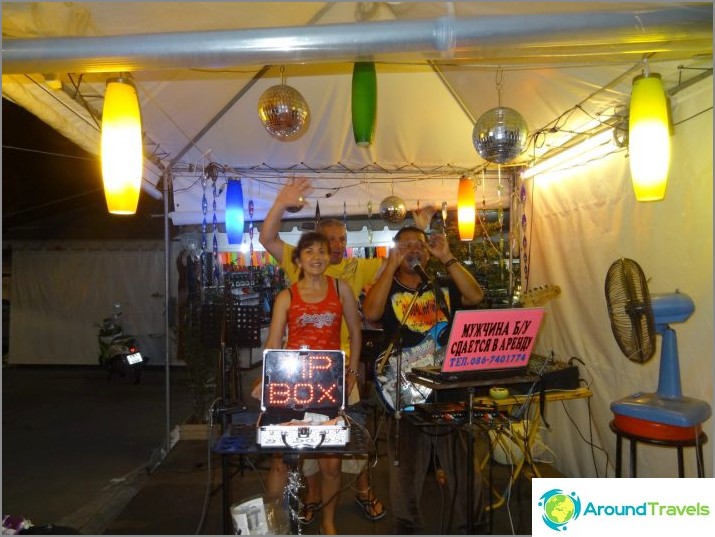 Alexander Shatskikh
We hibernated for six months in Tae, in Ao Nang. Once my wife and I went on a bike to a snake farm, but before reaching 3 km to the farm, our bike stalls. Around the jungle. The road is not very passable. (in the sense that rarely anyone drives on it) I try to start the bike - zero reaction. I tried it this way and that - nothing. Nothing to do, walk in the opposite direction.
We roll the bike, we go for about 20 minutes. And then the Thai goes to meet us. He drove up, stopped, does not speak English. He points his finger at the gas tank (apparently thought that we ran out of benz), we nodded negatively. Then he tried to start our bike himself. We were still surprised that he cares about us 🙂
Realizing that the bike will not start, he makes us a sign with his hand, they say sit on the bike. We sat down. He turned his bike around, wound up and, resting his foot on our bike, drove us towards the nearest village. We drove like this for about 15 minutes. Slowly but surely. I can imagine how much we would have walked ...
We arrived at the nearest workshop. He clicked someone there and pointed to our bike. He waved goodbye to us and drove back smiling 🙂 That's how he helped us, even though he was driving in the other direction! After Russia, we were pleasantly surprised. )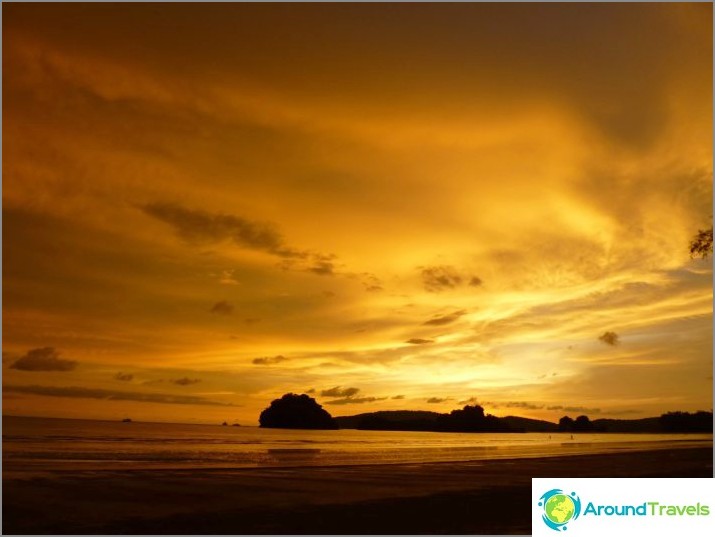 Irisha Zhdanova
Once my husband and I were on Koh Chang and agreed with a local travel agency that the next day at 9.00 they would pick us up and we would go fishing. We woke up at 7.00 in the morning, I went out onto the veranda 3-4 times to hang my clothes, look at nature, etc..
And next to us, a stone's throw from our house, stood a Thai aunt who smiled sweetly. I told her:»HI)) How are you)))?» She answered: «Good Morning and of course the smiles».
When the time came and we went down from the clock house at 8.40, we saw a minivan standing next to it and the SAME TAIKA, which was from this travel agency and revived us all these two hours and was silent))) I don't know what lovely Thais have thought of us and two Germans who were sitting in the car to go fishing as well) Apparently, the local travel agency misguided the time)) The fishing was awesome)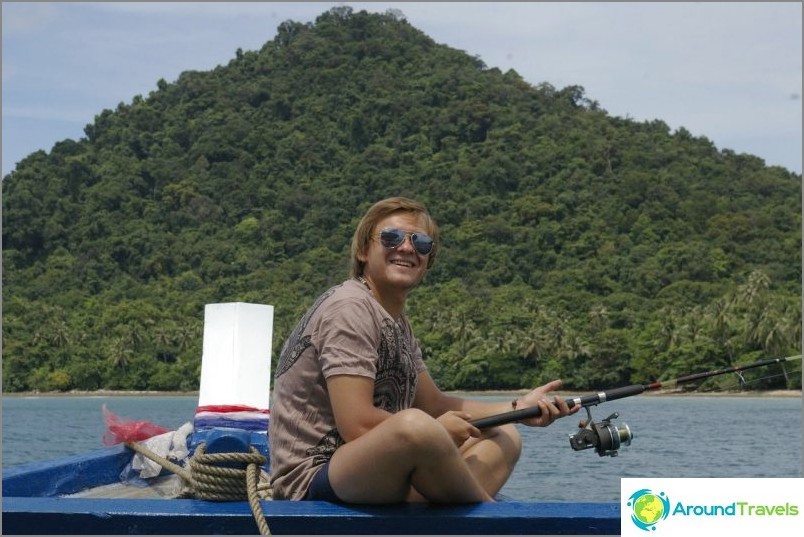 Ekaterina Alekseeva
In general, we hitchhiked a lot. And there were a lot of adventures. But one case is strongly remembered. We drove from Chiang Rai to Pai. And we planned the route so as not to call in Chiang Mai, since it is difficult to get out of the city there. Nobody just stops.
The first car was caught. A nice married couple took us out of the suburbs, although, as it turned out, they were not at all on their way. They are so, out of the kindness of their soul 🙂 And then a pickup truck with a Thai couple stopped. In order not to go into details for a long time, we say that we are in the World Cup. If anything, we'll knock him to stop at the intersection in Mei Rim. He says: we are not in the World Cup. We thought so and asked him to throw us wherever he could, and then we ourselves. And jumped into the back.
We drove 200 kilometers with him. And we looked, we stopped at the bus station. The Thai gets out of the car and goes to the cash register. Hmm ... maybe he went to buy a ticket for his girlfriend ... But no. He waves to us: come out. And gives the tickets. I reached for the money. And he: know mani, know mani. He put us on the bus and made sure that we left, waved a pen. We freaked out for a very long time and then walked away from shock for another 2 days, what could this possibly be.
Well, in general, they a priori believe that if you vote, then you need to drag you to the bus station, because if the farang votes, then you are lost. There were a lot of funny things with this too 🙂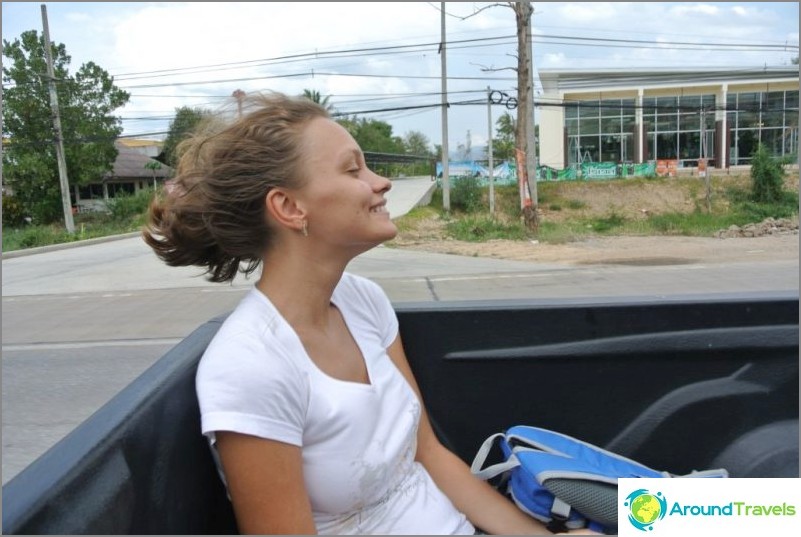 Maria Butorina
We moved to a new home and decided to wash all bedding, towels and bedspreads. But it turned out to be not so easy: the duvet cover could not be removed, it turned out to be sewn together with the blanket according to the color of the set. There is nothing to do, they found a large package, rolled a blanket there and took all this stuff to the laundry.
They didn't bother in the laundry and paid for the full service, drying, and left on business. We returned to the laundry very late, at about eleven o'clock. The Thai hostess, seeing us, was embarrassed and replied that nothing was ready yet and that it would be better for us to arrive early tomorrow morning. In fact, no one promised us that they would do everything quickly. We just thought to take at least some of the things for now. I said: «And how are we going to sleep today?» A question in the air, rhetorical. But the secret woman looked at us carefully, said to wait and went up the stairs. I thought that she would now bring some of our linen, which is already ready, but she came down with completely different linen: pillowcases of different colors, the blanket is not from the set, but everything is clean and ironed. Well, I think I messed up. I say: «This is not our underwear». To which she replies: «It's the same. Take it for yourself today, and tomorrow you will return it and take your». We did not refuse. The next day, they took their clean and neatly packed laundry. For washing this «replaceable» no money was taken from us. What struck me: a person gave us underwear absolutely free of charge from the bottom of his heart, just because we are so inconsiderate, we washed everything at once and did not think about what we would sleep on! She may have given us her personal bedding. In any case, she had absolutely no obligation to do so. We were discouraged, I don't think you can find something like this in Russia.
Alexey and Maria Glazunov
Once, when we were living in Chiang Mai, we decided to go to «visaran» to Laos by hitchhiking. Hitchhiking in general in Thailand works just fine, this in itself says a lot, in terms of the attitude of Thais to the people around them in general, and to foreigners in particular. During the whole journey, we have never stood on the track waiting for more than 10 minutes, cars stop very often, and even those who do not speak a word of English - just to help.
We made a great trip to the border, glancing at the White Temple on the way, staying in Laos for a while, and already returning back, but did not calculate the time a bit and did not take into account the fact that Thais do not like to travel long distances in the dark. We stood at about 8 pm on the outskirts of Chiang Rai, and, firstly, because of the darkness in general, cars began to stop fewer, and, secondly, no one drove at least some distance. It was already decided to return to Chiang Rai and spend the night there, but the Thais from another car said that there is a night bus to Chiang Mai (according to our information, the buses did not go anymore) and they could take us to the bus station.
We agreed, but upon arriving at the station found that there was no bus, after all, then they offered to take us to some hotel. We refused, as we were outside the city, and they were driving in the other direction, but the driver insisted and they took us back to Chiang Rai. We drove up to one hotel - there are no places, to the second and the third - the same thing. We tried to send hospitable Thais and explain that now we will find accommodation, but they did not agree to let us go. As a result, in one of the hotels there were vacant rooms, but at a price of 800 baht, and we expected to spend no more than 500 baht. Taets took out 400 baht from his wallet and offered to pay half =)) After that we could not resist, thanked for the help and, saying that we will stay here and we have money, sent a friendly Thai family home.
Afterword
Of course, in our homeland there is a positive one, who would argue, but it is unlikely that it will be possible to collect such an amount in a couple of days. I remember we specially went with the project 365 days within Russia in search of positive. And we found it! But I had to filter and ignore many other things. Until now, all the participants in that trip remember her with warmth, including us. We got such a positive charge! That's just in everyday life, in ordinary life, when you relax and stop concentrating on the good, something is not enough positive ... In Tae, without straining, and without doing anything specially for this, you come across him here and there.
Where do the negative stories about tourists' divorce, about boorish attitude and so on come from? Everything is simple - some did not understand where they were going initially, others did not at all try to understand the local culture, transferring Russian realities to a foreign country, and for the third, some kind of minus got so far across the throat that the whole world was not nice. Plus karma, probably 🙂 The more I communicate with people, the more I understand that Asia with its peculiarities is really not for everyone ... Most of all, it is striking how Russian tourists try to explain something in Russian or terrifying English, raising their voices and with a stone face , and then they curse everyone around that they are not understood and are not helped. And they also do not realize that an employee in a cafe, indeed, sometimes cannot even calculate on a calculator, and the point is not at all about the desire to breed someone for money.
Yes, there is an opinion that Thais do not really like foreigners / Russians, and, on the contrary, a bad attitude is hiding behind their smile. Everything can be, I do not deny anything, people are all different. But in my opinion, the result is much more important: they smile at me and it makes me feel good, they help me and it makes me even better. And what's the difference what a person was thinking about ...
Surely, with the appropriate attitude and expectations, smiles on faces can be seen in Russia as well. I do not argue, but my karma and level of enlightenment are still not enough for this. Rather, I just live more or less evenly, neither terrible happens, nor beyond good 🙂
Take Samui for example, one of the last opinions: everything is terribly expensive here, Thais breed everyone, considering whites to be an inferior race, housing is terrible, dirty, food is not tasty. What I see: an excellent rented house for inexpensive, in shops and cafes they often make me wai (a sign of respect), they rented a car without a deposit and a passport for a small amount (and then they also upgraded to a better model), I am constantly on the market they put free bananas or a couple of mangoes as a bonus, I buy a delicious padtai for 50 baht in a local cafe, the beaches are clean after the Sochi ones, our expenses are about the same as in Moscow, only they also include rental housing.
P.S. Let's try to collect negative stories to complete the picture.?