This informational post is for those who travel to Turkey in Kemer or Antalya, and accordingly in their vicinity. I already talked about our trip to Olympos and Cirali, about impressions and adventures. And now scanty information for independent travelers.
A description of our entire independent trip (buses + hitchhiking) can be seen here - Independently to Turkey.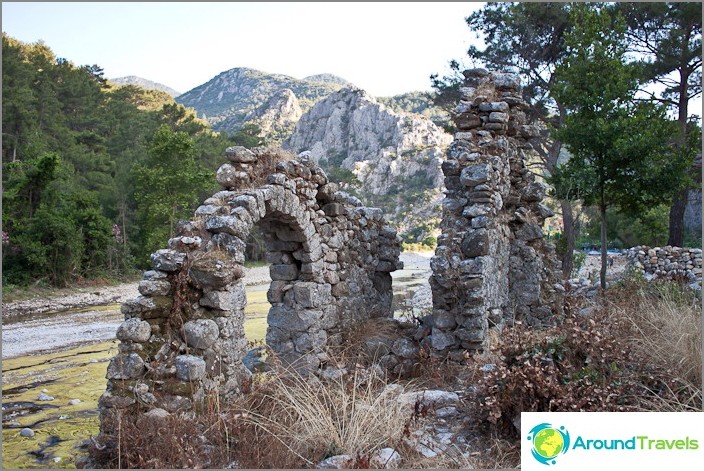 I won't say that we searched for Olympos and Cirali for a very long time, but we had a GPS and a guidebook. If not for this, I do not know how long we would have wandered through the villages and the coast. Although now everything seems very easy, and perhaps only we experienced some difficulties in finding a place.
The thing is that there are two pointers to Olympos and this is a bit confusing. It also confuses that not all maps can find these towns, although they are located next to each other. First a map, and then I will try to explain how to get to Olympos and Cirala, and what is the difference between these paths.
Olympos Map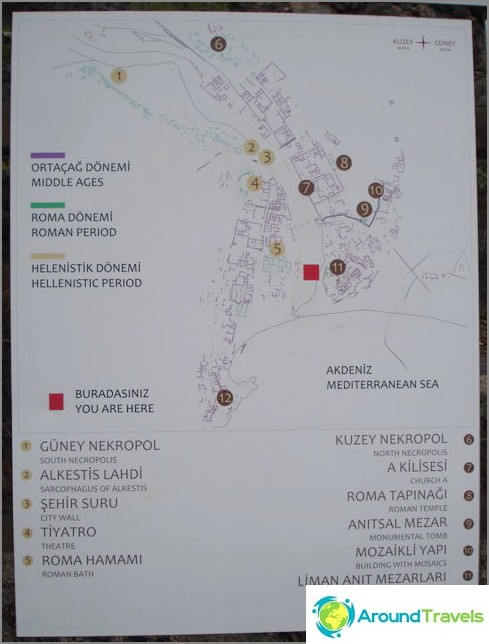 Olympos is the ancient ruins of an old port city, facing the sea on one side, and located on the banks of the Ulupinar River. Nearby there are cafes and hotels, some of which are in the form of wooden tree houses. There are both huts without amenities and luxury ones. Modern hippies hang out here, ordinary tourists rarely come here.
Cirali is a small seaside village with private hotels and a minimum of entertainment and civilization, a wide strip of beach and a small number of people. Quiet place for a relaxing family vacation, as well as for relaxing with a tent on the shore.
How to get to Olympos
So, if we live in Kemer or Antalya, then the easiest way is to go to the main road and catch a minibus there, in the direction of Kumluca, Finike and Fethiye. You can safely go hitchhiking or in a rented car. Then exit at one of the signs to the left, located 500m from each other:
1. First to the beaches of Olympos and Cirali (C? Ral?). From the main road along the mountain serpentine, we will get to Cirali. After passing 100 meters to the sea, we turn right and walk along the 300 metro bank to the ruins of Olympos.
2. Second to Olympos and Cavuskoy. From the main road along the no less mountain serpentine, turning left in front of Chavuskoy, we get to the official entrance to Olympos. Ticket price 10lir (200r).
We arrived with the first option and returned with the second option. And oddly enough, it is the first option that seems to me more convenient for getting into Olympos:
- The road in the 1st version is shorter and without turns.
- The most interesting thing is right on the shore. If you go through the official entrance (option 2), then go to the coast for another 20 minutes.
- There is an opportunity to pass for free, since the guard is not always in place. It is also necessary to take into account that the right bank of Olympos is free to visit. And only on the left bank are tax collectors at the beginning and at the end of the path. You can cross the river almost anywhere.
- It is more convenient to combine with a vacation at sea.
P.S. Please note that you cannot drive directly from Cirali to Olympos or vice versa, only through the main road..