Phuket is one of the most popular resorts among Russians not only in Thailand, but throughout Southeast Asia. In addition to picturesque nature, convenient infrastructure and beautiful beaches for every taste, it is very convenient for the presence of an international airport, where direct flights from Russia fly. Perhaps, for someone's taste, there are even more secluded and even more picturesque beaches in Thailand on other islands, but you don't need to take a ferry to Phuket and a taxi will take you from the airport to almost any hotel in 20-50 minutes.
The content of the article
Preparing for the trip
Description of the resort and why go to Phuket
Phuket is the most popular resort in Thailand because it has an international airport with direct flights from Russia. Flight + taxi to the hotel - and now you are on vacation! It is also easy to get to Phuket from the mainland by bus or car. Although it is an island, a bridge leads to it from the mainland, not like Samui, where you have to sail by ferry for 2 hours. Thus, Phuket is the most convenient resort in terms of transport accessibility..
Phuket's nature and beaches are beautiful and varied. There are so many of them that everyone can find a beach to their liking, from partying and noisy to secluded and quiet. Of course, Phuket is a rather large island and urbanized, so lovers of complete absence of civilization and wildlife will not like it here. Whatever one may say, but most of the coastal areas are small cities, and there is very active traffic on the central roads and traffic jams occur. But the island has all the services that only can be found in Thailand. There is always something to see and where to go: many restaurants and cafes for every taste, beautiful hilly landscapes and tropical nature, noisy parties in Patong and Karon, colorful evening shows, boat trips and surfing. Phuket is surrounded by some of the most beautiful national parks in the world: Phi Phi, Similan, Surin, Phang Nga, Khao Sok, where you can take an excursion.
Phuket is also great for families with children. There is no need to torment the child with long journeys to the resort, there are plenty of supermarkets and shopping centers, which can come in handy when traveling with a child, full of apartment hotels with several bedrooms, a kitchen and a communal pool. One of the important points is that there are international hospitals on the island, God forbid you get sick. Well, and finally, there are small beaches suitable for children..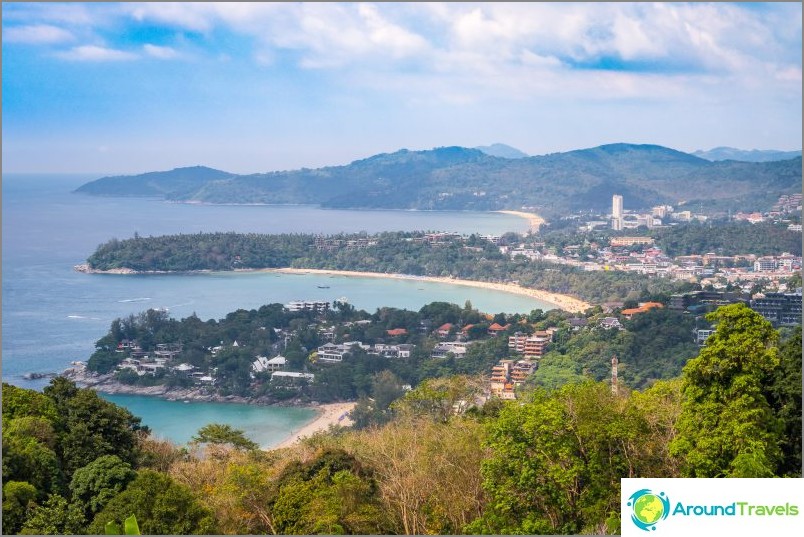 Which beach to choose
The best beach in Phuket is a traditional holivar topic on the forums. In fact, they are all good in their own way, it all depends on what exactly you need. The most partying and noisy place, with the richest choice of housing for every taste and budget, with the best infrastructure is a fun and youthful Patong, although the beach there is a little dirty. Also popular, but with slightly fewer people, calmer and cleaner - Karon and Kata. Karon is generally one of the best beaches, in my opinion. If you want even fewer people, but at the same time to surround luxury hotels, then Kata noi, there are mostly only expensive hotels. All of these 4 beaches follow each other, interrupted by hills, and are the most famous on the island..
In principle, no one bothers to live on the same Patong, in the epicenter of civilization, and go swimming to the neighboring beaches. Many people do this, rent a bike (or tuk-tuk / taxi) and then all the beaches are open to you and there is always something to do. Or you can settle between the beaches of Karon and Kata, then both beaches will be within walking distance (a very good option, I think). Yes, even Kata Noi can be reached. This is convenient, since there will always be 3 beaches at your disposal, given that there are more neighboring beaches on Kata. ebb.
If you want smaller beaches and areas, you can consider Surin, Naithon and Kamala. Listed in descending order of beauty. Again, in your opinion. But, of course, this is all approximate..
Overview of all beaches in Phuket>
Winterers prefer the areas of Rawai, Chalong and Bang Tao. The first two are located on the eastern side of the island, and there are few hotels, but a lot of housing for monthly rent. And swim will have to go to Nai Harn beach. It is good and I really like it, but an ordinary vacationer will find it uncomfortable to live next to him, there are few hotels and infrastructure, only a rented bike will save. Bang Tao is also full of houses for rent, and the beach is within walking distance. But the beach is not too deep and the area is so a bit rustic, so not everyone loves it..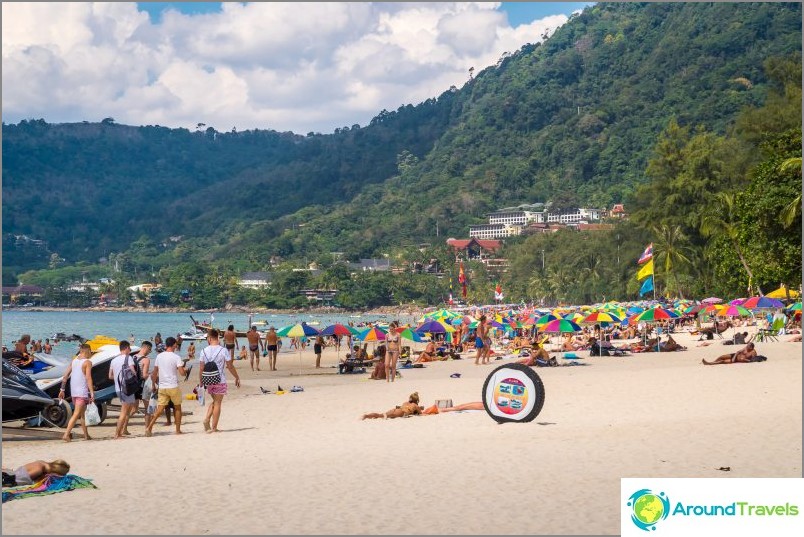 How to choose a hotel or house
Phuket has a huge selection of accommodation for every taste and budget, ranging from large and chic beach resorts to small budget guesthouses in 3-storey buildings. It is logical that out of season, housing prices are lower than at the very peak of the season. And, if in the summer you can afford to come to Phuket without a hotel reservation and look for something on the spot (although this is inconvenient and takes time), then for the months around the new year, you must definitely book in advance. I faced this myself somehow, in January there were either very expensive hotels, or with a low rating.
First of all, I recommended choosing a hotel, being attached to the beach. First you decide on the beach, and then look for a hotel on it. I would do just that. But I do not insist.
The largest number of hotels is in Patong. And it is there that there are most of the budget proposals. The area is large, and if you live somewhere on the 4-5 lines or on the edge of the beach, hotels there are quite inexpensive. In Karon, in general, housing is more expensive and there are plenty of beach resorts with large territories. Kata is somewhere in between the price of Patong and Karon. Although it's all convention.
All hotels in Phuket>
My selection of the best hotels in Phuket>
As I said, Bang Tao and Rawai have a good selection of homes for long term rentals, from a month or more. Houses in Phuket range from simple small houses in the middle of a Thai village to nice solid houses in gated communities with swimming pools and luxurious villas behind a high fence. Accordingly, house prices also vary..
If you are traveling to Thailand for the first time, then I recommend booking a house or apartment in advance. This is done only through a realtor. Yes, they do not deal with the cheapest housing and take a commission, but this allows you to avoid unnecessary hassle in an unfamiliar country. Believe me, independent searches on the spot are difficult and not worth it. You are going to rest.
Send me a request to advise a trusted realtor, whom I myself trust. And then recently there have been a lot of scammers.
Send request>
How to get to Phuket
Since Phuket has international Airport, where direct regular flights and charters arrive from Russia, it is very convenient to get to the island. From Asian countries and other regions of Thailand, Phuket (for example, from Bangkok) can also be easily reached using local airlines such as AirAsia, Nok Air and Lion Air. Also, the Vietnamese airline VietJet Air offers a good price on the Bangkok-Phuket route, it can also be checked. In order not to go through all the sites, you can first check everything on Aviasales. The same applies to flights from Russia, at first it is best to look in the search engines for air tickets, all airlines are there.
Phuket is connected to the mainland by a bridge, so you can come to the island by any transport by land, including an intercity bus, car, and part of the way can even be overcome by train. I described absolutely all the ways how to get to Phuket in the post., how to get from Bangkok to Phuket.
Phuket climate and weather
Phuket is located in the very south of Thailand, close to the equator. The weather is hot and humid almost all year round. At night, the air temperature all year round fluctuates around 24-28 C, during the day - 30-33 C. The water temperature in the sea is also quite stable throughout the year: about 28 C and slightly higher, up to 30 with a little. What changes during the season? First, the number of clear cloudy days and the amount of precipitation. The least rainfall in Phuket occurs from December to early March, this is the highest season. Then the hottest season begins.
The hottest month can be called May. But by and large, the whole spring is very hot. In summer and autumn, tropical showers are frequent in Phuket. The rainiest months are June-September. But in October-November, the rains are quite frequent. Humidity in Phuket is already high all the time, and in the rainy months it becomes even higher.
The second factor is the waves at sea. The waves on the west coast of Phuket (where most of the popular beaches are located) begin in March and subside only towards the end of autumn. Some of Phuket's beaches are popular with surfers precisely because of the large and strong waves from spring to autumn..
Another minus «anxious» the seas - by waves and wind, debris and mud are beaten to the shore. Of course, the sea in Phuket itself is not as dirty as, say, in Pattaya, but large debris, coupled with waves and sand, is still not a very pleasant combination. Waves in Phuket subside by the season - by the end of November.
Upon arrival on the island
How to get to your hotel
The airport is located in the northern part of the island, and all beaches and hotels are south of it. There are two options for how to get to your hotel: public transport (minibus, bus) or taxi. The minibus goes after filling and delivers everyone in turn, not always driving up to the hotel doors, but dropping off where it is more convenient for him. The cost depends on the distance of the beach and is 150-200 baht. There is also a city bus to Phuket Town and Patong, but it runs several times a day, takes longer, and costs 120 baht. More details about all options, how to get from Phuket airport.
It is faster and much more comfortable to get to the hotel by taxi. It can be taken either on the spot upon arrival or ordered via the Internet at Kiwitaxi. If you want as much as possible without problems, then book in advance so that you will be met with a sign, put in a car and brought directly to the hotel. In general, prices are about the same as for a fixed price on the spot. All 500-1000 baht per car will go out, depending on the distance of the beach, not the money that makes sense to save on vacation.
Transfer to your hotel in Phuket>
I use transfers all the time to test their quality. Here my review about Kiwitaxi. It was just in Phuket. I understand, in principle, it is not a problem to take a taxi, but as I said, the method simplifies the trip. The service is in Russian, they write to Votsap, there is support, you can request a child seat, which never happens in ordinary taxis.
What to see from the sights
In Phuket, the sights are mostly natural, there are probably no historical palaces and monuments here. Tourists mainly visit something entertaining and a few places «must-si»: Big Buddha, observation decks with beautiful views (Kata-Karon, Cape Promtep, Rank Hill), the temple complex of Wat Chalong, traditional elephant rides, shows with various exotic animals, rubber and latex factories, etc. Phuket has several great show programs: Fantasy, Siam Niramit, Aphrodite, etc..
Phuket also has a zoo, oceanarium, botanical park, waterfalls, small modern and historical museums, Thai boxing arenas, trolley rides, all kinds of cabarets and other night shows for adults, beach with planes - enough entertainment for every taste. And for families with children you can choose, and for adventure seekers.
Phuket Excursions and Prices>
The most popular excursions in Phuket are mainly either sightseeing around the island, including with a stop at all sorts of farms and shops, or sea trips - just boat trips or tours to the most beautiful tropical islands - Phi Phi and others, smaller, as well as to the national marine park Similan islands and Surin. There are many places for fishing, diving, snorkeling around Phuket. For slightly longer excursions, you can go either north of Phuket or south. To the north is Khao Sok National Park and Cheow Lan Lake, and also a good resort Khao Lak. South of Phuket is the province of Krabi, which also has a lot to see: waterfalls, hot springs, very beautiful small lakes in the jungle.
Where to eat, in which cafes
Of course, there are a huge number of cafes and restaurants in Phuket, and since there is no dispute about tastes, everyone has their own options for the best places and all are correct. But if you still try to make some kind of rating, you must take into account that the best restaurants are not only delicious food, but also a good view, atmosphere, beautiful interiors..
With a view of Phuket, everything is in order - there are hills with excellent views of the island and the sea, especially at sunset. And there are just beach cafes under palm trees and on terraces by the water. From restaurants «with a view» visitors praise: Tunk ka, 360 Degrees, Diavolo, Versace and Heaven. All of them are located on a hill. If you go from Kata Beach to the Kata-Karon observation deck, there is a place on the pass with democratic cafes under umbrellas. The food there is ordinary, but the view is beautiful and the atmosphere is contemplatively relaxed. And I will separately mention Russian Veranda restaurant, if you want to eat something dear.
The largest selection of cuisines and dishes from around the world can be found in the large shopping and entertainment centers: Jung Ceylon and Central Festival. The show + dinner format is also popular in Phuket. This is the Palazzo theater-restaurant and some Fantasia type shows.
With live music, Naiharn Beach has a cute Palau Fish restaurant. The Krachang Floating restaurant is interesting from the seafood restaurant. In general, most of the floating seafood restaurants are located on the east coast of Phuket. There is the freshest seafood and a large selection.
Another popular restaurant is Mom Tri's Kitchen right on the beach and Istanbul Restaurant (both in Kata), EAT. bar & grill in Karon and Sizzle Rooftop Restaurant in Patong.
Transport on site
Most of the visitors rent a bike (scooter) from the locals and ride them on the island. This is not entirely safe, especially if you feel insecure even on a bike (by the way, you can take a bike too). The traffic here is left-hand, the locals ride bikes sometimes quite thoughtlessly and chaotically. Nevertheless, this is the most popular form of transportation among foreigners, public transport is still not very convenient. Price 200-300 baht / day.
You can also rent a car, it is much safer, especially if you have several people or have a child. Although the car is not so nimble and sometimes you have to get stuck in traffic jams, there are enough of them in Phuket. However, air conditioning, a large trunk and the ability to travel 200 km to national parks on the mainland compensate for all the disadvantages.
I recommend taking from international distributors with a worldwide reputation, so as not to bother yourself with looking for a lease among the locals and do not worry about whether the contract is normal, whether there is insurance, and whether they will be bred for scratches later. The cost of a car is on average 800-1200 baht per day. The cost depends on the class of the car and the number of days. Small private owners have exactly the same prices, so you won't go wrong. The only caveat, take it through the Economybookings service, it always turns out cheaper than directly, I always do it myself. My detailed post about all the nuances of renting.
Discounted car rental>
Taxis are also available here, but the prices are not very good. So let's say, not for every day. To get from the airport and then from it, go once to a restaurant on a nearby beach - for this, it is really easier to take a taxi on the street, an online transfer or a taxi through the Grabtaxi app. But if you are planning frequent trips, then IMHO only rent a bike or a car.
The roads in Phuket are not designed in an ideal way, including due to the relief of the island - the terrain is quite mountainous. Public transport, songteo, runs mainly through Phuket Town, some of the beaches can only be reached with a transfer in the island's capital. This is not very convenient. Taxi drivers take advantage of the poorly developed public transport and break prices. In addition to taxi cars, tuk-tuk - motorcycles with an attached cart with benches - ride within the beach or for short distances between neighboring beaches. On large popular beaches there are also small red cars with benches in the back, something between tuk-tuk and songteo. Phuket has two bus stations, old and new. There is also a songteo bus between them. From the airport you can get to the old bus station, and from the new one there are long-distance buses throughout Thailand..
Pink songteos run around the city, and blue ones outside the city. A songteo ride costs from 10 baht (in the city) to 25 and even 50 if you go far. To the beaches of Karon and Kata, for example, travel from Phuket town costs 30 baht, and the travel time is an hour and a half..
From Patong to songteo, you can only get to Phuket town, as well as from Rawai, Nai Harn. Kamala, Surin, Bang Tao are also connected with other beaches only through Phuket town. If you need, for example, from Surin to Patong, you will have to make a transfer. At the same time, songteos are often jam-packed, and there are traffic jams in Phuket Town and on popular beaches. In addition, at the end point in Phuket town (Ranong Road), songteos stand for a very long time, collecting passengers. All this makes public transport in Phuket inconvenient to use..
Phuket map
Phuket map
Phuket Map:
P.S. Ask questions, I will add if something is missing. And leave your feedback about the rest and life in Phuket.