Silver Lake or Silverlake Vineyard is a rather exotic attraction for Thailand. One might say unique. This is so far the only vineyard in the vicinity of Pattaya. But it is interesting not for the fact that grapes grow in the Asian region..
Silverlake is a very romantic atmospheric place for walking and photo sessions; with Italian-style architecture, manicured colorful flower beds and gardens, ponds, fountains, classical statues and funny Thai compositions, a windmill, as well as beautiful views of the surrounding hills and lake, cute cafes.
The content of the article
Silver Lake Vineyard in Pattaya
Silverlake Vineyard was established in 2002 and is located in the southeastern suburb of Pattaya, about 20 km from the city center and right next to another famous Pattaya landmark - Mountain of the Golden Buddha or Khao Chi Chan. The mountain is excellently visible from the terraces of the cafe, restaurant and hotel at Silverlake and adds a picturesque rural landscape, in which rows of vines stretching into the horizon unfold.
Now it is a very popular destination with Thai and foreign tourists. There is everything that a popular local attraction should have: a thematic excursion component in the form of wine cellars and European-style architecture, many gazebos for picnic and relaxation, even more backgrounds for photos, flower beds, paths and benches, cafes, unusual hilly landscapes with a silhouette an Italian castle beyond the lake in the distance. It will be interesting for both children and adults, of all ages and nationalities..
All this occupies a large area of ​​several hectares and belongs to Mr. Surachai Tangjaitrong and his wife, who at one time was a famous Thai actress. It is rumored that Ms Supansa Nuangpirom was inspired by the idea of ​​creating the vineyards during her trip abroad..
At least the Italian-style buildings and tall cypress trees are reminiscent of Italy and Tuscany. Several grape varieties are grown on Silverlake, from which white, red and rosé wines are produced using Italian technology: Silverlake Chenin Blanc, Shiraz Private Reserve Red, Rose Grande and Chardonnay.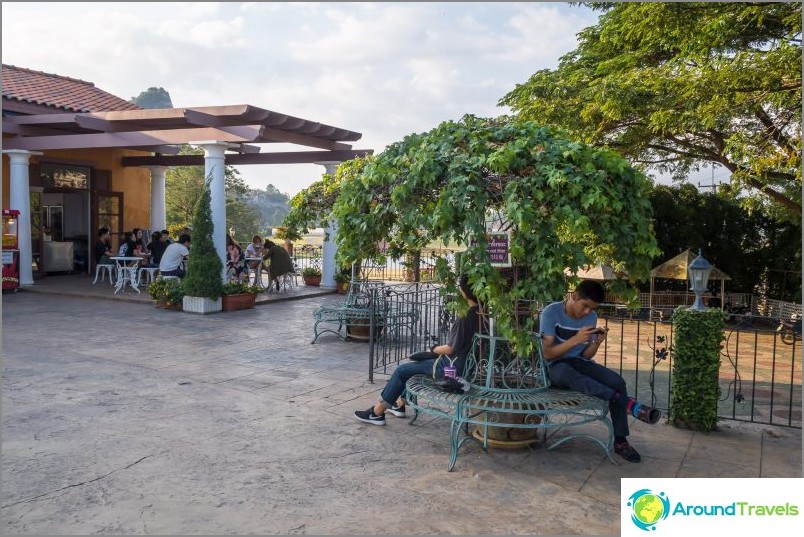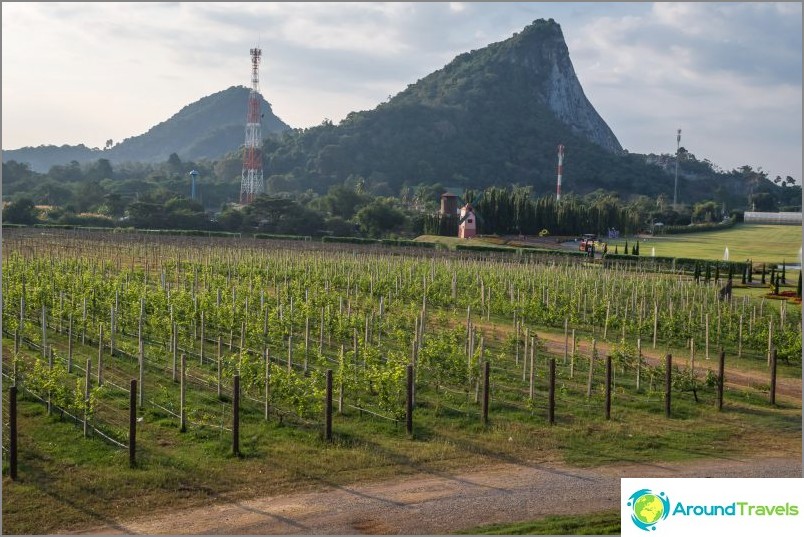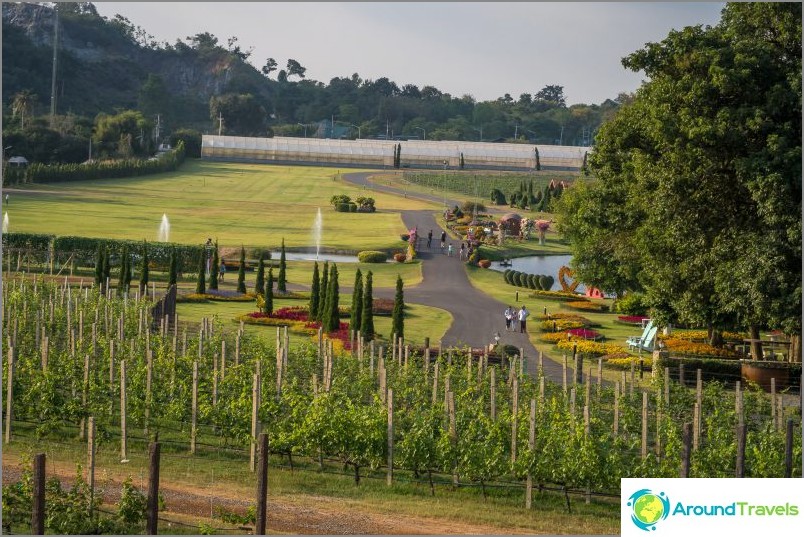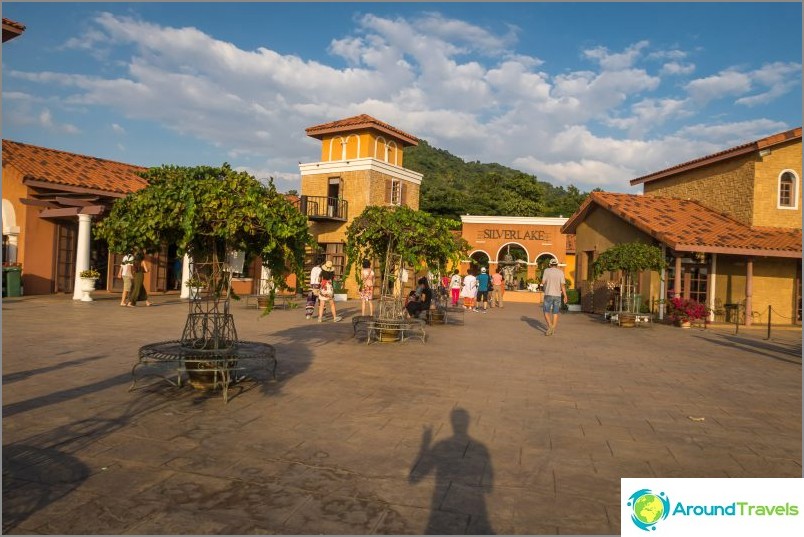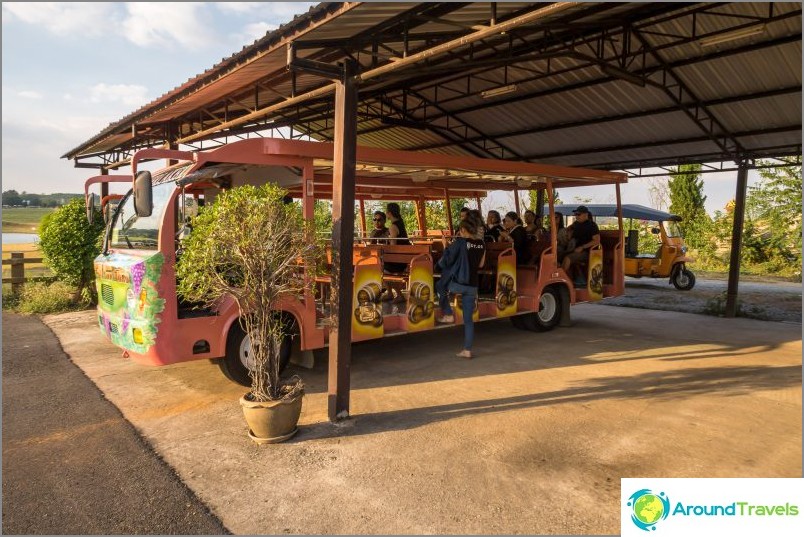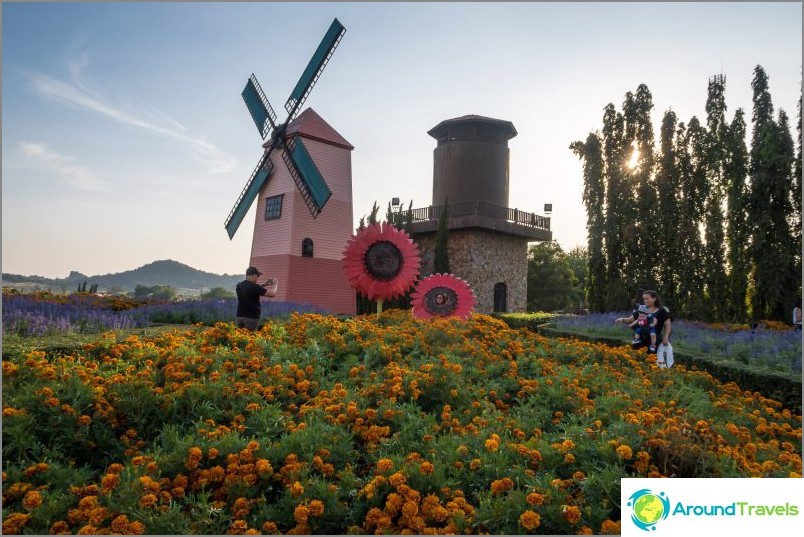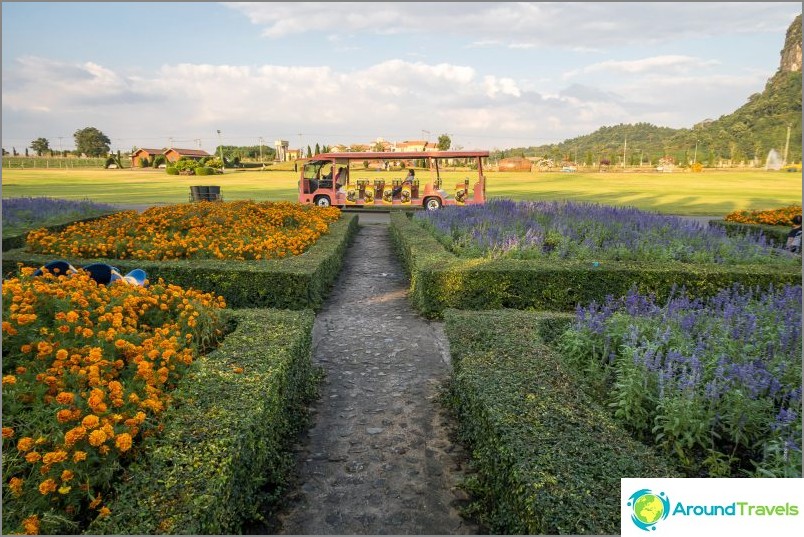 What can you do when you come to the vineyard? Here you can walk for free in the park and manicured flowering gardens with gazebos, benches and various figurines, sit in the cafe on the Villagio terrace decorated with flower beds and a fountain, spend the night in one of the cottages of the Movie House Bed and Breakfast theme hotel right on the territory of the vineyard, the walls of which are decorated posters from popular Thai films, dine on the open terrace of the restaurant and take pictures against the backdrop of the handicraft and natural beauty of this place.
If desired, you can also buy a tour of the vineyard. You will be driven through the grounds by an electric bus that makes several stops. Including for photographing against the background of the mill and flower fields. Also, driving through the territory, you can see greenhouses with grapes, an open area for performances, a winery and production. Tour includes a bottle of local grape juice or two glasses of wine.
After the tour, you can buy something from the local produce at the entrance shop: bottled grape juice, raisins, grape jam, pies and cookies with grapes, or wine. Prices are not low, if anything. The grape juice, which is given on excursions, is the most common one. I guess the wine doesn't shine either.
In addition to all of the above, on the territory of the vineyards there is a large stage for holding music concerts in the open air, where a large festival takes place once a year. Live music is often played here, from classical to jazz, which is especially pleasant to enjoy against the backdrop of blooming gardens, wooded hills and a glistening lake in the distance..
Across the road from the vineyards, right in front of the parking lot, there is an excellent restaurant with grills, Thai and European cuisine (the pizza is good there, not Thai) and a wonderful view of the surroundings. Also, across the street from the vineyards, a large Italian-style village is now being built, with ponds and fountains where swans and ducks swim. All together, both architecture and landscape, create an uncharacteristic for Thailand, but romantic landscape.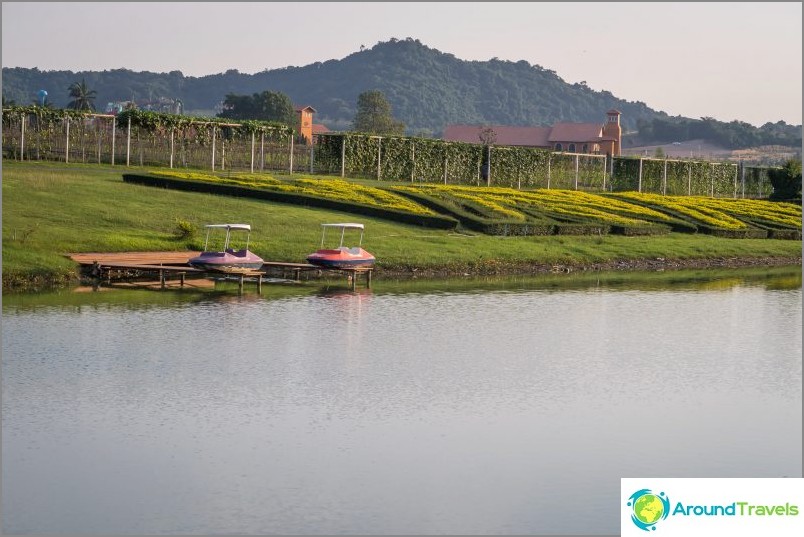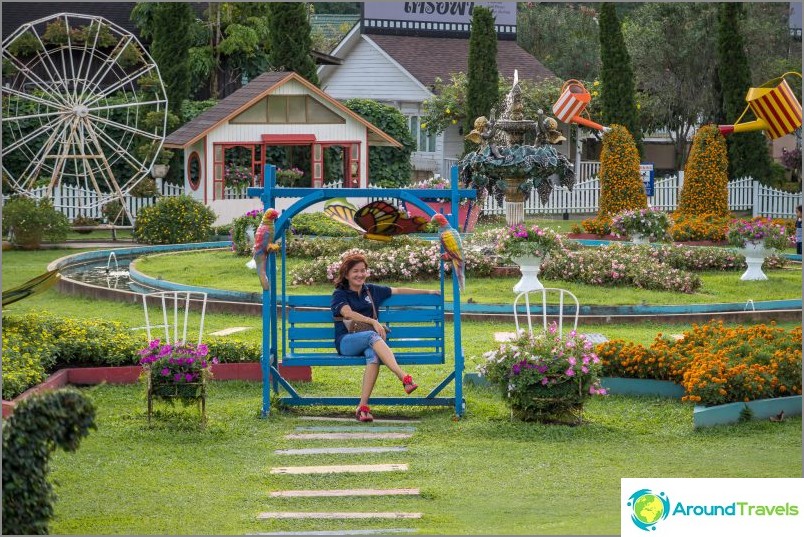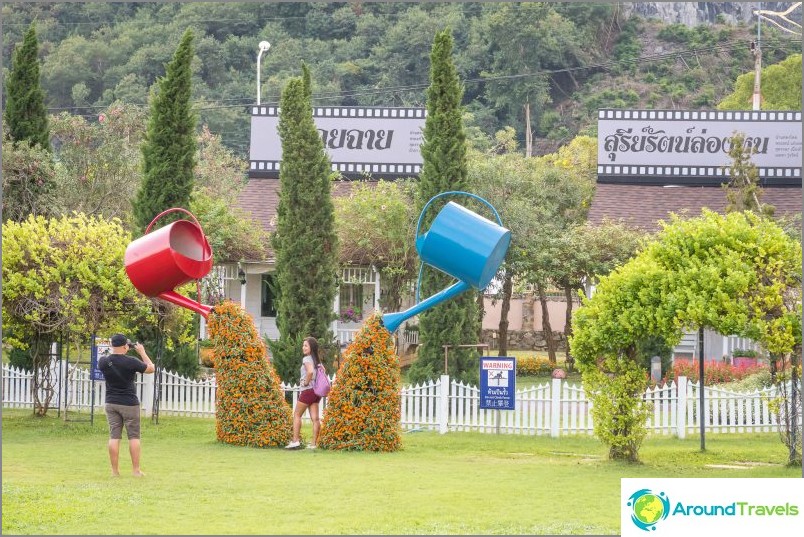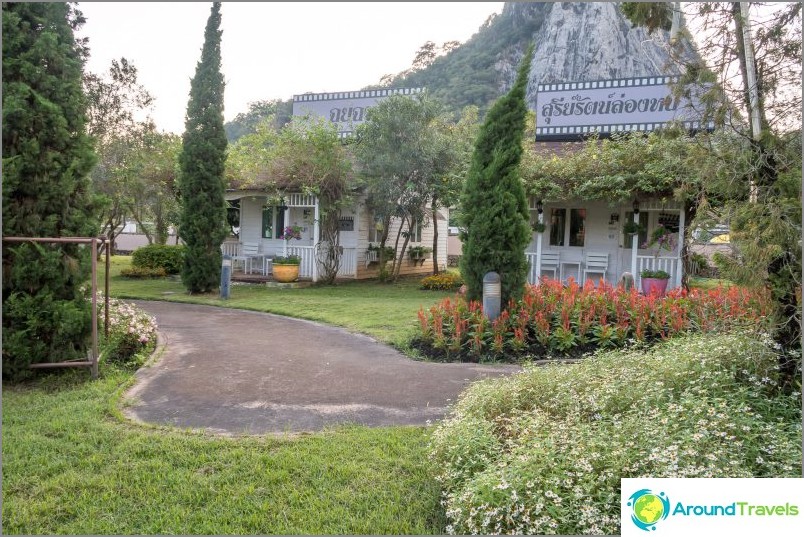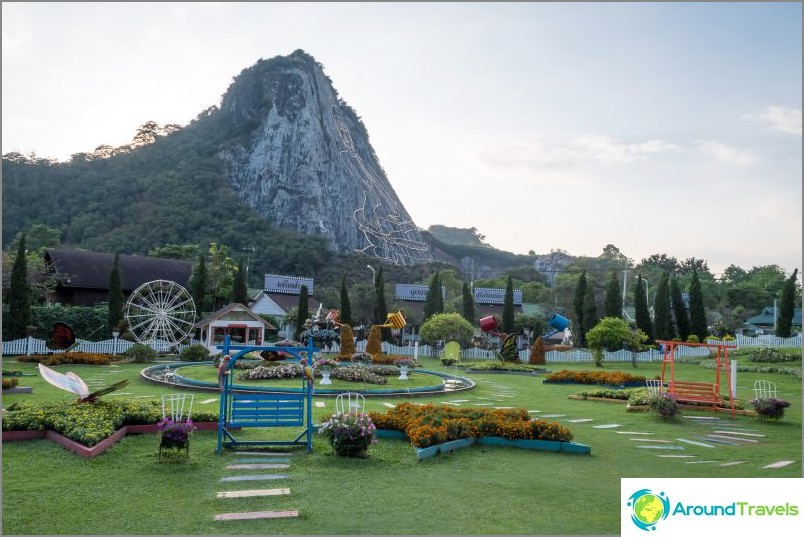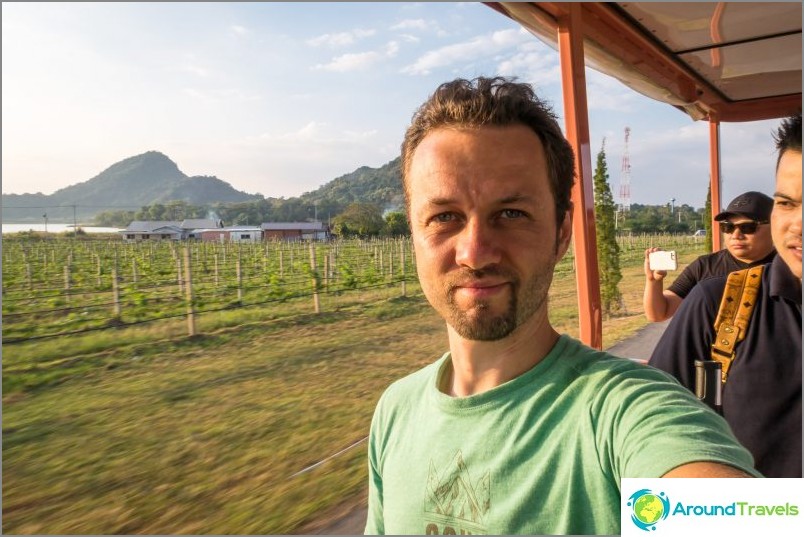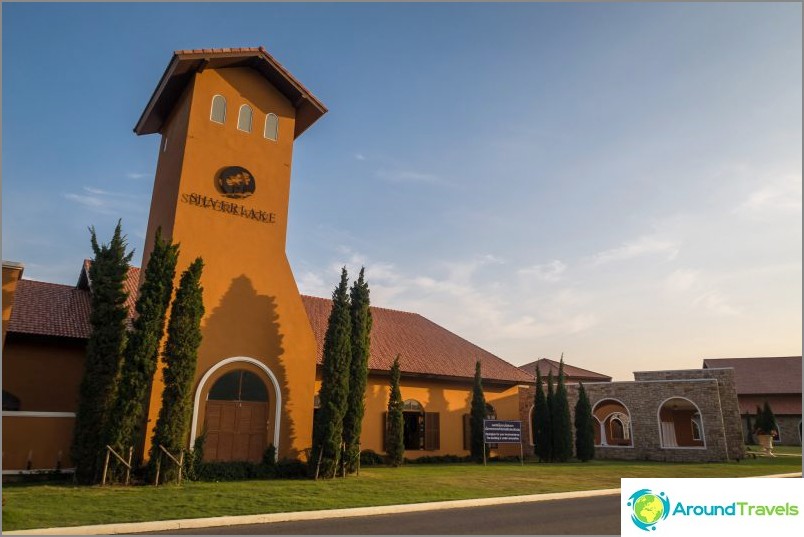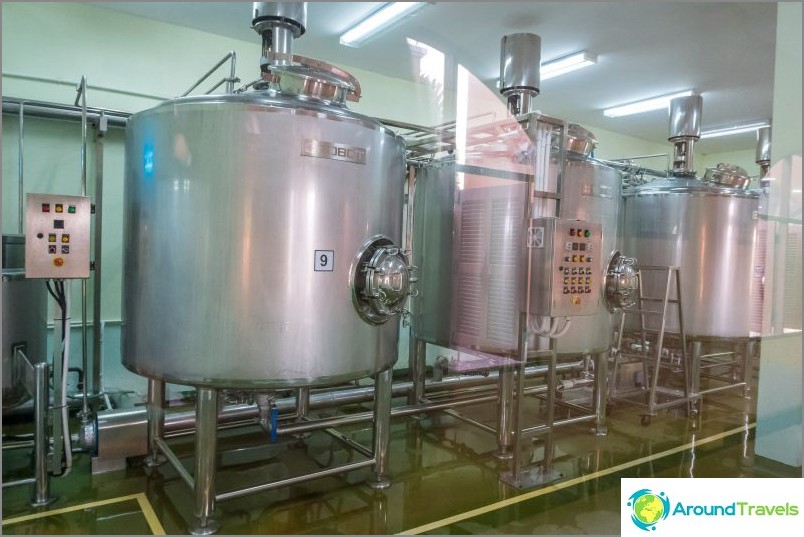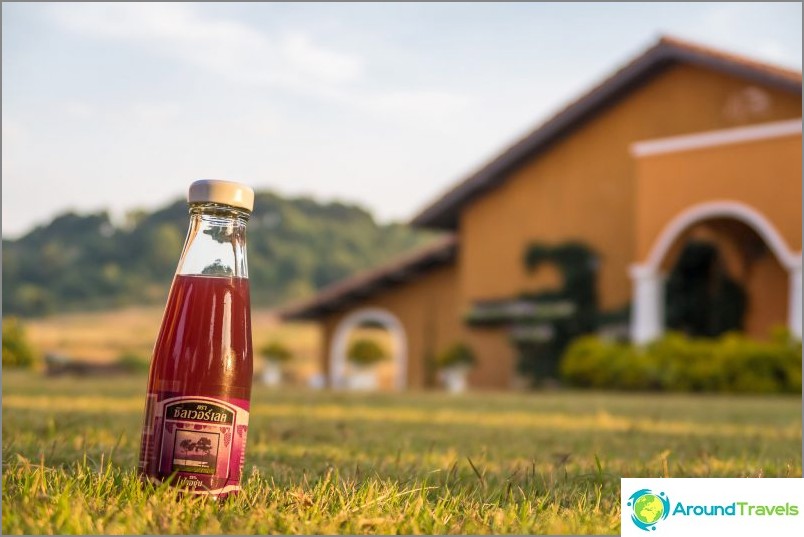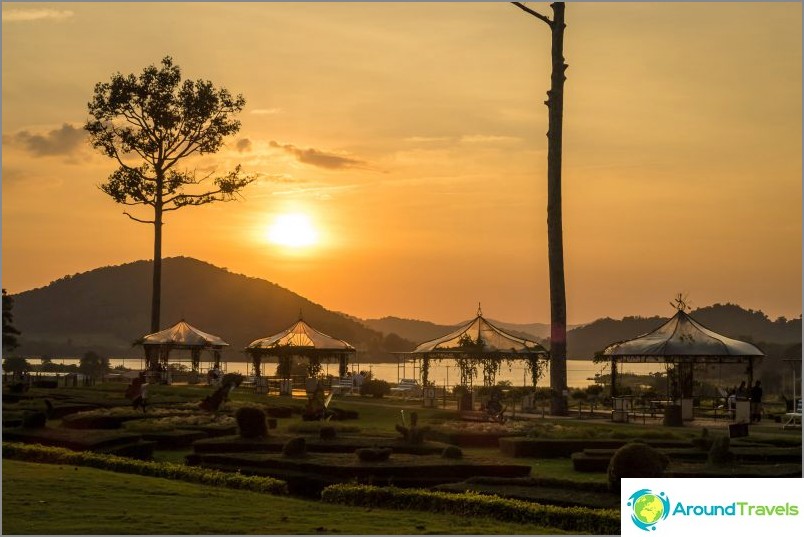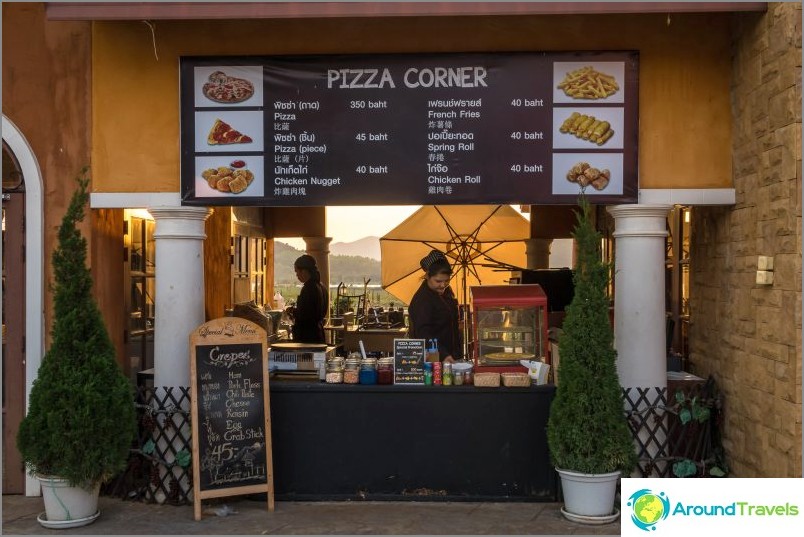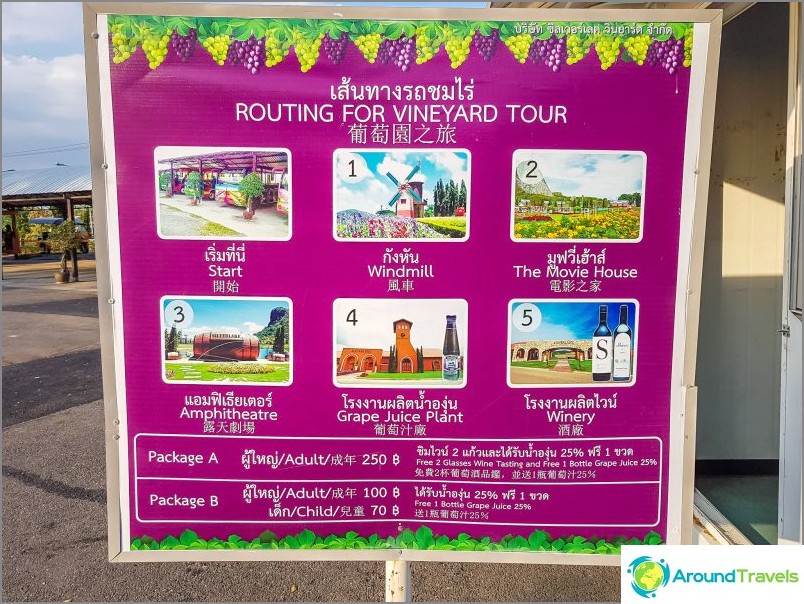 A trip to Silverlake can and should be combined with a tour of Khao Chi Chan (Mountain of the Golden Buddha) or with a visit to the temple complex of Wat Yan and the Chinese temple-museum Vikhara Sien. In the same area, there are several other interesting places that you can visit along the way: attraction «Upside Down House«, two farms with sheep and other animals - Wonder farm and Swiss farm, as well «long-necked women village».
If you have free time, you can come to Silverlake to just take a relaxing and leisurely walk, enjoy the views, have lunch or dinner at a restaurant. Especially nice and beautiful here during sunset.
Information to visit
Vineyard tours are of two types:
Option A costs 250 baht and includes a wine cellar, wine tour, 1 bottle of juice and two glasses of wine (white and red)
Option B costs 100 baht per adult (70 baht for a child), includes a visit to the wine cellar and 1 bottle of grape juice.
The bus is included in the ticket price. The duration of the tours is approximately 30 - 45 minutes.
I took a ticket for 100 baht, without wine - I was driving, otherwise I would have tried. A bottle of juice in a shop costs 60 baht.
Opening hours: from 9:00 to 18:00, the last bus leaves at 17:30.
It is better to arrive either early in the morning or around 16-17. The area is open, so the scorching sun is guaranteed during the day, there is nowhere to hide, the vineyards are all around, there are no trees. At sunset there is a very beautiful light and it is not hot at all.
How to get there
You can get to Silverlake in the same way as to the Golden Buddha Mountain (after all, they are located in the neighborhood): on your own, by rented transport, taxi or as part of an organized excursion. There is no public transport to Silverlake, but you can take the Sukhumvit highway in the direction of Sattahib on a white tuk-tuk for 20 baht and get off at about 160 km of the road, at the turn to Khao Chi Chan. Landmark - BMW Mini salon to the right of the road. Opposite it, across the road, there is a 7-eleven store and a small road going off to the left, which after about 6 km will lead to the Golden Buddha Mountain, and right behind it there will be the Silverlake vineyards.
At the 7-Eleven store near Sukhumvit or a little further, you can find a taxi in the form of a motorcycle, tuk-tuk, or a car that will take you to the vineyards. If you take a taxi from the center of Pattaya, it will cost much more..
On the map
Silver Lake Vineyards
Silver Lake Vineyards
A very romantic atmospheric place for walks and photo shoots; with Italian-style architecture, manicured colorful flower beds and gardens, ponds, fountains, classical statues.
More details.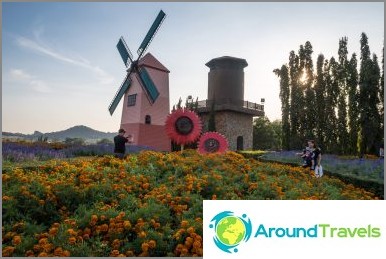 A very romantic atmospheric place for walks and photo shoots; with Italian-style architecture, manicured colorful flower beds and gardens, ponds, fountains, classic statues..