I myself did not make this visa, but one of the readers offered to supplement the information on my blog after registration. Naturally, I agreed, because I do not plan to gain experience in obtaining a visa in St. Petersburg myself. I hope in the comments you will add various nuances, if any. Initially it seemed to me that in the northern capital the rules for obtaining are even stricter, but it turned out that everything is about the same, so it is definitely not worth going from St. Petersburg to Moscow for a visa..
The content of the article
Visa to Thailand in St. Petersburg
You need to know that the Thai consulate in St. Petersburg issues visas only for residents of the North-West region (see registration). The consulate in Moscow accepts everyone.
First of all, you need to read 2 of my posts to be aware of:
General about visas and stamps. It contains all the information about all types of visas, visas, overstays, the specifics of visas for children, about the options for issuing visas in different countries..
Applying for a Thai visa in Moscow. My personal experience with all the nuances and life hacks and the experience of several hundred more people, which they wrote in the comments, including very recent reviews.
Further, information on applying for a visa in the city of St. Petersburg. Just a list of the main differences from receiving in Moscow. In my opinion, making a visa in Moscow and St. Petersburg is about the same in terms of costs.
No need to translate all documents into English. But the questionnaire is filled in English.
You do not need a certificate from work (in Moscow, since the fall of 2017, they also stopped demanding).
You need to book a hotel in Booking or with Airbnb (in Moscow, from the fall of 2017, you no longer need a hotel reservation).
You need a copy of the pages of the Russian passport - the main one and with a residence permit (not necessary in Moscow).
Bank account statement should be at the rate of 40,000 rubles / person per month, not less (in Moscow, preferably more).
The visa application form must indicate the exact dates of the last visit to Thailand (from and to).
It is obligatory to indicate both flights for round-trip tickets (arrival, departure). And also REAL tickets are needed. But the point is not even in the reservation, they just won't be able to check it (if done according to my method), they just ask for a printout from the bank to pay for air tickets. Therefore, the only way out, if you do not have a return ticket, is to buy a cheap emission ticket, read my post about that, how to fly without a return ticket to Tai, there about the ticket for the ejection in detail.
Only the closest relative (husband, wife, children, parents) can apply for a visa for other people and this relationship must be confirmed (in Moscow, anyone can apply).
Photo 3.5x4.5 instead of 4x6 in Moscow. But, I suppose that, like in Moscow, no one cares about this size,
any between 3x4 and 4x6 will do.
List of documents
The sponsorship letter can be written in Russian, unlike Moscow, where everything is in English (download in Russian, download in English).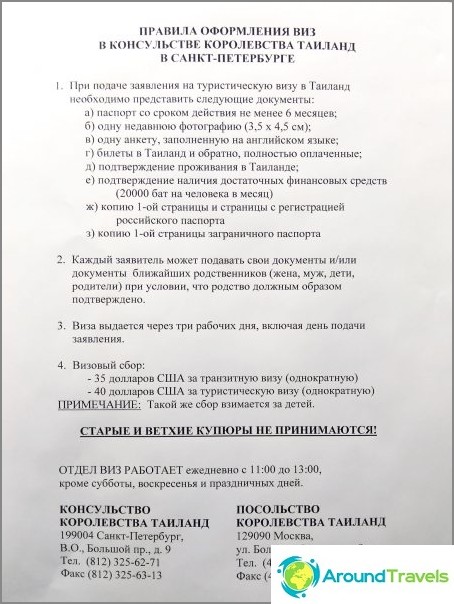 An example of filling out an application for a visa to Tai
All images are clickable and enlarged by clicking on them. Please note that examples are for tourist visa, transit and non-immigrant.
Here is a profile template. The file is in pdf format and can be completed on the computer.