Beaches in Havana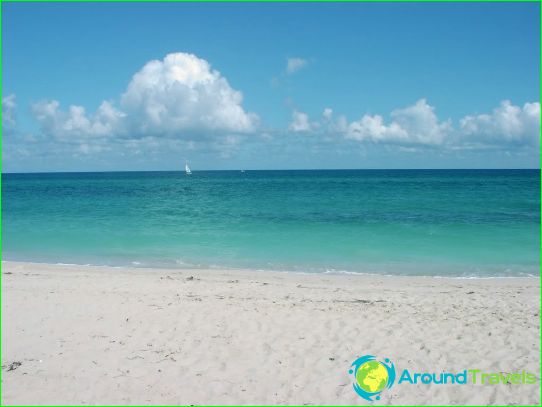 Holidays in Cuba are considered something exotic, rather than familiar and everyday. Usually vacationers come here in search of new sensations and impressions, and no one leaves disappointed. The best sandy beaches of Havana attract with their infrastructure and cleanliness, and amateurs «wild» tourism delights in a wide selection of unspoilt areas open to explore and enjoy.
Dangers of the beaches of Havana
Be that as it may, there are several reasons why it is not recommended to swim off the coast of Havana itself. There are four reasons for this:
poisonous jellyfish;
rocky bottom;
sea ​​urchins;
sharp corals.
These details make it difficult for tourists to enjoy swimming at the city walls, but there are many other beaches that are safer and more suitable for outdoor activities. Near Havana there are about three hundred beaches for every taste and color. For example, the nearest beach, Bacuranao, can be reached in just 20 minutes by shuttle bus from the city center. The farthest beach is Jibacoa, which will take you more than an hour to get to. Many of Havana's popular beaches are located about an hour's drive from the city..
Features of local beaches
The beaches of Havana can be described in several phrases: pale green or blue water with visibility up to 30 m, beautiful thickets of coral reefs, the absence of large waves and weak currents. In the east of Havana, there are Playas del Este beaches, which translates as: east. Several beaches make up the so-called Blue Ring, which consists of Puerto Escondido, El Penon del Fraile, Santa Maria del Mar and Jibacoa. The eastern beaches stretch for as much as 15 km, and they are usually chosen for recreation by local residents. Havanese often rest near the city of Bakuranao, despite the fact that the sand is a little rough here. Guests of the city will find here a lot of entertainment: restaurants, bars, cabarets, discos and swimming pools.
Very often tourists rest on the Santa Maria del Mar beach, which is located 28 km from the capital. The local sand is of a delicate coral color, and the entire area of ​​the beach is covered with palm trees. Also, sea grapes grow here, which will certainly seem a real wonder to tourists. On the beach you can find quite high cliffs, from the height of which you can admire the landscape. It is strictly forbidden to jump into the water from these cliffs, because the local bottom is very unpredictable..
El Salado beach is suitable for those who like to try themselves in something new and unknown. For example, here you will have the opportunity to go snorkeling or go-karting. In the area of ​​Jibacoa beach, you can go horseback riding or take an unforgettable bike ride, during which you can explore all the local attractions.
Photos of the beaches of Havana