Every second tourist who has lived more than a month abroad starts a VKontakte community or blog. Over time, many such tourists are faced with the fact that people get used to them, begin to trust and one day, in the community or in a blog, they are asked for help. Advise there, the beach, tell about the weather, take a ride and check what kind of house such and such a person or agency is offering them. And then they start asking to find a house, of course - for a fee. And in fact, it's pretty easy money. Knowing your area, it is not difficult to drive to the desired resort, talk with the owner and clarify the availability of housing and rental conditions. Get your money, deposit it to the Thai, and get your 2-3-5 thousand baht commission.
The content of the article
What are the agencies
There are two types of real estate agencies in any resort in Thailand. The first ones invest money in the official registration of the company and employees, pay taxes and salaries, pay attention to checking the house / owner and accompany clients after check-in. As a rule, in addition to renting, such agencies are engaged in the sale of real estate, as well as the provision of related services: transfers and excursions. Such offices value their reputation, for years they have been establishing contacts, they are constantly developing a housing base, which the rest cannot afford..
The rest are called «black realtors» or «helped». The helpers avoid all of the above worries and costs, hiding behind a tourist or student visa and reduce all their activities to paying a deposit to the owner of the home under the guise of a friend of the family. Not all of them deserve a dismissive attitude, but even the most correct and authoritative of them still conduct illegal activities. However, this is not always a hindrance for the client..
If you are traveling to Thailand for the first time, then I recommend booking a house or apartment in advance. This is done only through a realtor. Yes, they do not deal with the cheapest housing and take a commission, but this allows you to avoid unnecessary hassle in an unfamiliar country. Believe me, independent searches on the spot are difficult and not worth it. You are going to rest.
Send me a request to advise a trusted realtor, whom I myself trust. And then recently there have been a lot of scammers.
Send request>
How an agency is looking for a home for you
The most important part of any agent's job is collecting information on their site. Experienced people remember most of the houses, keep in mind the names and nuances of communication with homeowners. Agents periodically make a detour of the territory and register new houses, and then the houses are entered into the database - the most valuable thing that a real estate agency has. «Black» realtors do the same, but on a completely different scale, preferring to use other people's labor and scrape information from sites «whites» agencies.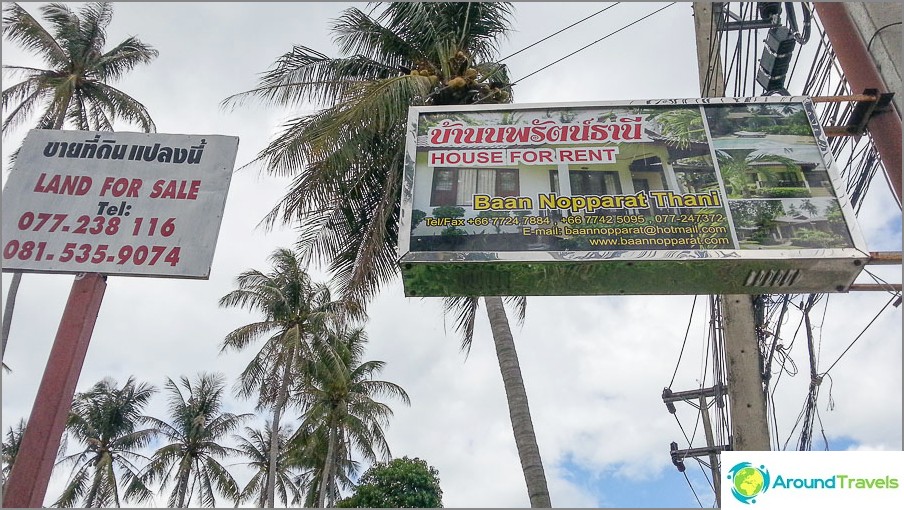 In addition, it is not enough to simply add objects in the database, you need to systematically maintain the relevance of information on objects. Thais change their phones or lease conditions without warning, sell or leave their houses, move in there themselves, take offense at some violent Russians and stop letting them into their resort - in general, there is always some kind of movement going on there. When agents slam the changes, there are incidents with the cancellation of the reservation or force majeure upon check-in..
Usually official agencies are reluctant to work with cheap houses, but for all other categories of housing they have hundreds of offers. They helped, however, limited themselves to the selection of several dozen houses, on which they continue to work. If you have not found on the agency's website what would suit you, then there is no point in asking the question if there is something else. Houses are collected in the base in advance, and you are given a choice from what is already there. Every object is found before it hits the site, so don't be under any illusion about that. Nobody will ever look for a house personally for you, neither in high season, nor in the dead.
How the agency makes money on you
Fixed commission
A flat commission is charged for the service of booking a house, and the commission often does not depend on the cost of renting a house or on the lease term. But it often depends on how big the house is, for example: one bedroom - 4000 baht, double - 5000 baht, three-bedroom - 6000 baht. Sometimes there may be a flat rate. This approach is convenient if you rent a house for several months, and is more profitable and transparent than when the agency inflates the price of the house, pledging its commission on each month. However, if you are saving money and looking for a budget house for only 1 month, then this option is not very suitable. True, as I have already written many times, budget houses and maximum savings can be obtained if you do everything yourself and on the spot..
Overpricing
This is when the agency bonus is included in the price for the house already on the site, that is, you do not see the real value of the house initially. Not a very honest trick of not very decent agencies. They take money from you according to their price list, transfer part of the amount to the owner, and put the rest in their pocket. Let's say a house that costs 20,000 baht is listed on the agency's website for 25,000 baht, and you rent it for three months. Then the homeowner gets 60 thousand, the agency - 15 thousand.And if a house, or rather a villa, costs 100 thousand baht, then it is not a sin to rent it for 130 thousand, because the one who rents for 100 will remove and more expensive.
Percentage from the owner
This practice is not always used by real estate agencies in Thailand. Percentage from the owner means that they do not take money from the client, declaring that he himself pays with the owner at his price, and the agency receives its money in the form of a percentage (10-15%) from a grateful Thai. But more often than not, homeowners believe that agents should receive their percentage not from him, but from the client. In such cases, the agency can warn the client that the house is worth 15 thousand, but they add a percentage of their work to the rent per month. That is, the house will cost you 16,500 baht and the Thai is also aware of this situation. When you pay him these 16,500, he will give the agency the 1,500 baht owed to him. But they are not always warned, so you may not know how much rental housing would cost if you came from the street and without intermediaries. Moreover, cunning Thais can also hand over to you at the agency's price.
Fraud
Scammers spend some time and some money to create a public on social media. They fill it with bots, photos, ads for sale and rent. They are unwittingly helped by stupid users of the social network, placing their ads and questions on the topic of Thailand, creating the appearance of life on the fraudster's page. A person who is far from all these matters usually sees that there is an agency page, beautiful pictures with palm trees and people are communicating. And most importantly, the price for the desired house is better here than elsewhere..
Then the person is asked to pay the entire lease term at once, because the owner of the house «very principled person», plus - a deposit, plus - a fix for the selection of a house. After receiving the money, the fraudster evaporates, and the failed vacationer, with his complaints and a request to find the villains, rents the house again in a verified agency.
How best to book a house
Online or upon arrival
You can find my booking instructions at the link: How to book a house - 5 ways.
Officials and black realtors really do not like those citizens who start looking for housing upon arrival. Such dislike is due to the fact that this process takes a lot of time, and the client constantly hopes to see something more perfect and asks the same question «what else do you have in mind?». You have to either lie to him, or go to another place. And it also happens that the client sees a suitable house, but declares that «tired of looking, you don't offer anything good, all agents are weird» and leaves. And an hour later he comes back and concludes a lease contract directly with the owner. Agents do not like to light up their houses, because there are more and more such cunning tourists every year..
Some companies even block your access to their sites from Thailand so that you do not look for houses by their appearance, because the approximate map of the location of the house is always tied to the description of the object. I give a life hack, use a proxy (or Zenmate plugin in your browser) to view the sites of such agencies while in Tae. My base houses on Koh Samui and houses in Krabi always open 🙂
In my opinion, if you have already arrived, then look for a house yourself. Or book a house in advance on the Internet in order to come immediately to the finished one, because this is precisely the meaning of the intermediary service, in saving your time.
Remember, you need to start looking for a house on the Internet IN ADVANCE, six months or a year in advance, especially if you want a house for the New Year and holidays. I even wrote about it in detail. whole post, because not everyone understands. Then you get a wider selection of houses with reasonable prices for the period you need and a happy booking manager with whom you are the first client of the week. If you are looking for housing during the high season, then you will find high season prices, nervous realtors and almost guaranteed ignorance from official agencies if you are looking for budget housing.
If the agency says there are no houses other than the ones offered
This does not mean that there are no houses at all and it is time to unpack the suitcase. This answer can be heard either from a normal agency during peak season, or from helpers in any season. And that's why.
Each realtor has only its own, closed database. There is no common, unified database of houses from which all realtors take information, as, for example, from hotels in booking services such as RoomGuru. Accordingly, at home agents offer only those that are already in the agency's database. If they do not have what you ask, then you are just footballing, stating «either take what you have, or look for yourself». But keep in mind that if you are looking for a home during the high season, then the agents are not far from the truth. On the spot, you will have to make sufficient efforts to find a home. And if you have a lot of requirements for it, then it is not at all a fact that you will find your dream home..
P.S. The rental business in Tae is so popular that agencies start and close in batches, often leaving a negative impression on themselves, both among tourists and homeowners. However, there are some reputable people who can be used if you need remote booking, there are no other options..