It is finished! How many times had to manually punch the cost of travel insurance, going to the websites of insurance companies ... Now there is a whole service for this - Cherehapa! Their database contains 18 partners, and among them are just those that everyone needs, such as Consent, Sberbank, Tinkoff, Absolute, VTB, Zetta, Ingosstrakh, etc..
The content of the article
Travel insurance on Cherehapa
What is Cherehapa
When issuing a policy online using the Cherekhapa service, you pay only for insurance, the service itself does not take a commission for services. That is, the insurance will cost the same or even cheaper. The fact is that Cherekhapa is a big partner, and can get himself special conditions. But that's not all. Cherekhapa provides support to all its clients, both informational and in case of an insured event. Believe me, this can play an important role..
Cherehapa is an internet service for the selection and purchase of travel insurance online. Using this service, you can compare offers from different insurance companies, choose the most profitable insurance option for you, and immediately purchase a policy. The main convenience is that you don't have to go anywhere and you have enough time to select the required insurance parameters. Cherekhapa is an aggregator, in the field of travel insurance, it is similar to services for finding flights and hotels.
The online service Cherekhapa was created in 2012, over the years of operation it has significantly expanded the number of insurance partner companies, and, possibly, there will be even more of them. Buying a policy using the service takes only a few minutes. If necessary, you can contact the support service and find out about the features of insurance in certain regions and generally ask any questions.
Why buy through Cherehapa
The point is that Cherekhapa is a serious partner, not just an intermediary. Cherekhap can put pressure on the insurance company in a disputable case. Therefore, Cherekhapa's clients are in a privileged position, but, of course, within the framework of an insurance contract. Believe me, I know what I'm talking about. When my son ended up in intensive care in Thailand and we got the full insurance amount, Cherekhapa helped by negotiating with the insurance company. And I know that our case is not the only one. I'll tell you a secret, some insurance can only be taken through Cherekhapa to avoid problems. You have nothing to lose anyway, the prices are the same, and it's better to have a free extra warranty than none at all..
It is very important that Cherekhapa provides those support. For example, you can make changes to the policy via the Internet or cancel it when many insurance companies want a personal visit to the office. Cherekhapa is always aware of all the changes and all the conditions for insurance, you will be advised in the online chat what to take in your particular case and what not. You try to call the insurance company to find out something not quite standard, they will tell you such nonsense in the call center, I have checked it many times already. Cherekhapa sometimes even disconnects insurance companies from the issuance, if they are in bad business and it is better not to buy their policy now. So you do not lose anything from mediation, but only gain.
How Cherehapa works?
It's very simple: you fill out the form on the main page of Cherehapa, choosing one country, several countries or an entire region, as well as the number of travel days, the number of insured, etc. Further, the service offers you a choice of several suitable options, and it itself indicates which insurance partner companies are suitable for you. You just choose the company you need, fill in the personal data of the insured and the payer, pay and - the policy is ready! Here you can try something to compare.
Now the partners of the Cherekhapa service are: Consent, Absolut, Sberbank, Alfa, Renaissance, Reso, Ingosstrakh, VTB, Russian Standard, ZETTA, Liberty, Rosgosstrakh, Tinkoff, Allianz, Reso.
It is worth noting that a printout of an insurance policy issued through the Cherekhapa service is suitable for submitting documents to the embassy to obtain a Schengen or other visa. In general, the policy is no different from what the insurance company will write you out. I bought insurance, both through Cherekhapa, and directly from the insurance company - there is no difference, the policy is the same. And there were no problems with him later, he was in the insurance database, as it should be.
The most difficult thing when choosing insurance is not the technical side (the service is made conveniently, the interface is simple and straightforward), but a balanced choice of an insurance company for you personally. This is not such an easy decision, because we just buy insurance in order to receive qualified and quick assistance in a situation where health and even life may depend on the promptness of the insurer. Our blog already has detailed article on how to choose an insurance company, be sure to read.
Comparison of prices and purchase of a policy step by step
Country selection and number of people
To begin with, on the main page of the service, you can select a country, several countries to choose from, or a region where the insurance will be valid. We'll take Thailand as an example: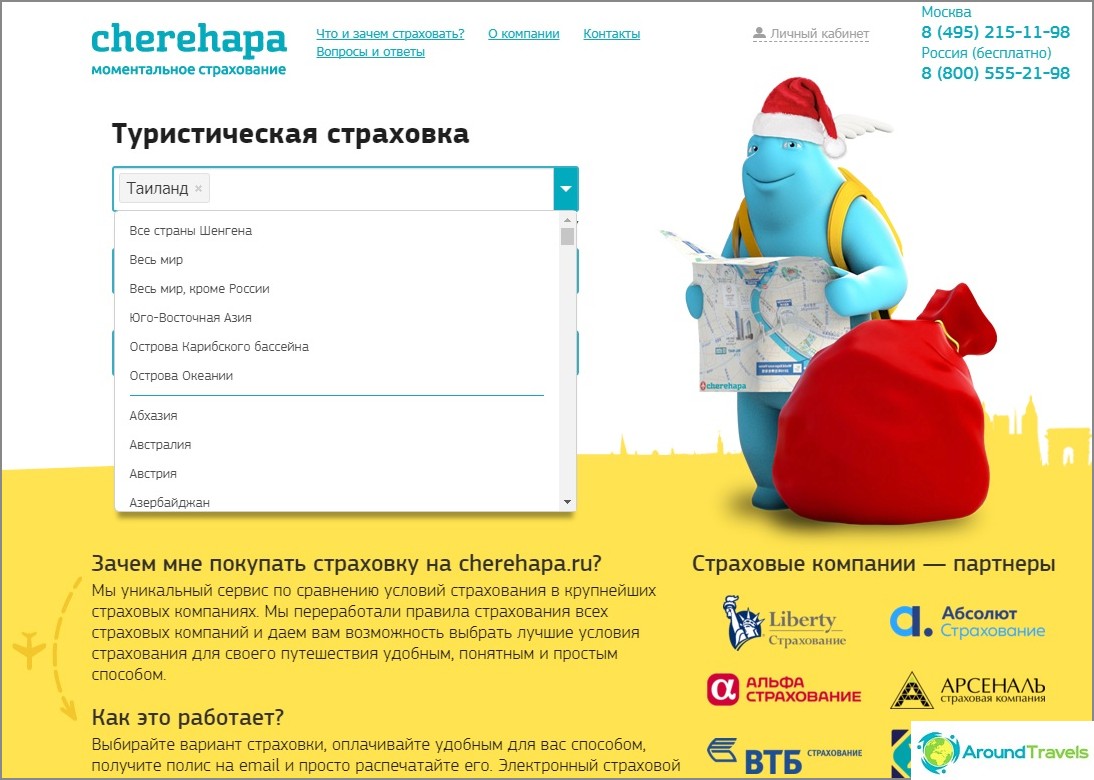 Then you need to choose the insurance period, the number of travelers (up to 10 people) and their age. Let it be insurance for exactly one month for one person: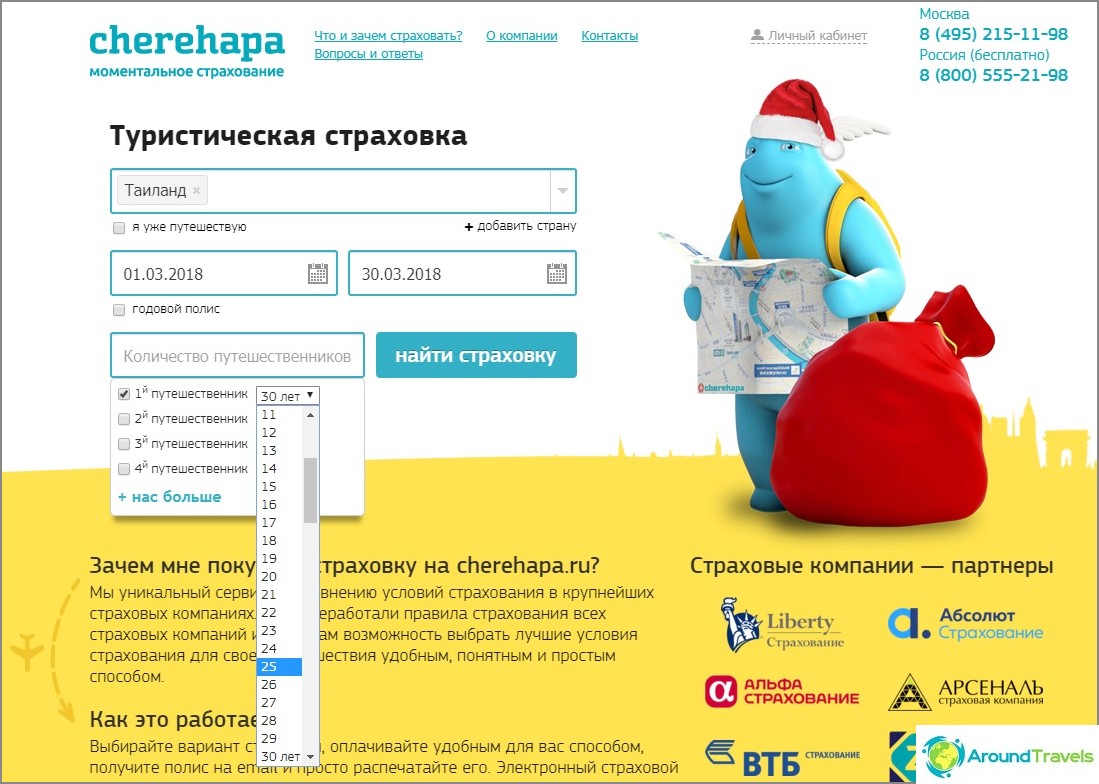 Initial search results
After clicking the Find insurance button, we go to the page with the results, where you can immediately compare prices (they depend on the exchange rate, therefore they may differ on different days).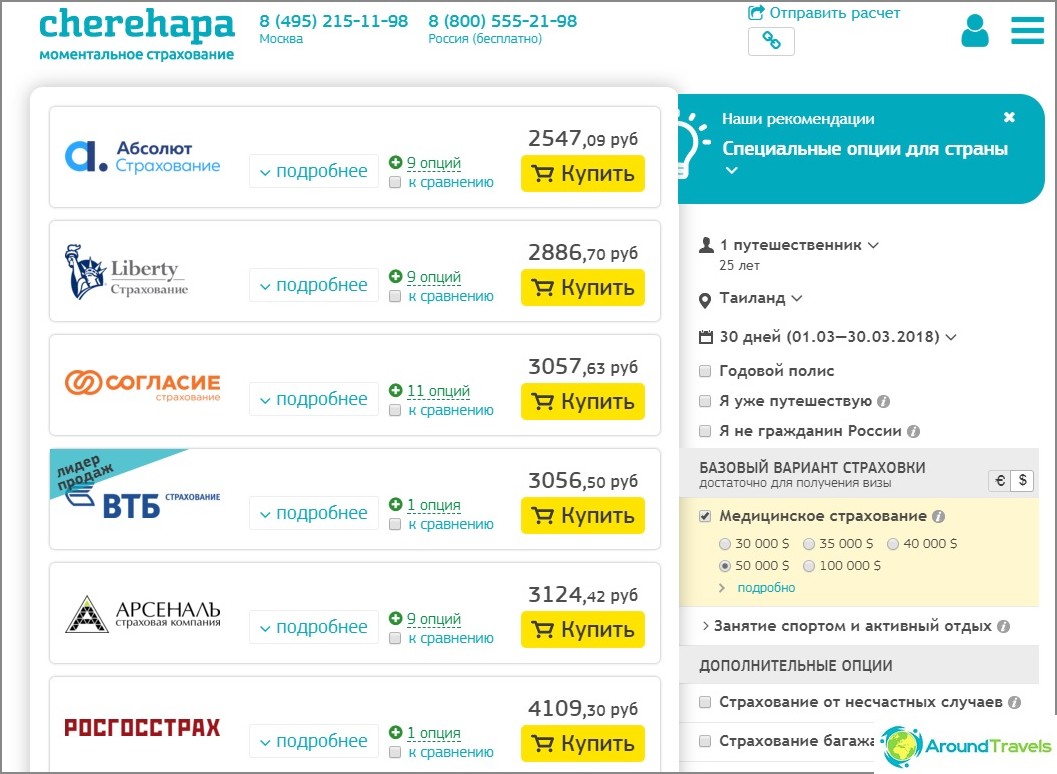 Filtering results
First of all, on the left, you need to check the boxes in the following points, if you need them:
Annual policy - if you need a policy for a year (usually they are bought for several trips at once);
I am already traveling - it is important to note this, since not all insurance companies allow the purchase of a policy if you are already abroad (more about it);
I am not a citizen of Russia - also an important point that should not be forgotten.
Next, you can pay attention to the recommendation of the service for the region or country you have chosen, it is located on the top right. Here's what the advice for Thailand looks like: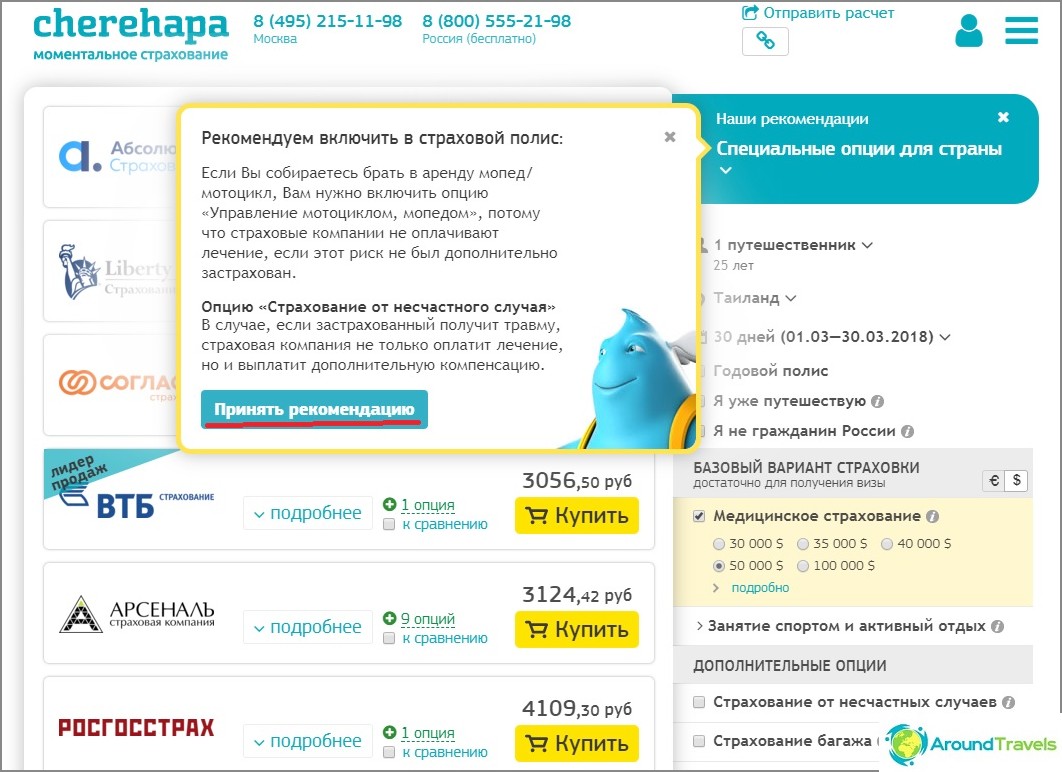 For Thailand, we are advised to add the Motorcycle / Moped Travel and Accident Insurance options. Let's say we really, like many people who come to this country, are going to rent a motorcycle, so the recommendation is quite sensible and you can accept it by clicking on the button.
Look, the prices have changed immediately, as the option Movement on a motorcycle / moped was added in the Sports and outdoor activities tab and Accident insurance was added in the Additional options, which made the insurance more expensive.
But you need to remember that in order for the insurance to work, you need to have category A rights, otherwise there is simply no point. And I would not insure accidents at all. Since many do not understand what it is and why, we read my post about this option.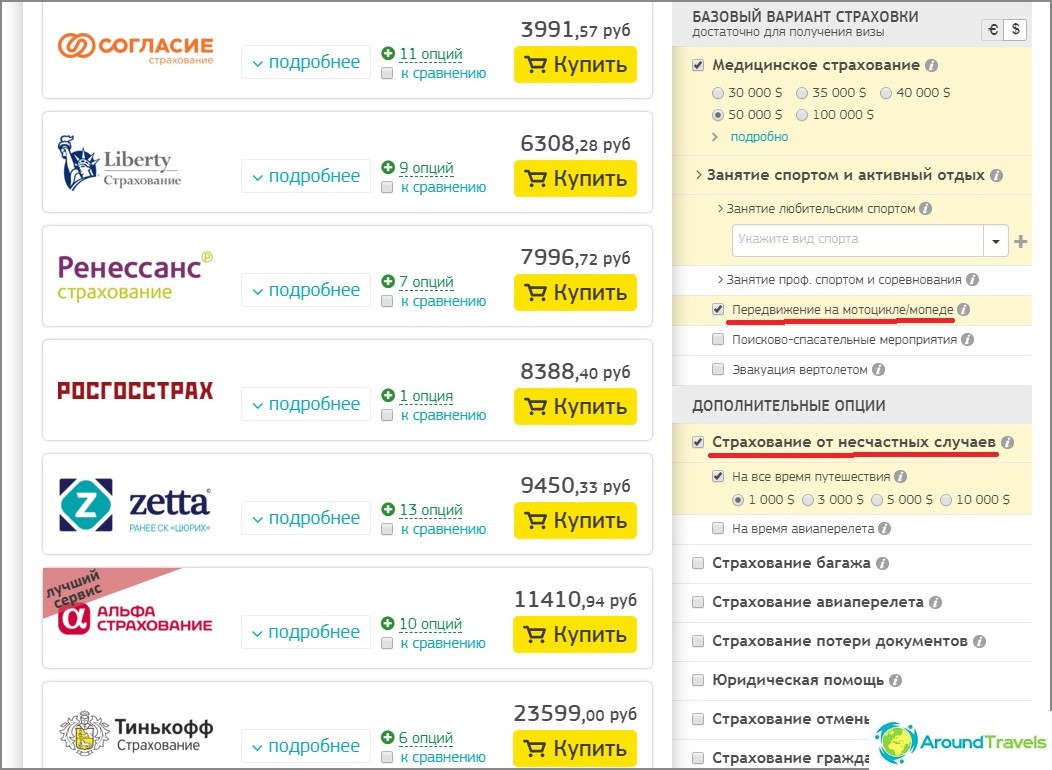 Below on the right, you can select the currency and the amount of insurance. For Schengen, you must always choose an amount of at least 30,000 euros (detailed post about the nuances of insurance for Schengen).
For example, instead of $ 50,000, let's choose $ 100,000 and see how the price changes.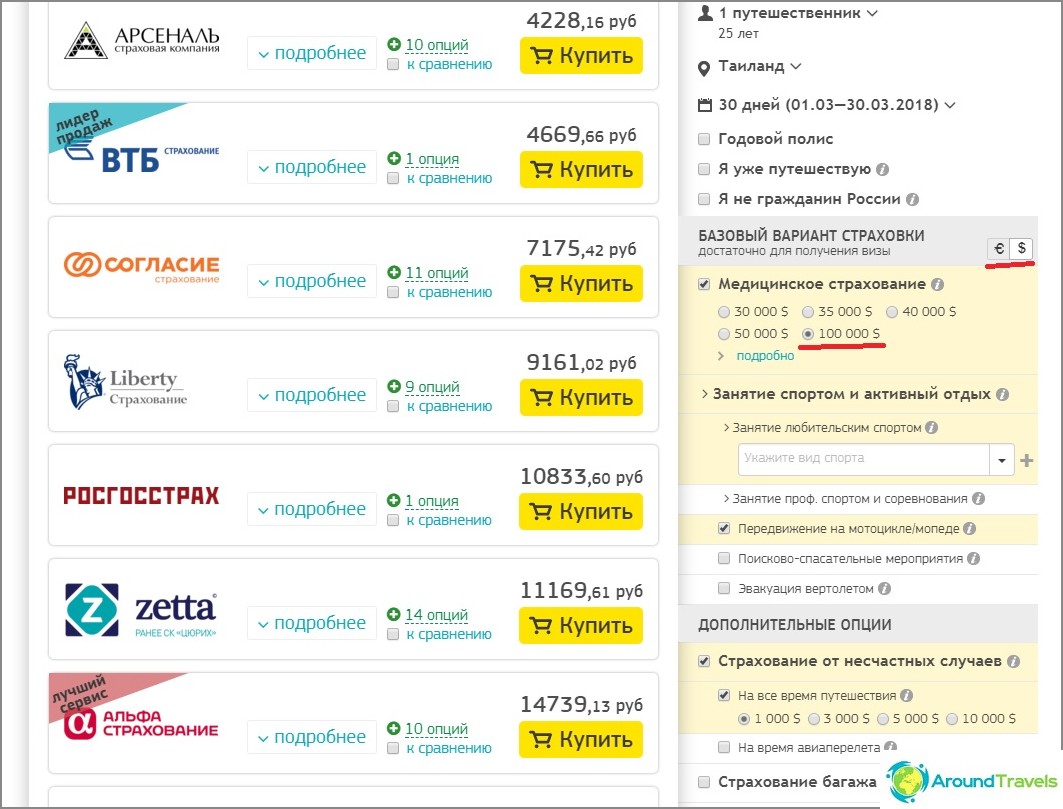 Right there under the sums insured, if you click in detail, additional filters will appear. And here you can act in different ways. For example, immediately check the boxes that you need, thereby activating the next filter. Then the cost of some insurance will increase (for those where this option is not included in the basic package), and some may disappear altogether or become marked with a red exclamation mark.
But we will do it a little differently. Select several insurance we need on the left by clicking on them, for example, VTB, Consent, Liberty and Alpha insurance (4 in total). Green plus signs opposite one or another option mean that the policy of the insurance selected on the left already supports this option in the database. Green circle with plus sign and inscription «N options» next to the name of the insurance company, on the left, just shows how many options this insurance supports.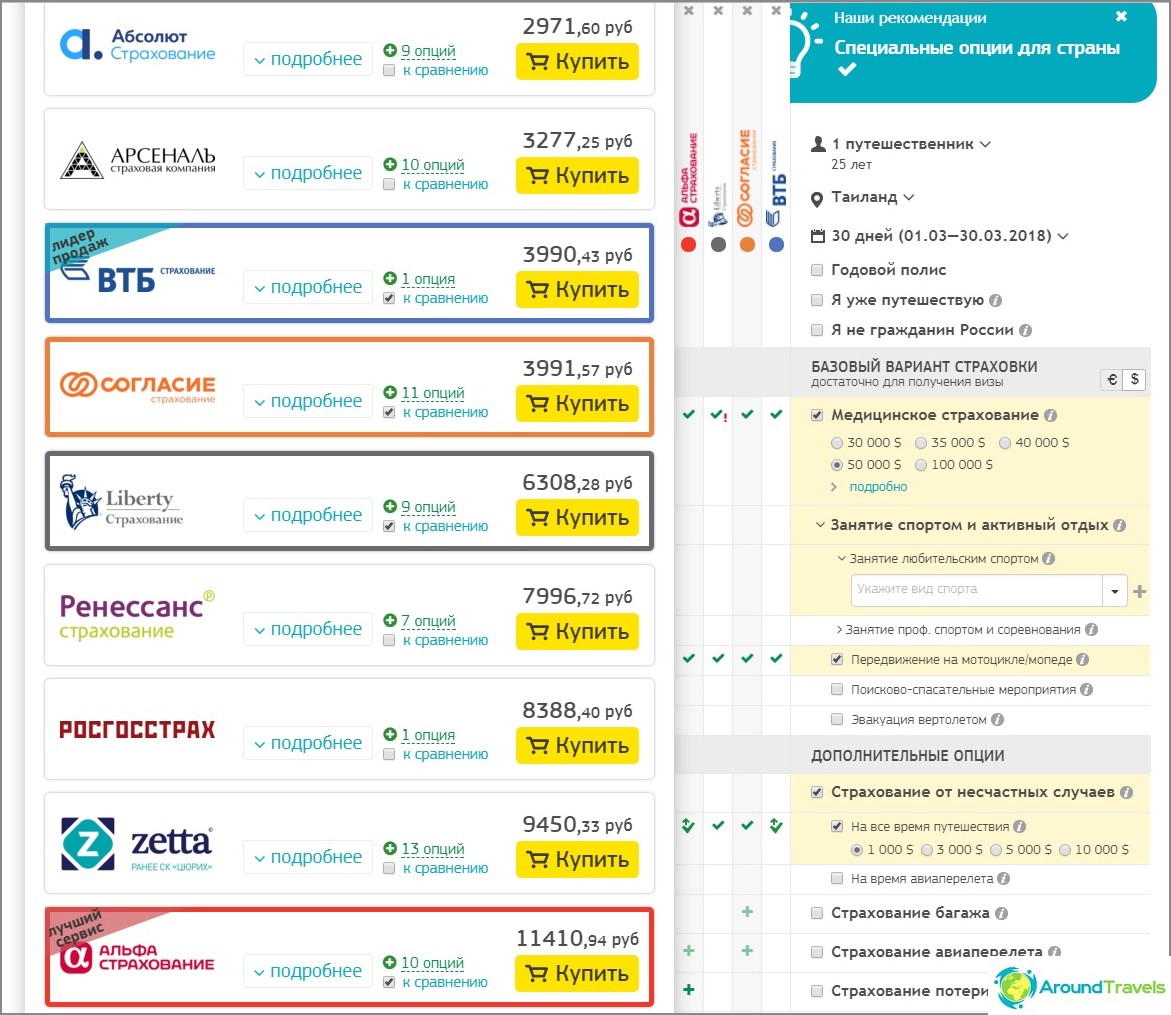 Insurance parameters
For each insurance, you can see some details. These are three points: assistance, deductible and insurance rules. These are very important points. A deductible means that you pay part of the costs. True, the franchise is rarely used, sometimes it is not there if you buy a policy through partners like Cherekhapa.
But the most important thing is assistance, but more about it below..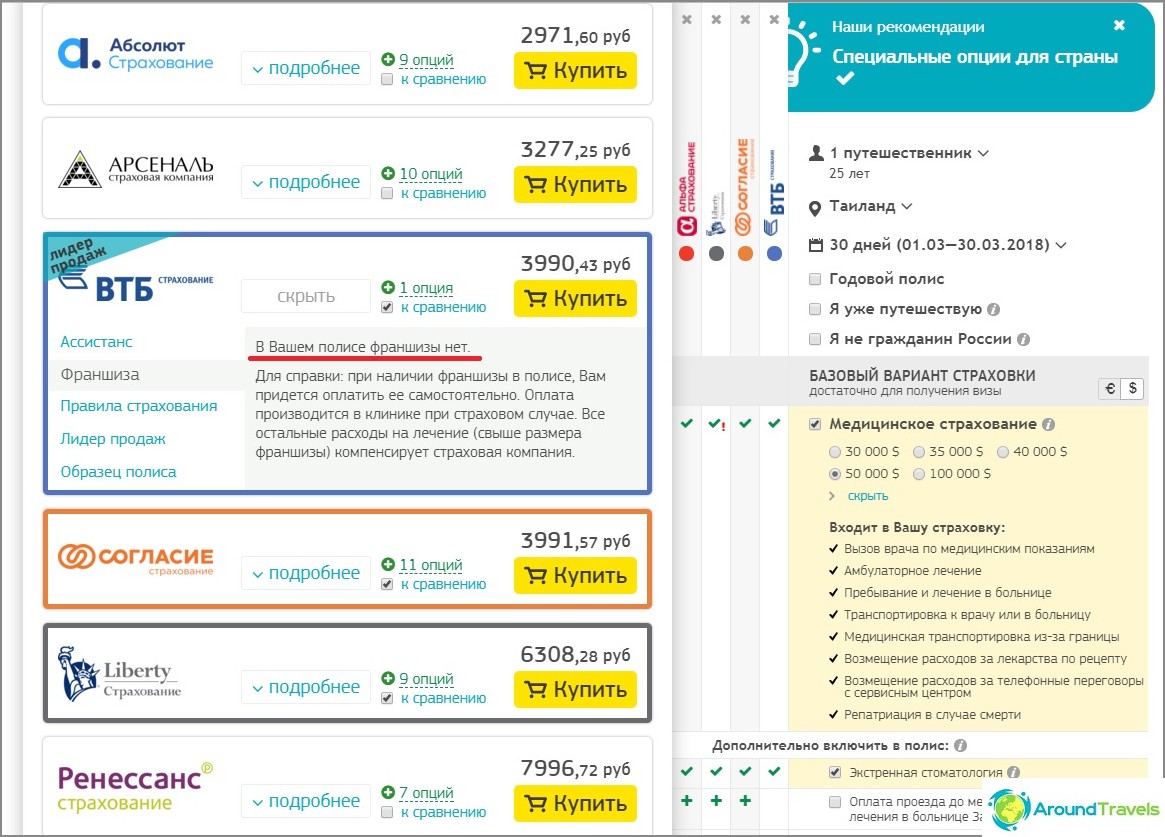 How to choose an insurance
The final choice of an insurance company is the most crucial step. Be sure to look at my rating of insurance, there is always fresh info, compiled on the basis of reviews.
Assistance plays the main role, and not so much the insurance company itself. It is the assistant who will receive a phone call from you and direct you to the hospital on the spot. The speed of its work depends on how quickly your question will be resolved, as well as in which particular hospital you will find yourself, in a modern or some snuffed one. How to choose an assistant is a difficult question. It is best to read reviews for a specific country and preferably in conjunction with an insurance company, after all, it will be the insurance company that will approve the spending of a certain amount on a particular examination. But be prepared that there will be a negative for each assistance and insurance. Unfortunately, this is a normal situation and must be taken for granted, this is how this business works..
The service has a filter by assistance. But since there are not many insurance companies, it is not always necessary, I already remember from memory who is cooperating with whom. The main thing is not to buy Global Voyager Assistance (GVA), they have the most complaints.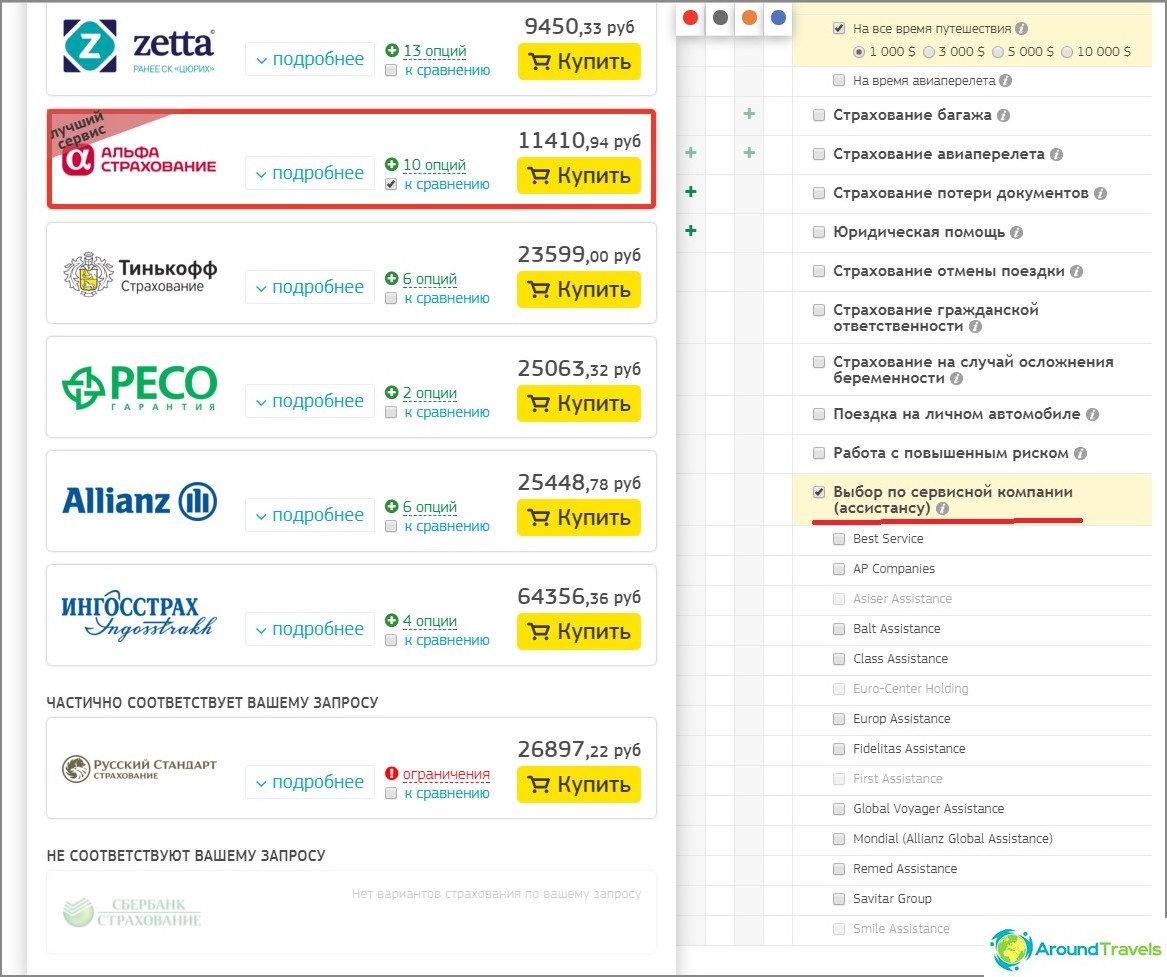 Payment for the policy
After you click Buy in the column with one of the names of the insurance company, the site directs you to a page where all the parameters of your policy are listed, check them. After that, we fill in the personal data of the insured persons and the policyholder. If to the right of the insured person's surname put a dot under the word Buyer, then the name for the insured, below, will be filled in automatically.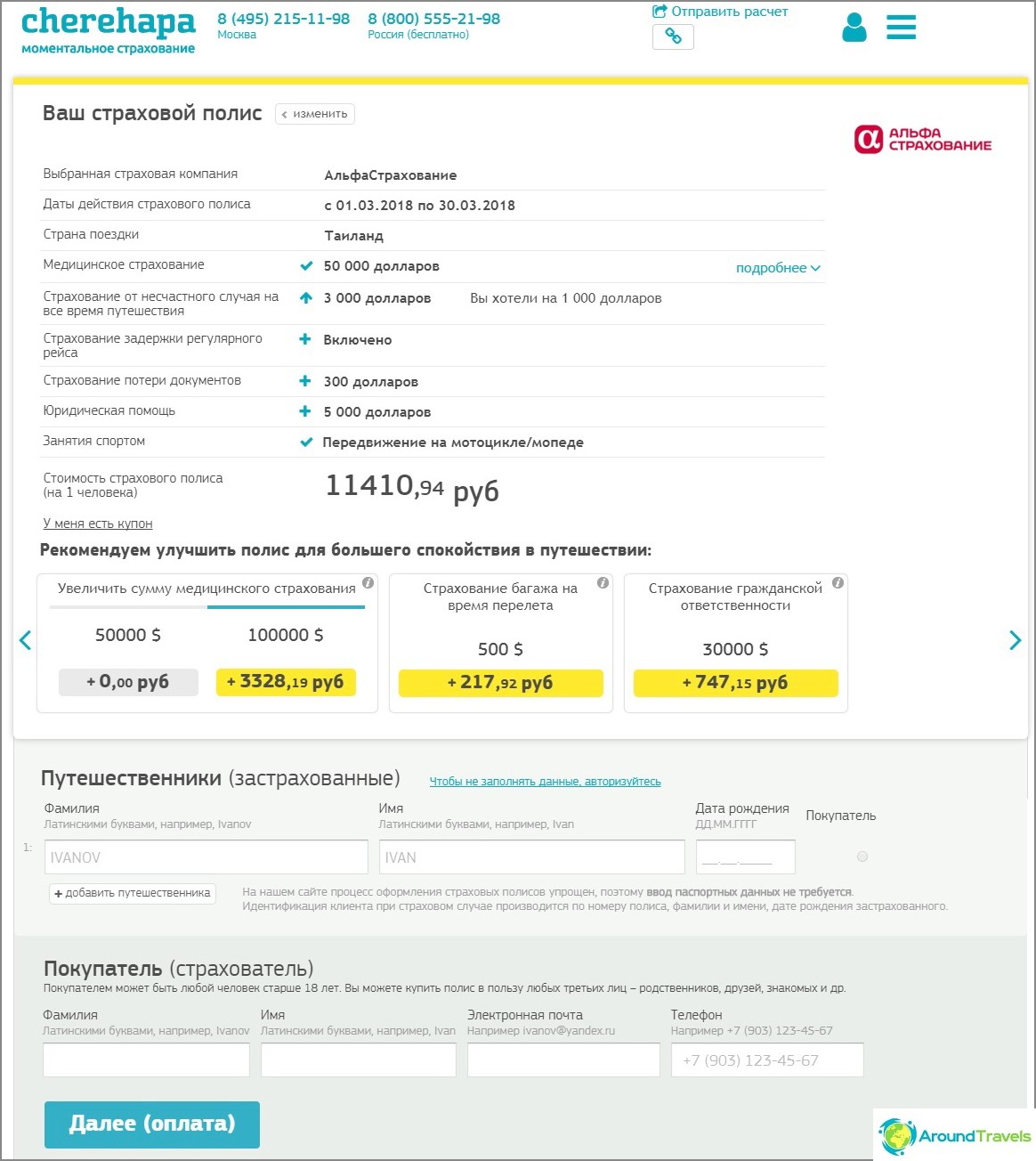 You can pay for the policy with your bank card by filling in the card details.
So everything is done online, you don't have to go anywhere. It is very strange that some insurance companies still DO NOT sell policies over the Internet. Hmm. The last century is straight.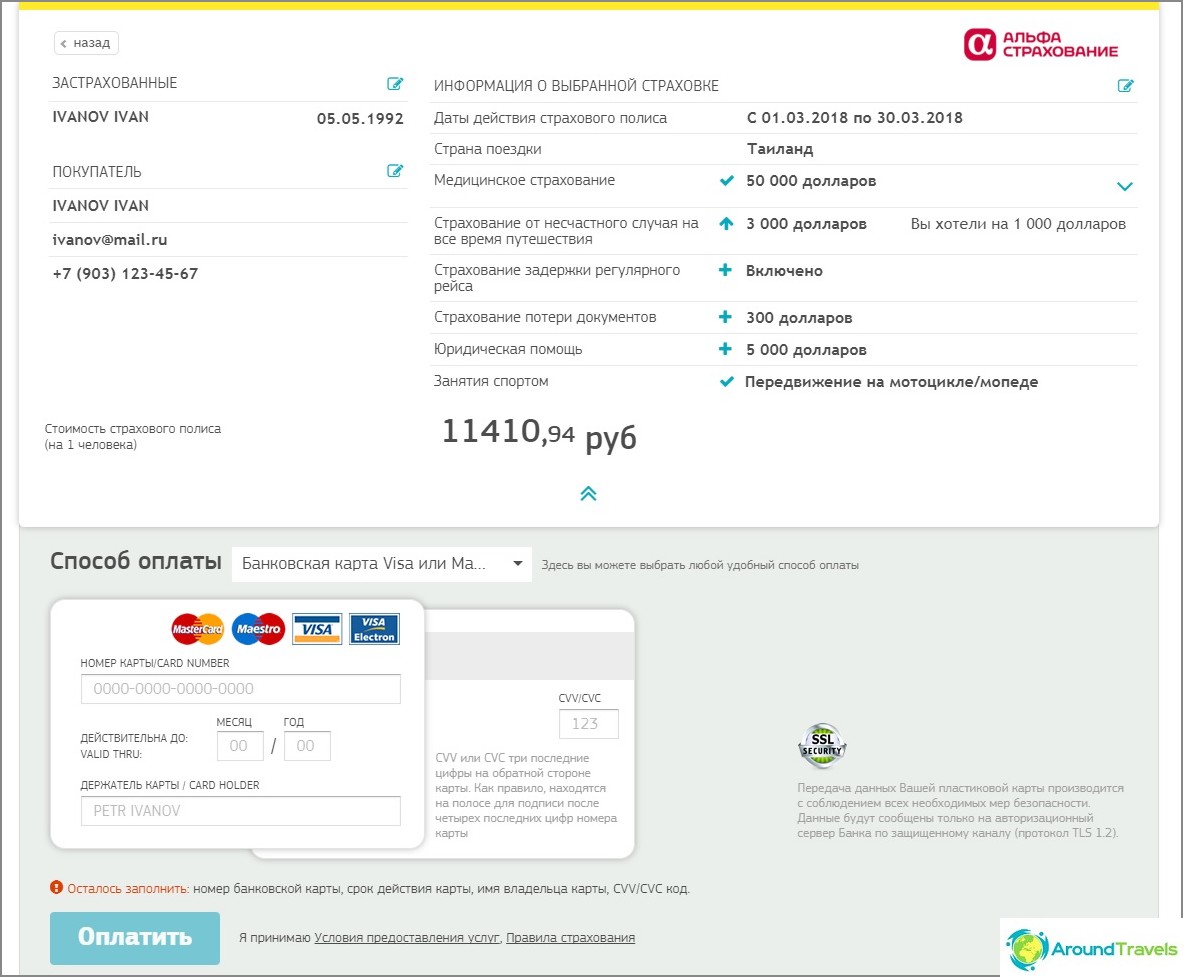 Immediately after payment, the insurance policy will be sent to you at the previously indicated e-mail. In addition, if you register, the policy will be stored in your Personal Account on the Cherekhap website. For convenience, an SMS message will be sent to your phone number..
That's all, you have a policy, you just have to wish that fate does not force you to use it.
How to cancel the policy
If you want, you have the option to cancel your insurance policy. This must be done before it takes effect. To cancel the insurance policy, you need to send an application to the service's e-mail or write to them in the online chat. After that, the money will be returned to your bank card within a few days. I already canceled the policy, everything went without problems.
Please note that in other services or when buying directly from insurance companies, not all the money can be returned, for example, only 70%. In this case, you may still have to go to the office. This is the question of where it is better to buy.
P.S. Please note that the options selected are individual and I have chosen as an example. As a rule, for a child, I always make a policy with coverage of $ 100,000, and for myself most often $ 50 thousand or also $ 100 thousand. At the same time, the last time in Thailand I traveled only by car, so there was no need for a package «Leisure», considering bike. Also I don't really need accident insurance..