Luggage insurance is not so obviously a necessary thing, like regular travel insurance, but it can come in handy, because the loss of luggage is quite an unpleasant thing and at least some kind of compensation can brighten this situation. Usually, luggage is insured if you fly by plane, but you can also insure using another mode of transport, it's just less common.
First of all, I recommend reading my main post about travel insurance, you will learn a lot, and you will also be able to choose basic insurance, this is much more important than baggage insurance.
The content of the article
Luggage insurance
Why do you need baggage loss insurance
Be sure to see my main post about insurance, where I told how to use insurance correctly, how to choose it, wrote about all the necessary and unnecessary options. Plus, I made a rating after analyzing a huge number of reviews and my personal experience (plus I have some insights sometimes). I try to update quickly so that you can always choose more working insurance.
In the case of air travel, the carrier is responsible for your baggage. And she is obliged to pay compensation for each kilogram of weight in case of loss or damage to luggage in accordance with the Warsaw Convention. But the maximum payout amount is quite small.
When purchasing baggage insurance, the amount received can be significantly higher. Of course, the airline will still pay compensation, and the insurance company will deduct its amount from its insurance payment, but it will turn out to be more profitable in the end. On the other hand, if you do not carry more or less valuable things in your luggage, then it is possible that compensation from the airline will suit you, because shorts and T-shirts are inexpensive almost everywhere and in general you can score for their loss. However, if the luggage is obviously valuable (for example, I have a tripod, charging for different devices, expensive shoes), then it makes sense to insure the luggage with an insurance company..
Thus, having baggage insurance, if you lose it, you will receive more or less real compensation. By the way, you can also insure the delayed baggage, because it happens that the baggage is lost, but it is found after a day, and this day you have to somehow get out by buying hygiene items and at least some clothes.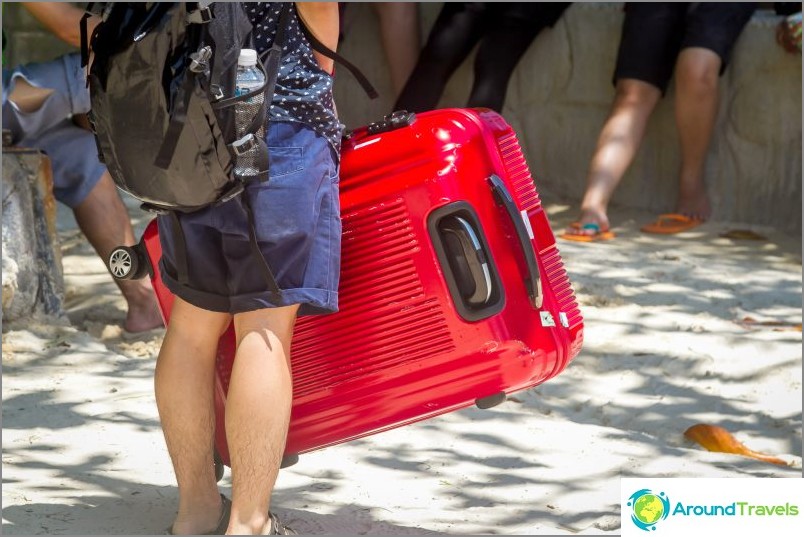 Where can I buy
In fact, you have only 3 options..
1. Luggage insurance is most often bought as an additional option to regular travel insurance. That is, we chose basic insurance and added an option for luggage. This is voluntary. The cost is very low, and often the option is already included in the insurance by default. How to check and add? Visit my beloved Cherehapa service, tick the box, select the insured amount for your luggage and see the filtered results. You can also check the box «delayed baggage». Instructions on how to use the service.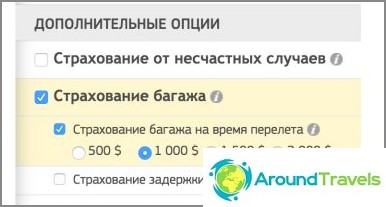 2. Probably the least popular option is to buy a separate baggage insurance. You can do this both at some specific insurance companies and again at Cherehapa. Set all parameters (country, dates) and then put a tick «Luggage insurance», a tick «Medical insurance» remove. True, there will be very few filtered results, since few offer such insurance as a separate product..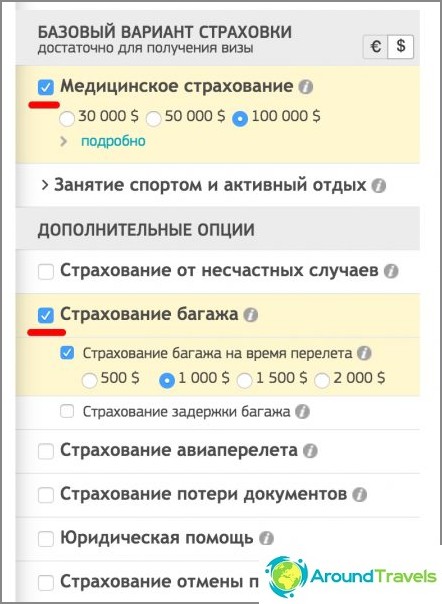 3. When buying a ticket, almost all online agencies that sell you a ticket will also intrusively offer you to buy baggage insurance (as well as other options). Remember, you do not need to buy baggage insurance a second time if it is already included in your main travel insurance. And I really do not recommend buying the main travel insurance from these agencies, they will not offer a good one.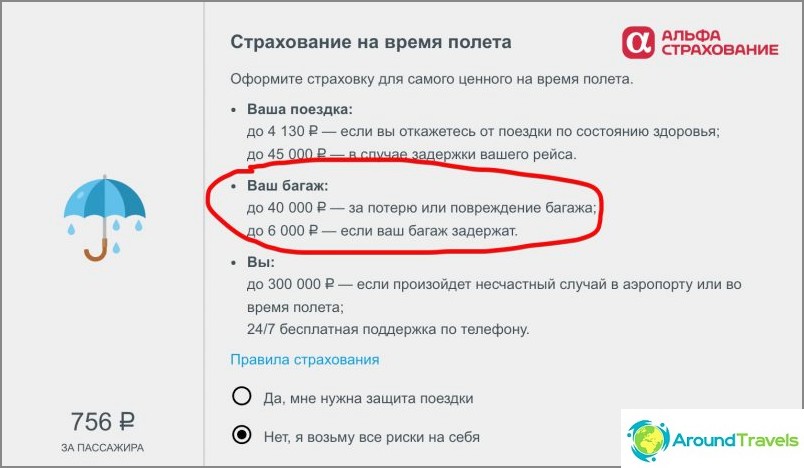 Insurance terms and conditions
Baggage is considered lost if it is not found within a certain number of days. Usually they are found within the first day and may even be brought to the hotel. In the event that the luggage is not eventually found, then an insured event occurs. Insurance companies usually take a long time to consider such cases, so the airline may first pay you compensation after it admits that the baggage was really lost. Again, the insurance company will deduct the amount already paid by the airline from its payment.
When buying luggage insurance as an additional option, you can sometimes choose the cost (estimate) of your luggage yourself. The insured amount ranges from 500 to 2500 dollars / euro. This is the maximum amount in case of complete loss, in case of damage to luggage, compensation will be paid only for the damaged things, and it also depends on how much it will be possible to prove the damage.
Sometimes baggage insurance is already included with your travel health insurance by default, if it's good and not the most budget insurance. You need to look at specific insurance programs. Other options may also be included..
Some bank cardholders (usually premium or credit cards) have their own annual travel insurance with a limit on the number of days or travel. And these insurances can also include luggage insurance. Check with your card issuer for specifics. But usually only the loss of baggage is insured, the delay in baggage claim is not insured. And, for example, in order for the insurance on the Avangard bank card to begin to operate, you must either initially pay for the ticket with their card, or buy something in duty-free at the airport of departure, and this is important just in the case of luggage.
Some nuances.
If luggage insurance is an option to basic insurance, then you need to know this. Baggage insurance starts from the moment you check in your baggage at the airport, so this calendar day (departure day) should also be included in your main insurance. Some people just save one day, buying insurance from the next day after the day of departure. In this case, you do not need to do this. The same is true upon returning home - the travel insurance expires at 12 am on the day of the end of the contract, so if the flight is delayed or the plane is late, the insurance may end. Therefore, it makes sense to buy insurance for one day longer than the duration of the trip..
A standard luggage insurance contract usually provides for compensation for loss or damage during carriage or as a result of sudden force majeure: natural disasters, fire, robbery, robbery, road accident, terrorist attack, strikes and hostilities. Insurance is not paid in case of damage by rodents or through the fault of the passenger himself, as well as in case of confiscation of baggage.
Luggage can be insured both for the duration of the flight and for the entire duration of the trip, but only on condition that it is stored at the hotel, in the luggage room. What you carry with you is not compensated in case of damage or loss.
Some insurance companies use an unconditional deductible for luggage insurance. This is a fixed amount or a percentage of the insured amount that is not reimbursed. If the damage to you is less than this amount, then no compensation will be paid. For example, if the deductible is $ 15 and the damage is $ 10, then no compensation is paid. If the damage is more than this amount, then you will receive monetary compensation minus the deductible.
Luggage alone is rarely insured. If only these are not particularly valuable things such as antiques, but in this case they make up a separate insurance contract and this is another topic that we will not touch upon now..
Airline reimbursement (airport insurance)
As I already wrote, you can simply take advantage of the airline's refund, in fact, also insurance. But the amount will be small, in accordance with the company's standard rates for 1 kg of luggage. And no matter how valuable your luggage is, the airline has a maximum amount for payments, it will not be possible to get more.
For example, Aeroflot is not responsible for minor damage to baggage, and in case of damage to the contents or loss, it pays $ 20 per 1 kg of weight. But this is ideal, because you will have to prove the value of things, and there it all depends on whether they agree with you..
There is another option. If you have anything of value in your luggage (such as a quadcopter), you can check in your suitcase at the check-in counter as declared value luggage. That is, you declare in advance the items contained in the baggage and write their value in the inventory. But the airline usually charges an additional fee for valuable baggage, of the order of 5-10% of the declared value, as well as require checks at a high cost. So buying luggage insurance from an insurance company can again come out cheaper. And given that this whole procedure with the registration of valuable luggage is rather long (you need to arrive in advance in order to have time to declare the luggage), then again it is easier to buy insurance, this is done in 2 clicks.
Insured event with luggage
What to do
In case of loss or damage to luggage, the first thing to do is to draw up a PIR (property irregularity report) at the Lost and Found counter. Without a PIR number, you will not be able to receive compensation later. After drawing up the act, you should be given a written confirmation and registration number.
Keep your flight ticket, boarding pass, baggage receipt. The entire list of documents required to receive material compensation must be obtained from the airline representative.
Contact your insurance company immediately and receive instructions from the assistance. When you call, you must provide the name, policy number, place where the insured event occurred.
In the Lost and Found service, you need to write a statement about the loss or damage, with an inventory of things. If your baggage is lost or damaged, you must make a statement about it no more than 24 hours after the incident. First, a protocol is drawn up with the airport employees in order to record the fact of the incident..
The carrier's representative must draw up an act of loss or damage. If he refuses to do this, you need to take a written refusal from him. After arriving back to your homeland, you must submit a protocol and other documents to the office of the insurance company.
How to get insurance payment
After completing the steps indicated above, having collected all the documents, you must also write a claim letter to the airline with a description of the circumstances of the incident, your requirements. If it is damage to baggage, then indicate what exactly was damaged and for what amount. If you lost your luggage, attach receipts for essential goods that you bought immediately after your luggage was lost (if this happened at the beginning of your trip). All documents must be sent for consideration within a certain period.
Within 30 days after returning, you need to write a statement to the insurance company and attach all documents - an act of loss or damage to baggage, baggage receipts and documents on receipt of compensation from the airline. If she was. Usually within two weeks after applying to the insurance company, she pays compensation.
P.S. Himself pah-pah-pah luggage has not yet lost, but my friends did. True, the suitcase was found within a few hours and therefore there were no insurance claims. Therefore, I will be glad if someone shares their experience regarding refunds..