Collected reviews on Tripinsurance on my blog. I described all the pros and cons of this insurance, so that it is easier for you to understand whether it is right for you or not. And he outlined in understandable and human language the important conditions of insurance programs that are worth paying attention to.
I myself have already made this insurance in Europe when I went to the Czech Republic. I can safely recommend.
The content of the article
What is Tripinsurance
The company has its own call center and its own Assistance, which serves customers in all countries. There are agreements with other assistants, including Mondial, in order to speed up the receipt of assistance. In fact, Tripinsurance itself has now become an assistance that sells insurance.
Their reputation in recent years is in order, so you can safely take insurance. If you do not quite understand what assistance is and how insurance companies generally work, then read my main post about insurance.
The policy will be, as before, from the insurance company LLC «Absolute Insurance». Only now the conditions for chronic diseases, dentistry and insurance coverage have been greatly improved (at least now $ 250 thousand). And do not look for this offer from the Absolute itself, it is not there. Many insurance companies are now working through such intermediaries and with different conditions..
Discount Tripinsurance>
Especially for blog readers - the promo code LIFETRIPRU, which gives a DISCOUNT of 11%, is valid all year round.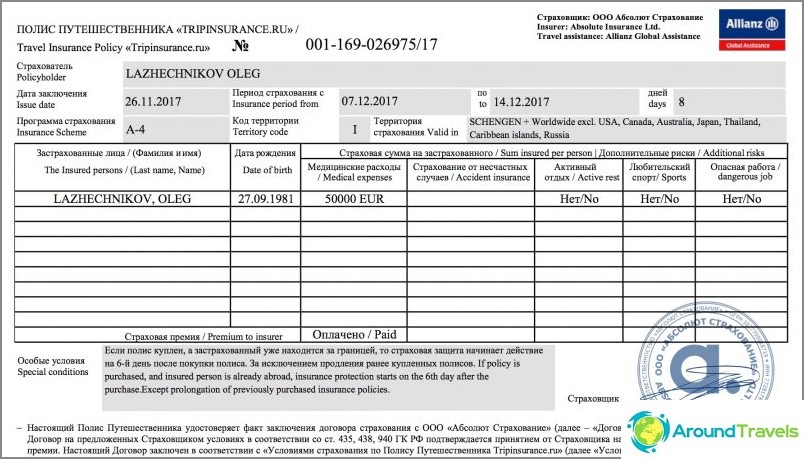 pros
Very large sums insured: $ 250,000 - $ 1,000,000. Nobody has this.
They are not afraid of publicity, their representatives are on all forums, where you can draw attention to your situation and solve it.
Each insurance includes free consultations «Doctor online» with a pediatrician and a therapist. In chat or video chat, you can ask your questions around the clock, both insured and non-insured. Useful if you think you should or shouldn't go to the hospital, or want to check something after an appointment with a local doctor.
There is its own application for Android and iOS, through which it is convenient to make calls and correspondence with the insurance company. They will immediately know that it is you and will not ask unnecessary questions. The application requires internet.
You can find out which hospital will be sent to in a particular city by asking a question on the forum or technical support on the website.
In terms of jellyfish, sea urchins and other living creatures, they are covered with a condition in case of a threat to life. Covered dengue fever and allergies not caused by chronic illness. Chronicle (including chronic allergies) are covered up to $ 3000. By default, any tariff includes bike riding insurance (relevant for Ty). Naturally, you must have a category A license, be free of alcohol in your blood and wear a helmet.

People with dual citizenship are insured, there is emergency vaccination, insurance for children's competitions and fees, etc. Assistance is rendered in case of terrorist attacks, when this is an exception with other insurance companies. They pay not only for the emergency transportation, but also for the transportation for the visit to the doctor (taxi).

Doctor on CalL will be provided where possible. Therefore, when there is an opportunity and there is a free doctor, you can call a doctor at home. Well, if in a particular country there is such a service at all.
They often ask, so I'll write too. On the Thai islands of Koh Chang and Phi Phi, there are contracts with local clinics, you do not have to travel to the mainland. Although, if the case is serious, then they are transported, of course.
Insurance for specific dates and annual rates 365 DAYS can be bought from abroad.
Minuses
For countries other than Schengen, there is a $ 50 deductible. But only for policies lasting more than 34 days and for policies purchased from abroad. But this is easy to get around by buying several policies, each for 34 days. The company itself advises to do so.
Sunburns are not covered.
The price is high for Asia. But for Schengen it is normal.
Insurance rates
Tripinsurance has several programs. They can be divided into 2 parts: one-time policies for a specific trip (Base / Econom, Standart and Million) and annual policies (365 days and Multitrip). Programs differ in a set of options and insurance amounts ($ 250,000, $ 500,000, $ 1,000,000).
Base / Econom, Standart, Million
Policies for specific dates. You can apply even if the country of travel has a residence permit / dual citizenship, but the country of permanent residence in this case must be Russia. That is, most of the year it is necessary to live in the Russian Federation..
365 DAYS, 365 DAYS +, 365 DAYS++
These are policies with no limit on the number of trips, but with a limit of 91 days each. That is, the total number of days outside the Russian Federation in a year can be up to 364 (4? 91). The only condition is to leave the country of permanent residence, for citizens of the Russian Federation this is, accordingly, Russia.
Thus, after 91 days, the policy expires and you need to return to Russia and leave again to reset the counter. It's just that crossing the borders of different countries is considered one big trip. In principle, everything is standard here, most annual insurance works the same way..
MULTITRIP
Annual policy, valid all 365 days continuously and without restrictions. Convenient for those who travel for a long time. Only one minus - high cost.
Tripinsurance has several insurance territories, please consider when choosing countries.
Schengen - the policy is valid only in the countries of the Schengen agreement.
Thailand - the policy is valid all over the world, except for the Russian Federation, USA, Japan, Canada, Australia, the Caribbean.
The whole world, except Thailand - all countries of the world, except for Tai and a radius of 90 km from the place of permanent residence.
Russia - action in Russia + CIS + Crimea, except for a radius of 90 km from the place of permanent residence.
The whole world is all countries, except for a radius of 90 km from the place of permanent residence.
Almost the whole world (but there is no such territory on the site). If you choose a specific country other than Schengen, USA, Japan, Canada, Australia, Tai, Caribbean, Russian Federation, then the policy will be valid in almost all countries except those listed.
What to look for
The insurance company tries to work in all countries by sending a letter of guarantee so that you do not have to pay on the spot and receive a refund upon return. Also, usually, when visiting a doctor, they do not require a cash deposit or a passport as a deposit. In 95% of cases, you will not have to pay, and for example, in China, 80% of clinics will be able to get into for free, which is quite a lot for this country..
When contacting Iran, North Korea, Syria and Sudan, the insurance company will not be able to provide assistance directly. Therefore, the insured is invited to independently go to the clinic and pay the costs, and upon return, receive a refund..
If it so happened that you had to pay your money, then this issue can be resolved remotely, without visiting the insurance office. First you send the scans, then you get the insurance solution and send the originals by mail. It's comfortable. Because many insurance companies will need to go to the office, and several times if there are not enough documents.
The policy purchased from abroad will be valid on the 6th day from the date of purchase, and there will also be a deductible of $ 50. This is how the insurance company is protected from fraud, so that they do not buy after the occurrence of the insured event. IN in this post I have provided a list of insurance, which sell similar policies, there are literally a few of them.
Any tariff without additional options covers: water biking, canoeing, towed inflatables and parachutes, visits to the water park, water polo in the pool, volleyball / football on the beach, skiing (except mountain), ice skating, descent into the caves with an excursion, cycling (except mountain biking), tennis, golf, rollerblading, jogging, riding animals (horses, camels, elephants, etc.), snorkeling, etc..
Additional option «Leisure» in most cases it is not needed and covers: water skiing, surfing, windsurfing, jet ski, rafting, yachting, alpine skiing, snowboarding, snowmobiling, hockey, mountain biking, parkour, horseback riding, fishing, hunting, skateboarding, kiting, bungee jumping, kayaking, trekking.
If the initial admission was in one country, the policy did not end and the insured traveled to another country, then repeated admissions will be covered within the framework of one insured event in another country too. If the policy expires during hospitalization, then it continues to be covered by the policy. If you only need a second admission or dressing (without hospitalization) after the end of the policy, then the policy will no longer cover it.
Order insurance>
I would like to separately note that the conditions are quite different and at the same time they also change periodically, as the insurance contract changes. But Tripinsurance has pretty friendly and adequate tech support. You can call or write to them and clarify any questions, especially if you have a special case or want to find out something specific.
Reviews on Tripinsurance
It should be understood that there will be negative reviews for any insurance company and for any assistance. You understand that usually everyone writes negative reviews, and few people get their hands on positive ones. Therefore, in your choice of insurance, in fact, you can focus only on the number of negative reviews..
And you know what, on Tripinsurance, there really are few negative reviews. Before writing this post, I specifically asked around all my acquaintances - and no one had any problems. Then I sat for a few days and read messages over the past six months in a thread on Vinsky's forum dedicated to this insurance. There are literally a few dissatisfied with everything. Moreover, they often turned out to be those who simply did not understand the terms of the insurance contract. You understand that the insurance business is like that, all services are only within the framework of the contract.
For example, a person bought insurance for alpine skiing, and transportation from the slope, if not emergency, was not included in the insurance. The agreement says about this, but if you do not read it, then it is not entirely obvious, since alpine skiing is covered.
Or a person injured his knee in Thailand, and only emergency surgery is covered under the contract, while the Thai doctor said that the surgery is planned (not urgent). The insurance company offered transportation home in business class instead of the operation, which, in principle, is a common practice, and the person wanted the operation here and now in order to continue to relax in Thailand.
Do not think that I am idealizing this insurance, I am only writing my conclusions and conclusions. Compared to the number of negative reviews that are found in forum topics about other insurances (through one message people have problems), everything is pretty good here. And I hope it will continue this way. You know, many insurance companies deteriorate over time..
Liked the positive reviews. Fresh from: a man broke his leg again in Thailand. He was immediately sent to a doctor at the Bangkok Hospital network, given an interpreter on the spot, had an X-ray done, put a plaster cast, and handed crutches. For reference, budget insurance will delay paying for examinations such as X-rays and try to minimize their costs. So, then there were 2 more visits to the doctor with an X-ray, the replacement of plaster with an orthosis.
At the same time, being already at the hotel, after each doctor's appointment, the assistance called and gave the opportunity to talk with a Russian-speaking doctor, if suddenly there were any questions. In short, the service was as it should be, without the hassle and long painful approvals. Nobody took the passport as a pledge, did not demand money on the spot, and the letters of guarantee were already in the hospital every time.
Submit your insurance reviews!
P.S. It is quite possible to take Tripinsurance insurance as one of the top ones now. The post is constantly updated, you can see the update date at the beginning of the post.