I want to share with you one simple and commonplace way to save money on travel. However, despite the banality, I am sure that no one uses it en masse, except for bloggers and site owners. Actually, they may not read any further 🙂
In fact, there is no savings in itself, but a return of funds, in fact a cashback. The method has been known for a long time, but only the last couple of years has it become convenient to use it. Perhaps you even know about it, but dismissed it, not wanting to figure it out and spend time on it, you think a couple of percent of profit. On the other hand, you only need to understand once, and then the interest returns without additional effort..
The content of the article
How to save money on travel
The essence of the life hack
Surely, you have seen on my blog, and on others too, various links: to tickets, hotels, insurance, etc. Many of these links are affiliate, they contain a certain code that says who this link belongs to. And when buying through such a special link, the owner of this link gets a percentage of the sale. This is a standard earnings on sites, so absolutely all travel sites that contain information earn. But no one bothers you and get your own link and take this percentage for yourself. This is how I do it myself, this is how bloggers do it, we all have been buying from our links for a long time..
Get your personal links>
Of course, bloggers keep track of the terms of various affiliate programs, are registered on many similar sites, and know various subtleties and nuances. You don't need to know this, you just need to register with Travelpayouts and thus have a dozen affiliate programs in one place, in one account. In your personal account, you will see links for buying air tickets, hotels, insurance, booking a car, buying a tour, getting a travel sim card. That is, one registration is enough to get access at once to everything that a traveler needs. Travelpayouts is an aggregator of a couple of dozen services.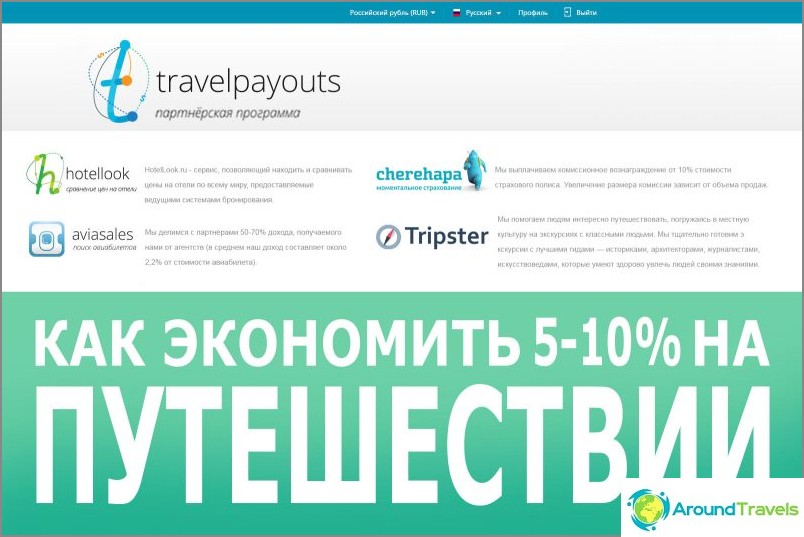 The conditions differ depending on the purchased product, for example, from air tickets there will be a refund in the region of 1%, and from insurance as much as 10%. In this simple way, we have a real cashback, and much more than is possible with bank cards (my selection). Although no one bothers to combine them, and when paying by card, receive an additional 1-3% from your bank. Also, if you are interested in the topic of cashback, then read, how to save up to 11% on Aliexpress.
pros
If you want to get confused, you can register for the affiliate program of each service separately (that is, in Booking, Agoda, RoomGuru, Cherehapa, Economybookings, Aviasales, Skyscanner, etc.). But in my opinion, for the sake of a couple of trips a year, it doesn't make sense. Otherwise, you will have to deal with the interfaces of different personal accounts and then wait for the payout threshold. For example, the well-known Booking.com pays only the amount of 100 euros, which you will save there all year. Many affiliate programs are generally not suitable for non-site owners, because they do not pay a percentage of the purchase, but a few cents per click on the link, or have a ban on buying through their personal link. You need it?
Still, the point of such manipulations is to save money without spending time on it. Therefore, we need a simple way and now it is (there was no such possibility before). It is for this reason that I am writing this post, because my universal method is practically effortless. I will briefly list what you get.
When buying an air ticket through Aviasales, about 1-1.5% of its cost
When booking a hotel on Hotellook, about 3-5% of the amount of the reservation
When buying insurance on Cherehapa 10% of its cost
When booking a car on Renatalcars.com, about 3% of the booking
When ordering a visa at Visatohome, a fixed amount of 270 rubles
When buying an excursion in Sputnik up to 9% of its cost, in Tripster 8% of the cost of the excursion.
There are also package tours, other services selling excursions and offering to book a car, airport transfers, SIM cards.
Payment from 500 rubles to WebMoney or Yandex.Money
And, if in the case of Aviasales you can still turn your nose up, they say, Skyscanner or Momondo are better, then, for example, only Travelpayouts works with Cherehapa, and this service is unique and there is simply no alternative to it. In any case, the whole point of my method is in simplicity, that you get a dozen services in one personal account at once.
And a few more words about the Hotellook price comparison service - it works on the same principle as RoomGuru, gives out official prices for hotels with Booking, Agoda, Ostrovok, Ozon, etc. I think everyone already knows how much more convenient it is to see the prices for the desired hotel in all booking systems at once and choose where it is cheaper.
And finally, before I forget. You can distribute your links for booking hotels, air tickets, insurance, tours to your friends and acquaintances, thereby earning cashback on their purchases. Yes, in order to seriously do this, you need your own website or a popular group on the social network, but nevertheless, you also have such an opportunity..
Minuses
There is only one drawback - there are much more services than Travelpayouts has. There are 5 popular flight search engines alone, and only one is presented in Travelpayouts - Aviasales. Thus, if you are used to using other services, you will have to be content with what you have, because it is impossible to aggregate everything. Although, as I wrote above, I do not see an alternative for myself to many services that are on Travelpayouts.
By the way, it's not always worth comparing prices directly between services. Let me give you an example comparison with Skyscanner, which I also use all the time. In it, the price of air tickets is sometimes lower, but quite insignificantly, by 200-400 rubles, no more. I already somehow wrote about what to choose. So, if I buy tickets through Skyscanner, I will save 400 rubles at once, and by buying them using the link with Travelpayouts, 2000 rubles will be returned to me from the ticket, which in the end is much more profitable..
How to find your link in the service
The link to Aviasales should be found in the section «Tools / Text Links / Flights»
The link to Hotellook should be found in the section «Tools / Text Links / Hotels».
You will not have links to Booking, Agoda, Ostrovok, Ozon and other booking services, everything needs to be done through Hotellook. The service gives you prices for each hotel in all booking systems at once, after which you go to the desired booking system.
All other links (insurance, excursions, car rental, etc.) should be found in «Campaigns / Summary / Service Name / Promotional Materials / Link Generator / Ready Link». But first you need to go to «Campaigns / All» and subscribe to the selected campaign.
I agree that everything looks a little confused for an ordinary user, but initially the system is tailored for site owners who are quite familiar and understandable with such personal accounts. In any case, you will need to spend a little time once to poke through the sections (most of which you do not need) and understand.
Specific examples
Here are some examples. They are not from my head, but from my trips. Obviously, refunds will increase depending on the number of people on the trip and the number of travel days (the longer the hotel is rented, the more you get).
Flights
We once flew to Thai by Emirates with a stopover in Dubai. 105 thousand rubles were spent on tickets for three round trip. I monitored prices for Skyscanner and Aviasales for a week. As I later realized, I managed to buy them at a pretty good price for the peak of the season. So, on Aviasales tickets were 350 rubles more expensive, but I knew that I would get back about 1-2% from such a flight, so there was no doubt about whom to buy. By the way, from SkyScanner (according to their link) it is not at all clear how much is returned, there are some small fixed amounts. And right on the day of purchase, the price was generally equal, apparently the agency that sold through SkyScanner stopped giving such a discount.
Refund - 2104 rubles.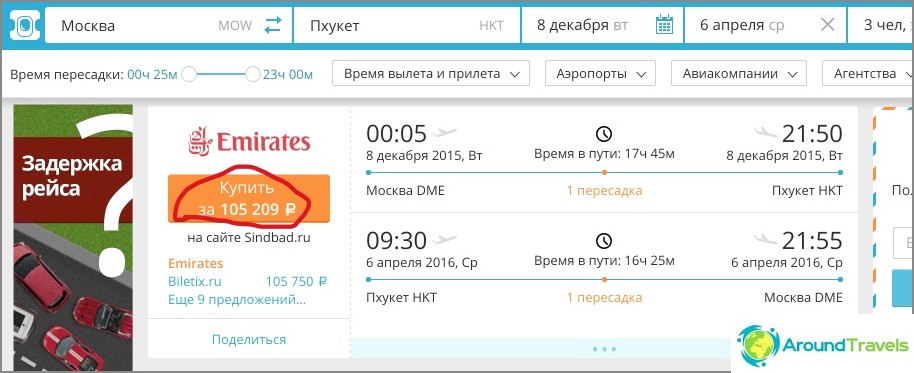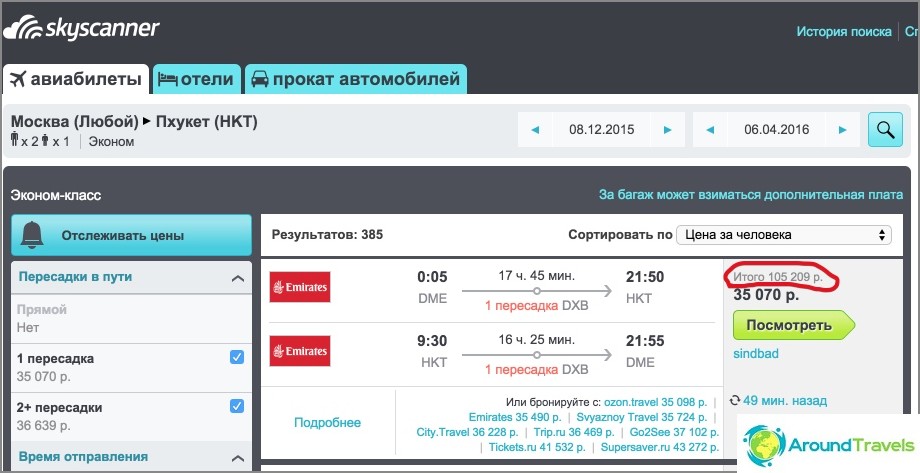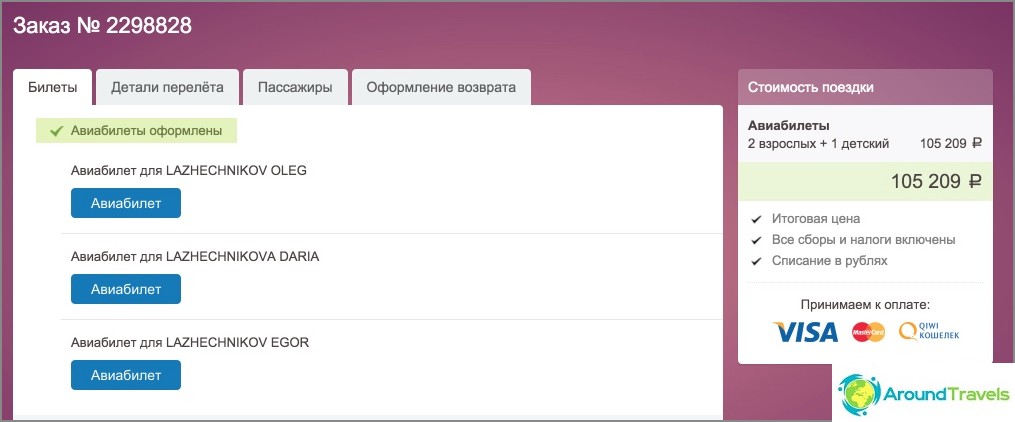 Thus, tickets can be monitored in several services at once, and bought on Aviaseels, if the cashback will pay off this purchase..
Insurance
Anyway, you need to take insurance through Cherehapa (how to use turtle). Not only is it possible to pay for everything on their website (yes, some insurance companies have not yet made the online sale of policies), but they also consult on policies. You can ask any question, about how best to act in a given situation, about the terms of the insurance contract, etc..
For example, I bought Egor insurance from ERV for which I got back 10%.
Refund - RUB 687.


Hotels
Unfortunately, Airbnb ended the affiliate program, and the example of how I received a refund from their reservation had to be removed. However, you can still get refunds from hotel bookings, which I myself use all the time..
I, like many, often use Booking'ohm, for example, I read reviews there. But you don't have to book directly in it. After searching on Hotellook, in my case, Agoda became the cheapest. Booked a hotel in Phuket on Kata Beach for 3 days, you yourself can estimate how much the refund would be, for example, in 2 weeks. And he wrote about this hotel separate review, if you suddenly wonder.
Refund - 752 rubles.
Cashback from a bank card
UPDATE. Everything flows, everything changes. Conditions for the Kukuruz cards have worsened. Therefore, I now use only a special travel credit card Tinkoff AllAirlines (link 1000 rubles bonus on the card). It gives 2% for any purchases, 3-5% for flights and 10% for hotels on Booking.
This has nothing to do with Travelpayouts, but I must remind you of this again. What is cashback for bank cards, I already wrote. I paid for flights and insurance with a bank card Kukuruza with cashback.


P.S. As you can see, I saved 6843 rubles without doing anything special, only once I figured out the issue. I personally have such savings «out of nothing» pleases. How much money have I saved over the years? 🙂