Catch my review of the Lae Lay Suites with nice modern interiors and a pool, located between Kata and Karon. Overall not a bad place.
After visiting Phi Phi, I decided not to return to the same hotel, but to check into a new one, so it is more interesting. And he changed not only the hotel, but also the beach from Patong to Kata. The beaches of Kata and Kata Noi, it seems to me, are most suitable for a more or less relaxing holiday in Phuket. Well, as far as possible, because the island is quite lively and there are a lot of tourists on it during the season..
The content of the article
Price and booking
At Lae Lay Suites I had a Deluxe room for 1,890 baht / night (breakfast included). In addition, they also have an executive suite and a room with access to the pool, all of which are more expensive. But the funny thing is that the suite is just a little more expensive, I wonder how much different from my deluxe. Not during the peak season, the price changes slightly, but outside the season it decreases by 2 times, somewhere up to 1100 baht for a deluxe. The checkout is standard at 12, but right at the reception, the rules show that you need to pay 200 baht for every hour of delay. Hard!
Phuket hotels>
Be sure (and I insist) to check for discounts or special offers on the excellent Roomguru service. He will quickly and easily show you discounts in all existing booking systems. In Asia, for example, there are a lot of offers on Agoda.com, which are much more interesting than for exactly the same hotels on Booking.com.
Here is a direct link for booking Lae Lay Suites .
The See Host Inn is right next to it, also with a good rating and a little cheaper, but without a pool. And in the next lane there is a good hotel according to Baan Kawkaew Kata reviews, however, they say, there are steps and a higher rise, but a budget place.
Interior
Rating 8.3 and 3 stars. Probably, somewhere it is, but I would underestimate the rating, despite the fact that in general I liked the hotel. You know, I was already so tired of Thaistal that I categorically did not want to live in something Thai, so I chose only among hotels with a modern interior. Lae Lay Suites is just that. And I must say a fairly new hotel, although not without drawbacks, but more on that below.
The room is large enough in size with a pleasant view of the Kata area and a wall-to-wall window. Mostly rooftops and mountains are visible, but the sea is visible in the distance. There is a kitchenette type. Although it is difficult to call it a kitchen, it is essentially a stone table and sink. There is no microwave oven, no tiles, no dishes. Only a kettle and cups. When you drive with your slow cooker or tile, then such a corner with a sink will definitely not be superfluous. But if without anything, then there is little sense from it. There was also a small dining table with two chairs. In general, in terms of tables, everything is fine here, there is also a long desktop.
Immediately I will list what was from the technology - a flat TV on the wall, a hairdryer in the bathroom, a safe bolted to the wall in the closet, a mini-fridge, a kettle and an air conditioner. I liked the fact that the external block from the air conditioner was not on the balcony, otherwise the Thais like to push it there. But the location of the indoor unit in the room is so-so, I would have done it somewhere else to get away from the bed, but in general I will not say that it was blowing on me. Cleaning was done every day.
Another plus - a lot of sockets and they are in the right places. And also there is no electronic keying system, you know, when you leave and the electricity goes out. You can leave the air conditioner on and charge all devices. Give 2 free bottles of water per day. A very wide single bed, but actually consists of two mattresses, they are just under one sheet. And the mattress is harsh, for an amateur.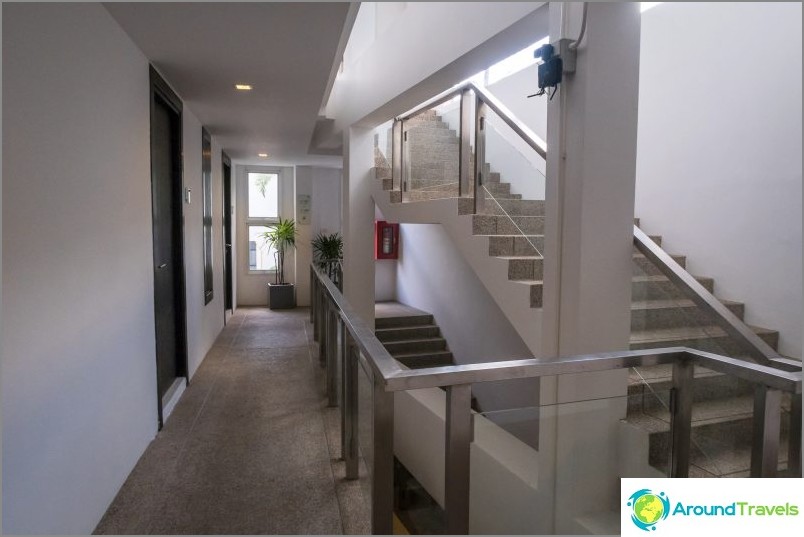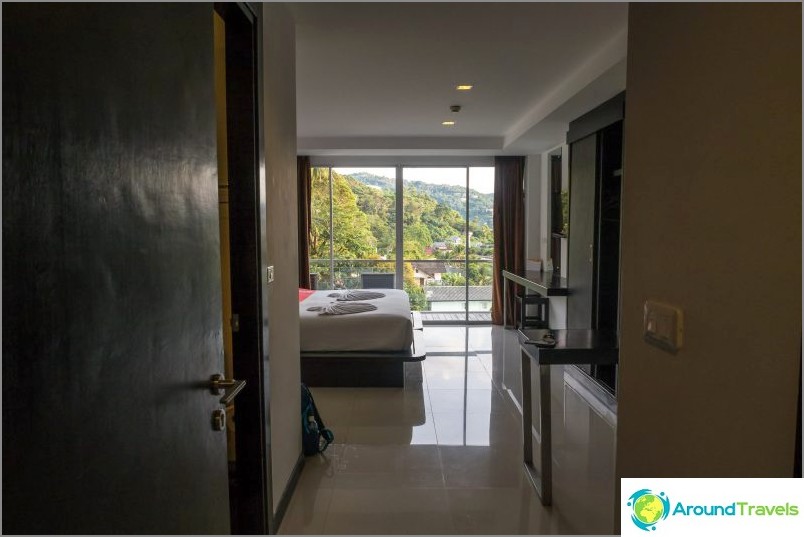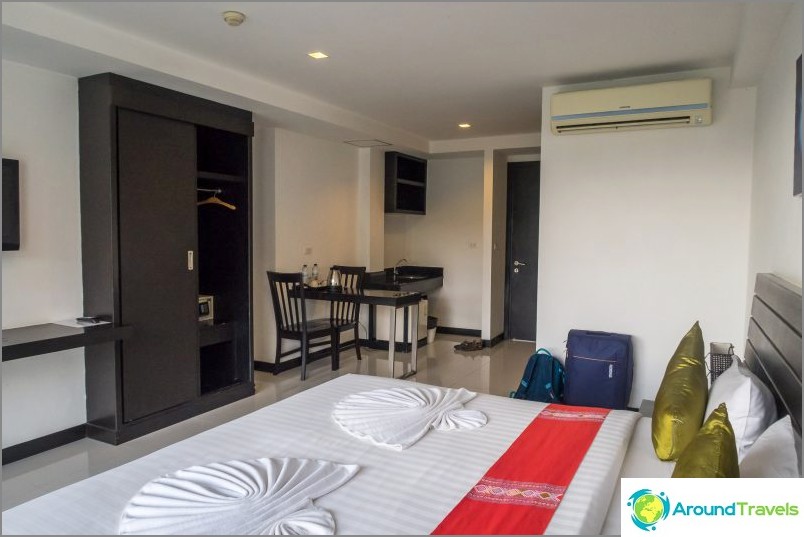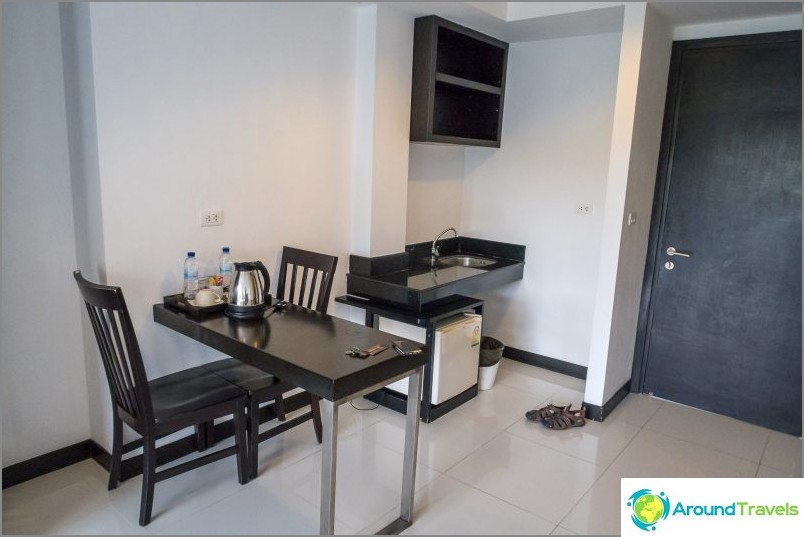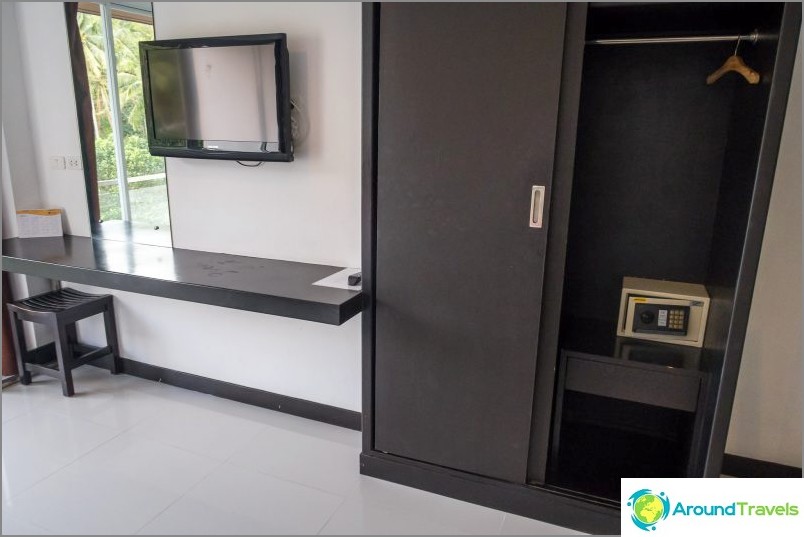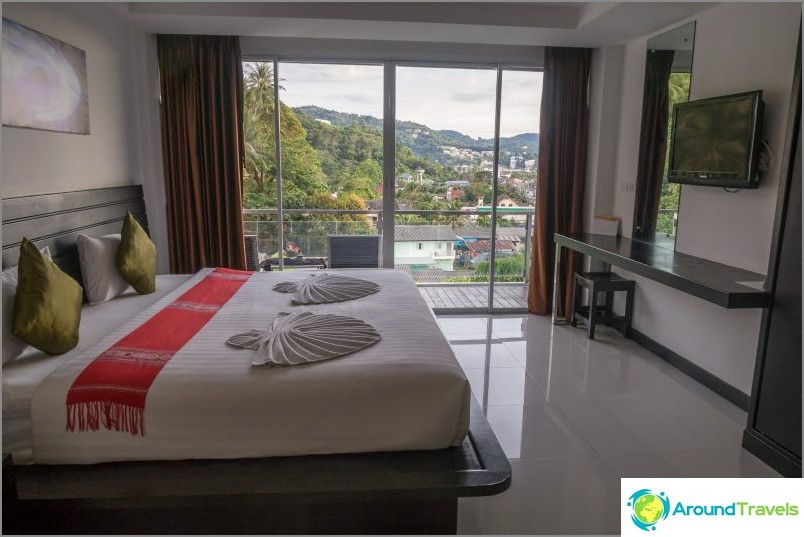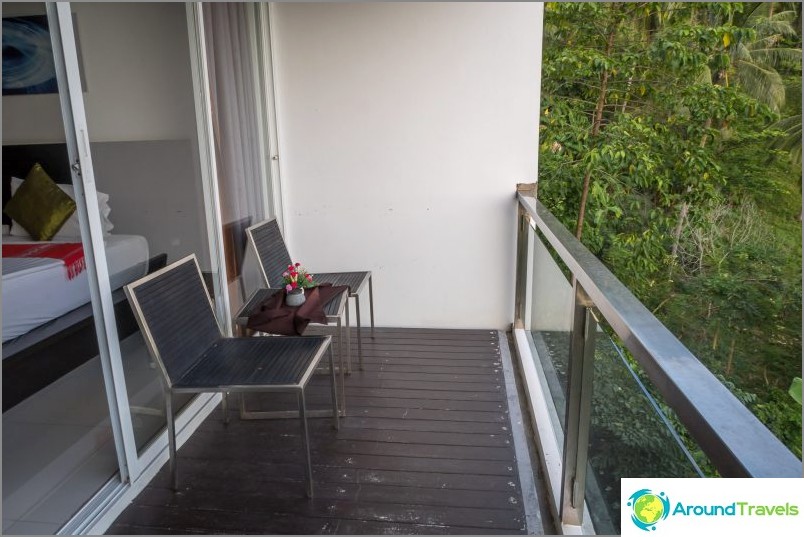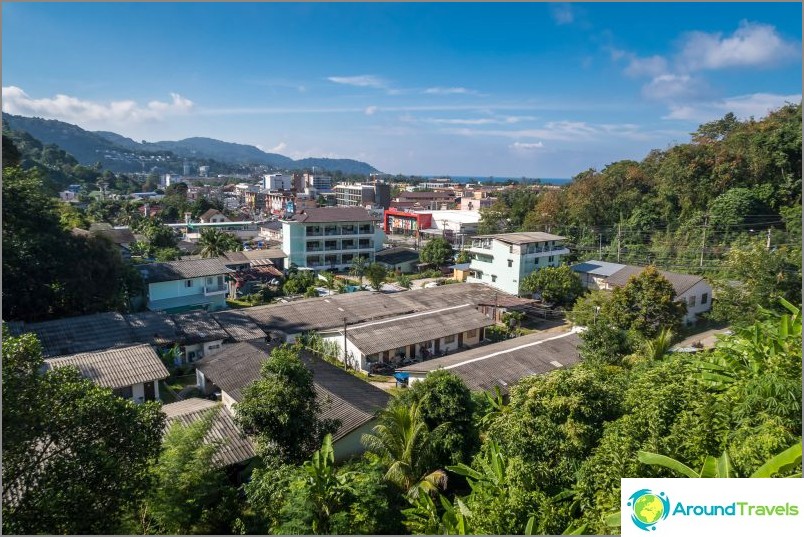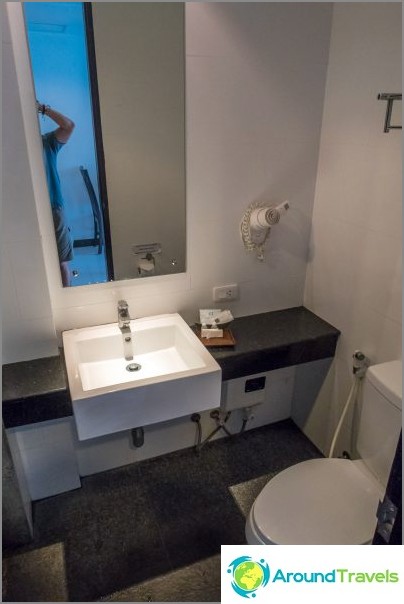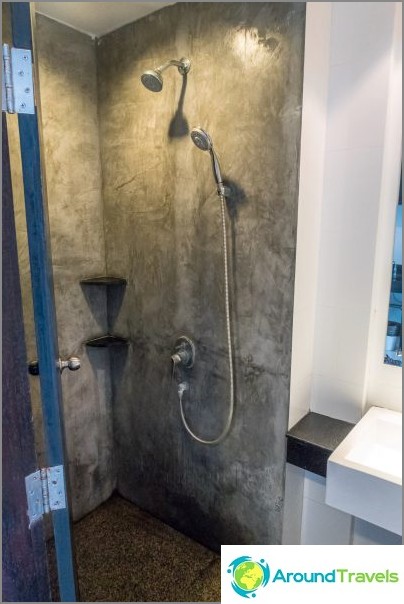 Of the minuses - a small bathroom. The two watering cans are different and the fact that they are not above the toilet is good. But it's really cramped. Perhaps if the door opened outward, it would be more convenient. Plus, the shower is not even separated by a curtain, as a result, the entire floor then becomes wet. And I didn't like that the hot water is so-so regulated, sometimes cold, sometimes too hot. Soap accessories (soap, shampoo in test tubes) were put in. And the last minus - it is dark in the evening in the room, there is not enough light. But during the day it's okay, because the window is huge.
There was no internet in the room. Generally. The access point seemed to be hanging on the floor, but in the room the laptop saw it only occasionally and could not connect to it. But in the lobby, the Internet flew, 20 megabits in both directions. In general, either the dots were rarely hung too much, then it was on my floor that there were problems.
Territory and services
The hotel consists of two buildings opposite each other across a side street. It is shallow and dead-end, so there is no movement at all. If you go from the road, then the building on the right with the reception (I lived in it), and there are only numbers. In the building on the left are the suites, the pool and the breakfast restaurant. By the way, there is even an elevator in this building, but for some reason it was made only from the second floor, somehow silly. It will already be inconvenient with a baby stroller, at least one flight will have to be carried on you.
The pool is small but long! I approve when they do this. Better not square, but narrower and elongated in length, although you can swim normally. But the opening hours by the pool are weird from 10:30 am to 7 pm. It's like in general?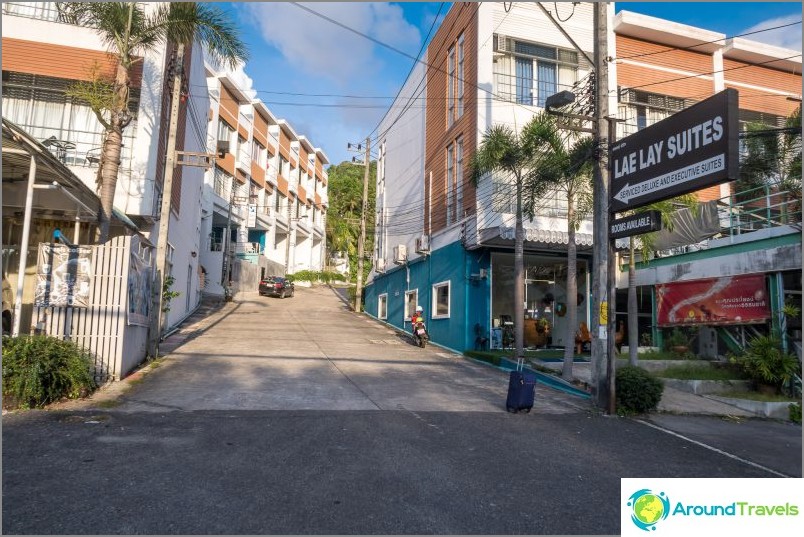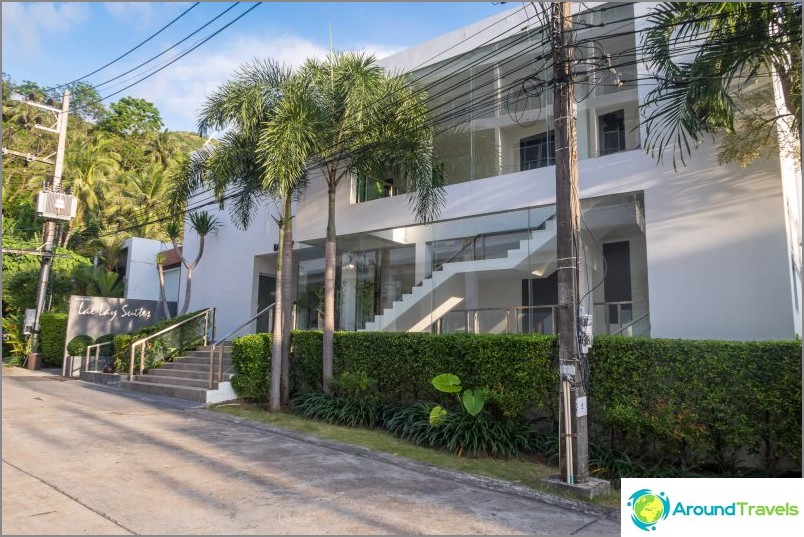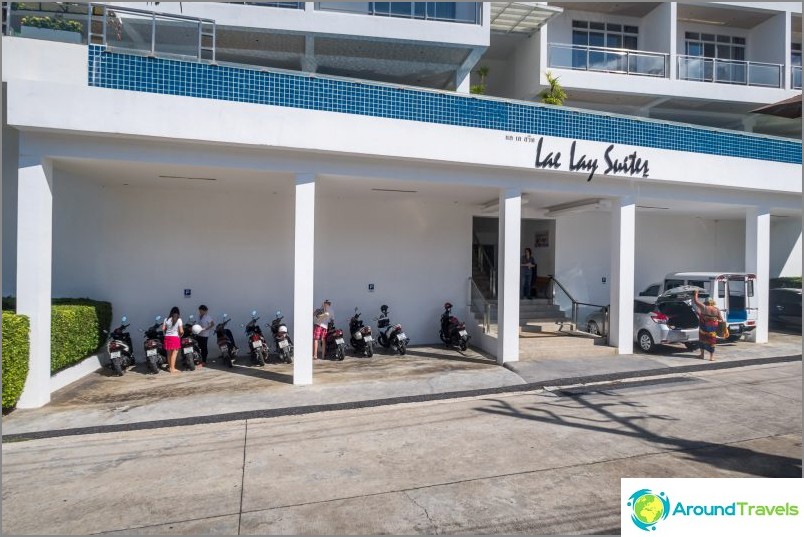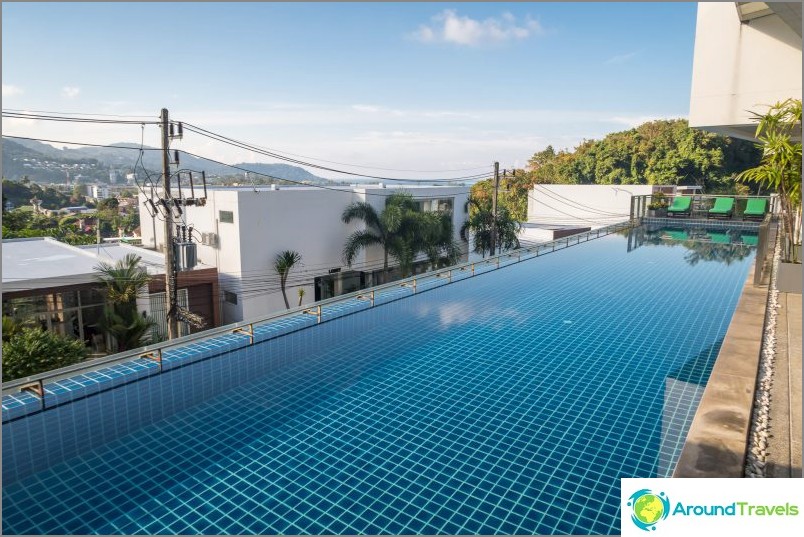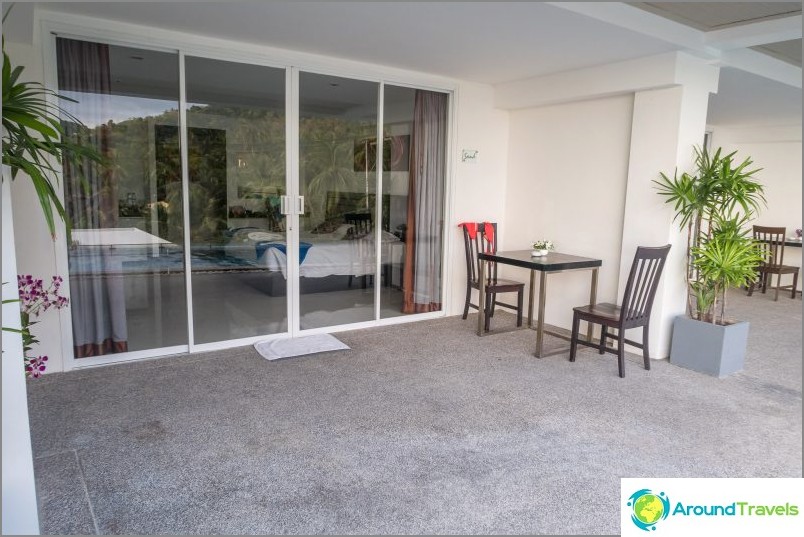 Breakfast is also there by the pool. It runs from 6:30 am to 10:30 am. Early time is great, you can have time to eat before excursions. Standard without any special frills, like in all three-ruble notes. Tea, coffee, juices. By the way, coffee from a coffee machine, which pleases. 3-4 fruits, salad set. Toast with jam and pancakes. Cornflakes with milk, for some reason, not every day there was oatmeal. Hot sausage, noodles with eggs, boiled rice, vegetables with chicken. The hotter changes, but the plus or minus looks like about three courses. Funny, there was a notice that for trying to steal food from the cafeteria - a fine of 500 baht.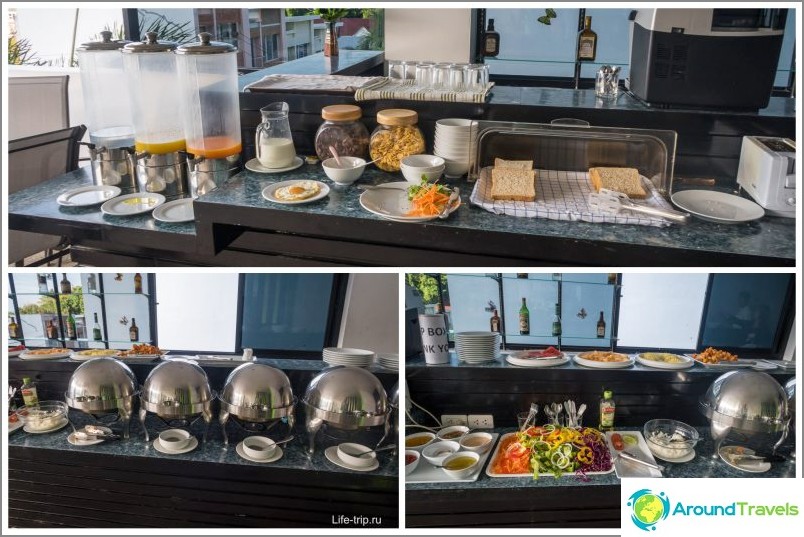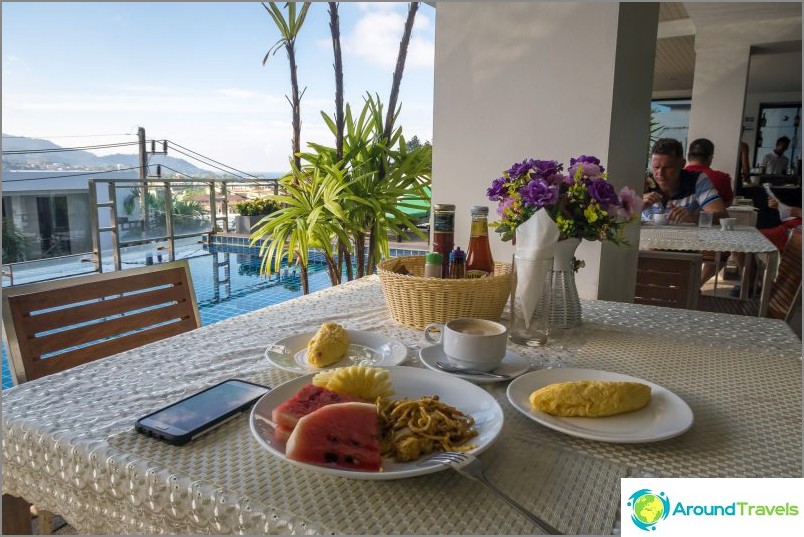 Laundry is expensive, the price is not per kilogram, but for each specific item.
For the lazy, there is a transfer to the beaches of Kata and Karon 3 times a day: 10:30, 14:30 and 16:30. But only one way. You can also rent a bike at the hotel for 300 baht / day, they give good new bikes (at least they gave me one). The price is the same as elsewhere, not welded. They do not take a passport as a deposit and do not look meticulously when taking it back.
Map and location
The location is not bad, although it will not be liked by those who are used to the first line. Here she is not even the second. But this has its advantages. First, you need to know that the entire first line on Kata Beach is occupied by the huge Club Med hotel. And you can't go through it. Therefore, only along the edges, there are just roads. Therefore, if you live on Kata, then either at the end of the beach, or at the beginning, otherwise you will have to walk and bend around. Thus, a person who lives closer to the sea, but in the middle, will not get to the shore much faster, like living in Lae Lay Suites. In short, it takes 10-15 minutes to walk to Kata Beach. The path is inconvenient only at the very beginning, you need to walk 50 meters along the road with heavy traffic and cross it, and then there will be sidewalks and the road is much less busy. And if you go the other way, then in 15-20 minutes you will be on Karon. Conveniently, there is a choice of where to go for a swim.
Although the hotel is on a hill, the ascent uphill is quite insignificant. A 5-minute walk is a large Makro supermarket, as well as 7-eleven and Tesco Express minimarkets. The cafes are here. And the market, in principle, is also not far away. In general, the whole area is small here, you can quickly get around.
Lae Lay Suites Hotel
Lae Lay Suites Hotel
A good hotel with a modern interior. The location is more or less, since it takes about 15 minutes to walk to the beach. Lived here and wrote a review.
More details.
A good hotel with a modern interior. The location is more or less, since it takes about 15 minutes to walk to the beach. Lived here and wrote a review..
P.S. Honestly, I may find fault, but with each new hotel I have higher and higher requirements. More experience, and more I start to pay attention to all sorts of little things. Moreover, in my head it is already evidently some kind of collective image of an ideal hotel, which has absorbed only the advantages of all the places where I stayed. But the hotel is still good, I immediately remember Lamai Coconut on Koh Samui, there was about the same.